When it comes to looking for the best cat food for shedding, it's important to check the ingredients list. By making sure there are no harmful ingredients, you can rest easier knowing that you are not harming your pet! You'll want to check for several things, such as the protein content, digestibility, and animal sources. If you're looking for a place to start, may we suggest this list of the best cat food for shedding? All these products have a high protein content, are highly digestible, and contain the finest natural ingredients. Check out our professional review to find the best option for your picky eater.
Why Do Cats Shed?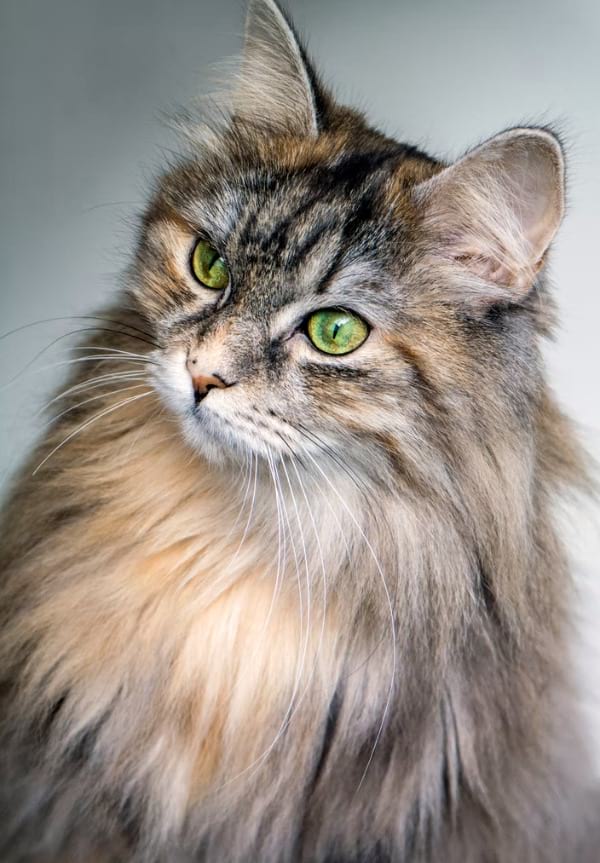 Cats don't shed because they're lazy or because they want to annoy you. Like most animals, cats shed to replace old, worn-out fur with beautiful, thick, shiny new fur. Shedding is a natural process that can help us figure out some health problems, and it's a sign that your cat is healthy and happy.
How Often Should Your Cat be Shedding?
The frequency and amount of shedding will vary based on the season and the time of year for your cat. You may notice more frequent shedding in the spring or fall and light shedding in the summer and winter, but these are just generalizations. The amount of shedding that comes from your cat depends on several factors. The most important factors are the breed, the coat length, the cat's age, and its health.
What Causes Cat Shedding?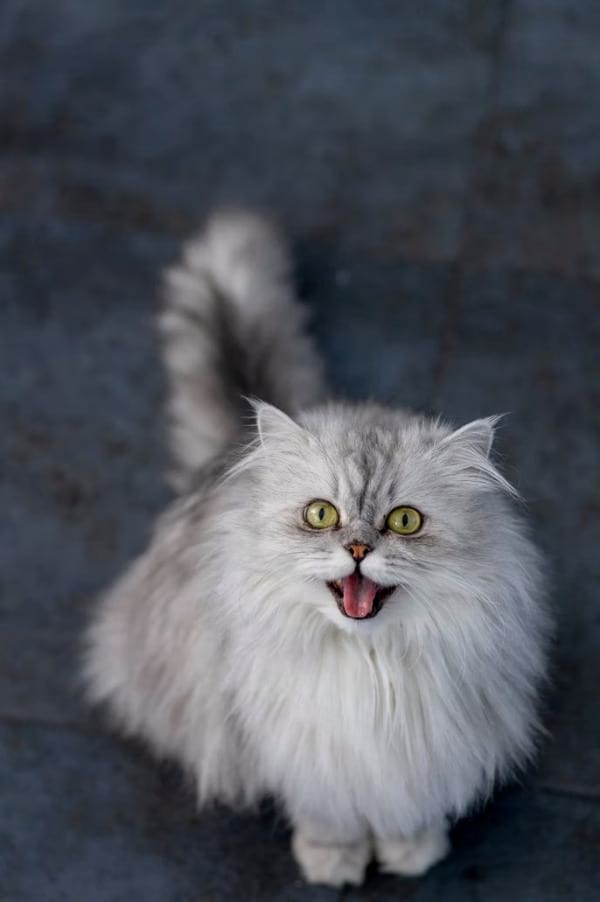 Many people assume that they know what a cat coat looks and feels like when they are fully grown. However, shedding is a natural process that will cause your cat's coat to become dull and thin. This happens because cats shed their undercoat during the spring and fall months. It's very important that owners understand the reasons why cats shed and how to care for them when they do. Here are the most common reasons for shedding.
Poor diet
An unbalanced diet and cheaper cat foods do not contain essential micronutrients and vitamins, so the cat's coat can be thin and dull.
Allergies
Sometimes allergies to certain substances, environmental elements, or food ingredients can lead to hair loss. Allergies cannot be cured, this condition can only be corrected with the help of medications and diet.
External parasites
Fleas, lice, and mites lead to hair loss, as they cause severe itching.
Health issues
Various diseases such as lichen, trichophytosis, fungal infections, scabies, dermatitis, seborrhea, and kidney disease may cause cat shedding.
Stress or anxiety
Stress negatively affects cats, and they look for various ways to calm down, one of them is excessive licking. As a result, they lose their fur.
Age or pregnancy
Pregnant cats shed hair due to hormonal changes, and older cats cannot groom themselves due to age, which leads to tangles and increased shedding.
How to Control Excessive Shedding?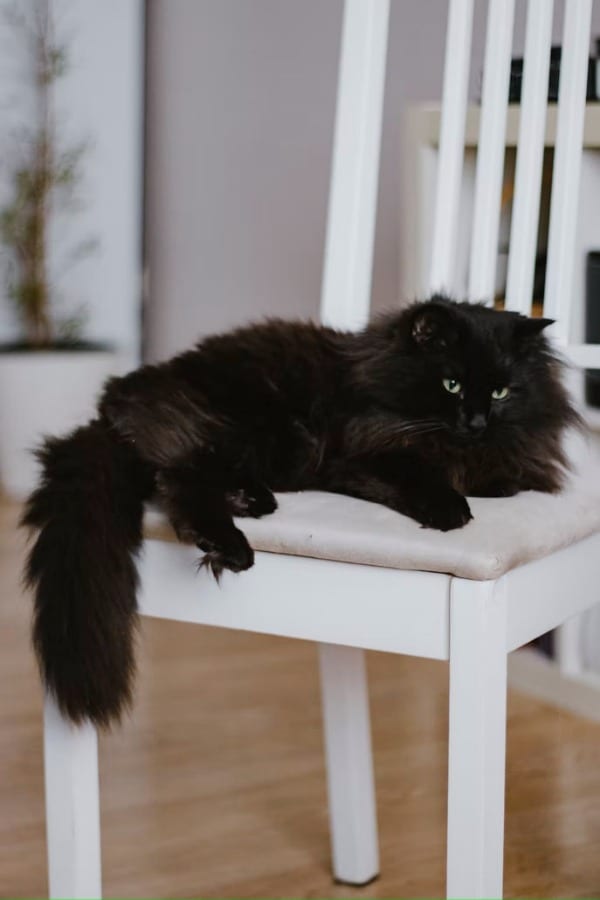 If you want to control shedding, you must know the cause. Stress, diet, or even seasonal change can cause this. Combat excessive shedding by trimming the pet's nails and ensuring they stick to a balanced diet. Losing a pet can also cause this condition. So, if there have been any changes in your pet's life, you should consider getting them a friend to alleviate the stress.
How to decrease cat shedding? Well, brush your pet regularly. It will reduce shedding and related pet skin problems like dandruff, and it'll keep your house cleaner! Next, bathe your pet weekly and brush after that. By doing this regularly, you're reducing shedding, and you're also getting a nice bonding experience with your pet. Besides, you can utilize some home remedies. Drop a few raisins into your cat's food every day to keep excess shedding at bay. Raisins contain antioxidants that help hair follicles in the skin regrow and become healthier. Our feline friends spend a lot of time grooming themselves, so they might not get the vitamins they need to do this at a healthy rate. You can also try feeding your cat a diet consisting of 50 percent raw meat. The ingredients in the food will help your pet's hair and skin become healthier. A healthy diet just might save you from the stress of living with a cat that sheds a lot.
Things to Consider When Shopping for Best Cat Foods For Shedding
If you've recently adopted a cat, or if you're planning on getting one soon, you may be wondering what type of food would work best for them. There are several things to think about when looking at different types of cat food. Learn which factors are most important to consider and how you can choose the right type of food for your cat.
Protein
Protein is vital for your cat. When your cat sheds, the hair comes out more easily. Therefore, a high-protein diet will help your cat's shedding process and keep your house cleaner. Make sure the protein source is lean. For example, go for food that contains chicken, lamb, bison, and salmon.
Omega fatty acids
Because omega-3 fatty acids are just that — fat — they help give your cat a fuller, shinier coat. Omega-3s also improve the overall health of the hair follicles, which can decrease the amount of hair that is shed.
Allergens
Food allergies can cause shedding. So, make sure cat food does not contain wheat, grains, soy, and gluten. Besides, make sure there are probiotics to help with digestion and control the growth of bacteria and bad yeast.
Artificial Flavors and Preservatives
Artificial flavors and preservatives provide zero nutrition and some might even impact your cat's health adversely. So, always check the list of ingredients and make sure the first ingredient is meat or ocean fish meal, not corn or other fillers.
Budget
In terms of cat food, the price does matter. Always buy a reputable brand of cat food that contains only natural ingredients and is free of artificial flavors, preservatives, and fillers (corn, brewer's rice, soy flour). Often, cheap cat food contains by-products and low-quality ingredients that can be harmful to your kitty.
The Best Cat Food for Shedding
Excessive hair loss in cats can be a result of latent health issues or dietary deficiencies. In most cases, diet changes can make a difference, so opting for great cat food for shedding can make a coat shinier, healthier, and reduce dander. Today, the choice of cat food for shedding is really huge. Manufacturers offer cat food in a variety of price ranges and types. Cat parents may buy wet cat food, dry cat foods, or even choose homemade healthy cat food to keep their companion's fur healthy. Here is an overview of the best commercial cat foods that are rich in protein, vitamins, minerals, omega-3 and omega-6 fatty acids. By buying one of the following options, you can be sure that the cat's skin, digestive health, and immune system are protected.
Best Hairball Cat Food – Purina One Hairball Formula Cat Food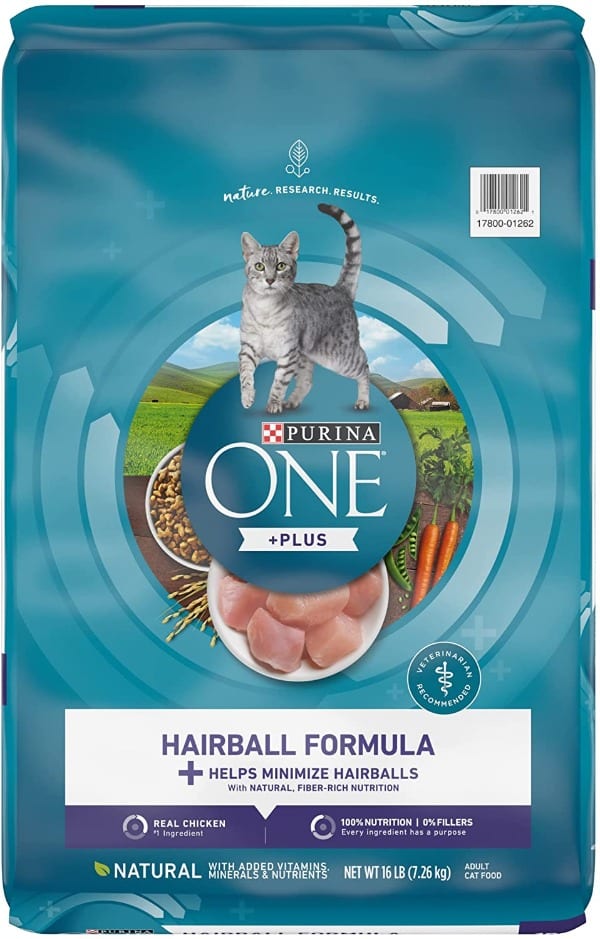 Main Ingredients:
Chicken, Corn Gluten Meal, Brewers Rice, Poultry By-Product Meal, Soybean Meal
Find on: Amazon
Purina reduces the formation of hairballs to zero due to natural fiber, essential minerals, vitamins, and essential nutrients in the food, as well as the absence of fillers. Thanks to the natural chicken protein (38 grams per cup), necessary amino acids, and a mixture of antioxidants, the cat's immune system is well protected.
Pros
This healthy formula offers 34% protein and natural fiber.
Small kibbles are easy to digest.
This cat food ensures strong immune support thanks to an antioxidant blend.
The price is comparable.
The flavor is pleasant.
There are high-quality ingredients.
Cons
Cats may feel sick after eating Purina One hairball formula recall.
This food can make a cat overweight.
Best Cat Food for Long-haired Cats – IAMS PROACTIVE HEALTH Adult Indoor Weight & Hairball Care Dry Cat Food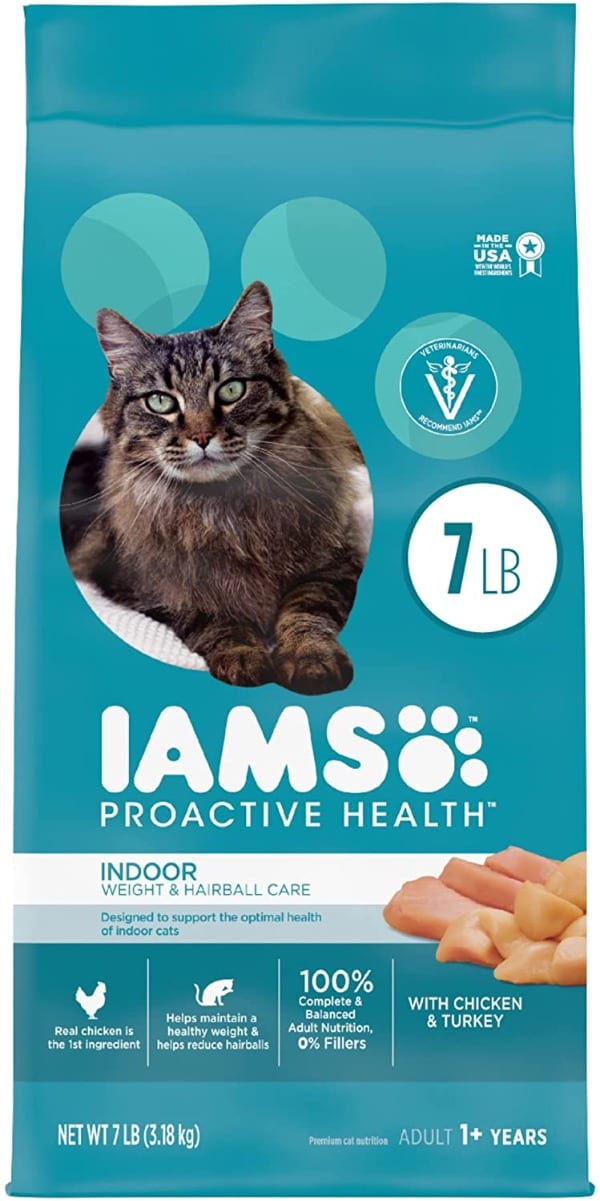 Main Ingredients:
Chicken, Chicken By-Product Meal, Corn Grits, Corn Gluten Meal, Ground Whole Grain Corn
Find on: Amazon
This protein-rich food for indoor cats is purr-fect for long-haired, fluffy felines. Natural fiber and protein provide efficient muscle support for energetic games; L-carnitine promotes a healthy weight, and omega-6 and omega-3 fatty acids make sure your feline's coat and skin health are great.
Pros
This high quality cat food features no artificial preservatives, no synthetic dyes, and no wheat.
The ratio of L-carnitine is 80 mg/kg.
There are no fillers.
It maintains a healthy coat by reducing dandruff in cats.
The flavor is delicious and not very strong.
The price is competitive.
Cons
Some buyers claim that it can cause vomiting and loose stool.
It breaks down overnight (bacteria and mold) if not placed in a tightly sealed container.
Best Cat Food for Indoor Cats Vet Recommended – Blue Buffalo Indoor Hairball Control & Weight Control Natural Adult Dry Cat Food, Chicken & Brown Rice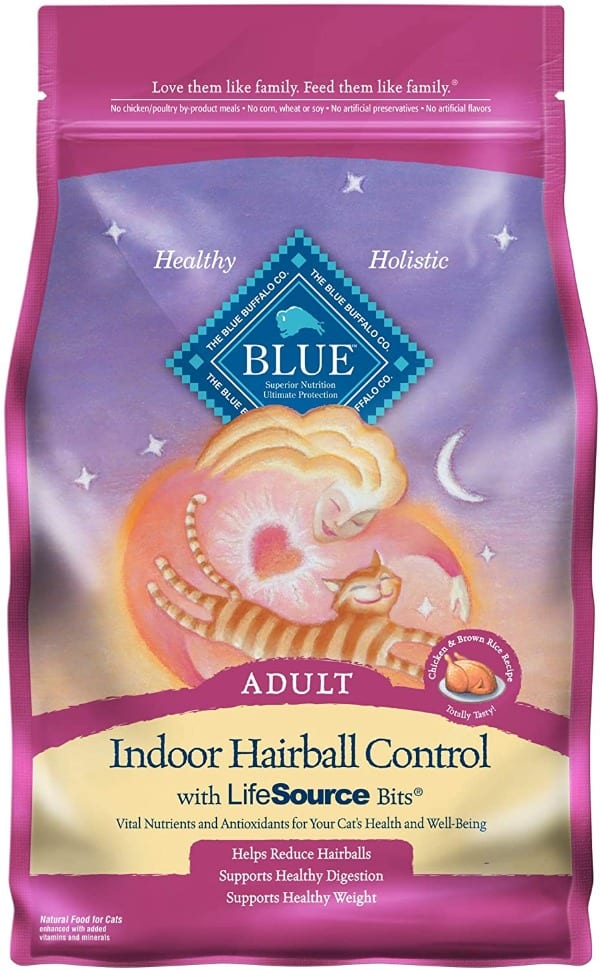 Main Ingredients:
Deboned Chicken, Chicken Meal, Menhaden Fish Meal (source of Omega Fatty Acids), Brown Rice, Barley, Oatmeal
Find on: Amazon
Formulated with whole grains, fruit, and veggies, this cat food helps your cat maintain strong muscles and a healthy gastrointestinal tract. Besides, Blue Buffalo veterinary diet features a unique blend of professionally selected vitamins, minerals, essential amino acids, and antioxidants that make sure the immune system of your feline is ready for any challenges it may face. Also, omega 3 and 6 fatty acids make sure your cat's coat is healthy.
Pros
Real meat (deboned chicken) is the first ingredient.
It doesn't have fillers (corn, soy, and wheat).
It contains LifeSource Bits for a healthy immune system and healthy digestion.
The bag is self-sealing.
Great for sensitive cats.
It has a rich complex of carbs that ensures the needed energy supply.
Cons
Kibbles have a strong smell.
The price tag is high.
Some cats may be allergic to this food.
Best Dry Cat Food for Cats that Vomit Excessively – Royal Canin Feline Care Nutrition Hairball Care Dry Cat Food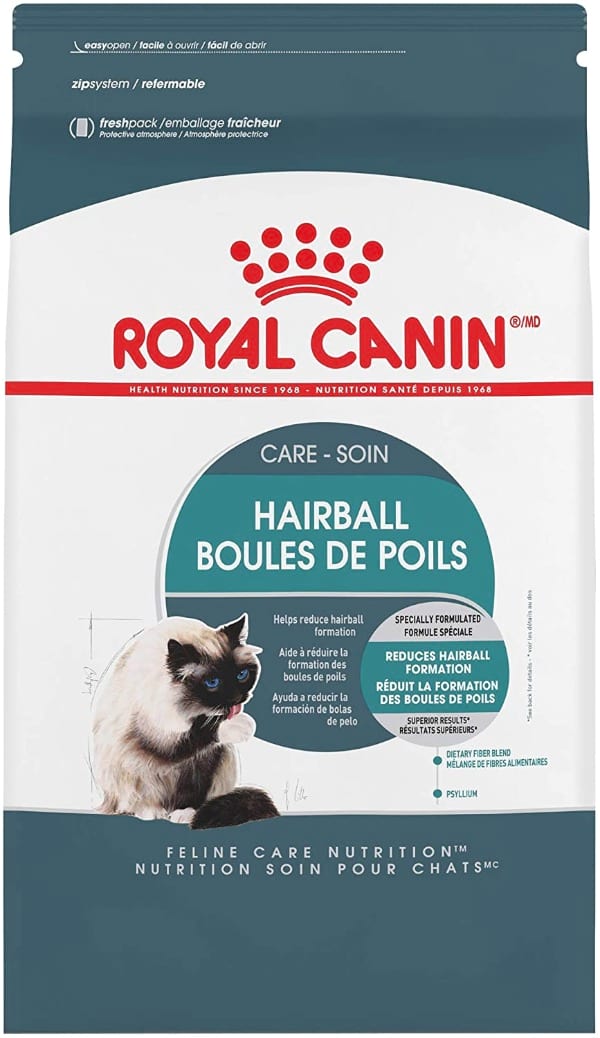 Main Ingredients:
Chicken meal, corn, brewers rice, rice hulls, corn gluten meal, chicken fat
Find on: Amazon
Fussy cats from 1 year and older with a long-haired coat will love this cat food. Thanks to its inclusive hairball treatment formula, the intestinal tract passes all the hair your feline swallows. Dietary fibers contribute to the health of the cat's digestive system, and all the necessary vitamins, essential amino acids, and minerals fight dental plaque formation and help with a dull coat and sensitive skin.
Pros
Royal Canin veterinary diet urinary dry cat food is a unique combination of a satisfying texture and savory aroma.
The size of kibbles is great for cats.
The smell isn't obnoxious.
This Royal Canin feline health cat food with fish oil is highly effective for cat shedding control.
Cons
This Royal Canin adult cat food cannot be an option for cats prone to allergies.
The ingredients are constantly modified.
It is pricey.
Best Wet Food – Hill's Science Diet Wet Cat Food, Adult, Urinary & Hairball Control, Savory Chicken Recipe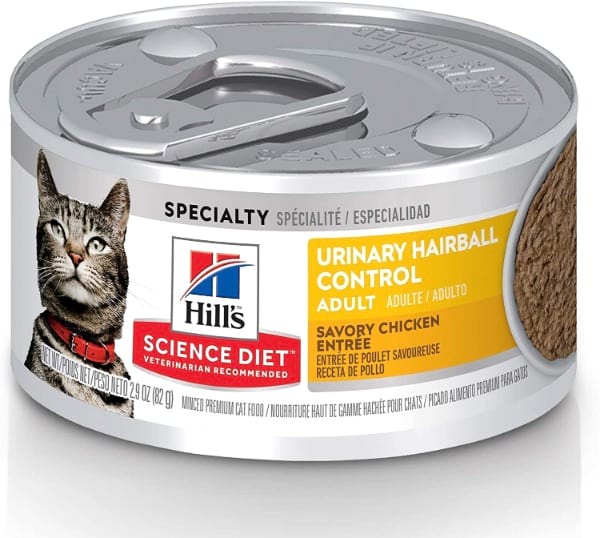 Main Ingredients:
Water, Chicken, Turkey Liver, Pork By-Products, Pork Liver
Find on: Amazon
Does wet food help with shedding? Definitely! This easy-to-digest nutrition includes magnesium for the urinary system health, natural fiber that reduces hairballs, and taurine for healthy eyes and the heart. Besides, Hills cat food doesn't contain preservatives and artificial flavors, so your cat gets a perfect balance of pleasant taste and nutrition.
Pros
This canned cat food contains magnesium for excellent kidney function.
There are no artificial flavors and preservatives.
Real chicken is the #1 ingredient.
The flavor is present.
The can is full to the rim.
This food is great for dehydrated cats.
Cons
The price tag is high.
Picky eaters may refuse to eat this food.
Some pet parents complain that there is a strong smell of metal.
The consistency of the texture is not very good.
Best Food for Cat Hair Loss – Hill's Science Diet Dry Cat Food, Adult, Hairball Control, Chicken Recipe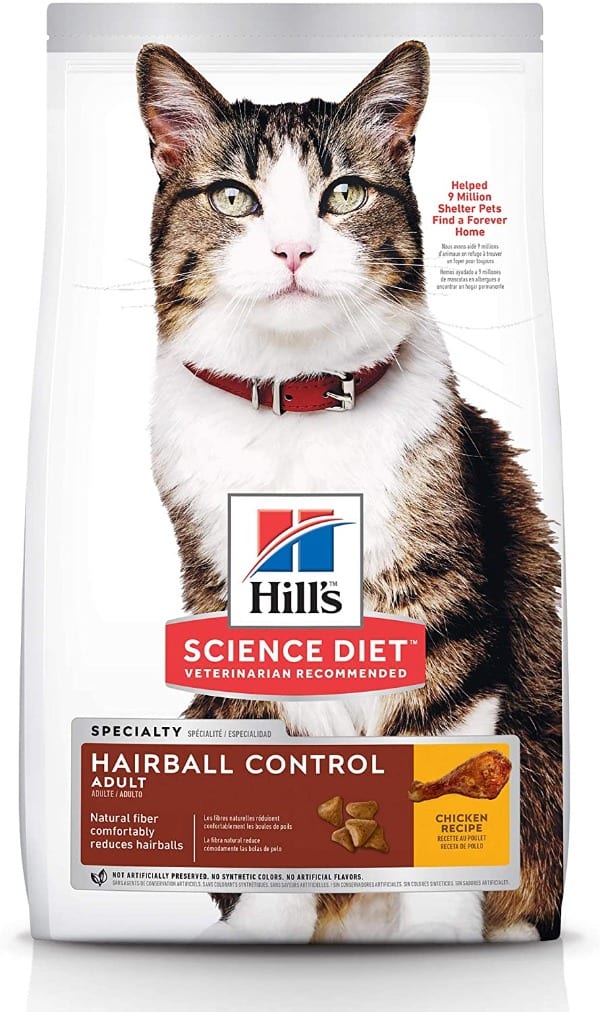 Main Ingredients:
Chicken, Whole Grain Wheat, Corn Gluten Meal, Pork Fat, Powdered Cellulose
Find on: Amazon
Dry cat food features savory chicken as the first ingredient and is enriched with vitamins, antioxidants, and minerals to support the whole-body health of your fluffy friend. Besides, thanks to a rich blend of omega-3s & -6s, your cat's fur has a glossy look.
Pros
It is low in calories, so it is suitable for overweight cats.
It is packed with the necessary vitamins and minerals that support the immune system.
Contains only natural ingredients.
High-quality protein maintains the healthy muscles of your kitty.
Various antioxidants and vitamins keep the health of your feline healthy.
Cons
It contains corn and wheat gluten.
Best Cat Food to Prevent Shedding – NUTRO WHOLESOME ESSENTIALS Hairball Control Adult Cat Food, Chicken & Brown Rice Recipe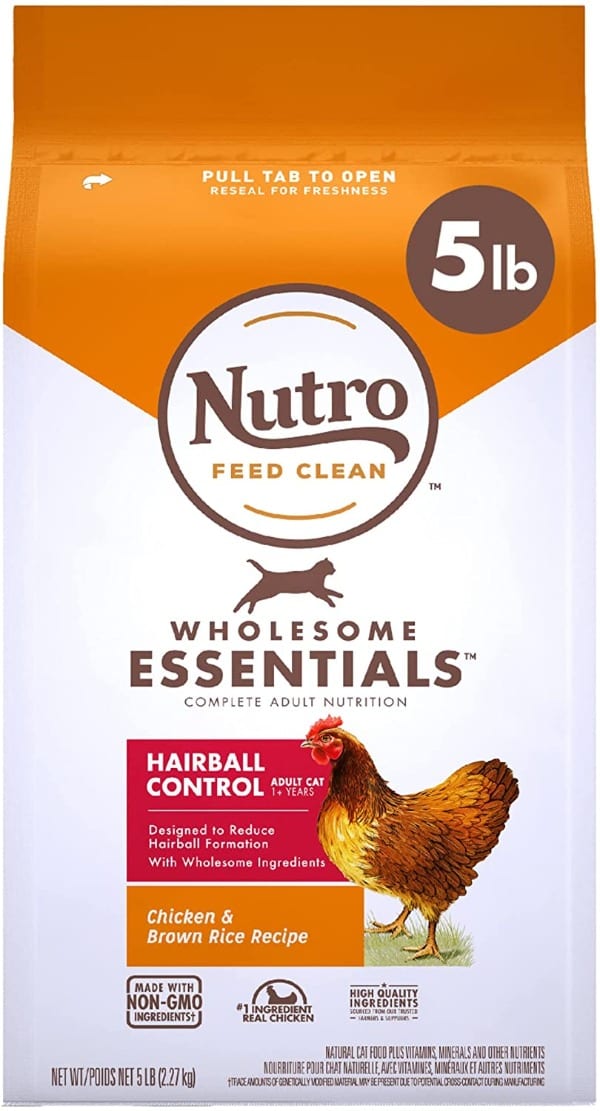 Main Ingredients:
Chicken, Chicken Meal, Pea Protein, Whole Brown Rice, Dried Potatoes
Find on: Amazon
These crunchies are packed with the necessary vitamins, minerals, and nutrients to keep your kitty healthy and happy. Natural fiber minimizes hairball formation and promotes healthy digestion, essential antioxidants strengthen the cat's immunity, and omega-6 fatty acids eliminate skin dryness and make it glossier. Last but not least is the affordable price of this food. With Nutro, you can be 100% sure that a high-quality product doesn't cost an arm and a leg.
Pros
The price-quality ratio is top.
Nutro cat food features real chicken as the first ingredient.
There are no GMO ingredients.
This budget cat food doesn't contain corn, wheat, soy protein, artificial preservatives, flavors, and by-product meals.
The shape of the kibbles is great.
The flavor is good.
Cons
Not suitable for cats allergic to poultry.
Pickier cats may refuse to eat this food.
Effective Anti Shedding Cat Food – American Journey Grain-Free Limited Ingredient Salmon & Pea Recipe Dry Cat Food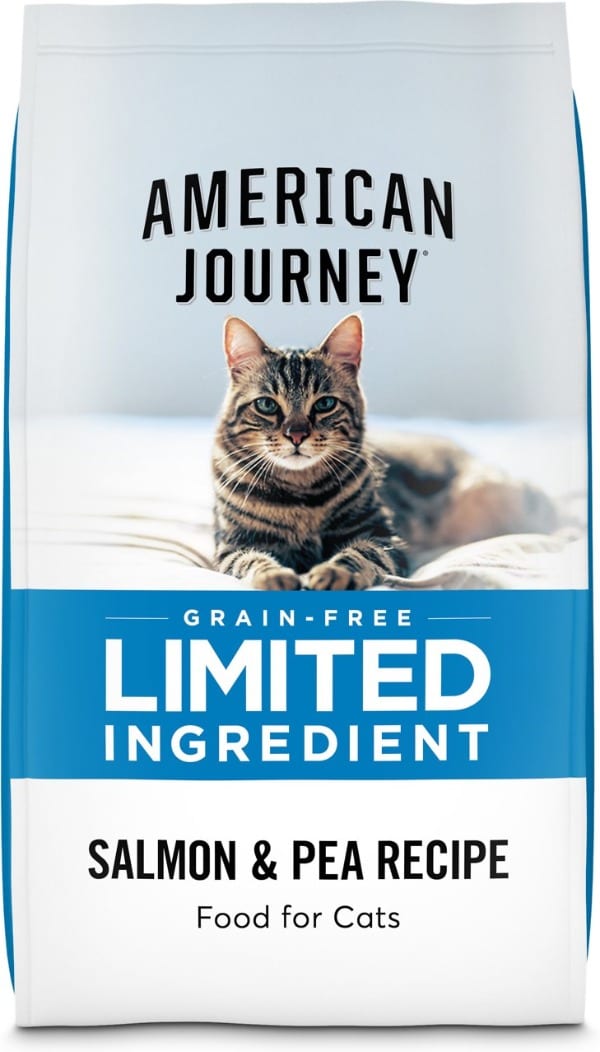 Main Ingredients:
Deboned Salmon, Salmon Meal, Peas, Tapioca Starch, Pea Protein
Find on: Chewy
Ideal for cats with sensitive stomachs, these kibbles have everything your feline strives for. Deboned salmon (with salmon oil) satisfies your carnivore's hankering for animal protein, omega fatty acids keep the skin and coat healthy, antioxidants, natural fiber, vitamins A and E, and taurine keep feline's gastrointestinal tract, eyes, and heart healthy.
Pros
This healthiest cat food contains purposefully selected, limited ingredients for whole-body health.
Deboned chicken is the first ingredient.
Omegas support your cat's healthy coat and healthy skin.
There are no soy and corn.
It is great for felines with allergies.
Cons
This grain free recipe doesn't contain much moisture.
The flavor isn't pleasant.
Best Cat Food for a Healthy Coat – Royal Canin Hairball Care Thin Slices in Gravy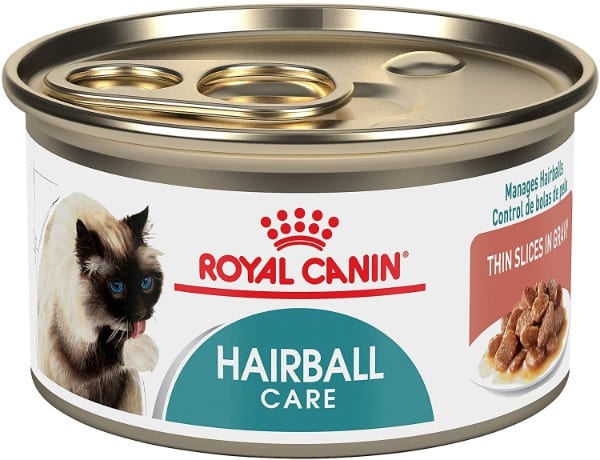 Main Ingredients:
Water Sufficient For Processing, Chicken By-Products, Pork By-Products, Chicken Liver, Pork Liver
Find on: Chewy
This wet food is a miracle worker for hairballs because it eliminates ingested hair by stimulating intestinal transit. A unique combination of healthy fats and carbohydrates helps cats maintain a perfect weight, and all the minerals and vitamins support the immune system.
Pros
The fat content is low, so it is great for overweight cats.
It features a rich blend of carbs, fats, proteins, and antioxidants.
Even picky eaters will eat this grain free cat food with enthusiasm.
Omega-3 fatty acids make the cat's coat shiny.
Cons
It contains corn and meat by-products.
Chunks of food should be smashed up.
Best Cat Food for Dandruff and Shedding – AvoDerm Natural Grain-Free Salmon & Chicken Entrée in Gravy Wet Cat Food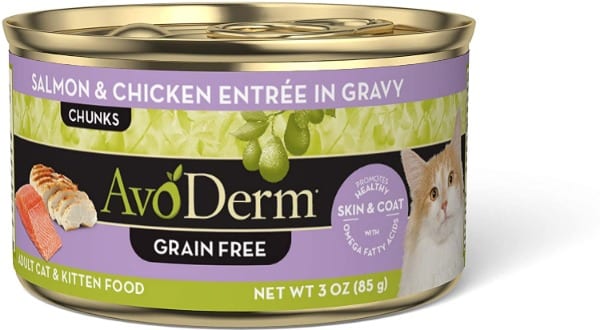 Main Ingredients:
Fish Broth, Salmon, Chicken, Sardine (Source of Omega 3), Pea protein
Find on: Amazon
AvoDerm cat food features a balanced mix of vitamins, minerals, essential fatty acids, healthy oils, and oxidants that is great for felines that suffer from dandruff, skin problems, and shedding. The first ingredient is real chicken, so your furry buddy will maintain strong muscles.
Pros
Great for cats with sensitive stomachs.
This food offers salmon oil, meat chunks, and shreds that are great for picky cats.
It is free from wheat, corn, soy, and grains.
There are no preservatives and artificial colors.
Various vitamins promote healthy skin and coat.
Cons
Some cat owners complain that there is too much gravy and not enough meat in this food.
FAQ
What to feed cats to stop shedding?
One of the easiest ways is to change the cat's food. Instead of feeding it with the classic can of cat food, you should switch it to a brand of cat food that has omega-3 fatty acids. A lot of people already know that fish can help a lot with shedding, and many cat owners have already tried it. It's quite an effective method, but the taste of fish can be tricky to get used to.
How long does it take to see results?
After changing your pet's diet, you can see results in a month. Remember that new food must be introduced gradually. We recommend that you first consult a vet who will provide veterinary advice and recommendations on changing the diet.
Why is my indoor cat shedding a lot?
If your cat is shedding too much, it may be that they are anxious or are lacking a certain nutrient. If your cat is shedding too much, and they are indoor cats, it could be that they are missing their natural habitat. This can be particularly true if they are living in an apartment. You can make your cat more comfortable by getting a scratching post to relieve its stress and make sure it gets a balanced diet.
Do indoor cats shed seasonally?
We can all agree that indoor cats are generally healthier than outdoor cats and are likely to live longer. But there is always the idea that indoor cats, especially long-haired ones, shed more than outdoor cats. However, according to many cat owners, cats have a season when they shed more than others. Some people believe indoor cats lose dead hair more in the spring, summer, and fall. This is because the weather is warmer and the fur is coarser. Others believe that long-haired felines lose dead hair more in the winter because they're getting rid of their winter coat. Whatever the reasoning, there is no conclusive evidence to show that indoor cats shed more.
How do I know if my cat is shedding too much?
If you notice that clumps of fur are accumulating outside often, then your cat might be shedding too much. This can be a natural occurrence when seasons change, but it can also mean that there's a medical condition. By following vet advice, you can get a proper diagnosis and make safety-first adjustments to your cat's diet, environment, and lifestyle to help prevent fur loss.
What are hairballs?
A hairball is an accumulation of undigestible fur in a cat's stomach. It may pass through the digestive tract, or your cat may regurgitate the clump. Where does all the hair go when cats groom themselves? Of course, into their stomach. Many breeds, notably those with long hair, are prone to hairballs. While this is typical, a healthy diet can help to mitigate the consequences. It may also be a significant concern for certain cats, causing itchiness and other issues.
Does wet food make cats shed less?
Wet food has a higher protein and fat content than dry food, making it the best cat food for healthy coat.
How much protein is enough?
Protein should make up a large portion of your cat's diet. Not only will this assist with your cat's general health but will make your cat's coat healthy and lustrous. On a dry matter basis, food should include at least 45% protein.
How much fat is enough?
Omega-3 and omega-6 fatty acids are essential for the health of your cat's hair and skin. Aside from that, fatty acids can benefit general health, particularly heart health. To minimize shedding in cats, the total fat content of a meal should be between 25-35% on a dry matter basis.
Bottom Line
When it comes to picking the best cat food for shedding cats, some people find themselves lost in the sea of cat food options. There are so many brands and flavors of cat food today. You may have even wondered if you're choosing the right kind of cat food for your four-legged companion. We hope that this in-depth guide has helped you to make the right choice.