Our little friends-cats are the cutest creatures in the world. At least, their so-called "humans" assure that they are. Well, the mess that these fluffies can create is directly proportional to the degree of their cuteness and can reach really grandiose level. There are a lot of disgusting things that cats can bring to our life to make it awful, like fur everywhere in the house, furniture with the signs of sharp claws, finally, the "brown surprises" anywhere they think suitable! However, one of the most frequent troubles that the cats' owners meet (if they treat their pets properly) is the cat litter, scattered even in pretty unexpected places. Thus, even if a cat follows the rules that he/she was taught to respect, you can get the same mess as if your beloved animal was the dullest creature ever. Be smarter than the majority of the cats' owners and get the staff that will help you get rid of any complications when sharing the house with a living being, who does not understand the speech. Try buying one of the cat litter mats, which can keep you safe from the improper smell, chaos and stupid cat shouting caused by the hatred to a new cat litter. If you do not want to be a pity slave of a kitty – be foxy and make it play your way.
We have surfed the Amazon, searching for the best cat litter mats and decided to present you them in the most detailed manner, as there are so many items related, that we get puzzled and have been reading all those similar characteristics for hours. Scroll the page down to check out our top-5!
Cat Litter Trapper Mat by iPrimio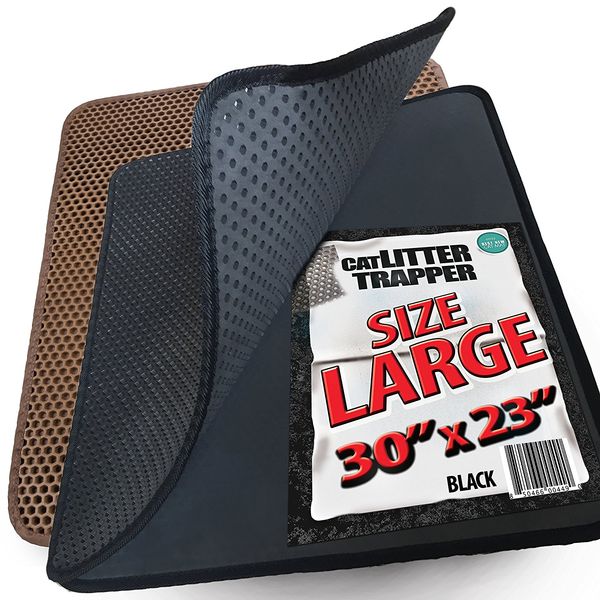 This item is supposed to be the best cat litter mat on Amazon, as the customer reviews have reached the critically positive point. There is no wonder why this product is so popular and has so many "fans" – it is of highest possible quality and of highest possible number of guarantees. Well, it could even dance and sing, if being a bit more intelligent, but it still can prevent you from a mess. It represents a new technology that is able to trap litter from cats' paws and litter from a box. It also has puppy pad effect that repels urine and deters the annoying odor, as the plastic film prevents urine from soaking in the bottom layer.
The larger holes allow litter to pass through the black hole. No matter whether you have cat or kitten – this litter trapper is designed to "satisfy all the ages and characters". Additionally, the nylon border will absorb the excessive urine, if any, saving your time you would spend on cleaning the mess around the place.
If your cat has especially gentle paws – this will be the right thing for you, because its surface is super smooth, and your pet will have no doubts as to stand on this mat. We have just one question: why cats are able to use so cool stuff, huh?
Multi-layer bottom;
Smooth but large holes;
Easy to clean;
Big but super light;
Great for really messy cats;
Perfect for pets who often "miss the litter box";
Minimalistic design.
PROS
Multi-layer bottom;
Smooth but large holes;
Easy to clean;
Big but super light;
Great for really messy cats;
Perfect for pets who often "miss the litter box";
Minimalistic design.
CONS
Should not be washed in a washing machine;
Very expensive;
Not for crystal litter;
Cat can avoid stepping on the mat because of its unusual texture;
Someone claim that it is not waterproof.
Pawkin Phthalate Free Cat Litter Mat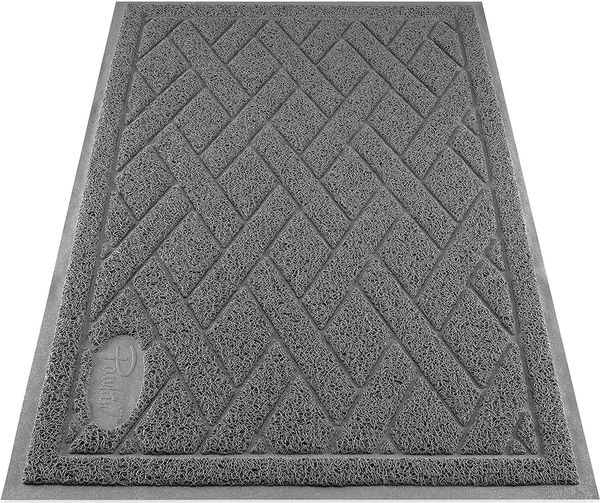 If you demand the total safety for your family and try to buy only the tested or organic products, then the Pawkin Cat Litter Mat is the best choice for you. It is non-toxic and phthalate-free, so neither you, no your pet will suffer from the inappropriate materials or substances. Furthermore, it is easy to clean, what will come in handy if you are going to vacuum or shake it every hour, but we hope that you will buy this mat to ease your life, not to make it harder.
If your kitty is really energetic, you should definitely take a closer look at this item, as it has the non-slip backing that prevents a mat from "going" to another room. You can think that such a technology makes the mat inelastic and stiff, but it is still soft, as made of high-quality sponge.
It works. Buy one and see with your own eyes. If you will not be satisfied – the sellers promise the money return. What are you going to lose, except for the cool cat litter mat?
Multi-layer bottom;
Smooth but large holes;
Easy to clean;
Big but super light;
Great for really messy cats;
Perfect for pets who often "miss the litter box";
Minimalistic design.
PROS
Elegant design;
Works well as a pet feeding mat also;
Non-slip backing effect;
Light and easy to clean;
Non-toxic;
Large mat for an average price.
CONS
One can find it hard to wash;
Too small to be called XL;
Does not repel urine;
Feels like plastic;
It is difficult to shake off the fine litter particles.
PetFusion ToughGrip Cat Litter Mat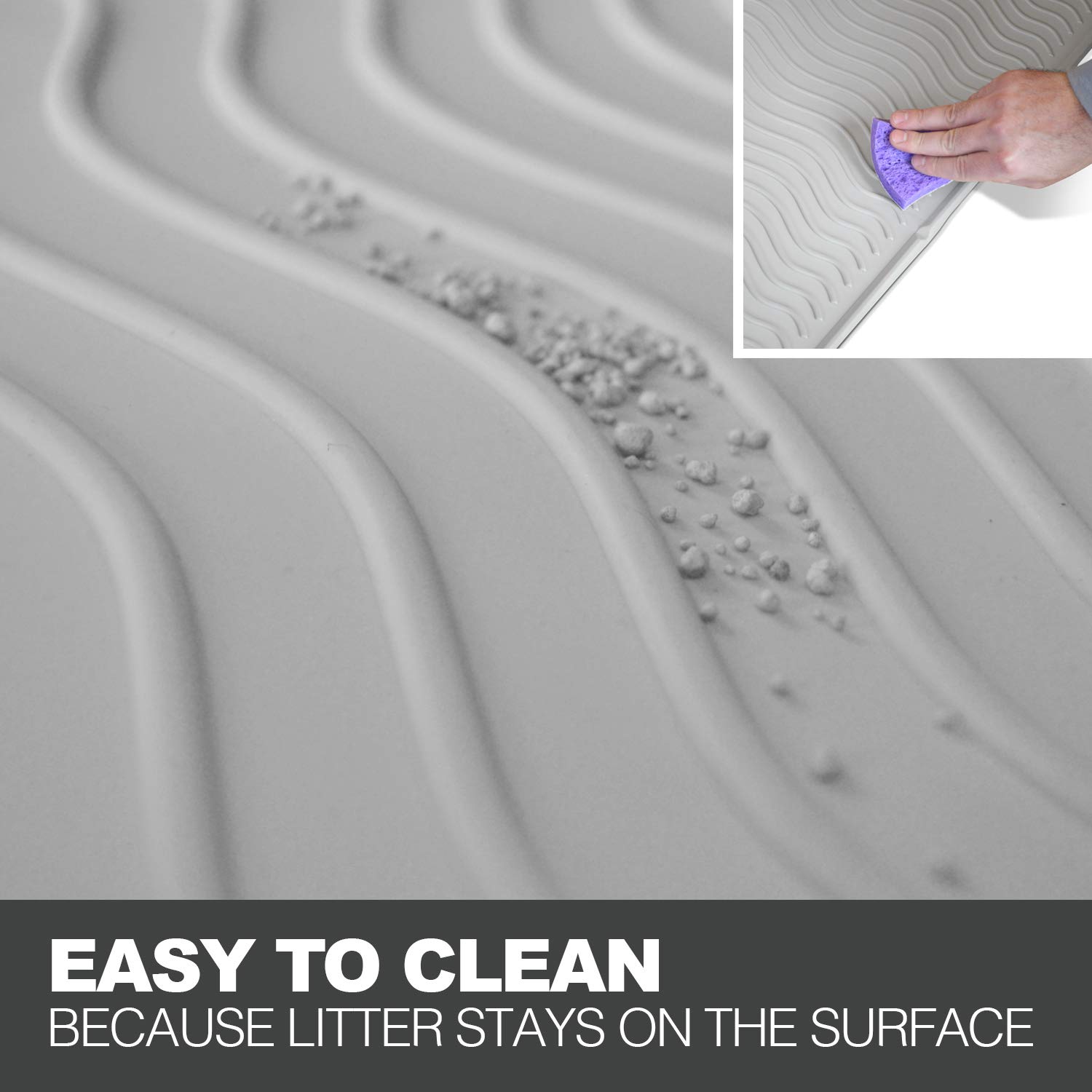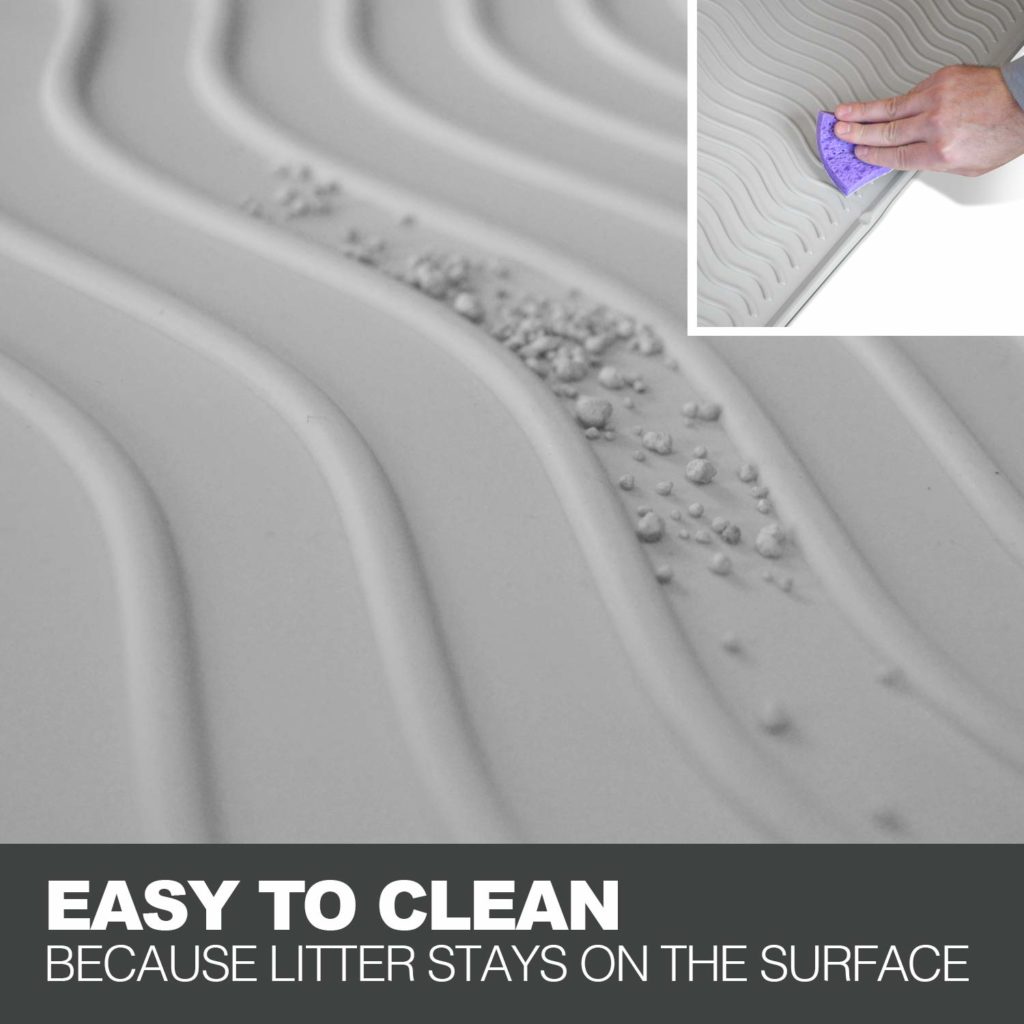 You are tired with all those promises from the cat litter mat producers, saying that it is wonderful, cool and the best thing to buy for your pet? Wanna finally get a high-quality mat? You definitely need a BPA Free Premium Mat. It catches 89% of the litter because it is larger than the other mats (is double the size of most!), so you can relax when hearing that your cat is messing around the litter box. Additionally, the customers of the Smiling Paws Pets assure that the company has found the optimal balance between mat's weight, size, and quality – they do not guarantee that the mat will be thin and light, as it is really impossible to soak the urine and trap the litter properly without several layers of different materials. If your cat is going to miss the litter box – this mat will help you to get rid of the disgusting smell before it even started. This item can become your little weapon in the fight against the excessive activity of your kitty – it will stay where you put it.
It is sturdier than the other similar mats, so it will not rip after vacuuming or shaking. If you are a tough person and need a tough approach to the solving of the home problems – this will be the best variant for you.
Multi-layer bottom;
Smooth but large holes;
Easy to clean;
Big but super light;
Great for really messy cats;
Perfect for pets who often "miss the litter box";
Minimalistic design.
PROS
Non-Slip Backing;
BPA-free;
Odor-resistant;
Easy to be cleaned from litter by shaking;
Extra-large and covers a big area;
Looks stylish;
Suitable for other pets;
Outstanding customer service, guaranteeing the money return, if needed.
CONS
Should not be washed by washing machine;
May turn to be too hard because of the additional layers and materials;
All rubber, so heavyweight;
Can get wen and chunky after the first cat peeing;
A bit expensive.
 Drymate Jumbo Size Premium Cat Litter Mat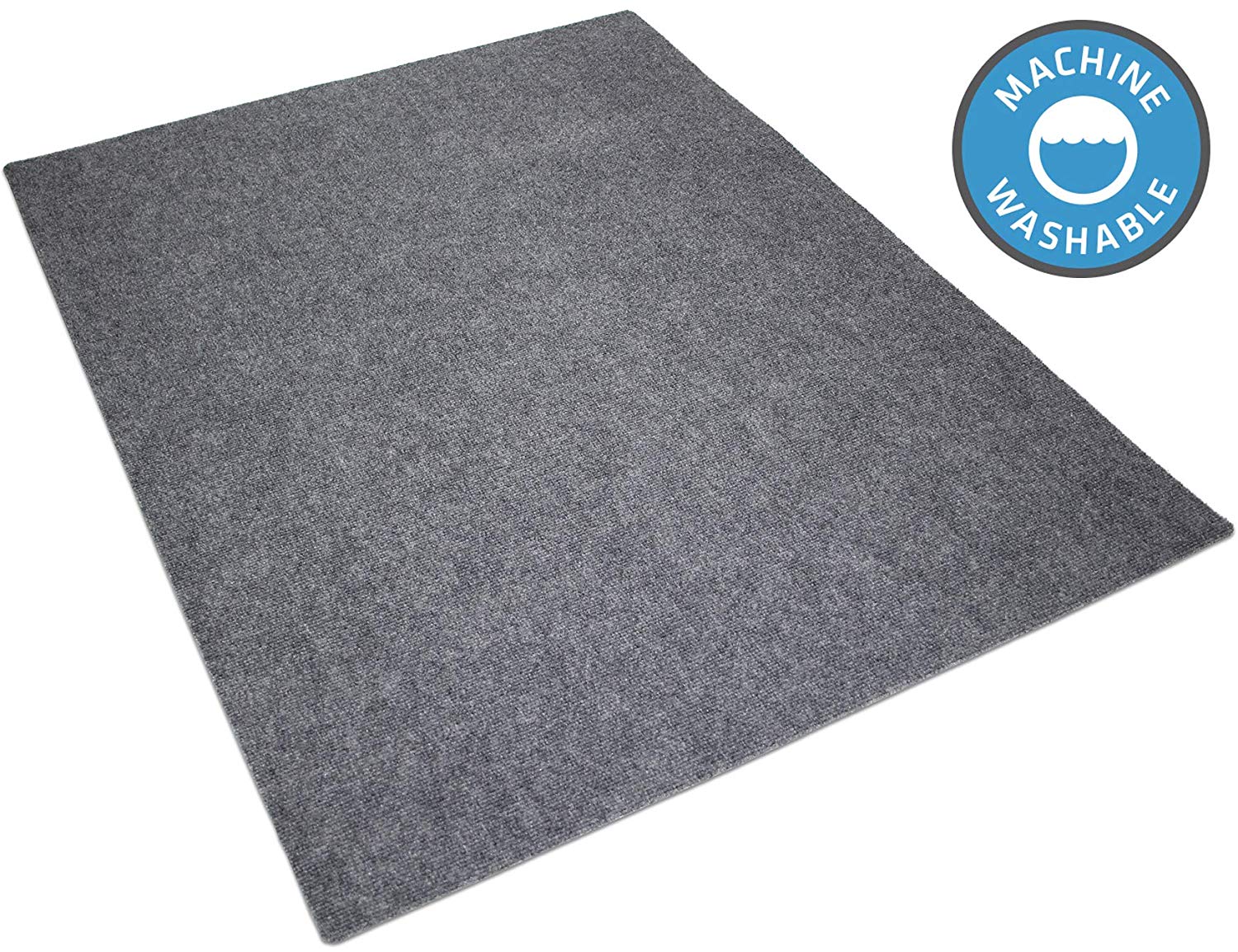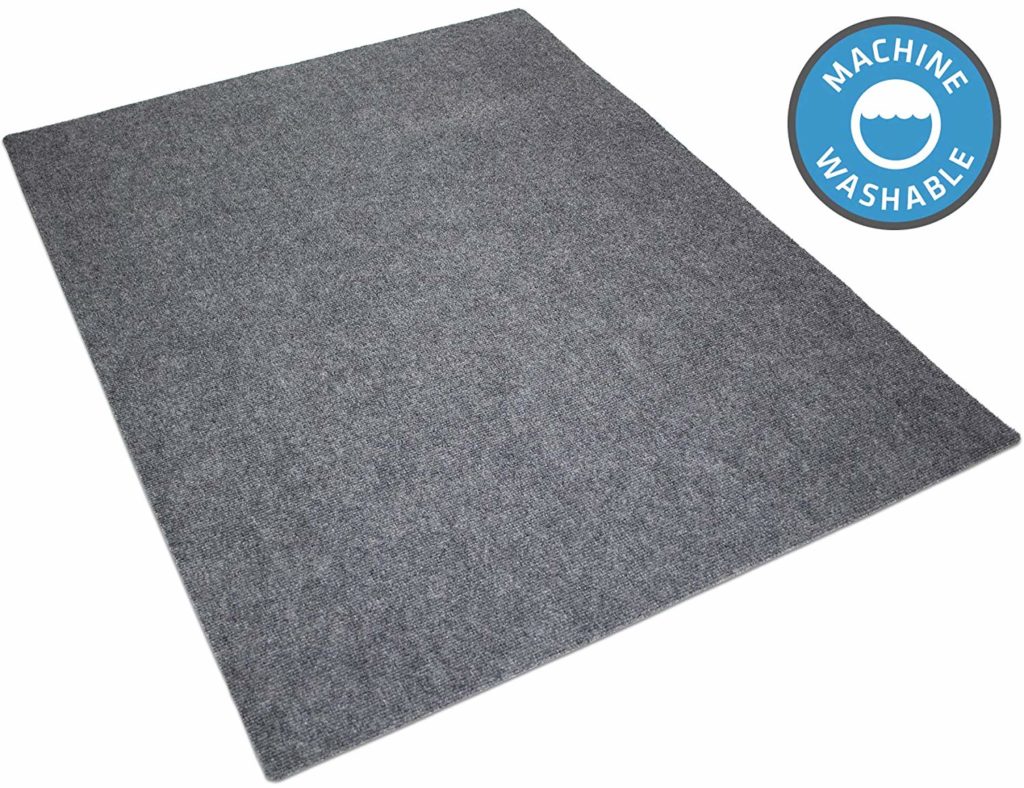 Easyology provides ones of the best mats on the market. It produces the items in several sizes for you to choose the most suitable, while the other brands make you take the scissors or other cutting tools to give the mat the desired shape. The cat litter trapper we are going to talk about is one of the largest and popular on Amazon.
It is made from an extra thick PVC material that has soft Patent Pending loops designed to catch the litter better than the other mats with the similar trapping technologies. It is lightweight, thus, is easy to be shaken, rinsed or cleaned with hands.
The Easiology products are the total obsessions, so you may become a real fan of them, just like more than 6,000 clients already are! You may not believe us, but you cannot ignore the experience of the other customers, who stayed satisfied with the purr-fect cat litter mat with an ideal scatter control.
Multi-layer bottom;
Smooth but large holes;
Easy to clean;
Big but super light;
Great for really messy cats;
Perfect for pets who often "miss the litter box";
Minimalistic design.
PROS
Presented in multiple colors and sizes;
Has been voted #1 on Amazon;
Non-toxic, Phthalate and BPA Free;
Thick enough to withstand the claws attacks;
Stylish design;
Has soft surface, so can be suitable even for kittens;
Perfect for messy cats;
Can keep a cat from clawing because of the unique not-a-yummy texture.
CONS
Do not absorb urine, so liquids pass through to the floor;
Does not prevent from odors;
Can have chemical smell;
Saves from litter, but not from "accidents";
Can turn to be not so durable, as it is claimed.
Petlinks Purr-fect Paws Cat Litter Mat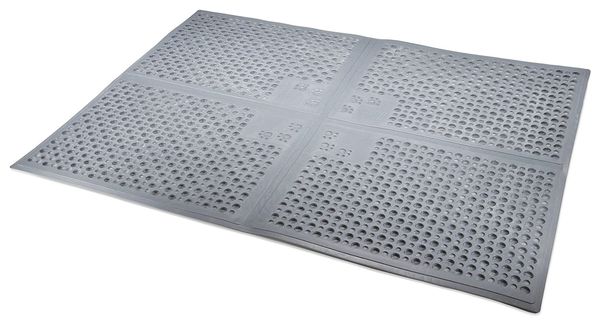 This mat is not as popular as those listed above, but it is still on top on Amazon, so it deserves the attention of the most exacting customers. It has all the needed characteristics that you can search for, and if you are exhausted with that chaos your cat is creating every day – this will be the fastest solution.
Petlinks assure that their mat is designed to meet or even exceed all the proper safety standards. It is minimalistic, flexible, made of a hard material and is easy to clean, so it will be in use for years. Its structure is innovative and patented, and allows separating the pads of a pet's paws, removing and trapping litter with every step. If you have several cats or your beloved only kitty is a cute large fatty, then you should definitely size up Purr-fect Paws Cat Litter Trapper. It is a simple, one-layered and minimalistic thing that can turn to be the best mat for you, if you hate the hand-cleaning – just put it into a washing machine and enjoy your free time.
Multi-layer bottom;
Smooth but large holes;
Easy to clean;
Big but super light;
Great for really messy cats;
Perfect for pets who often "miss the litter box";
Minimalistic design.
PROS
Designed by a member of the Worldwise family of pet products;
Durable rubber-like surface;
Waterproof;
Can be washed in a washing machine;
Easy to vac, rinse and shake.
CONS
Has a sticky feel to it;
Vacuum does not run smoothly, so it can prevent you from good cleaning the mat;
Rubber it is made of is heavy;
May have the unpleasant rubbery smell;
Will not lie perfectly flat unless you soften them (can be avoided by putting in the dryer for about 5 minutes);
Expensive.
 FAQ
What should I take into consideration when choosing the perfect mat?
Forget about all those rough marketing campaigns and try to listen to your own demands. Try to imagine the list of points needed to satisfy you, as a customer and a cat owner. If you experience some difficulties, let us help you with the following instructions. You should think over:
Affordability. Remember, that you should buy nice, or you will buy twice. It is better to consider a bit more expensive variant, but of better quality, as this item will serve you for months and years. Of course, the majority of the brands take money for their name, but still, the best mats are made of the basic and affordable materials, so you do not need to overpay. You do not need the five-layered litter mat, but choosing an average price for the quality will be a good option.
Cleanliness. If you are searching for a cool cat litter mat, you certainly want your home to be clean, and struggle for getting rid of that annoying fine litter that your pet is spreading around the house. Well, here we can advise only one thing: try several different litter mats, as only the practice can show you, which one is ideal for you – and for your cat, inter alia. They are much more capricious than we are, so even if you will find a mat wonderful, your kitty will cold-shoulder it at all. It is, unfortunately, the guessing game, and we can only wish you to guess with the first attempt.
Durability. Again, read the two previous paragraphs. If you want to buy a sweet toy for your cat and his/her claws and teeth, then you can choose any mat that is presented on Amazon. But if you hate even the thought to cast your money to the wing – discuss with your family the choosing a really useful mat.
Size. A lot of buyers prefer to get a large mat, as the more place is covered, the higher the chance to save your floor from urine, litter scratches, and disgusting odor. Of course, if you have not much space – try a medium or a small one, or just cut a large one into pieces and make several pee bases for your cats.
Water Resistance. Here everything depends on the money you are going to spend. If you are searching for a lightweight, three-layered, easy to wash mat that can absorb cats' urine – be ready to spend a considerable amount of money. If you do not need all those excesses and can deal with a waterproof heavy rubber – then take it for nothing and enjoy!
Design. In the modern world, the style takes one of the most important positions, and you should be one of those home fashion followers too. To be honest, there is no matter, whether you are an adept of interior design, or not; if you have at least a drop of a good taste, you will have no thought about buying an acid-green mat island for your perfectly white bathroom with a grey cat litter box. The pastel tones will be suitable everywhere. You do not want your guests to see the exact relax place of your cat, don't you?