Why is my cat throwing up undigested food?
What do you feed a cat with digestive problems?
Does my cat have a sensitive stomach?
If these questions are your biggest concern now, you're at the right place to find the answers and solve this issue asap.
If your cat throws up, constantly wakes up because of the nasty cat diarrhea, has lost appetite, or is not as energetic as it used to be, these may be the symptoms of a cat-sensitive stomach and you are the one responsible for helping your lovely feline.
In this guide, you'll find the top-6 best sensitive stomach cat food, sensitive stomach kitten food, find out what you can do for a cat with a sensitive stomach, how to introduce the easy to digest cat food to your kitty's diet, and how to support, comfort your cat throughout this experience.
Remember, human, your cat is always there for you when you're hit with an upset stomach – do the same for your furry friend. And we know how: start by choosing your perfect sensitive stomach cat food.
Best Cat Food For Sensitive Stomachs
Royal Canin Digest Sensitive Gravy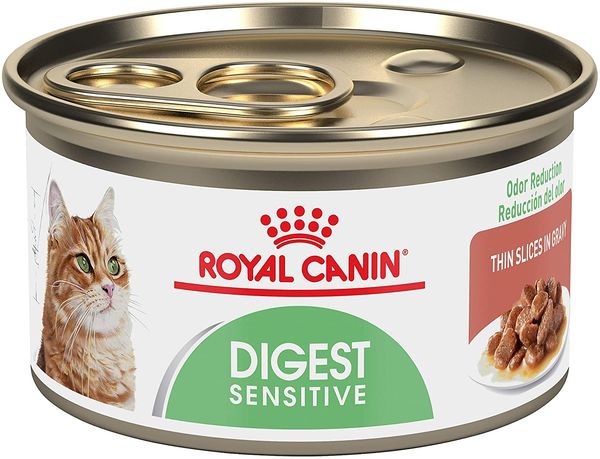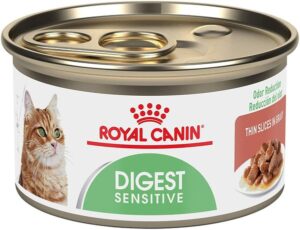 Ingredients: Water Sufficient For Processing, Chicken By-Products, Pork By-Products
Find on: Chewy
Royal Canin digest sensitive thin slices in gravy wet cat food is designed around the needs and preferences of cats with sensitive stomachs. This canned cat food for sensitive stomachs provides complete and balanced nutrition to cats over 1 year old.
The balanced blend of vitamins and minerals guarantees cat health and wellness, highly digestible proteins reduce the odor, besides cats really love this gastrointestinal cat food.
The formula helps to maintain an ideal weight in your feline. This best wet cat food for sensitive stomach diarrhea can work individually or will be a perfect complement to Royal Canin Digestive Care dry cat food.
PROS
Reduces vomiting, diarrhea, and stool odor
Helps with rehydration issues
High protein formula helps to maintain the body weight and absorb the nutrients
Cats love the gravy texture
Works as an individual meal and can be mixed with dry food
Suitable for cats from 1 year old
CONS
Pricey
4% carb content
Only 1 multi-flavor option – no variety
Cat owners have to cut the chunks for smaller cats
Purina ONE Sensitive Skin & Stomach Dry Cat Food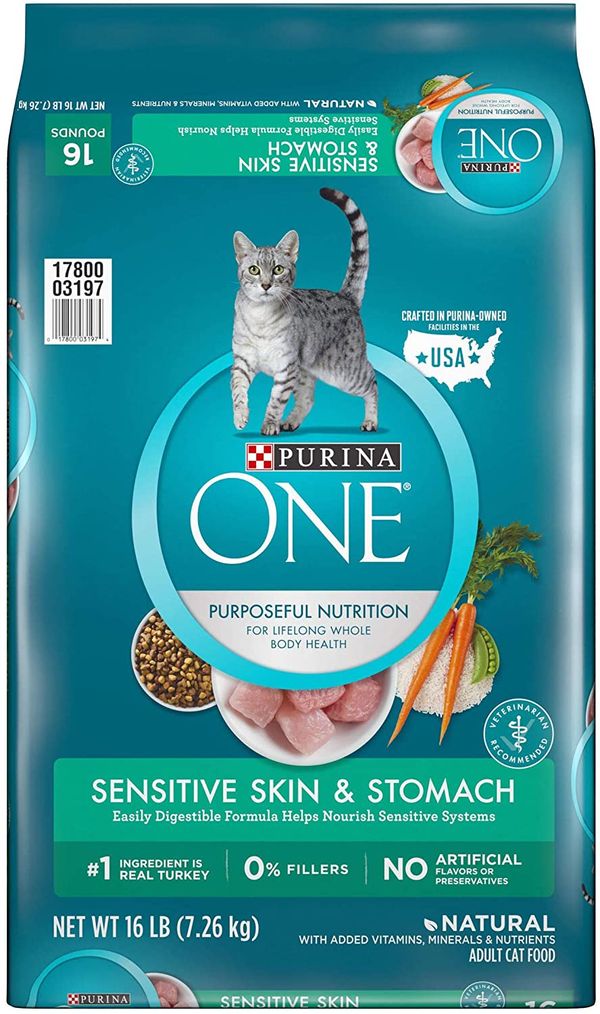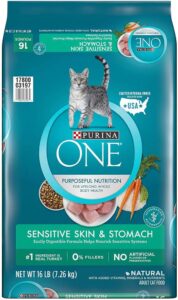 Ingredients: Turkey, Chicken By-Product Meal, Rice Flour
Find on: Chewy
Purina ONE Sensitive Skin and Stomach Dry Cat Food is a more affordable yet as high quality highly digestible cat food option, according to multiple customer reviews.
What makes Purina ONE Sensitive Skin & Stomach become the best dry cat food for sensitive stomachs on our list? – Real turkey is the main ingredient, it is one of the healthiest protein sources possible in pet food. High contain of animal protein (34%) supports a cat's muscles, including the heart, which in turn leads to proper blood work.
The ingredient list is loaded with high-quality ingredients including vitamins, minerals, and nutrients: antioxidants for immune support, and omega fatty acids to nourish her sensitive skin. The vet recommended Purina ONE Sensitive Skin & Stomach diet leaves no chances of any signs of food allergies, cats' stomach issues, vomiting and diarrhea.
PROS
Budget-friendly
Maintains teeth and reduces plaque build-up
No fillers, preservatives, and artificial flavors – eliminates food allergy probability
This is the best cat food for older cats that vomit
Vet recommended
CONS
Some customers state that this sensitive stomach cat food makes cat's poops smellier than normal
Blue Buffalo Sensitive Stomach Adult Dry Cat Food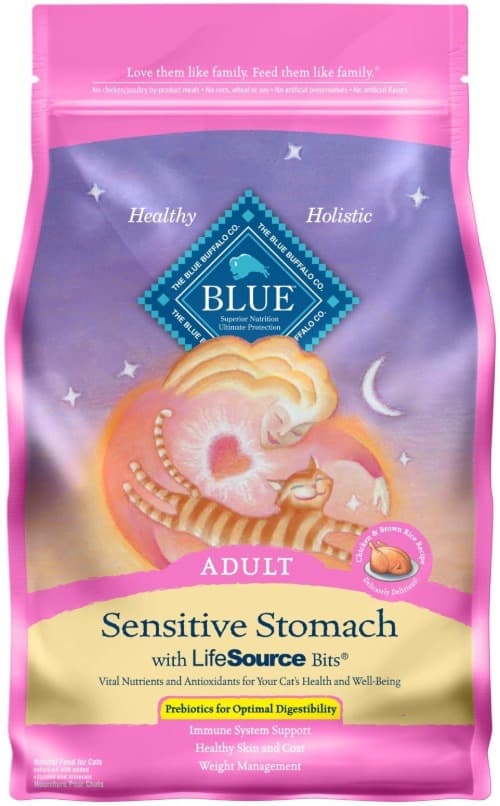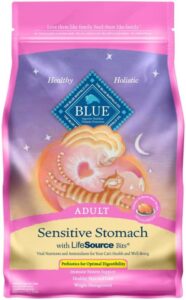 Ingredients: Deboned Chicken, Chicken Meal, Brown Rice
Blue Buffalo sensitive stomach cat food presents a purr-fect mix of chicken and brown rice – Blue Buffalo's Sensitive Stomach Chicken Recipe Adult Dry Cat Food.
It doesn't contain any food sensitives like poultry by-products, wheat, corn, soy, artificial flavors, or preservatives.
It does contain FOS prebiotics to make this cat food highly digestible, real chicken (great even for protein diets) for strong muscles, garden veggies, and fruits, 3 & 6 omega fatty acids for healthy skin and coat.
This combination of selected antioxidants, minerals and vitamins picked by veterinarians and animal nutritionists makes it one of the best cat food for sensitive stomach vomiting, to support immune system health, life stage requirements, and a healthy oxidative balance.
Treat your kitty with the Blue sensitive stomach cat food – nutritious and so delicious.
PROS
No corn, wheat, soy or artificial flavors or preservatives
Good value for money
Two sizes variety pack
Available for kittens, adult, and senior cats
Contains omega 3 fatty acids and omega 6 fatty acids for healthy skin and coat
Prebiotics increase the absorption of essential vitamins and minerals
Chicken is the main animal protein source without any animal by-products
CONS
Can be too hard to chew for elder cats or cats with teeth issues.
Isn't liked by all cats: some cats eat and treat their health issues, others hate this pet food and walk away.
Hill's Science Diet Dry Cat Food for Sensitive Stomach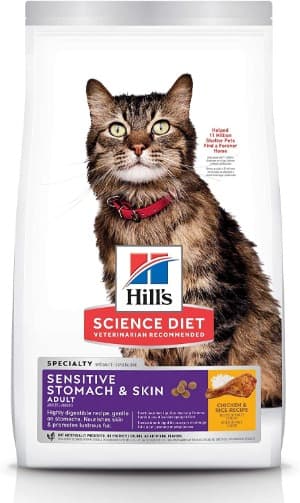 Ingredients: Chicken, Brewers Rice, Corn Gluten Meal, Whole Grain Corn, Chicken Fat, Chicken Meal, Egg Product, Chicken Liver Flavor, Soybean Oil, Lactic Acid, Oat Fibe
Hill's Science Diet Adult Sensitive Stomach & Skin Dry Cat Food will provide your kitty with great tasting kibbles, stuffed with amino acids, vitamins and minerals for long, happy life, healthy immune system, and sound body.
The recipe is meant to diminish all health problems connected with sensitive kitty stomachs, promote healthy skin and coat. Hill's Science Diet is one of the best cat food for older cats with sensitive stomachs – it's highly digestible, which allows for better nutrient absorption and easy stool pickup.
Also, it's made in the USA, without any artificial colors, flavors, or preservatives.
PROS
No artificial flavors, colors, or preservatives
Multiple size bag options
3 flavor options
Small, easy to chew kibbles
Improves cat's immune system, digestive system, skin, coat, and overall well-being
A perfect balance of vitamins and minerals
CONS
This Hills cat food can lead to weight gain (due to relatively high carbohydrate content)
Contains grains – doesn't work for cats with grain food allergies
Halo Natural Dry Cat Food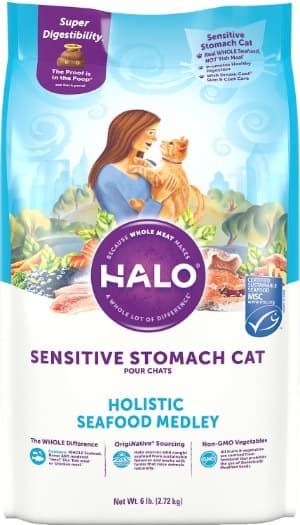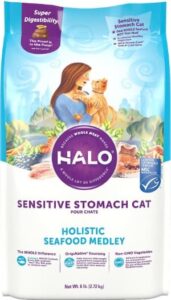 Ingredients: Chicken, Chicken Liver, Dried Egg Product
Find on: Chewy
Halo knows that the best cat food for a sensitive stomach is the one containing whole animal protein (chicken, turkey, rabbit – whatever) – and they successfully represent this idea in their Halo Natural dry cat food.
This sensitive cat food is made with whole chicken, chicken liver, grains, non-GMO potatoes, blueberries, carrots, cranberries, nourishing oils. These are able to support the muscles and energy level of adult cats, as well as the healthy eyes and heart of your kitty.
PROS
No GMO, artificial flavors, or colors
Real, whole chicken is the animal protein source
Contains omega 3 fatty acids for healthy skin and lustrous coat
Highly palatable and highly digestible
CONS
Instinct Limited Ingredient Grain-Free Cat Food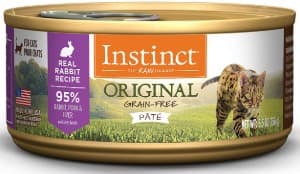 Ingredients: Rabbit, Pork, Pork Liver, Pork Broth, Ground Flaxseed, Montmorillonite Clay, Tricalcium Phosphate, Peas, Carrots…
Cat foods for sensitive stomachs usually have a pretty simple ingredient recipe – so does the Instinct Limited Ingredient Grain-Free Cat Food, despite the fact it represents the limited ingredient diet. Owners of cats with food sensitivities sometimes can't help the vomiting and diarrhea of their kitty even using the best cat food for digestive problems. That's where the limited ingredient diet comes in handy.
Easily digestible high quality ingredients don't tolerate any grain, dairy, eggs, chicken, beef, fish, corn, wheat, soy, carrageenan, artificial colors or preservatives.
Farm-raised rabbit is the one animal protein present – safe and allergen-free. This canned cat food for sensitive stomachs is a definite must-try if you're almost desperate to find good cat foods for your sensitive kitty.
PROS
Farm-raised rabbit is a healthy easily digestible animal protein
Perfect for cats with food allergies: no grain, dairy, eggs, chicken, beef, fish, corn, wheat, soy, carrageenan, artificial colors, or preservatives
Great taste
CONS
Limited Ingredient Diet for cats with sensitive stomachs is rather pricey
Can be in short supply
How Can I Tell if My Cat Has a Sensitive Stomach?
Timely identification of stomach issues in your cat will improve your pet's wellness, ease your life, and prevents more serious health disorders connected with the eating habits of your kitty.
So, what are the signs and symptoms signaling that your cat has a sensitive stomach?
Vomiting
Despite this is the most visible and obvious sign, you can confuse vomit with hairballs. Only if your kitty throws up regularly and there is partially digested food or bile, it counts. If the vomiting is occasional, just keep an eye on your cat: in case the other symptoms on this list appear too, you should contact your vet.
Diarrhea
As well as vomiting, occasional diarrhea and loose stool may just be a reaction to eating something off the floor. But if the situation doesn't get better for more than a day, or you notice your cat straining, involve a vet and consider switching their menu to sensitive stomach cat foods.
Excessive Gas
Sometimes it's a mislead as a cat can also experience occasional gas because of eating too quickly. But if this issue persists, it may be a sign of a digestive system issue and you should consult your vet.
Allergies
Itching, rashes, ear or skin infections are the symptoms of an allergy, which is likely to respond to their current food. It can be a reaction to specific ingredients like soy or wheat, or even a kind of protein, like chicken, rabbit, or turkey. If your vet recommends to cut out some products and ingredients, you'll definitely find a good wet or dry food for cats with food sensitivities in the list above.
Other side symptoms can include:
Licking lips
Lack of appetite
Lethargy
Now again: if any of these symptoms are occasional or has happened once, just observe. If the above signs go on for more than a couple of days, take your kitty to the vet and choose a cat food sensitive stomach from this list.
What Causes a Sensitive Stomach for a Cat?
So, the symptoms are identified. Now, let's see what kind of things might cause sensitive stomachs.
Firstly, some breeds of cats are initially at a higher risk for having sensitive stomachs – check the information about your kitty breed and opt for foods for sensitive stomach only if necessary.
Another common problem is that some cat foods may be too rich for cats, who are prone to vomiting after eating – here, again, switch your cat's usual snack to cat foods for sensitive stomachs.
Other causes of a sensitive stomach for a cat are:
switching cat food too frequently;
intestinal parasites (especially common in young cats and kittens);
overeating (too big portions);
food allergies and intolerance;
eating too fast;
hairballs;
eating rubbish (like feathers, wool, string);
age-related changes;
infections, illnesses, and diseases.
Sensitive Stomach Cat Food: Key Benefits
Cat meals designed for delicate stomachs provide the following advantages:
Made with components that are easily digestible.

This food may aid in the weight maintenance of a cat.

Balanced nourishment is provided.

Reduces stool smells.

Reduces or eliminates vomiting and diarrhea.

It is an excellent source of protein.
Foods to Avoid Feeding Your Cat
The first and foremost recommendation for all cat owners is to avoid table scraps. Even a healthy cat can develop digestion issues if their diet is not balanced and messed up with table odds.
Other most common foods that often trigger negative stomach reactions include beef, chicken, fish, dairy products, eggs, foods with preservatives or additives. Not to mention chocolate, alcohol, raw dough, grapes, raisins, onions, and garlic – they are dangerous foods for felines.
Let's talk about the most common allergens, which are unfortunately also are common ingredients:
Raw Fish
It often causes sensitive stomach issues in cats. The thiaminase containing in some fish breaks down thiamine and vitamin B1 in cats and leads to a deficiency, which causes neurological problems (convulsions) in turn.
Dairy Products
With the age, a lot of cats become lactose intolerant, eventually, milk and cheese will cause upset tummies.
Raw Eggs
Raw eggs can bring salmonella and other parasites to your kitty's body, which leads to pancreatitis. As for cooked eggs, they should be fed occasionally as a treat only.
Fatty Foods
Too many fatty foods don't only cause excess weight but also sensitive stomach issues and pancreatitis.
Chives, Leeks, Garlic, and Onions
All representatives of the allium family are very toxic for cats. They ruin the red blood cells, leading to gastrointestinal issues and anemia.
Remember: the foods which are harmless or even useful for people can be extremely dangerous for your cat's tummy. Be picky when choosing dry food or wet food for your purring friend.
Home Remedies for Cats Suffering from a Sensitive Stomach
If your cat is suffering from sensitive stomach issues, besides changing their food to a sensitive stomach diet, you can also try these home remedies to relieve the condition of your kitty:
Warm up your cat's tummy with your arms to relieve the discomfort they experience.
Give them a soft abdominal area massage (only if your cat likes it.) If not, just wrap them in a blanket or put your hands on that area.
Monitor your cat for any changes in behavior. Keep a food diary to identify a brand, a flavor, or ingredients that cause problems.
Let your cat rest in their favorite, most comfortable place.
Try a short fast to help the stomach settle down and get back on an even keel.
Entice better hydration (add more wet food, settle a water fountain for drinking)
Eliminate overeating by reducing the portion size.
If your cat eats too fast, try a slow feeding cat bowl to reduce vomiting.
Eliminate parasites.
Reduce hairballs by brushing out the coat and trying some hairball cat food or supplements.
Move to a senior diet plan if your cat is aging and probably can't process some foods anymore.
You can try homemade cat food recipes for a sensitive stomach but only after the consultation with a vet or a cat nutritionist.
These are just home remedies, which will help to support your kitty with gastrointestinal problems, but they CANNOT REPLACE professional care. If you're a responsible and caring owner of a sensitive stomach cat, you need to see your vet as soon as possible, choose the best cat food for sensitive stomachs, and accompany these steps with home remedies for cats suffering from sensitive stomachs from this list.
What to Look for in Cat Food for a Sensitive Stomach
If you're going to switch your cat's diet and move over to easy-to-digest cat food for sensitive stomachs, it's important to keep the following in mind.
The new food should be made from whole meats, novel proteins, contain the right balance of vitamins and minerals.
Fillers
Avoid artificial colors, flavors, and preservatives. Firstly, they often trigger food sensitivities, secondly, they are unnecessary if the other ingredients are real and high quality. The easier the label, the better.
Source of the main protein
Your cat is likely to have chicken, fish, or beef intolerance. If so, look for cat foods for sensitive stomachs with turkey, lamb, or duck as the main protein. They are much easier on the stomach.
The texture
Some cats might have trouble with chunks or even gravy. In this case, look for pate texture – it'll settle more easily than dry food or wet cat food like gravy.
Grains
Grains are a controversial point since they are a problem only for some cats. But generally talking, yes, some grains can cause a sensitive stomach, so you'd better check the label to see what grains are included or just opt for grain free sensitive stomach cat food.
Other issues
If you have excluded everything listed above, but the problem still occurs, try low fiber cat food and lower fat cat food options.
Types of Hypoallergenic Diets for Cats
Hypoallergenic diets are classified into three types:
Limited ingredient

Veterinary prescription meal with a new protein

Protein that has been hydrolyzed
Grain-free canned food contains only one protein source and one carbohydrate source and may be obtained without a prescription. These diets, however, do not guarantee that there is no cross-contamination.
Veterinary prescription meals with new animal proteins provide a single-source protein and are manufactured in a facility that prevents cross-contamination.
Hydrolyzed protein diets break down the protein to a level that the immune system is less likely to identify.
Tips on How to Introduce Sensitive Cat Food Diet
If your cat needs their diet changed because of sensitive stomach issues, the best way to introduce a new food is to do it gradually and slowly to avoid upsetting your kitty's digestion even more.
The substitution of a cat's old food with a new one is the key. You shouldn't rush the process – give your cat at least seven days to adjust to new treats.
Start by adding some new food to the old and go on according to this plan:
Day 1 – 75% old food, 25% new food
Day 2 – 70% old food, 30% new food
Day 3 – 60% old food, 40% new food
Day 4 – 50% / 50% old and new food
Day 5 – 60% new food, 40% old food
Day 6 – 75% new food, 25% old food
Day 7 – the new food only
If this scheme is too intense for your cat, stick to one day from this plan for several days in reality.
Watch out for ingredients that can cause tummy trouble in sensitive cats: beef, dairy products, lamb, some fish.
Avoid non-cat food and treats during the cat food switching period. For 5-6 weeks don't let your kitty eat what people or dogs eat.
Stick to scheduled meal times and remove any uneaten food in half an hour after the scheduled feeding. In this way, it's easier to follow the plan of substitution above and control the portions.
Introducing a sensitive cat food diet is not a quick process and can take up to 12 weeks to see the effects of the new food. Remember to speak with your vet if you notice that your cat's symptoms are getting worse.
Frequently Asked Questions
How do I stop my cat vomiting after eating?
Sensitive tummy and quick eating can lead to vomiting after eating. To combat this, change your cat's eating habits: choose the best cat food for cats that throw up, make a shift to smaller portion sizes, consider buying an automatic cat feeder to monitor the portions sizes.
Since hairballs can also be a reason for vomiting, take steps to reduce the chances of hairballs: groom your cat, try herbal aid supplements. Try all these things gradually not to cause stress in your kitty.
What else can I do for a cat with a sensitive stomach?
Consider trying prescription cat food after talking to your vet. Prescription cat food can include extra fiber, brewers' rice, B vitamins, psyllium husk seed, canned pumpkin, Metamucil. They help provide some relief to your cat's stomach.
Extra help can come from probiotics for cats like Purina's FortiFlora or Nutramax's Proviable. Besides live microorganisms, they also contain antioxidant vitamins E, C and beta-carotene.
Locate your cat's food, water, and cat litter box in quiet areas of your house, and don't move them around.
Also, make sure that your cat does what comes naturally to him: climbing, scratching, hiding, resting. Create an enriching space for your kitty, similar to their natural habitat.
What is the best food for a cat with sensitive stomach?
The best dry cat food for diarrhea in our list is Purina ONE Sensitive Skin & Stomach Dry Cat Food since it's a perfect combination of value and price. However, if you don't mind paying more, consider Blue Buffalo Sensitive Stomach Adult Dry Cat Food or some limited ingredients series like Purina Pro Plan Sensitive Skin and Stomach.
What is the best wet cat food for sensitive stomach?
Grain-free ZIWI Peak Canned Wet Cat Food without fillers is one of the best wet foods for cats who vomit.
What do vets recommend for cats with sensitive stomachs?
Your veterinarian should always be consulted before making dietary and nutritional recommendations for your cat. Your veterinarian may advise you on the best cat food for a sensitive stomach, vomiting, or diarrhea, which is often a highly digestible formula low in fillers and high in stomach-soothing nutrients. Veterinarians may offer extra vitamins or drugs to aid digestion. Your veterinarian may also prescribe further tests to evaluate whether your cat's upset stomach is caused by an underlying condition other than food sensitivity.
What is the easiest food for my cats to digest?
If your cat is having difficulty digesting dry food, it may be time to seek for the finest wet cat food for its sensitive stomach, as moist food is sometimes easier to digest. Single-source protein, rather than animal byproducts, as well as components like pumpkin and high-quality carbs are more likely to be easily absorbed by your cat.
Conclusion
So, what's the best cat food for sensitive stomach diarrhea?
As we've already pointed out, it all depends on your requirements and your kitty's preferences. If the price is a big concern for you, Purina sensitive stomach cat food is the ideal variant. However, if your cat can't eat dry food, needs rehydration, or is elderly and has dental problems, opt for Royal Canin Digest Sensitive Gravy – this wet cat food for sensitive stomachs is loved by felines.
Cats can be very picky sometimes and to overcome this issue, we've prepared a diverse list of 6 best cat food options with different flavors, ingredients, proteins, textures, so you'll definitely find your perfect one in this list.
Learn more about poultry free cat food, best cat food with taurine and high calorie cat food