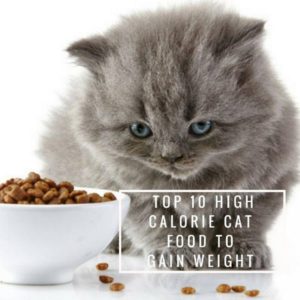 A harmoniously developed cat is healthy and active. It is known that little weight can cause numerous health problems the cat can encounter. Thus, underweight cats can suffer from such diseases as diabetes, gastrointestinal problems, toothache, hyperthyroidism, organ failure, intestinal parasites, feline infectious peritonitis.
If your task is to help the cat gain weight, then adding high calorie wet cat food, high calorie canned cat food, high calorie liquid cat food, high calorie dry cat food, etc. to the diet alongside the existing diet is a great place to start.
We've analyzed different brands of high calorie cat food, compared their main ingredients, analyzed the reviews, and come up with the list of the best high calorie cat food to gain weight. They differ in price, rating, and brand, but all of them have one common feature – they are high-quality products that will help your cats gain weight.
Image
Name
Main Ingredients
Rating
Price
Purina One Tender Selects Blend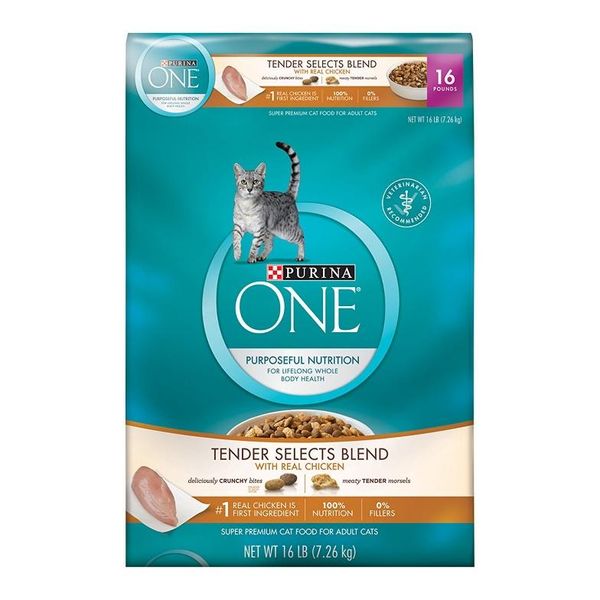 This balanced nutrition helps to support your cat's immune system and the overall health. This food is very useful and it is recommended by vets as a balanced blend for cats. The blend is packed with the necessary vitamins and minerals (Vitamins A, B, D, zinc, calcium) that provide a nutritious supply your pet needs. The first and main ingredient in this food is real chicken – an indispensable component, which is a great source of protein. Protein is needed for healthy and strong muscles. Besides, Omega-6 fatty acids improve the skin and coat condition.
What is more, there are delicious crunchy bites and tender meaty morsels that offer a pleasant combination of textures, reduce plaque buildup, and whiten teeth.
Nutrient Analysis:
Protein: 34%
Fat: 13%
Fiber: 2%
PROS
A mix of tender meaty morsels and crunchy kibble reduces plaque buildup and whitens teeth
Despite being dry, the food has a required amount of moisture
Has necessary vitamins, minerals, Omega-6 fatty acids and protein
CONS
Contains grains that can cause allergy
Contains artificial coloring
Eukanuba Adult Chicken Dry Food Top Condition 1+ Rich in Chicken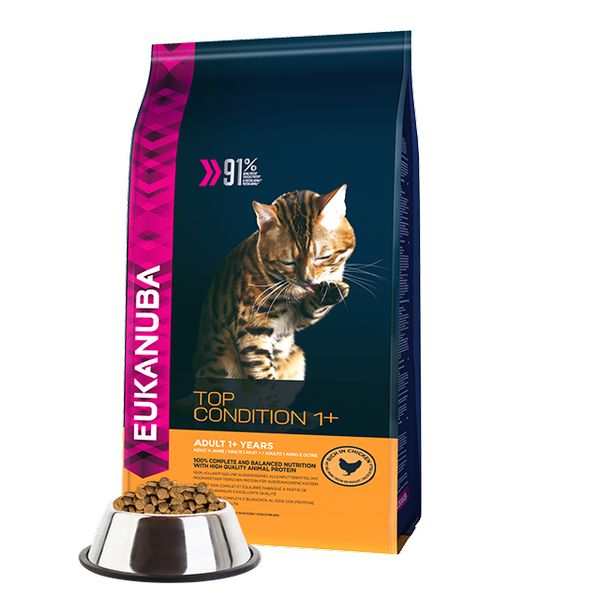 Adult cats require balanced nutrition for the perfect health, shiny coat, and excellent vitality. This is provided by Eukanuba cat food.
Eukanuba is one of the leading cat food brands, which has been designed as a premium pet food brand. The primary ingredient is meat, which is a good source of protein, needed to build and maintain lean muscles. This food is the best for sick cat or inactive cats.
Packed with fiber and probiotics, this food enhances the immune system and digestive system. Besides, this food helps support urinary tract health.
Omega-3 and Omega-6 fatty acids are paramount components in the food that ensures a healthy and shiny coat. Calcium and other minerals help maintain healthy teeth and strong bones.
Nutrient Analysis:
Protein: 35%
Fat: 21.75%
Fiber: 1.4%
PROS
Enough percentage of protein for weight management
Supports urinary tract health
Has premium ingredients
Improves digestive system and immune system
Omega-3 and Omega-6 fatty acids ensure a healthy skin and coat
Necessary vitamins and minerals strengthen teeth and bones
Doesn't have artificial preservatives and flavors
Royal Canin Feline Health Nutrition Special 33 Dry Cat Food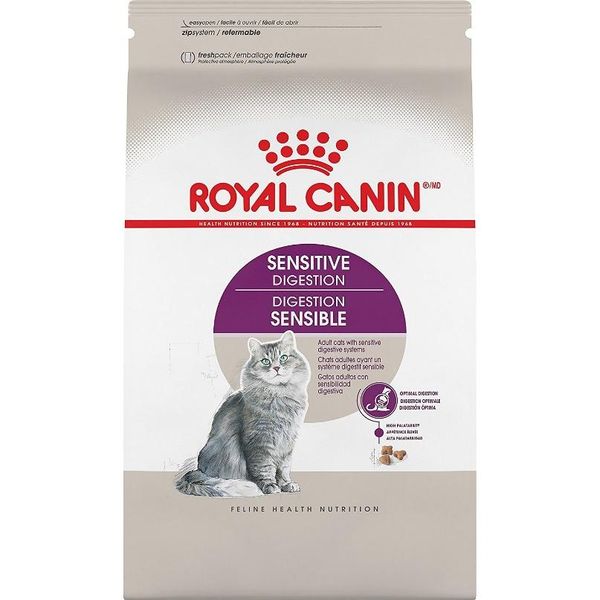 Royal Canin understands that each cat is different and that cats can have a fussy appetite, which can affect their weight negatively. If your cat is underweight and it skips meals, then the food should provide a balanced nutritional diet that will meet all the needs of your cat. In these terms, Royal Canin Feline Health Nutrition Special 33 Dry Cat Food is a good choice!
This very high calorie food is suitable for sick cat as it aids in digestive sensitivities and ensures a good absorption of the necessary vitamins and minerals. Also, the food has an L.I.P. Digestive Science Innovation that means that the food has been formulated with highly digestible proteins that contribute to soft stool prevention. Specific fibers improve flora balance because they promote the development of good bacteria.
On top of that, this food is highly palatable because there are three different kibble shapes with selected flavors that stimulate the appetite in sensitive cats.
This diet contains 4103 kilocalories of metabolizable energy (ME) per kilogram or 472 kilocalories ME per cup on an as fed basis.
Nutrient Analysis:
Protein: 33%
Fat: 20%
Fiber: 3.1%
PROS
The high content of protein
Suitable for sick cats with digestive sensitivity
Aids in easy digestion
Promotes flora balance
Different kibble shapes stimulate appetite
IAMS Proactive Health Kitten Dry Cat Food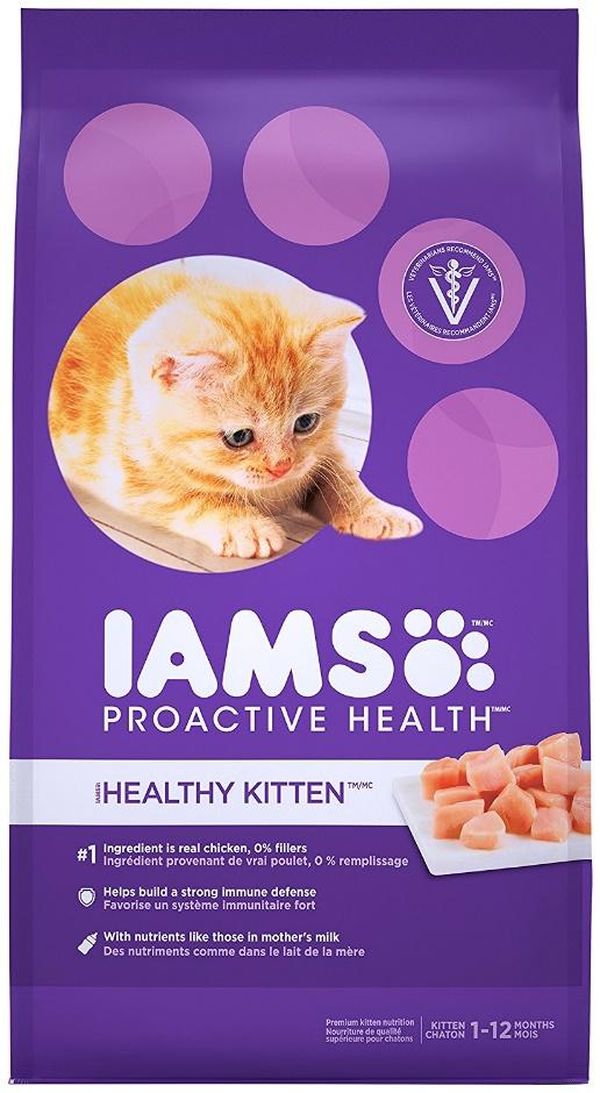 This food has been designed to support the health of growing kittens, and help build strong bones and a healthy immune system.
IAMS is formulated with premium protein that helps kittens maintain strong, lean muscles they need during playing and running.
A unique fiber blend with probiotics improves digestive health of the kittens. The result is a diet that promotes a healthy weight. Besides, it helps maximize nutrient absorption, so that your kitten grows into a happy and healthy cat.
On top of that, this cat food has antioxidants that help build a strong immune system, Omega-3 fatty acids promote a healthy brain development in kittens, taurine improves eye health, and essential minerals develop strong bones. Plus, a crunchy kibble reduces the causes of gum disease.
Nutrient Analysis:
Protein: 33%
Fat: 21%
Fiber: 3%
PROS
Ideal for nursing cats and kittens (1-12 months old)
Vitamins, minerals, Omega-3 fatty acids promote a harmonious brain development, muscle and brain health
Taurine promotes good vision and a healthy heart
Purina ONE Indoor Advantage Adult Premium Cat Food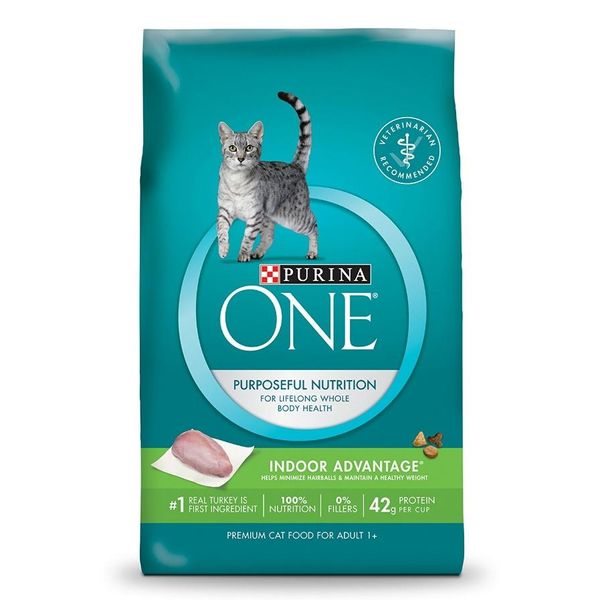 With this cat food, your cat will achieve the best wellness! Even if your cat is picky, this food will satisfy its exquisite taste. Purina ONE Indoor Advantage Adult Premium Cat Food for purposeful nutrition helps minimize hairballs and maintain a healthy weight. Besides, the food features a mix of essential elements that assists with the digestion.
The first and the main ingredient is turkey – a source of high-quality protein, which supports strong muscles and gives a perfect taste your cats will love. Besides, thanks to Omega-3 and Omega-6 fatty acids the cat's skin is healthy and its coat is luxurious. The formula is natural and balanced; it doesn't include any fillers.
On top of that, a crunchy kibble helps reduce plaque buildup and whiten its teeth. With this food, your cat will feel and look great!
Nutrient Analysis:
Protein: 38%
Fat: 8.5%
Fiber: 4.3%
PROS
high-quality ingredients
real turkey is #1 ingredient
omega-3 and omega-6 fatty acids improve a radiant appearance of the cat
a mix of vitamins and minerals facilitates digestion
prevents plaque buildup and whitens teeth
Wellness Core Natural Grain Free Dry Cat Food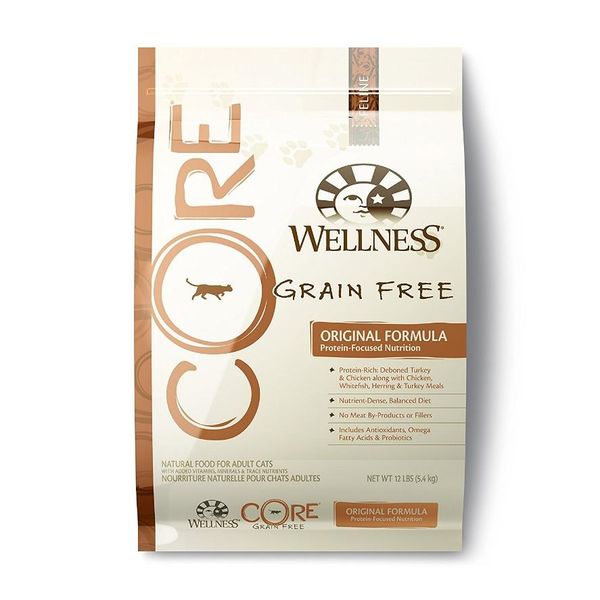 According to the manufacturer, Wellness CORE Original Deboned Turkey, Turkey Meal & Chicken Meal Recipe Cat Food is formulated to meet the nutritional levels established by the AAFCO Cat Food Nutrient Profiles for maintenance. This is natural, protein-rich, and grain-free nutrition. It is known that certain types of grains can cause different problems such as allergy and digestive issues. Therefore, grain-free cat food becomes more and more popular. Packed with the necessary probiotics, vitamins, and minerals, this food takes care of the pet's healthy coat and skin. As it is focused on protein, the food offers delicious premium proteins, which work well with a combination of the necessary vitamins and minerals. Also, the food has peas in ingredients as an additional protein source, potatoes as a carb source, and flaxseed and salmon oil are perfectly great for the heart and skin health.
The food is certified by Wellness Guarantee, which means that each pack has a quality stamp.
Nutrient Analysis:
Protein: 38%
Fat: 12%
Fiber: 5%
PROS
Different flavors and sizes
Features no meat by-products
Doesn't have artificial colors and preservatives
Can be easily incorporated into the cat's daily diet
It is 100% grain free, gluten free
Meets the nutritional needs of the cat
CONS
Some ingredients can decrease in quality over time
EVO Herring & Salmon Dry Cat Food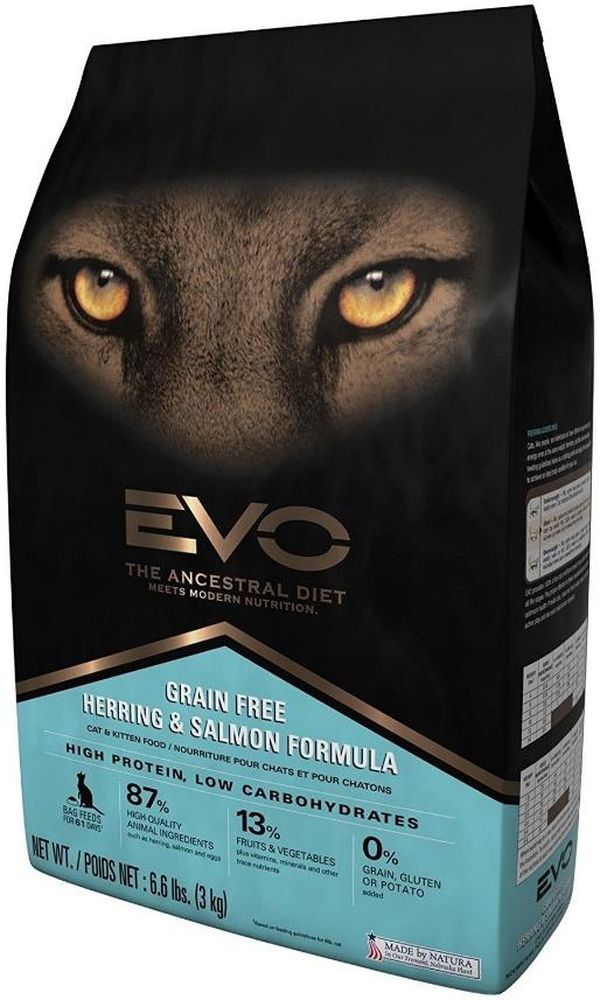 EVO Herring & Salmon Dry Cat Food is healthy, balanced, grain & gluten free food, which is fortified with the necessary vitamins and minerals, which facilitate digestion and support inner wellness. This food gives a necessary amount of protein (53.33%) for your cat to gain weight.
Besides, this dry food contains only premium animal ingredients such as herring, salmon, and eggs. Highest levels of Omega-3 fatty acids make sure the cat's skin and coat are healthy.
This food is perfect everyday nutrition for your cat, but make sure you follow feeding recommendations because each cat is different in terms of age, size, activity level, and breed.
Nutrient Analysis:
Protein: 53.33%
Fat: 20.4%
Fiber: 1%
PROS
Food features a natural blend and premium proteins
Doesn't have artificial colors and flavors
Highly digestible
It doesn't high in carbs
Grain and gluten-free, that is why it maximizes protein concentration
CONS
Doesn't have many flavors
Orijen Cat & Kitten Food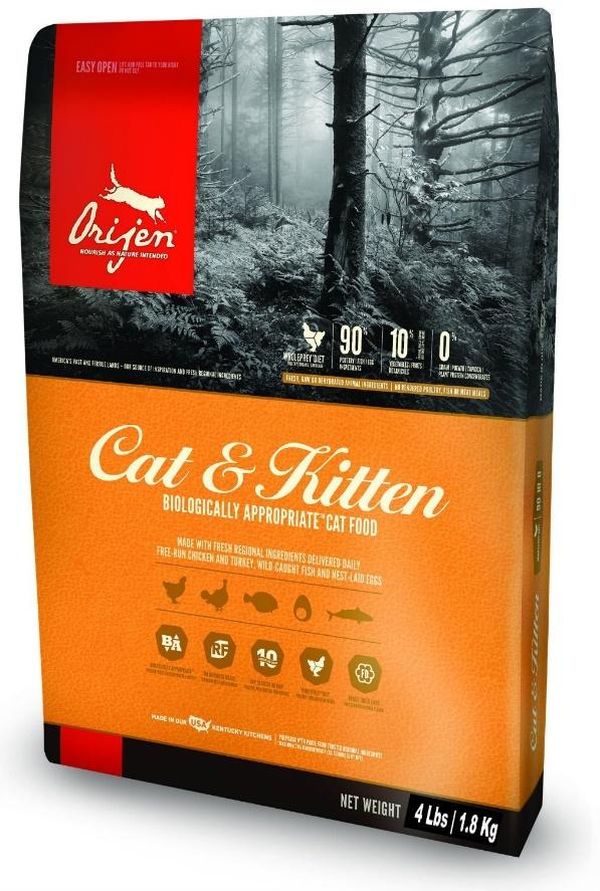 Your precious companions have different levels of activity, different interests, and a different temperament, but they need protein-rich food of high quality. Cats need good fuel in order to lead an active life, stay healthy, and gain weight.
This very high calorie food, which is loaded with nourishing meat ingredients and has a 463kcal/cup. The meat and ingredients such as chicken, turkey, whole Atlantic mackerel make up 90% of this food. These components are crucial in maintaining good heart health, healthy bones, a digestive system. Also, this food has the necessary vitamins and minerals (Vitamin D, E, B6, B12, iron, zinc, magnesium), which are paramount for healthy and harmoniously developed cats.
Besides, this food is 100% grain free so that the risk of allergies is eliminated. The content of protein, fat, and fiber shows that this is excellent food for weight gain.
Nutrient Analysis:
Protein: 40%
Fat: 20%
Fiber: 8%
PROS
100% grain free
Incorporates only natural ingredients: meat, fish, vegetables
Doesn't contain by-products, rendered meats or preservatives
The kibble is small, so it's easy to eat and digest
CONS
There is no moisture source in this food
Natural Balance Limited Ingredient Dry Cat Food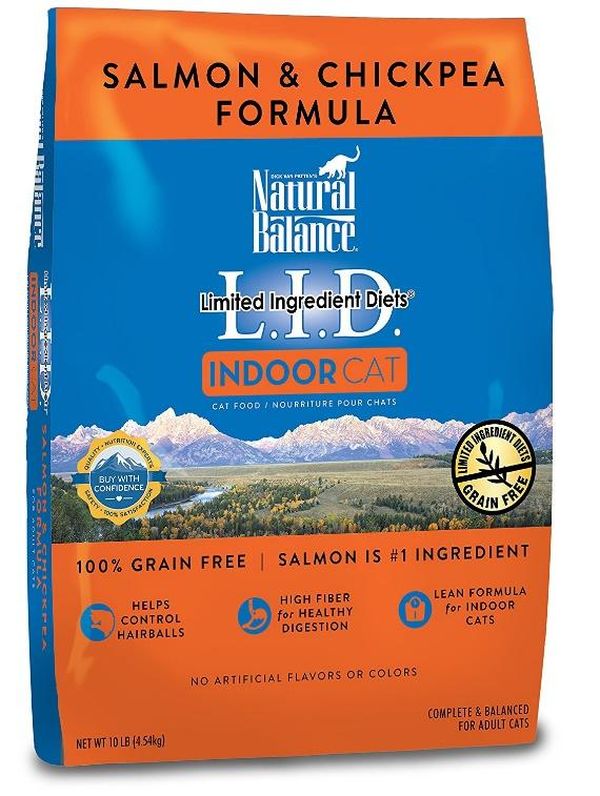 Natural Balance is a trustworthy cat food manufacturer, which is loved by many cat owners. It has been created specifically for the adult indoor cats, that is why the food provides the necessary vitamins and minerals for the overall health. The calorie content is 410 kcal/cup, which is good for underweight cats. Firstly, introduce this food slowly, but then you can increase the portion size to get your cat to gain weight.
With this food, your cat will have strong muscles, needed for running and jumping because it has a single animal protein source – salmon. Besides, there are Omega-6 and Omega-3 fatty acids for a healthy skin and a shiny coat.
However, a true pride of this food is a prebiotic fiber, needed for good digestion and easy litter box cleanup. Moreover, this food is 100% grain free and it helps control hairballs. Also, if your cat has a sensitive digestive system, will like the food because it doesn't contain artificial colors or flavors.
Nutrient Analysis:
Protein: 30%
Fat: 8%
Fiber: 8%
PROS
Provides balanced nutrition for adult cats
100% grain free
Calorie content is 410 kcal/cup, which is good for underweight cats
Doesn't have artificial flavors or colors
A prebiotic fiber facilitates digestion
Helps control hairballs
CONS
Individual kibbles are a bit large
IAMS Grain Free Naturals Adult Dry Cat Food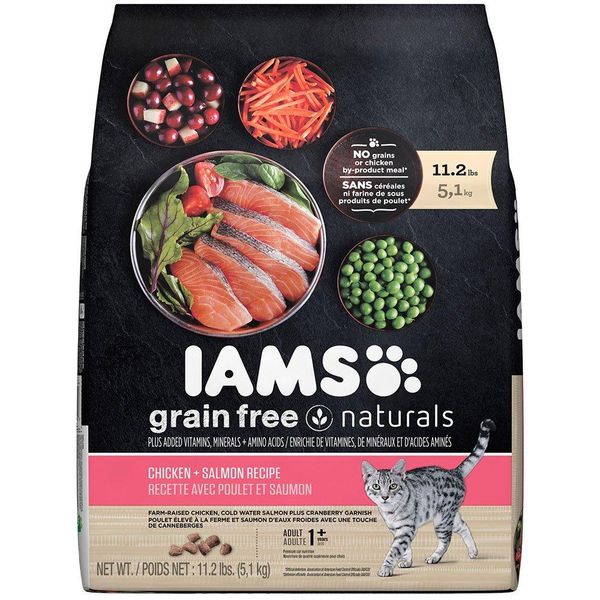 Large bag discontinued is the only complaint the buyers have. This high calorie cat food for senior cats is great. It is rated as one of the most promising foods for weight gain because it boasts a 473kcal/cup. So, there is good news for those people, whose furry friends should pack on some weight.
Besides, this balanced food is enhanced with vitamins and antioxidants that promote good digestive health, a strong immune system, and a healthy skin and coat.
Inspired by a cat's natural diet, IAMS Grain Free Naturals is made from the wholesome chicken and salmon. Also, this food doesn't cause allergy because it is grain-free.
Nutrient Analysis:
Protein: 33%
Fat: 15%
Fiber: 3%
PROS
Real chicken is the 1st ingredient
Doesn't contain artificial flavors, colors, and preservatives
Features an antioxidant and vitamin blend
Grain free
Perfect for weight gain
CONS
Not for sensitive tummies
How to Put Weight on a Cat
Having an underweight cat with an unstable appetite is sad and frustrating. The owners have many concerns and don't know how to put weight on a cat. We've rounded up some tips that will help you fatten your cats up to a healthy weight.
Choose food with a high protein content
High protein content in cat food for weight gain is a must-have! Enough protein helps your cat build lean and strong muscles, and gain weight naturally.
Treats promote better eating habits. These treats can be of various types and sizes. You should find the one, which suits your cat best of all. However, don't forget that treats should make up a maximum of 15% of a cat's daily calorie intake. They are rich, delicious, and oftentimes, cats prefer them over their regular food. If you pamper your cat with treats often, it can refuse eating regular food, so be cautious.
Make sure your cat is physically active
Physical activities are paramount for cats not only because they make cats happy, but because they stimulate appetite. A sedentary lifestyle makes the cat apathetic, inactive, and indifferent to food. This can result in many health problems. To encourage physical activity, use toys for cats, ropes, balls. Play together with the cat so that it runs, jumps, and moves a lot. After these exercises, your cat will be happy to replenish the necessary vitamins and minerals.
Use wet food in a combination with dry food
Your cat's diet should be varied. So, it's a good idea to use wet food alongside dry food. Wet food is less rich in calories, but it can provide necessary moisture.
Try different feeding practices
In order to make your cat gain weight, it's a good idea to stick to free feeding. Make sure food is available 24/7 and the cat will eat whenever it wants. Another practice is feeding multiple servings. It will help your cat consume a necessary number of calories.
If your vet approves, then add a small amount of water to soften food. Besides, you can also add calorie-rich ingredients to soften the food. For instance, go for kitten milk – it is safe for cats and high in calories – this is exactly the cat needs!
Consider adding supplements
If your cat doesn't gain weight fast enough, you may add some vitamins to its daily meal. There are some vitamins (Vitamin B, C, E) and minerals (zinc, calcium) that can help your cat regain its vitality. But before doing this, consult the vet.
Your cat can be stressed out due to some changes in the environment such as changes in living space, new and loud noises, other pets. If this is the reason for a lack of appetite, then eliminate the irritants or acclimatize the cat.
Reasons For Weight Loss
The reasons for weight loss may be different, including some medical problems. So, you should have your cat checked up by a veterinarian. The underlying problems can be:
Aging. Senior cats tend to lose weight with age;
Neutering. Studies show that neutered cats have a lower metabolism and require fewer calories;
Stress and anxiety lead to weight loss;
Kidney disease, caused by bacterial infections. Such symptoms as increased thirst, more frequent urination, digestive problems, and behavioral changes are common for kidney disease;
Liver problems;
Diabetes has such symptoms as excessive urination, extreme thirst, weight loss despite an increased appetite;
Heart disease.
What to Look for in Cat Food for Weight Gain
Nowadays, there are many cat food brands that offer balanced blends of nutrients, vitamins, and minerals that aid in digestion, radiant appearance, and strong muscles. If your primary goal is to make your cat gain weight, then always consider the nutrient analysis. Thus, the food with about 30% of protein suits you best of all. Protein is important for mass gain, muscle growth, and consuming enough protein on a daily basis will help your cat gain weight naturally.
Conclusions
Considering all the above, IAMS Grain Free Naturals Adult Dry Cat Food is the winner in this round-up. It boasts a 473kcal/cup, that is why cats gain weight and stay healthy. This food is perfect for cats and kittens because it features only natural components. The main ingredients are real chicken and salmon, they are important for a healthy heart, bones, and digestive system.
Packed with great vitamins and minerals, the food ensures a radiant coat. Also, another advantage is that this food is grain free. Grains are known as causes of allergy in cats and kittens.
Thus, if your cat is underweight, see a vet, buy high calorie food, incorporate the necessary supplements in the diet if needed, but what is more important, love your cat, keep it active, and then it will be healthy and happy!