Today you can see more than 2000 cat food brands and formulas on the market, but there are still difficulties with the proper choice of the best dry cat food for your furry friend. You have to consider that your cat, like all other obligate carnivores, must eat meat to survive, which means that your little feline friend needs a high protein diet to keep the body healthy and run smoothly.
However, the reality is that not all cat food is created equally beneficial for your pet and it can be really challenging for you to choose the right cat meal.
Cats in general use food for energy and they require 22 amino acids to stay healthy and strong. Of those 22 amino acids, 11 are essential ones and are only available through food. Two of these essential amino acids – taurine and arginine – are only found in animal proteins and that is why cats must eat meat or just high-quality cat food instead.
The perfect cat diet that can maintain a lean cat's body condition should be composed of approximately 50–60 % protein, 30–50 % fat, and only 2–10 % carbohydrates. Otherwise, too little protein and too many carbohydrates in a diet can lead to various health issues like muscle loss, dull or itchy skin coat, gastrointestinal upset, nutritional imbalance, obesity, and even Diabetes Mellitus.
Below we've created the top list of the 8 best soft dry cat food brands that can help you keep your four-legged friend healthy and happy. Remember, your cat is what she eats and the option always depends on you.
What Is Soft Dry Cat Food?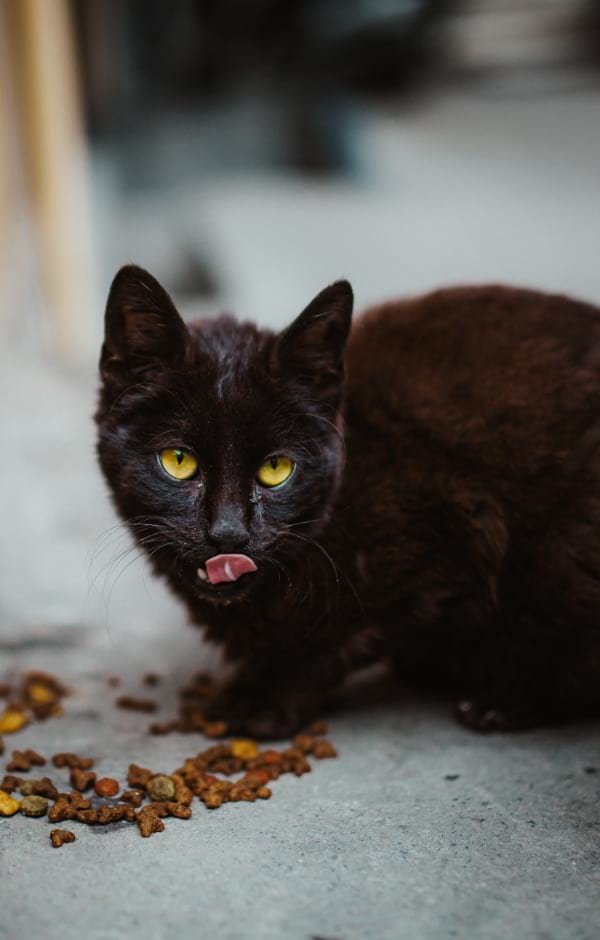 Soft dry cat food is a type of kibble, or extruded feed, that has been designed to be more palatable and easier for cats to eat. It typically contains higher levels of moisture than regular kibble diets, allowing cats to get the same nutrition without having to work as hard when chewing. This makes it ideal for senior cats, cats with dental issues, and those who require a softer diet for any other reason.
Types of Dry Cat Food That is Soft
Soft kibble cat food is a great way to make sure your cat's diet is balanced and complete. Dry cat foods come in many different textures, from crunchy to soft, to provide cats with a variety of nutritional benefits. Here are some of the best types of soft dry cat food for your feline.
Pouch Foods
Pouch foods are a convenient way to feed your cat. They usually come in small pouches or tubs which can be easily opened and scooped out for your pet. These soft pouch foods contain no artificial flavors or colors and are made with real meat, fish, and vegetables. They also provide essential vitamins and minerals for your cat's well-being.
Partially Dry Cat Food
Partially dry cat food is a combination of moist and dry food. This type of food provides cats with the same nutritional benefits as traditional kibble, but it also has added moisture which helps keep your cat hydrated. The texture of partially dry foods can be quite soft, making them easier for cats to chew.
Soft Treats
Soft treats are a great way to reward your cat. They usually have a chewy texture and are made with high-quality proteins, such as chicken, fish, or turkey. Soft treats can also be enriched with vitamins and minerals to provide your cat with additional nutrition.
Should You Buy Soft Dry Cat Food?
Soft dry cat food is a popular choice for pet owners looking to provide the best nutrition and convenience for their furry friends. It is important to understand how soft dry cat food differs from other types of kibble before making your purchase.
Benefits Of Using A Soft Dry Cat Food
Soft dry cat food provides a number of benefits for cats. Firstly, it is easier for cats to eat and digest than other types of cat foods, such as wet or canned food. Soft dry food also helps cats maintain healthy teeth and gums, and has fewer calories than wet or canned food. Additionally, soft dry cat food is often more affordable than other types of food, making it an economical choice for cat owners. Besides, soft dry cat food contains fewer carbohydrates than traditional hard kibbles, making it the best cat food for cats prone to obesity or diabetes. It also contains more water, which helps cats stay hydrated and promotes better digestion.
Lastly, soft dry cat food typically contains higher quality ingredients than canned or wet food, leading to a richer and more nutritious meal for your cat.
Disadvantages Of Soft Dry Cat Food
Soft dry cat food has some drawbacks that should be considered when deciding whether or not to feed it to your pet. The first is that soft, dry cat food can contain a lot of unhealthy fillers and additives. These ingredients often do not provide any real nutritional benefit for cats and can even lead to digestive issues.
Besides, meals with a greater moisture content cost more per serving in general. You'll spend more on semi-moist meals for your cat than you would on canned food, pouch food, or any other dry form of food because up to 65% of the diet contains water.
Due to the high moisture content in pet food, these diets also frequently contain greater levels of salt and sugar. This might not be a problem if your cat is usually healthy and doesn't have any serious health issues.
Who Needs Soft Dry Cat Foods?
Soft dry cat foods are especially beneficial for cats with dental issues, older cats, and even kittens. Cats of any age who experience tooth or gum problems may have difficulty eating crunchy kibble, so switching to a softer option can make mealtimes much easier.
Additionally, soft dry food is often easier to chew and digest than the traditional crunchy formula. Kittens benefit from softer foods that are easier to break down, as well as those with more nutrients and proteins for their growing bodies.
Senior cats may require a soft food that is enriched with vitamins and minerals geared towards aiding older cats' overall health. Soft dry cat foods can provide all of these benefits without sacrificing the convenience of dry food.
Purina ONE Tender Selects Blend with Real Chicken Dry Cat Food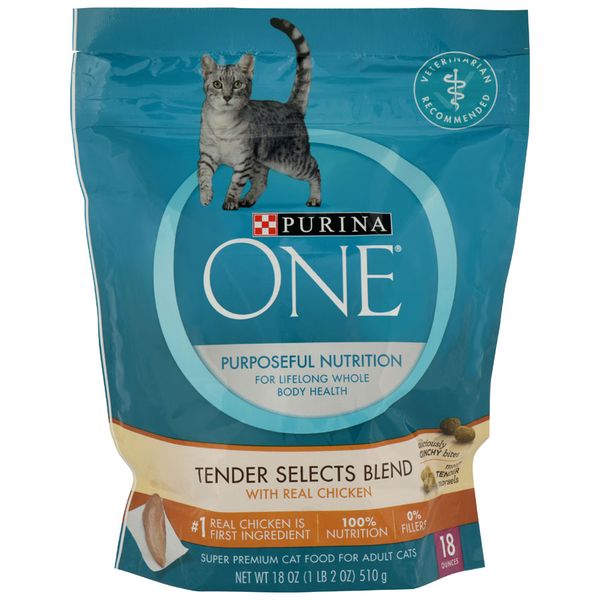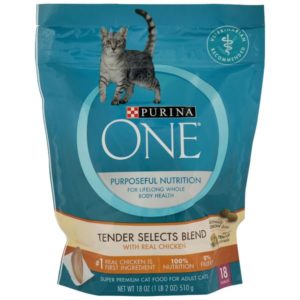 This is the choice of most cat owners. The Purina ONE Tender Selects Blend Soft Dry Cat Food is specially designed to offer complete and well-balanced nutrition that can help satisfy the overall needs of your picky cat.
This meal features real chicken as the number one ingredient and is also supplemented with a turkey flavor that makes it really delicious. Real chicken provides a high level of quality protein that helps maintain and boost stronger and leaner muscles.
This soft cat food contains all the essential vitamins and minerals, omega-6 fatty acids, and the right amount of antioxidants coming from vitamins A and E to boost the immune system and promote the healthy skin and coat of your four-legged friend.
PROS
Has no fillers
Offers the high levels of protein from real chicken
Helps strengthen the immune system
Extremely palatable with tender and crunchy pellets
CONS
Purina One cat food is not suitable for kittens
Some cat owners complain about the bad smell of this meal
Meow Mix Original Choice Soft Dry Cat Food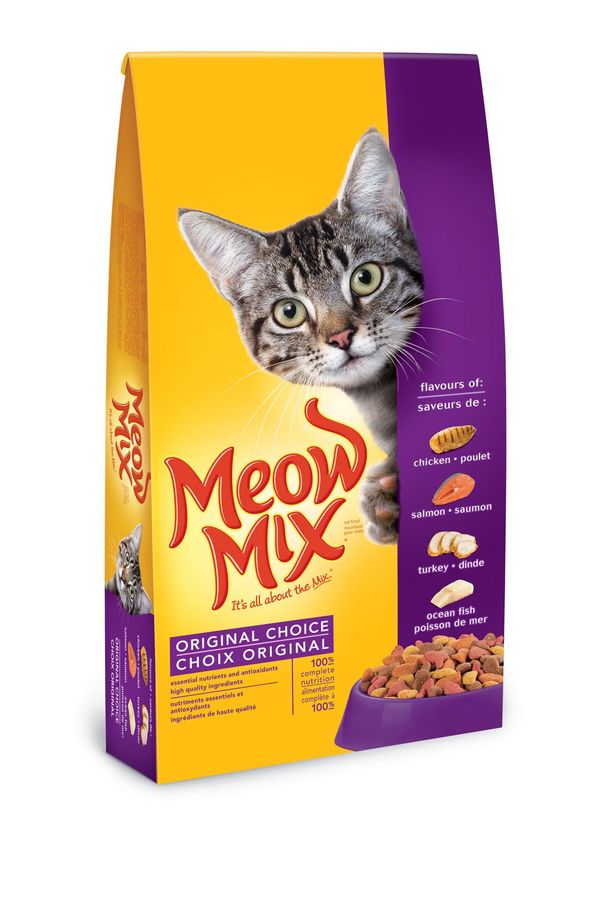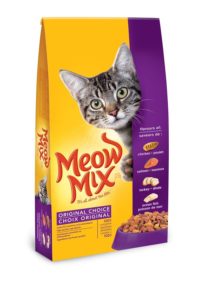 One of the popular and best-selling brands in 2021 is Meow Mix Original Choice. This is specially formulated food to help adult cats stay happy and active.
Fully grown cats require the right nutrition to maintain wellness throughout adulthood. Meow Mix Original Choice selection contains a perfect amount of high-quality protein and essential fatty acids that can help keep your cat in good shape and boost strong healthy muscles. Besides, it provides all the essential vitamins and minerals to your feline as she ages.
Meow Mix Original Choice is packed with tons of wholesome ingredients that are good for the cat's body and with four different and nutritious flavors (chicken, turkey, salmon, ocean fish) that can attract the attention of any picky cat.
Another wonderful perk of Meow Mix Original Choice is that its price is commonly lower than most of the other famous cat food brands while the quality of the product is worth no less than the most expensive brands.
PROS
Has all the vitamins and minerals your cat requires
Relatively low price
Contains premium proteins for strong muscles
100 % complete and balanced nutritious diet for adult cats
Blue Buffalo Wilderness High Protein, Natural Adult Indoor Dry Cat Food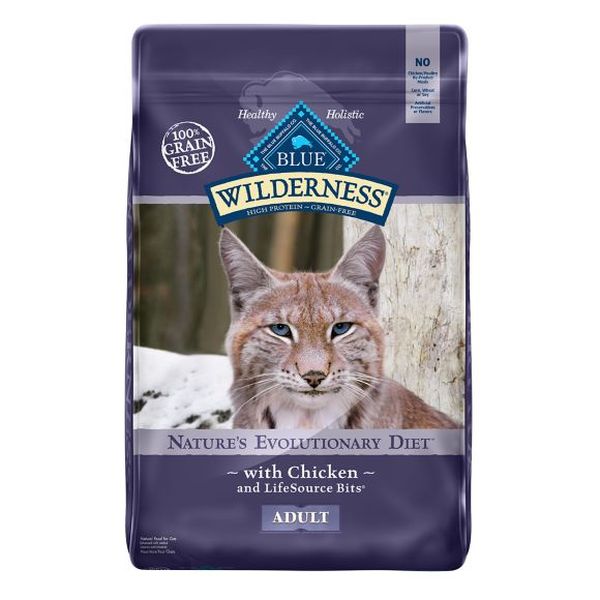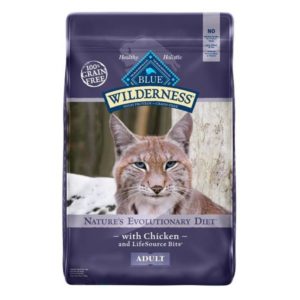 Find at: Chewy, Amazon, Pets Warehouse
Blue Wilderness is one of the most trusted brands on the market because of the quality of the ingredients in their products. BLUE Wilderness is among the most respectable brand for older cats because it actually offers a special diet for mature felines.
The unique BLUE line cold-forming technology helps fully preserve all the health benefits of the organic product and your furry friend will get all the necessary vitamins, minerals, and antioxidants if you choose BLUE Wilderness.
Moreover, BLUE Wilderness is known as the super high in protein, grain-free, soft chewy dry cat food created especially to help cats keep in the prime of their lives healthy, strong, and active.
PROS
Has no artificial additives, preservatives, and colors
Made with fresh, wholesome real meats
Made without any by-products and fillers
A viable alternative to a raw diet
Very healthy option for your cat
CONS
Not for diabetic cats (it contains about 20 % carbs)
IAMS Proactive Health Lively Senior Dry Cat Food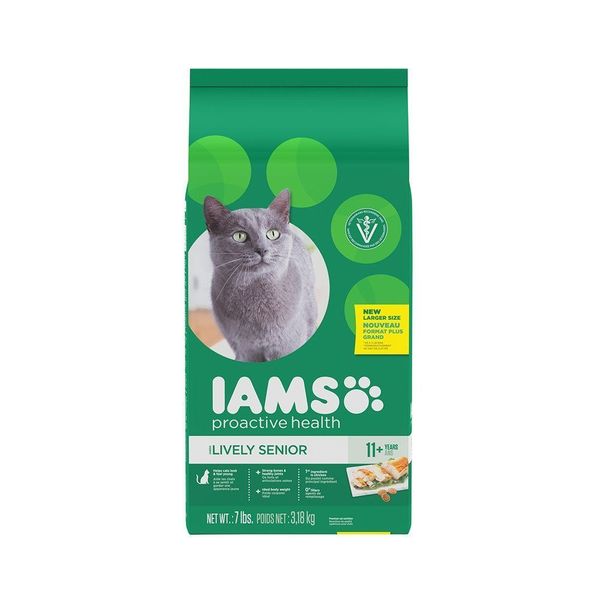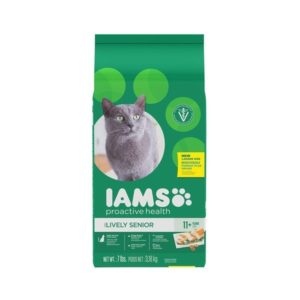 If your cat is already a senior, you realize that she needs extra care and complete nutrients to stay healthy and have strong muscles and bones.
Besides, your senior cat may have some serious dental issues as she ages and you should look for the best soft dry food for cats with bad teeth or without teeth. In this case, it would be better to focus on IAMS, which is specifically formulated for senior cats, taking into account their needs.
IAMS Proactive Health is created for felines aged 11 and over to boost the healthy immune system and support your cat's digestive health. This food comes with high levels of protein that can help your cat avoid the risk of different diseases and maintain your cat's muscles healthy.
This soft kibble mix also includes a specific balance of amino acids and L-Carnitine to maintain the healthy weight of your older cat.
When your cat grows older, she can have some dental issues. Seeing this, you start looking for food for cat with no teeth or bad teeth. But best not to waste any more time! IAMS Proactive Health is what your senior furry friend really needs.
PROS
Designed especially for senior cats
Provides healthy digestion
Contains nutrients for strong muscles and bones
Improves the immune system of your furry friend
Includes L-Carnitine for healthy weight maintenance
CONS
May trigger diarrhea
May cause weight loss
Wellness Core Original Formula Dry Cat Food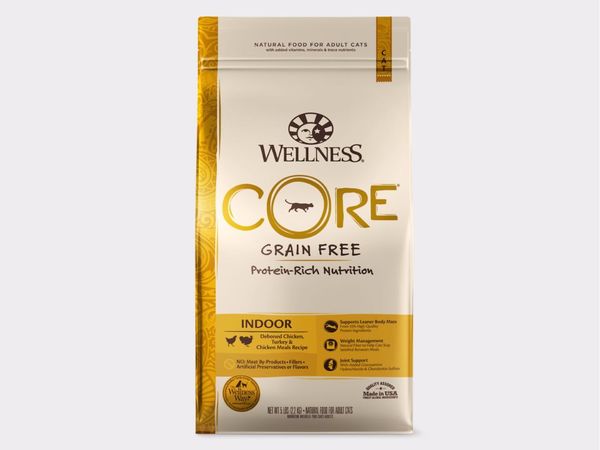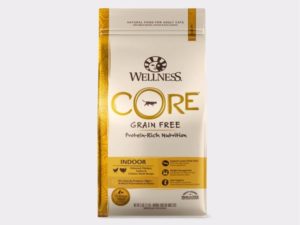 Find at: Chewy
Expert reviews for the Wellness brand speak to the fact that the CORE line of products is naturally grain-free, limited in carbohydrates, and packed with premium proteins.
When it comes to the high-quality, moist dry cat food that offers a variety of grain-free options, we recommend the Core line of products produced by Wellness that includes four recipes for kittens, adults, and indoor cats and one universal recipe created for all life stages.
This means that Wellness Core food products have different formulas that vary in fat, protein, and calorie content, so you can find the best one for your feline friend, taking into account your cat's age, needs, and preferences.
PROS
100 % sure grain free
Made with premium proteins, including novel proteins like duck
Contains probiotics for healthy digestion
Meets the nutritional needs of various cats and offers a decent choice of products to select from
Has no meat by-products, wheat, soy, corn, preservatives, flavors, and artificial colors
CONS
Rather expensive product
May cause food allergies in some cats
Nature's Variety Instinct Original Grain-Free Recipe Dry Cat Food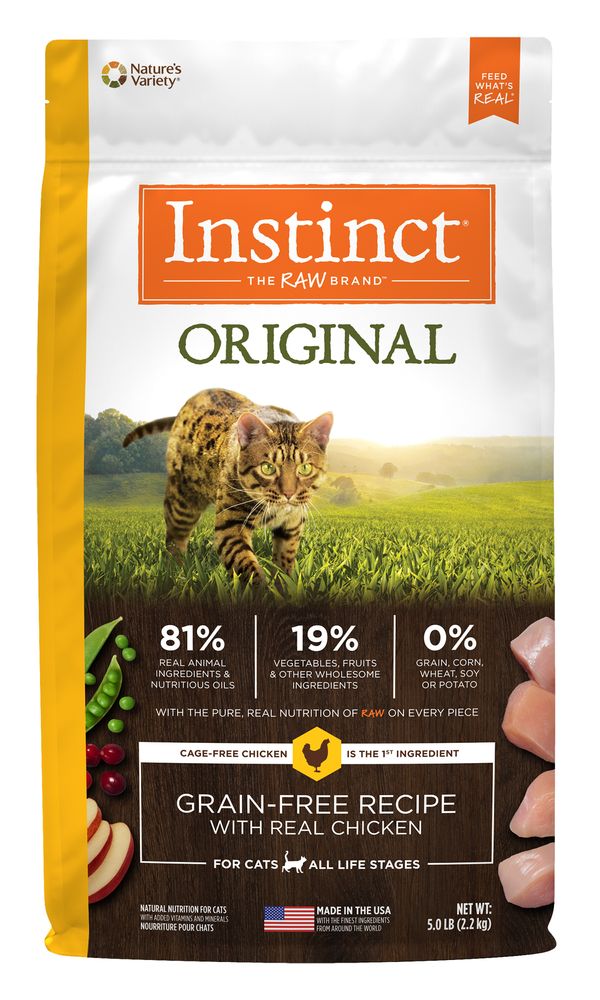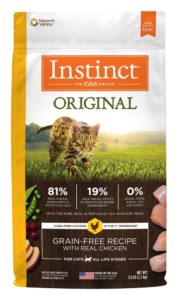 Find at: Chewy, Pets Warehouse
Naturally grain-free and made with premium protein, Nature's Variety Instinct is a top selection for grain-free diet.
This dry cat food offers a perfect diet for your cat that includes a large number of animal protein, limited carbs, and no plant-based fillers. This Instinct cat food is also enriched with omega acids to keep the cat's skin and coat healthy, and antioxidants and probiotics to support digestive health and boost the cat's immune system.
This kibble is specially designed without the use of grains and has five different flavors (chicken, duck, rabbit, kitten chicken, salmon). It's thoughtfully balanced with wholesome ingredients to nourish your kitty`s body for health and longevity.
PROS
Formulated without grain, potato, corn, wheat, soy, by-product meat, artificial colors, and preservatives
Contains natural probiotics, omegas, and antioxidants to support the cat's digestive health, improve the immune system, keep the skin healthy and coat shiny
Made with high protein formula (with 43 % guaranteed)
CONS
Less moisture than regular soft dry cat food
Taste of The Wild Rocky Mountain Premium Dry Cat Food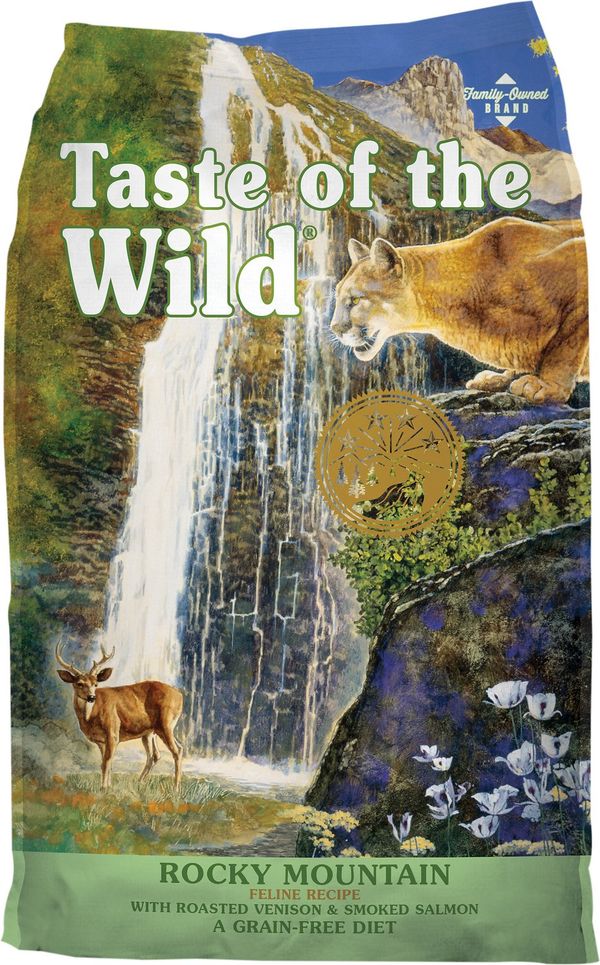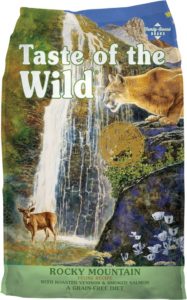 Taste of The Wild is dedicated to selecting only the best ingredients for cats. This respectable cat food brand produces premium, grain-free cat formulas which include a lot of vitamins and minerals, highly digestible proteins, and optimal amino acids to remain your cat's gut flora and fauna in a healthy balance.
Taste of The Wild is the best cat food for older cats with bad teeth or without teeth. It is made with roasted venison and salmon, which is why it offers a taste sensation. Moreover, this formula is supplemented with fruits and vegetables and includes antioxidants to improve a healthy immune system and keep the cat's coat looking its best.
As has been said, this food is formulated as an ideal soft dry cat food for older cats because it comes in really extremely small pellets which are very comfortable and less traumatic for elderly cats.
PROS
Contains only high-quality ingredients
Grain-free and gluten-free product
Includes fruits, vegetables and antioxidants to cat`s health
Great option for adult cats
CONS
A bit expensive compared with other cat food
Leaves the strong litter box odor because of high protein intake
Purina Friskies Dry Cat Food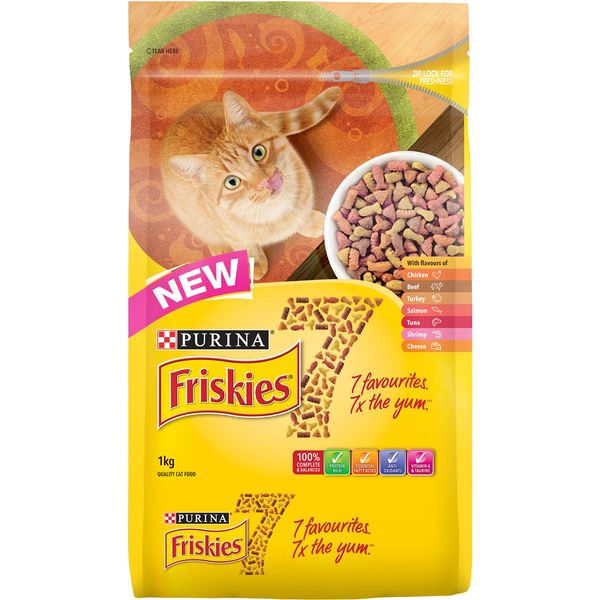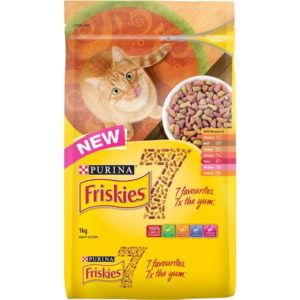 Are you looking for a meal that can keep your active cat full and satisfied? The Purina Friskies can guarantee that!
Your cat, carnivorous as she can be, prefer food that is meat. This is the very reason why your cat will adore the combination of flavors in this Purina cat food which is made with the whisker-licking flavors of chicken, beef, turkey, animal liver, corn, wheat, and veggies in every crunchy pellet.
In general, Friskies is a well-known name in the feline world and most cat lovers turn to Friskies for cat food because it is 100 % complete and balanced to give little furry friends the nutrients they deserve.
Formulated with the perfect blend of protein, necessary vitamins, and minerals, the Purina Friskies supports the overall well-being of your pal as well as her skin and coat. This cat food formula aims for holistic health that would lead to a cat`s happy and active lifestyle.
PROS
Provides an ideal diet for adult indoor cats
Contains all the necessary vitamins and minerals to support healthy and lustrous skin and coat
Produced with lean protein for strong and active muscles
Flavored with chicken, beef, turkey, salmon, tuna, shrimp, and cheese for a taste cats adore
Hill's Science Diet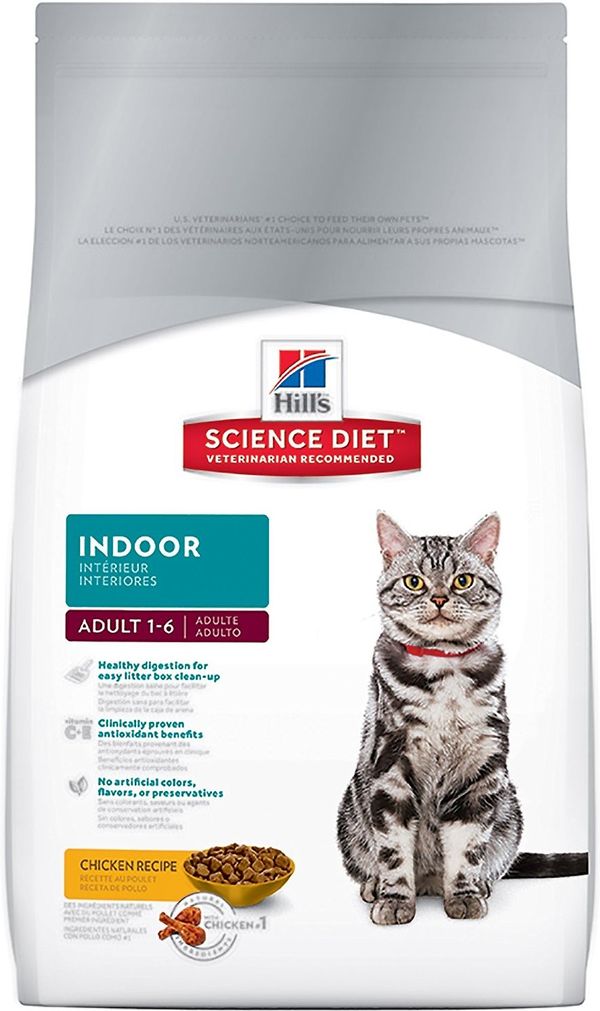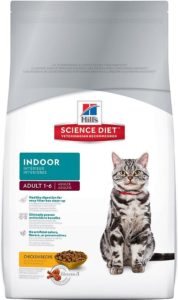 The Hill's Science Diet cat food is well-known as a respectable cat food manufacturer that provides your four-legged friend with cool-tasting nutrition for a healthy, happy life. It is designed as soft dry cat food for older cats 1 to 6 years of age with an indoor lifestyle.
Each ingredient in Hill's Science Diet Adult Cat Dry Food is selected carefully for its specific nutrition benefits.
Made with antioxidants and all the necessary vitamins and minerals, this soft dry cat food helps support a healthy immune system and promote gentle digestion.
Besides, this semi-moist cat food is free from artificial flavors, preservatives, and colors.
PROS
Nutritionally balanced for cats with an indoor lifestyle
Includes high-quality ingredients that help support digestive health
Does not contain artificial additives, preservatives, and flavors
Designed with lean protein that helps control a healthy weight
CONS
Not good for kitten stomachs and pregnant or nursing cats
Natural Balance Limited Ingredient Diets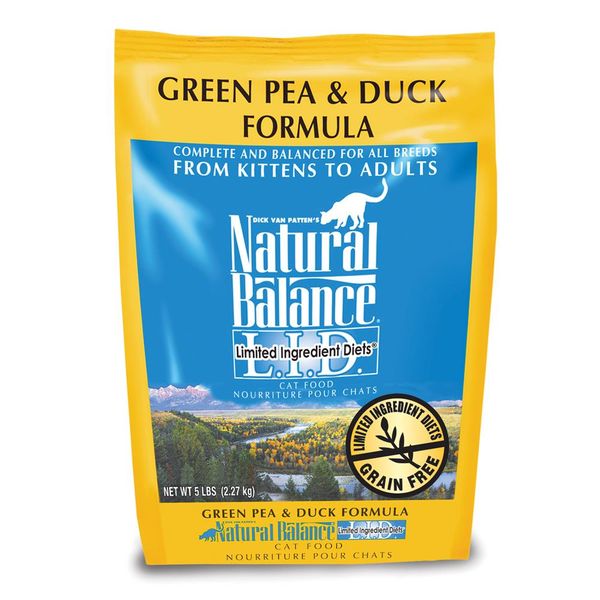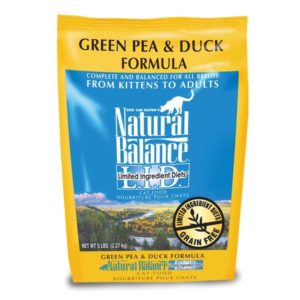 If you want to keep your cat`s lean, strong and healthy muscles, this is the best option available for your pal. The Natural Balance doesn't contain grains and is specially designed for the needs of indoor cats.
The main peculiarity or, in other words, the key advantage of this high-quality meal is that it has limited ingredients that make this limited ingredient cat food perfect for kitties with sensitivities. It is a great meal that helps in promoting proper health and weight management for the cats.
Additionally, this diet includes the Omega-3 and Omega-6 fatty acids that can help keep your cat's coat shiny and support healthy skin. It also comes with prebiotic fiber that helps with digestion, hairball control, and preventing your cat from overeating.
The Natural Balance Limited Ingredient Diets varies in formulas and has six tasty recipes (green pea and duck, green pea and chicken, indoor formula – salmon and chickpea, indoor formula – turkey and chickpea, green pea and venison) that can satisfy any cat.
PROS
An ideal choice for overweight and diabetic cats
This Natural Balance cat food is formulated without grain
Created for the needs of indoor cats
Provides a limited ingredient diet
Has six different variations to choose from
CONS
Can make your feline friend finicky
Contains relatively low protein levels and high carbohydrate levels
Nutro MAX Cat Indoor Adult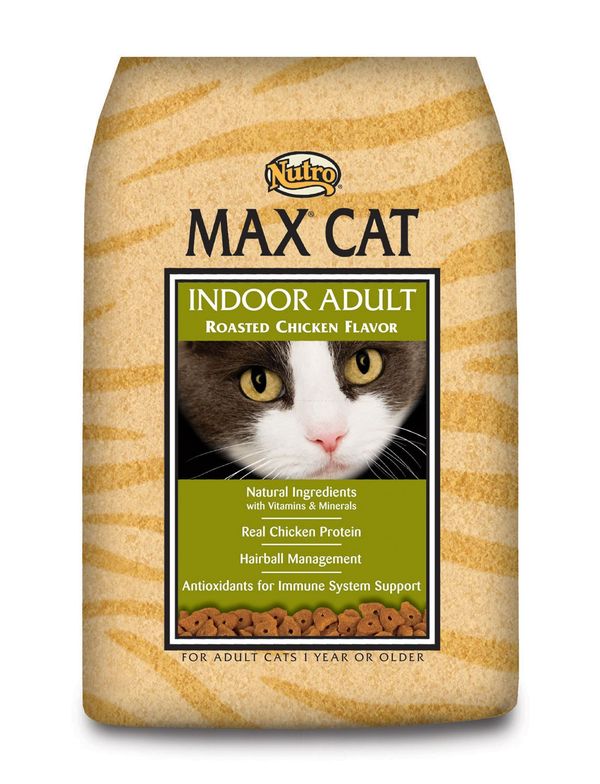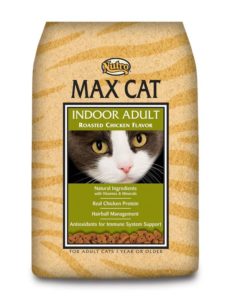 The Nutro MAX  Cat Indoor Adult is widely recognized as an affordable and specifically formulated to meet the needs of your indoor cat.
The use of this cat food is very convenient because it helps your cat in getting the right nutrient and avoid several health issues. Moreover, this meal is made with a weight-control formula that can help your overweight kitty kill a few pounds.
The Nutro Max Indoor comes in various flavors that can be appetizing for your feline friend. It includes a sufficient number of omega fatty acids and several different sources of fiber, which will help provide good skin and coat condition of your cat. Generally, Nutro MAX Indoor offers relatively good value for a budget price.
PROS
Comes with complete nutrients your cats require
Specially designed for indoor cats
Contains omega fatty acids for promoting soft, shiny coat and healthy skin
Sold at a reasonable price
CONS
May trigger allergies in some cats
Made without probiotics
Not good for kittens
What to Look For When Buying Soft Dry Cat Food?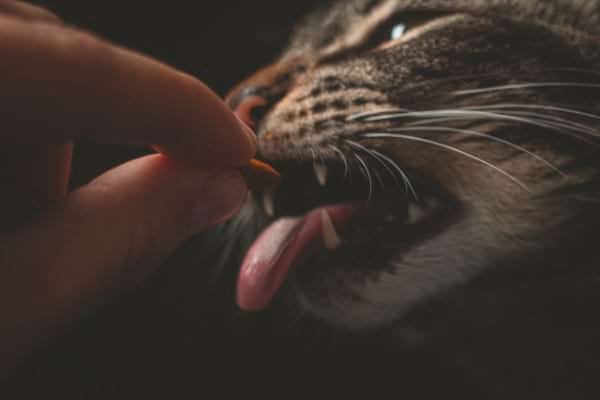 When buying soft dry cat food, it is important to consider several factors. The best soft dry cat food should meet the following criteria:
Look for high-quality proteins like real meat or fish as a primary ingredient and avoid byproducts, fillers, and artificial colors or flavors.
Choose cat food that is formulated to meet the nutritional requirements of cats and provide fatty acids, vitamins, minerals, and other essential nutrients.
Soft dry cat foods should be easy for your cat to digest, with natural ingredients that are gentle on their stomachs. Some cats may have allergies or sensitivities to certain ingredients, so read the label and look for foods that are free of common allergens.
Soft dry cat food should be affordable and not break the bank. Look for cat foods with quality ingredients at a reasonable price.
Support Healthy Skin & Coat
The best soft dry cat food should support skin and coat health by providing essential fatty acids, vitamins, and minerals that help keep cats looking and feeling their best.
When searching for the best soft dry cat food, be sure to take into account all of these factors so you can find a food that your cat will love and that meets all of its nutritional needs.
FAQ
Can a toothless cat eat dry food?
Of course, she can!
A lot of adult cats have dental issues (bad teeth or the loss of teeth), unfortunately, that's normal with age. However, most cat owners are not sure whether they should continue to feed their adult kitties dry food or maybe they need to change the eating habits of their senior cats.
Just think if your cat who has lost all her teeth can still eat dry food, how you can deny her the satisfaction of eating her favorite meal! You will be merely the beast in her eyes! You shouldn't do that!
In this case, you should understand that it is not so easy for your toothless cat to eat dry food. But if she still finds it appetizing, try to help her because it is within your power!
The best thing you can do is to soak your cat's regular dry food with a small amount of water or broth to soften it as much as possible. It is really important for your feline because if she just swallows the pellets whole, it can lead to indigestion or other digestive problems.
Moistening your cat's favorite food before you give it to your pet will make it much easier for her to eat and you won't have to change her diet dramatically. Alternatively, you can feed your cat a variety of delicious treats (such as soft cat biscuits).
But if you really want to switch your toothless pal to wet food, you can do this at any age. Just do it gradually because you should be very careful not to upset her digestive system. First, you can mix her favorite softened dry food with a small portion of wet cat food and then gradually increase the amount of wet food while the amount of dry food will be minimal or even eliminated.
Is soft food good for cats?
Usually, cat owners themselves decide what type of food they will feed their pals. And when it comes to soft food for cats, you have to remember that moderation should be in all things.
Today, most veterinarians say the same thing that the key to a balanced cat diet is to feed your four-legged friend quality soft food together with dry meals.
However, some experts recommend avoiding soft food and focusing on dry cat meals because dry products can promote dental and oral health in cats. Don't forget that crunching and chewing help reduce the risk of plaque and tartar buildup in a way that soft food can't.
Is it better to give cats wet food?
There is no right and wrong answer to this question about whether you should choose wet or dry (or both) foods for your adult cat because both wet and dry foods are perfect choices if your furry friend is in good health.
When you want to realize the benefits of feeding wet cat food, firstly, you should realize the main difference between wet and dry cat meals. It is moisture! The difference between this type of food is just in moisture.
Dry food can have no more than 20% moisture content (because it should be packaged in bags) while wet products have at least 65% (that is why it is produced in cans and pouches). Therefore, dry cat food is much easier to keep and it has a longer shelf life than a wet one. However, the higher moisture content in wet food is very beneficial if your cat has certain medical conditions or just prefers eating food with soft textures and robust flavors.
When your kitty has difficulty chewing, urinary and kidney issues, it would be better to give her wet food. In this case, you will always ensure that your pal gets the nutrition she needs at every meal. Moreover, cans and pouches come in small portions, making it easier to control how much your cat eats and small sizes allow you to provide your feline with a variety of different flavors.
However, dry cat food not only provides all the essential nutrients that cats need to stay healthy, but it also helps keep their teeth clean and free from plaque buildup, which can cause gum disease and other dental health issues. Additionally, dry food tends to be much less expensive than wet food, and it can help prevent obesity in cats, as it is much easier for them to control how much they eat. Even picky eaters who don't always finish their meals may find that a higher-quality brand of dry food helps them stay full longer. 
Is there a semi moist cat food?

Yes, there is semi moist cat food available. It contains more moisture than dry food and generally offers a softer texture that cats find appealing. Semi moist cat food is typically high in calories and provides a good balance of proteins, fats, carbohydrates, vitamins, and minerals.
Can Dry Cat Food Be Softened? How can I soften my cat's dry food?
Yes, dry cat food can be softened. One of the easiest ways to do this is by adding warm water or broth to the kibble and letting it sit for several minutes. This helps to soften the kibble, making it easier for cats to chew and digest. For cats with sensitive teeth or gums, softening their food can make it more comfortable and enjoyable for them to eat. When adding warm liquid, make sure not to add too much or the food will become soggy and unappetizing.
Another way to soften dry cat food is with canned wet food on top. Just add a spoonful of canned wet food to the kibble, mix, and let sit for a few minutes. This will help to soften the kibble while still providing the nutritional benefits of dry cat food. It's also a great way to add variety to your cat's diet, as some cats may get bored with eating the same food day after day.
Conclusions
Sometimes it can be so difficult to choose the right dry food for your furry friend because there are so many different options and famous brands on the market today. They all claim they are the best and can fully satisfy your cat and her needs. Be careful with such statements as your kitty deserves the best!
And it is really up to you to decide which type of diet is best for your cat. Read the label carefully, find out all you can about the product before feeding your cat.  Don't forget to consider important factors like the quality of the ingredients, high levels of protein and low levels of carbs, manufacturing process, and, of course, any special needs or peculiarities your cat may have when making your decision.
We've gathered the top 11 soft dry cat food among the most respectable brands in 2021 that can provide full health benefits for your beloved feline and make her life active and happy. Make the right choice and your cat's life will be long, pleasant, and healthy!
Read more:
Tasty homemade cat food recipes
High-quality Food for Diabetic Cat
Cat Food with Taurine Review & Guide
Why Do Cats Stick Their Tongues Out