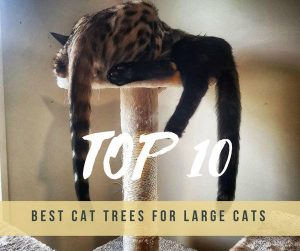 Which cat does not like climbing trees? Of course, a domestic cat! But this does not mean that our four-legged friends don't need it at all or that it is completely uninteresting for them! A cat in the house is not entertainment and not a rescue from loneliness, it is often a part of our family. And we all want our pet to be absolutely happy.
Moreover, cat trees for large cats are not only your pet's place for recreation and games, but also a fully-fledged element of the interior that decorates your apartment or house.
You're about to find out that.
Top 10 Cat Trees for Large Cats
Cat tree model
Size
Price
Go Pet Club 72″ Cat Tower F2081 – just what the doctor ordered!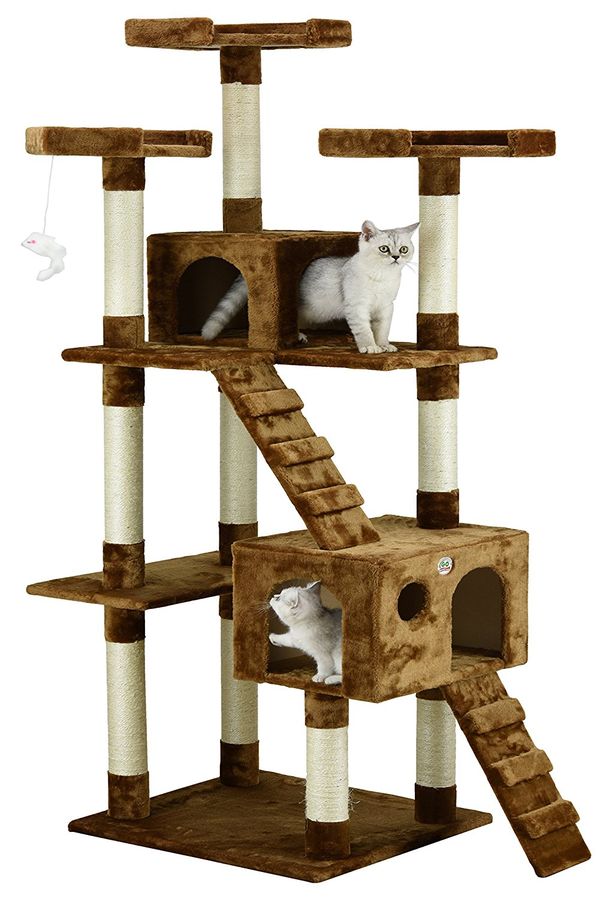 The peculiar play towers with three squared perches will be an excellent choice for your kitty. Large perches can be swung in order to change the directions of "entrance". The stairs may be pivoted as well – they are fastened to the tower t the top. Brown carpets are very soft, so your cat will definitely like it.
This well-made tree for kittens is very practical and sustainable, so it is suitable even for the most active and large breeds of cats. You may not worry about that the model can fall or break.
PROS
Great multifunctionality;
The item can be easily and quickly built;
An opportunity to adjust the direction of stairs and perches.
Go Pet Club 72″" Tall Cat Tree F2040 will be suitable both for big cats and for little kitties!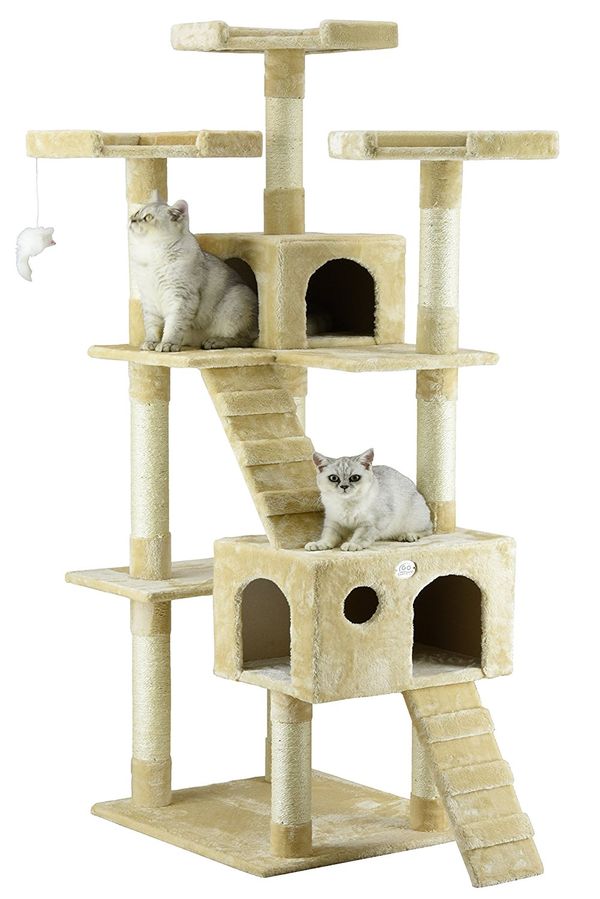 Such a game complex is a kind of cat gyms, allowing your cat climbing tree and jumping along. Numerous levels, toys and posts will help develop pet's muscles and the speed of reaction. Using faux fur and sisal rope will provide great comfort. Being very reliable, easy to take care for, it'll hold any size of a domestic cat, beautifully fitting into the interior.
An instruction is attached, so there will be no problems with assembling. It's an excellent choice for breeders and owners of active kittens.
PROS
The item is made of high quality materials;
Large size of the cat condo;
A lot of activity options.
Molly and Friends 54″ Cat Tree 243 – a win-win option for big and heavy cats.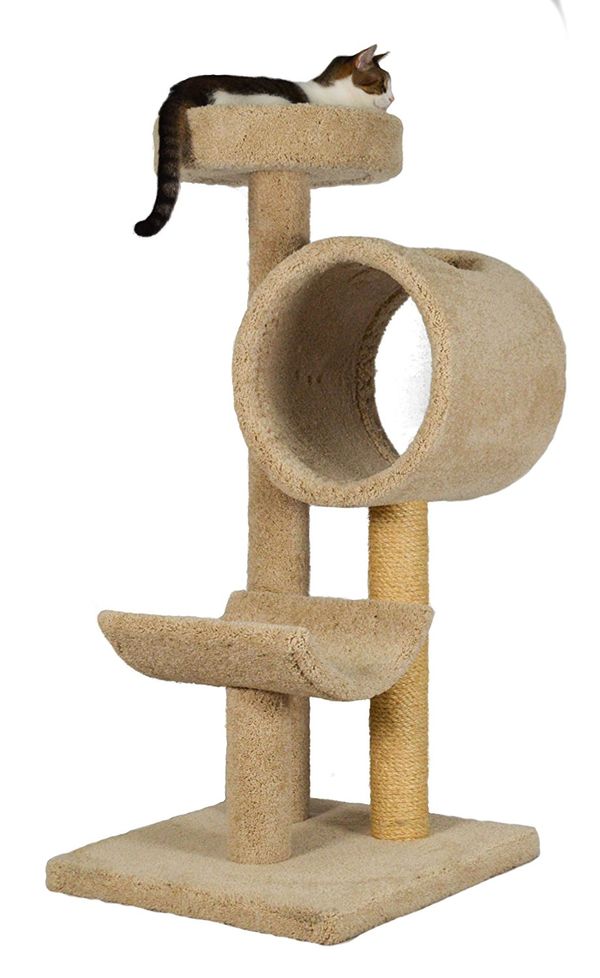 This massive cat tree is durable and compact enough. If you're seeking for kitty condos for large cats – that's what you need. Huge resting areas and places for sleep will ensure your four-legged friend with comfort and convenience. The unusual styling of such cat towers will definitely delight the eye of you. Moreover, you shouldn't assemble it, you'll get it ready-made and that would save time and effort.
PROS
Interesting design
Perfect for a huge cat
This handmade item doesn't require assemble
Ollieroo 48″ Cat House PE14803 is very suitable for multiple cats householders!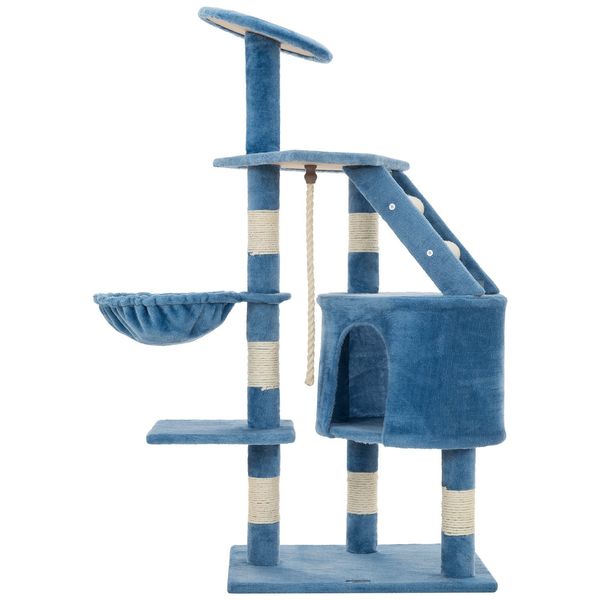 Ollieroo's giant cat trees are excellent for cats of all breeds and sizes and for any kind of their activity. Using sisal rope let your pets sharpen their claws and keep them clean without any problems. This playground is a perfect choice for active cats that like playing and climbing, as it has several levels, a place for relaxation, cubic holes, a hanging rope and an opened perch to see what is happening with the family. So this peculiar cat tree has more action variants than any cat can ever know to do. Most importantly it's enough for the whole generation of cats, so it's a real catch for breeders.
PROS
Large seize of the condo allows it to be used by several felines at once:
A lot of opportunity to have fun;
Using of high quality materials.
CONS
Bright colors of the model may not suit all the designs
Armarkat: 70″ Cat Furniture for large cats A7202– a choice of real feline ladies and gentlemen.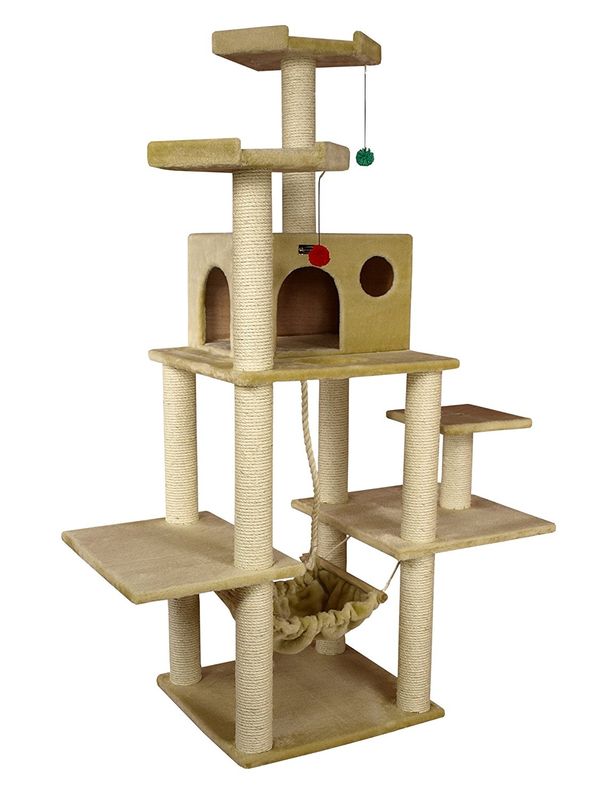 This elegant model organically fit into the design of the house and will occupy the premises as much space as needed. It is quite easy to be assembled, as all the required tools and instructions are attached, so it'll save you a little time. Such a condo is a wonderful option for climbing, sleeping and exercise, because it is equipped with a number of rest areas, hanging toys and a large cat scratcher. The condo is made of good materials such as faux fur and pressed wood.
PROS
Fair coloring and elegant styling are suitable for most designs;
Using of high quality materials;
Easy assembling.
Furhaven Pet 113″ Ceiling Cat Three 97403– a large house for cats that "have a taste"!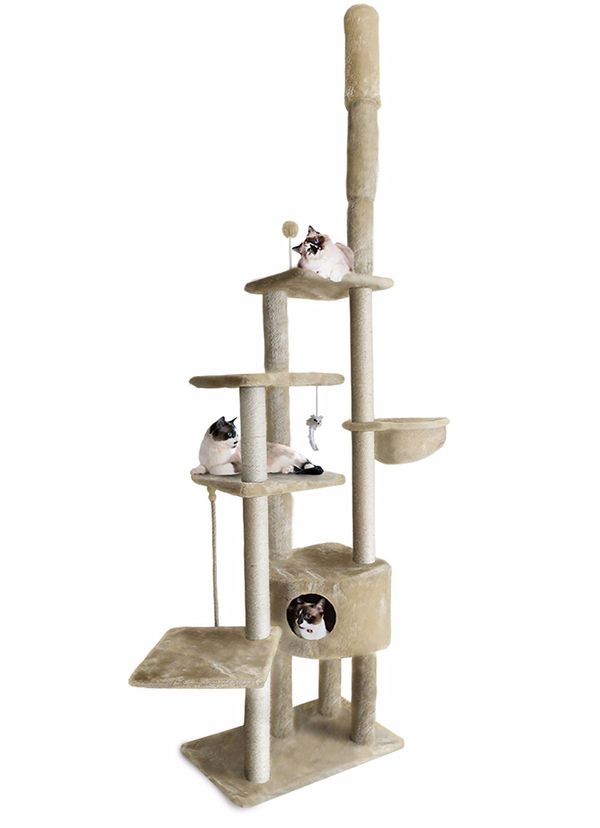 Even though it is not exactly a space saving, Furhaven Pet will certainly please even the pickiest ones of our four-legged friends. The condo can be considered one of the biggest cat tree models and it provides a number of seating places and sleeping areas. No matter what size your cat is, he or she will rest with the convenience on this model. There is something at each level, so felines really do like to climb and jump here. This condo is quite high, so it can be placed near the window, since cats like looking out the window.
PROS
Using materials of the highest standard;
Interesting design;
Large seize.
CozyCatFurniture 33″ Condo Corner – the house for extra large cats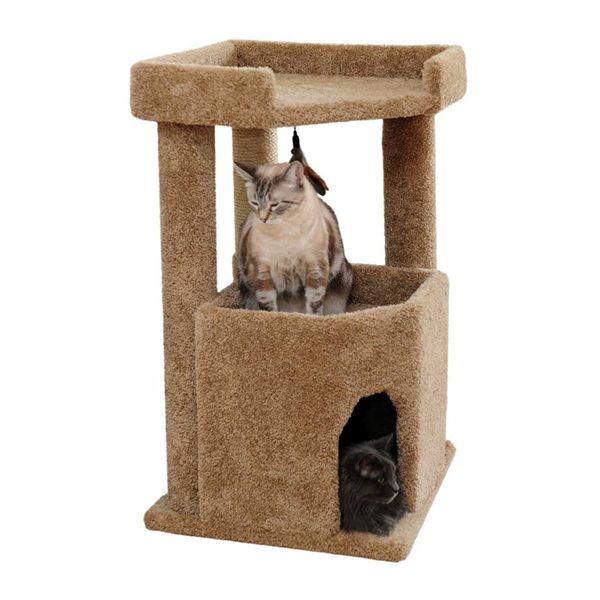 The double-platform condo is reliable and long-lived. The top level is durable enough to hold even really fat cats. Despite the small size and small number of sitting places, this cat's condo is also suitable for games – for this purpose an amusing toy is attached to the upper nest. There is also a stretcher allowing you cat sharpen claws. This furniture is made of first class materials and can be conveniently located in any corner of your house since it takes up little space. In addition, the manufacturer offers several colors of this condo to choose from. Round nest with sides and curved upper rim can serve as a perfect cat's bed.
PROS
Convenient location options;
Ideal for one or two domestic cats;
Comfortable beds.
CONS
Not suitable for owners of more than one cat
PetPals 50″ Cat Tree PP2582 NTR – choose it if you need sturdy cat trees!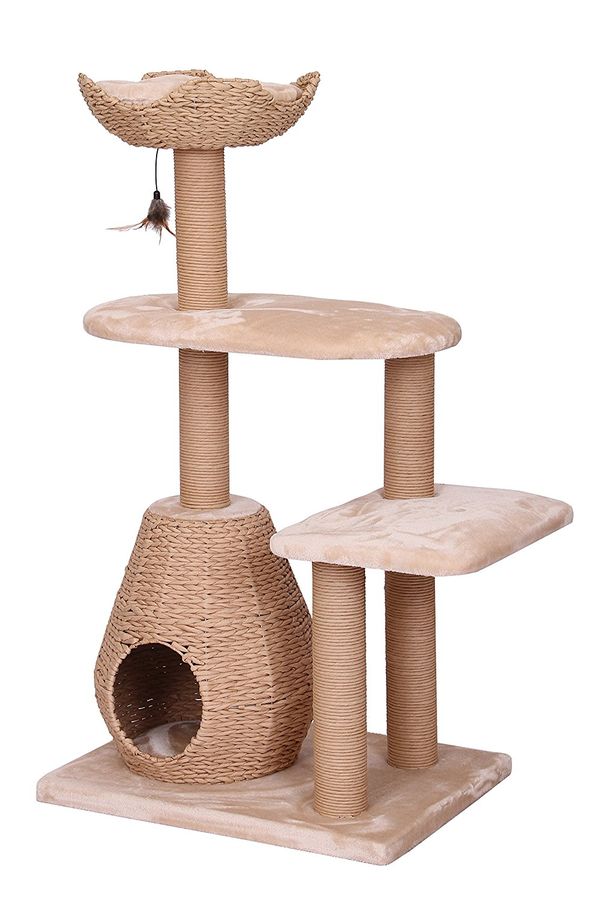 Are you seeking for a sturdy tree to delight your kitten? This three is worth taking a look at. It includes one basket, three spacious sleeping place and several funny toys that means your pet can either have a rest or have fun here. Even domestic cats are born hunters and they can play a little with attached toys. It is very easy to clean and vacuum.
This piece of furniture can be easily assembled in less than half an hour. It is adapted to be moved on a smooth floor, so it can be easy relocated if needed. There are special pipes wrapped with sisal fabric, so your pets will have a lot of places suitable for scratching.
PROS
Multifunctional model;
reliable and durable;
many options for entertainment.
MidWest Feline Nuvo 22″ Cat Condo 138S-BK– really purr-fect option for your pet!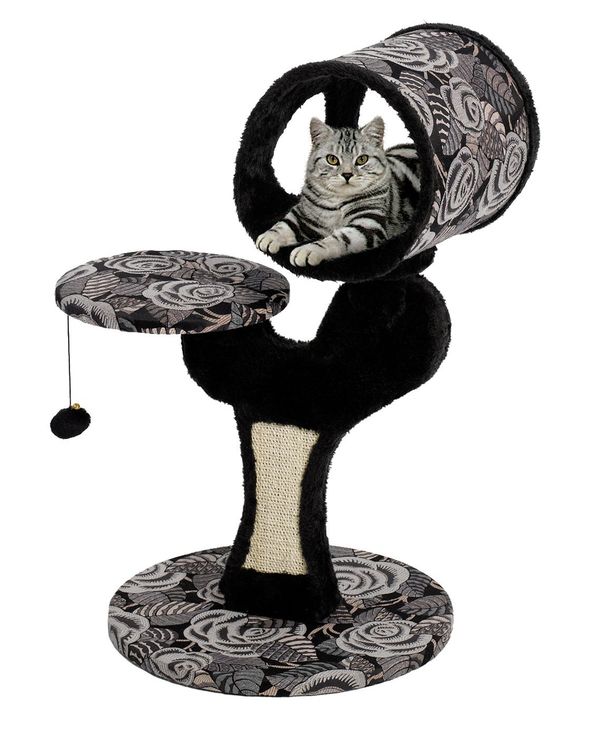 Designed with regard to the lifestyle of the cat, this model provides both play and rest activity options, and can be an excellent addition to any house. This durable multi-level furniture for cats is notable for an eye catching black soft artificial fur and coordinating designer printed cloth. Sturdy supports wrapped with sisal cloth guarantee a tough, elastic scratcher for your cat's needs. They are really tough so it'll take years for cats to tear them up.
Dark cloth wipes from the fur and incidents without effort. There is an interesting sitting place that your cat will most likely enjoy. There're quality material and a comfortable pillow inside.
PROS
Very easy to clean;
Durable scratching posts;
Very reasonable price.
CONS
Before purchase check your cat's weight and make sure the basket isn't too small for your pet.
OxGord Paws & Pals 20″ Cat House PTCT-H01-WH – a great choice if you're looking for cheap cat trees!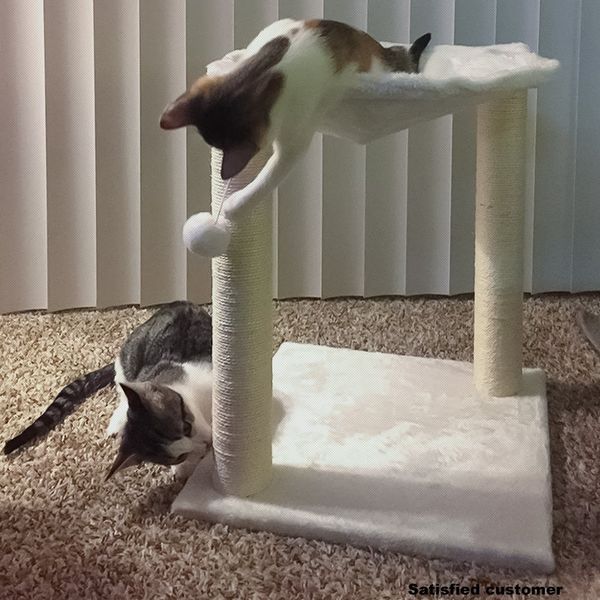 Numerous reviews indicate that this is the best multi-level cat tower. If you are the lucky owner of one small cat – this one is for you. Having strong lifting and saddle platforms and padded upper perch, the cat condo can contain funny toys allowing your pet be playful and active. All the toys can be removed if needed that is quite convenient to play with them out of the house. There are also two stable pillars taped round with sisal rope so that the cat can sharpen the claws.
You do not need to bother with the assembly, as this is a very simple and easy-to-use model (moreover, all the required instructions are attached). Due to its small size, this cat tree house can be conveniently located in the corner of the house to provide the kittens with a bit of privacy. It is easy to clean – despite the light color of the model, the stains are easily washed.
PROS
cheap price;
is convenient to use and assemble;
is able to meet all the needs of the kitten.
CONS
Sleeping place may be too small for cats of really large breeds;
Best suited for only one cat.
All the above models are available on www.amazon.com.
Today in the market you can find a huge selection of trees for cats of all breeds and sizes, so it makes you dizzy. In fact, they all have similar functions with small differences. Therefore, many owners focus on two main aspects: price and size. The price should correspond to the quality and the dimensions of the model should fit organically into the room. To make it easier for you, we provide a table where you can compare the price of the above models and estimate their sizes. (Warning: prices on the site can vary, including discounts).
Frequently Asked Questions About Cat Trees
Does a cat really need it?
Cats are independent creatures. Unlike dogs who like to stray into a pack, cats are always out on their own. They will not sleep on the carpet in the hallway – they need a cozy secluded place. If the owner does not take care of the arrangement of such a place, the homeless pet will find a secluded corner in a closet, in a drawer with linen or in a commode. When you remove crumpled things covered with cat hair from the dresser, you have no-one to blame but yourself. Special cat furniture will be a comfortable place allowing your kitty to see sweet dreams. After all, cats sleep 18 hours a day.
If the owners take care of their pet, buying such a cat tree, their pet will never have curving claws and ingrowth them into pads. This complex in the apartment contributes to the cat's correct physical development, develops muscles, hones the speed of reaction and the eye accuracy while performing all kinds of jumps. Exercises on the cat tree give pleasure to the feline, lift the spirits, prevent boredom in the owners' absence.
Does a cat owner need this?
Somewhat to our surprise but the cat tree is necessary not only for the furry friend, but also for his owner. It's about a comfortable living side by side! This is not only cat's "attaching" of his territory on the tree, but also a wonderful opportunity to place cats toys on it, which are usually scattered throughout the house.
Think about the safety of your pet. You can't guarantee it outside the home – during such outings from the house the danger is ever-present! But if you have a compact cat tree with pillars to sharpen the claws, to which convenient condos are also attached, happy kitten won't want to escape to the unknown.
Felines are wayward creatures. First of all, they are concerned about their own comfort. If they do not get it, then living together with them will become unbearable. They will conquer their space. This creates aggression and inadequate behavior (when a cat, for example, pisses in master's sneaker or in a bag). A cat condo in your house can become a small house for your pet, where he'll feel comfortable and safe.
Where should it be located?
This question isn't a trifling thing as it may seem! The fact is that the glands on the feet pads of our fluffy friends generate odorous substances when scratching claws and these substances are just as unique as humans' fingerprints. Thus, the cat tower with scratching post becomes also a kind of marker of the territory.
Think about the space limitations. Determine the location area of the scribe tree and its corresponding dimensions. It'll be good to measure the space accurately to ensure that your future cat's condo fits in the space allocated for it.
In order to accustom the cat to use a tree with pleasure, it should be located in a prominent place. It is best to place it in the area where the cat spends a lot of time. If you put the three in a place which the cat does not actually visit, it'll not attract the pet's attention.
You also need to take into account the cat's character. If your kitty likes climbing, think about creating a tall tree with several horizontal platforms. If your pet likes to hide, think about creating a closed shelter in the tree, in which the cat can take a nap.
This brings us to another question…
How to choose a cat tree?
Consider the main requirements for the kittens' threes:
 Height. Any cat wants to fully stretch the muscles when using a vertical scratching post. Keep in mind that in nature cats sharpen their claws mainly using a natural tree. The height of the structure should be slightly larger than the length of your pet. Otherwise, the piece of furniture will be too low. The pet will refuse to sharpen the claws and will continue to do it wherever he likes.
Durability and steadiness. A natural tree will never swing from side to side. Therefore, if the cat's furniture wobbles, the pet will never use it. This is due to the fact that the unstable model isn't able to realize all the needs of the kitten. Alternatively, you can put it to the sofa or to the wall, fixing it.
High-quality material. Cats like to scratch the material on which scratches remain, herewith claws must penetrate into the material without much effort. The sisal fabric is best suited, as it corresponds to all the characteristics described above. This material is superior in quality to any other matter, including carpet.
Cats run quickly, but they can run at high speed only for a short distance. Therefore, the cats trees are located vertically, allowing felines climbing up, down and to the sides, using muscular paws and sharp claws. The vertical shape of the furniture is very convenient, since it requires a minimum of useful space, at the same time providing a fluffy pet with maximum mobility.
What if my cat won't use a tree?
Many owners of pets unreasonably believe that their pet will never enjoy a cat tree. The main reason why a kitten doesn't want to use a condo is its wrong design. This suggests that when choosing a tree, you need to proceed not just from your own desires and tastes, but take into account the propensity of your four-legged friend.