A furry companion makes our life brighter, happier, and brings much laughter into the daily routine; the only thing the person should do is to take care of the cat by feeding regularly, playing, and protecting it from parasites. When it comes to the cat's health and safety, you should be very responsible and consider all the methods of flea protection.
Fleas are flightless insects, which live by consuming the blood of their hosts. Fleas don't only cause itching and scratching, but actually, they can cause a number of diseases such as plague, cat scratch disease, flea allergy dermatitis.
If you want to make your pet free of these pests and prevent their reappearance, then a great flea collar for cats may be the answer. In this roundup, we've gathered the information about the best flea collars for cats.
Bayer Seresto Flea and Tick Collar for Cat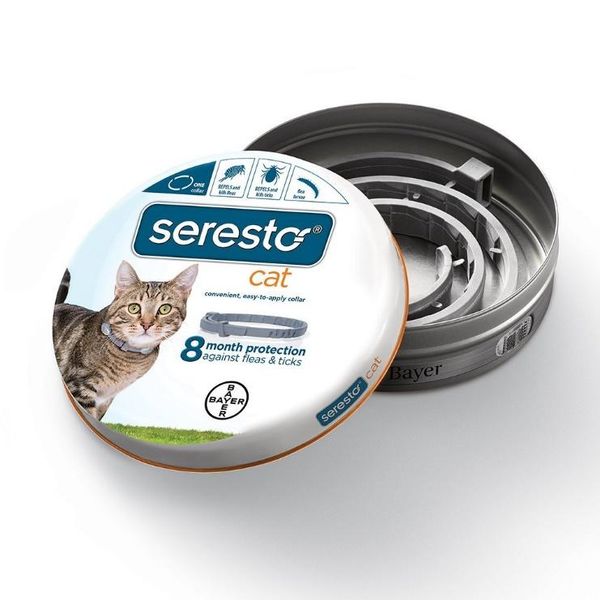 Seresto is a well-known collar brand, which is chosen by many pet owners. The collar is non-greasy and odorless, that is why it is comfortable for your cat to wear. Besides, it is easy to use and it is adjusted on the cat's neck easily. This 15-inch collar suits cats that weigh less than 17.6 pounds. It is stretchy enough so that when the cat becomes trapped, it can widen the collar and get released quickly. The huge advantage of the flea collar is that it kills and repels fleas and ticks for eight months.
This flea collar is veterinarian-recommended, and it means that it is safe to use for felines than suffer from allergies or other health conditions. The active ingredients are Flumethrin 4.5% and Imidacloprid – 10%, this means that the collar is highly effective and it kills fleas within 24 hours of initial application and within 48 hours, it prevents tick infestations. Released in low concentrations, the active ingredients are distributed over the cat's body from head to toe. When these ingredients wear off over time, the collar provides a new supply.
On top of that, the collar features reflective clips that increase nighttime visibility.
PROS
Lightweight
The application is easy – no pill, no topical liquid
Non-greasy, odorless, and helps avoid the hassle
Kills fleas and ticks
The release mechanism is easy
Reflective clips increase nighttime visibility
CONS
It is recommended that kittens under the age of 10 weeks shouldn't wear this collar
The collar can fit tighter than other collars
Hartz UltraGuard Flea & Tick Cat and Kitten Collar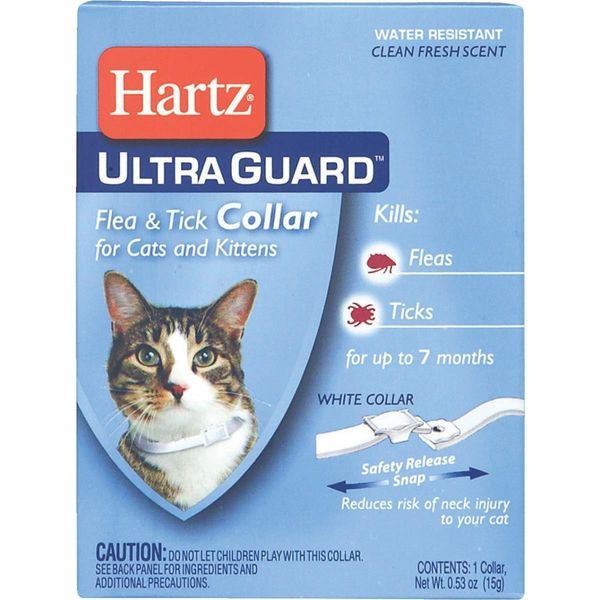 This flea & tick collar offers high protection for seven months. The collar is water-resistant, it means that the active medication doesn't rinse off of the collar. Also, it features a fresh scent so that it is pleasant for a cat to wear it. Besides, there is the safety release snap that reduces the risk of neck injury. The material is lightweight, durable, and it contains 3M™Scotchlite ™Reflective Material, which ensures optimal visual recognition at any time of the day. In dark conditions, it is visible up to 450 ft.
The collar eliminates fleas and ticks for up to 7 months.
PROS
Water-resistant
Visible in any conditions
Eliminates fleas and ticks for 7 months
Lightweight and durable
Includes a reflective material
CONS
Kittens, who are under 12 weeks, shouldn't wear the collar
Some reviewers say that it can hurt the cat's skin
Some felines may be allergic to the active ingredients
The 5.9 x 0.9 x 3.8-inch size may be a snug fit on large felines
Adams Plus Flea and Tick Collar
This collar refers to the group of safe flea collars for cats. Besides, it is also great for kittens. Thus, those cat owners, who have multi-aged cats, will love this collar!
The collar provides perfect protection against fleas, ticks, flea eggs, and flea larvae for up to 7 months. It is easy to fit for the cat and it doesn't slide.
The powerful ingredients are Tetrachlorvinphos (14.55T), (S) – Methoprene (1.02%) and Other Ingredients (84.43%) repel pests (deer ticks, mites, fleas) for 7 months at a time without direct contact with the cat's skin. Besides, the collar eliminates adults and eggs alike, therefore, re-infestation is prevented.
Despite an affordable price, the collar is effective. Reviewers state that this collar works better over the more expensive brands. Thus, you receive a good value at this price.
PROS
Prevents re-infestation
Perfect for both adult cats and kittens
Gives protection for up to 7 months
Eliminates fleas, ticks, flea eggs, and flea larvae
Features powerful and effective ingredients
CONS
It isn't waterproof
It can be difficult to adjust for small felines
A breakaway collar can be accidentally opened
REGIROCK Flea and Tick Collar for Cats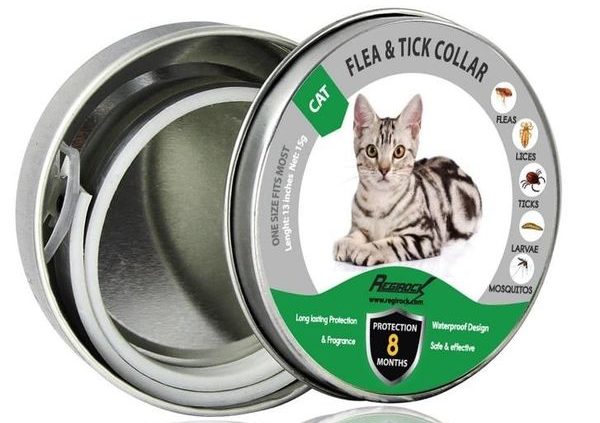 Durable and comfortable protection is ensured by this flea and tick collar for cats. This collar is comfortable and it is easy to use. All you should do is to place it around the cat's neck and adjust the suitable size. The collar is suitable for cats and kittens, who are at least 8 weeks old.
It is water-resistant, therefore, it works well in different weather conditions. Active ingredients are released gradually throughout the cat's hair and the skin surface. During 8 months, they are replenished continuously to the skin providing excellent protection. All you should do is to give the cat a bath and kills as many fleas as you can, then put the collar on the neck, and keep the cat away from the flea-infested cats.
On top of that, the collar is veterinarian-recommended, which means that you should use this collar to protect the cat and kittens from harmful insects, which irritate the skin, cause allergic reactions, infections, and in severe cases, they can lead to anemia and other diseases.
So, buy this collar to keep your pet safe and healthy, and if the collar doesn't meet your expectations, then there is the guarantee.
PROS
Non-greasy
Non-unpleasant smell
Easy to apply
Suitable for cats and kittens (who are at least 8 weeks old)
Water-resistant
Doesn't cause allergy
The bells are removable
CONS
A limited range of colors
Totopet's Pet Flea and Tick Collar for Cats and Kittens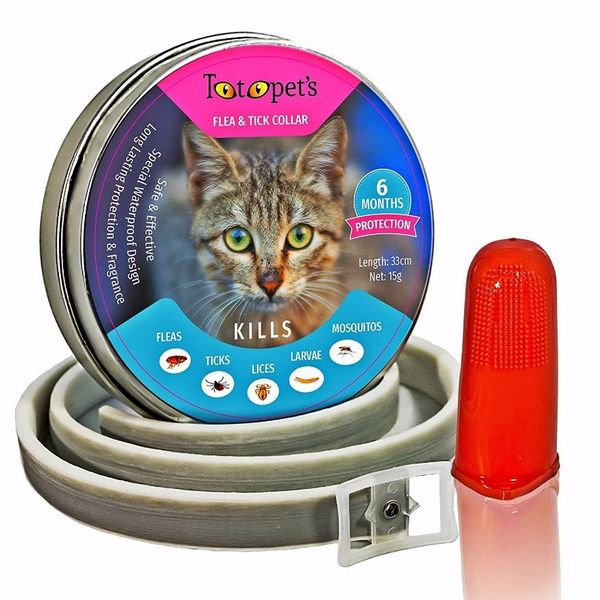 Totopet's manufactures pet supplies products of the highest quality. This flea collar has been designed with protection and security in mind. The collar is water-resistant, it doesn't cause allergy, and it is eco-friendly. The collar is made of a polymer matrix composite. This material is lightweight, it provides high stiffness and high strength.
The collar protects the furry friend against flea eggs, flea larvae, bites, itches, and ticks for up to 6 months. Your cat can wear this collar all the time because it is water-resistant. Thus, you can wash your cat and the collar won't get destroyed. Besides, it will fit perfectly the cat's neck, and if it is needed, you can cut excess length. It features a breakaway design, that is why it minimizes the risk of injury.
If you decide to buy this product and test it, then keep in mind that if needed, you can return it and get a full refund.
PROS
Prevents infestation
Adjustable – fits perfectly all sizes
Doesn't cause allergy
It is eco-friendly
Lightweight and durable
Provides perfect protection up to 6 months
Features a breakaway design
CONS
Has a strong unpleasant smell
Some reviewers say that it doesn't work on large cats
Only Natural Pet Easy Defense Flea & Tick Cat Collar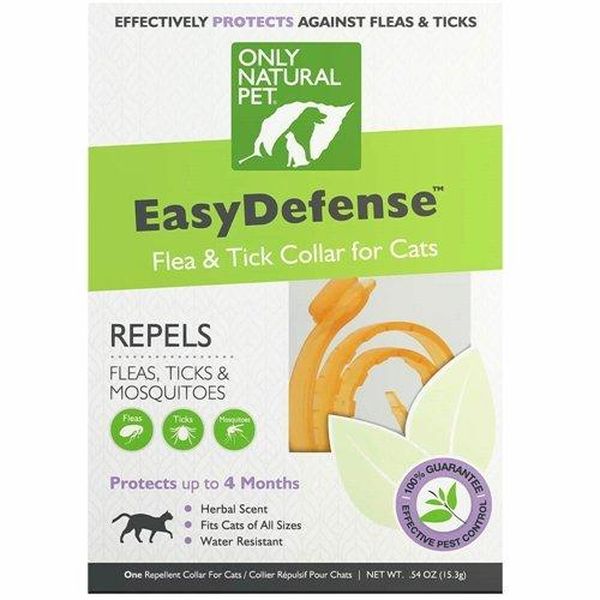 If you are looking for all-natural flea & tick collar, which has been designed for the cats with a sensitive skin, and, for pet owners, who search for alternatives to chemical flea collars and want to find a safe and effective means, then this is your ultimate choice!
This natural flea collar for cats provides long-lasting protection for up to three months. The collar is water-resistant and it features a combination of non-toxic ingredients, the active ingredients are Geraniol – 0.93%, Peppermint Oil – 4.4%, Thyme Oil – 1.1%. As for inactive ingredients, they are Nylon, Almond Oil, 1,2-Propylene Carbonate – 93.6%. Thus, the collar doesn't contain pesticides or harmful chemicals, therefore, it is completely safe for your furry friend.
This non-toxic alternative to other flea collars is worth its price.
PROS
Kills and repels fleas and ticks
Contains all natural ingredients
Water-resistant
Lasts up to 3 months
CONS
Some cats can be bothered by a very strong smell
Can't be used to fight against a whole flea infestation
Some reviewers say that it helps only prevent fleas, but it can't help if your cat currently has fleas
Pet Gallo Flea & Tick Cat Collar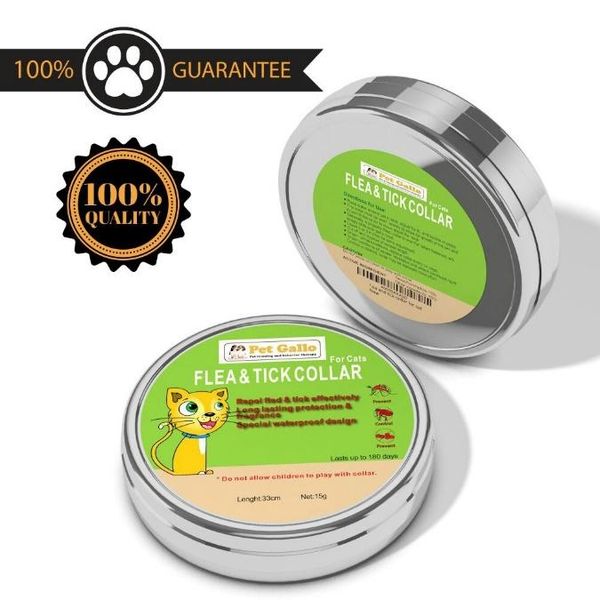 Your cat will love this collar because it offers good comfort, the highest quality, and 6-month protection from fleas and ticks. Besides, it is very effective in stopping infestations and eliminating the bites and itching. The collar length is 23.5 inches. If it is too long for your small cat, you can cut off the excess part of the collar. Before cutting the length, make sure that the collar snugly slides off over the cat's head so that it doesn't get caught in the collar. Another advantage of this flea collar for a cat is that it is water-resistant. Thus, don't worry that it will be damaged if it gets wet. Even if the cat gets stuck outside in the rain, the collar won't be damaged and it will work properly.
As for safety, the active ingredient is 15% Tetrachlorvinphos, it is effective in killing fleas, but it can be dangerous for cats and humans.
Aside from being functional, the collar has a pleasant aroma. This is very important because it influences the comfort.
Another benefit is that the collar offers a 100% money back guarantee. So, this makes the purchase risk-free.
Thus, choose this collar if your goal is to make the cat healthier and happier.
PROS
Features a pleasant scent
Has a safety release to prevent cat choking
Has the money-back guarantee
Water-resistant
Has a pleasant aroma
Offers superior 6-month protection
100% money back guarantee
CONS
Strong chemical insecticide
How to Choose the Best Flea Collar for Cats
Fleas are ectoparasites, which means that they bite and feed off the blood of their host. They are not only irritating because they cause constant biting and scratching, but they are also health-hazardous. Thus, if your cat has fleas and you don't take any actions, then such diseases as tapeworms, cat flu, anemia, and flea allergy dermatitis can develop in cats. Thus, if you want to kill these parasites and prevent their reappearance, then search for the collar with the following characteristics.
Cat flea collars are considered to be great alternatives to flea medicines for cats, but you should know that the collar is safe. It is known that fleas are killed with different chemicals, but some of them can be very toxic both for cats and humans. So, search for the collar with non-toxic active ingredients so that they don't trigger allergies or other unwanted reactions. Another solution is to go for the collars that have only natural ingredients such as different oils.
Also, the collar should have an easy release mechanism to prevent strangulation if your cat accidentally gets caught in the collar.
When a flea collar is exposed to water, then its effectiveness can decrease over time. Besides, if the material is exposed to water constantly, it can wear off quickly. Thus, make sure that the collar is waterproof.
The collar should be durable so that the cat can wear it in different conditions and it won't wear off quickly. Make sure that the manufacturer has used only high-quality materials. For instance, a polymer matrix composite is a popular option. The material is strong, stiff, and durable, but in the meantime, it is lightweight.
A perfect collar should be easy to adjust. It should be long so that you can put it on your cat and then cut the excess. Make sure the collar has enough room, but at the same time, it shouldn't be too loose.
Buy flea collars with a longer period of validity. Some collars offer protection starting from 3 months up to 8 months.
Don't go for the cheapest options, buy the product, which offers good quality at a certain price.
Types of Flea Collars for Cats
The type of the collar depends on the type of the insecticide used. In short, there are three major types.
An absorption-based type means that solid insecticide and resin are mixed so that the insecticide releases on the skin and fur over time. Also, there can be natural components: oils and herbs.
A gas-based type means that the liquid insecticide preparation releases as a gas. However, this type isn't effective for eliminating fleas, it can be used only for preventing fleas.
A high-frequency type means that the collar emits ultrasonic sound waves to ward off the parasites.
Advantages of Flea Collars
More and more cat owners choose flea collars between the other alternatives to fight against parasites. Their choice is determined by the following advantages.
The collar is simple to handle;
The collar doesn't make a mess;
Protection the collar offers is safe and effective;
There are adjustable lengths for different breeds of cats;
Protection is long-lasting, that is why it eliminates repeated doses;
It doesn't contain chemicals, that is why the cat's system doesn't absorb them;
They are less expensive than spot-ons.
Active Ingredients In Flea Collars
There are the ingredients that flea collars should contain and the ingredients that you should avoid.
Active ingredients are the following:
Deltamethrin is considered to be one of the safest insecticides. This is a synthetic derivative of a naturally occurring pesticide called Pyrethrin. Though it is considered to be safe to use around humans, it is still neurotoxic to humans.

Amitraz is an effective anti-parasitic drug. It is a contact, non-systemic ectoparasiticide, which is commonly used in cats and dogs against external parasites: fleas, mites, and ticks.

Pyriproxyfen is a pyridine-based pesticide, which is used for flea control and flea prevention. It targets flea eggs and larvae.
While choosing the flea collar, steer clear of Tetrachlorvinphos (TCVP), which is harmful to humans and cats. It can cause such symptoms as dizziness, nausea, diarrhea. Also, Propoxur is another ingredient that affects the nervous system of fleas and ticks, and they die within 24 hours. It is highly toxic to humans, so wash your hands carefully afterward and don't allow children playing with the collar with this chemical as it can cause dizziness, nausea, vomiting.
FAQ
What is the best flea control for cats?
There are many methods to combat fleas (flea collars, shampoo, sprays, powder, comb, oral pills, flea drops), but flea collars for cats are the ultimate choice. They are easy to use and they offer protection for up to 8 months. Also, they don't produce any mess and some types offer non-toxic chemicals. Besides, with a flea collar, you know that your cat won't lick off any harmful medicine.
Do cat flea collars really work?
Yes, they really work. If your cat wears a flea collar, it will be protected from fleas for up to 9 months. It is easier to use compared to other means and it is less expensive. Besides, it is hassle-free and it is comfortable for long-term wear.
How does a flea collar work?
The flea collar kills fleas and prevents their reappearance. In fact, the collar can perform two basic functions. It can emit a gas that repels pests or emit active ingredients (chemicals or natural oils) that kill fleas and ticks before they bite.
How effective are flea collars for cats?
Usually, flea collars feature different active ingredients that give an instant relief and help your cat avoid the spread of new fleas. These components kill adult fleas, flea eggs within 24 hours, and this protection lasts from three months up to eight months. Besides, the flea collar doesn't produce the mess compared to liquid drop treatments.
Are flea collars safe for cats and humans?
Usually, flea collars are considered to be safe for cats and humans, but it doesn't mean that you shouldn't take any precautionary measures. Thus, do not allow children to play with the collar because some insecticides in the collar can be toxic and dangerous for humans. Also, after you have petted the cat, just wash your hands afterward.
As for cats, some chemicals can cause allergy, and the pet can suffer from hair loss, redness around the neck, and sores. Besides, if the collar doesn't have a safety release mechanism, then it can lead to strangulation.
Conclusions
Keep your pet safe, healthy, and happy is your primary goal as a cat owner. So, you should use effective means to fight against fleas. Thus, if you want to spoil your cat with long-lasting protection, then Bayer Seresto Flea and Tick Collar for Cat is our ultimate recommendation.
When it comes to the overall protection for a long period of time and quick flea elimination, then Bayer Seresto offers the best flea collar. It is as effective as liquid methods, but it is hassle-free, non-greasy, and odorless. It is comfortable to wear because it is lightweight, and it features an easy release mechanism. On top of that, it has reflective clips that make it clearly visible at night.
Thus, buy the best flea collar for your cat, and its life will be flea-free, harmonious, and happy!