What kind of cat food to buy is one of the most important and responsible decisions in every pet owner's life. There are hundreds of cat foods on the market, but a majority of pet parents choose between two main formulations – dry cat food and wet cat food.
Wet food has undeniable benefits. According to Dr. Ericka Carroll, a San Francisco-based veterinarian, "In general, wet food tends to be higher in fat and protein and lower in carbohydrates compared to dry food." Therefore, more and more people go for this option as one of the best for their four-legged companions.
The choice of wet cat foods is narrowed down to several parameters: its safety and nutritional value, your cat's needs, and preferences. We know how hectic and confusing this process may be.
So, we have rounded up a detailed guide on the best wet cat foods, cat food brands, the best formulas for kittens and adult cats with in-depth best wet cat food reviews. Use it if you are looking for optimum nutrition for either small kittens or adult cats.
Wet Cat Food vs. Dry Cat Food – Which Type is Better?
Any pet parent faces this dilemma. Each type of cat food has its advantages and disadvantages, and cats love both types. Below we will consider them in more detail.
Water content
Dry food contains less than 10% water, while wet food consists of 70% water, which makes it as similar to radically natural cat nutrition as possible. However, the moisture level of cat food does not in any way affect the digestibility of nutrients.
A complete and balanced diet
For full development and good health, cats need nutritious food that is rich in all the necessary vitamins, macro and microelements, and fiber. Besides, cats, as carnivores, need protein, which should be the main ingredient in wet cat food. It is believed that dry food offers more balanced nutrition, while not all wet foods can provide a balanced diet.
Dental health
Some experts believe that dry food helps clean teeth from plaque, while others say that dry food does not affect dental health. As for wet food, it does not clean the teeth of felines, so it is recommended to brush your cats' teeth regularly and buy special dental treats.
Plant content
Dry food manufacturers use starchy ingredients (potatoes, corn gluten meal, wheat) as binding ingredients. However, they can cause digestive problems and food allergies. Wet food is often free of starchy ingredients and is easier for cats to digest.
Cat's food storage
Dry cat kibble can be left in the cat's bowl for a long time if necessary. Wet foods dry quickly and can even deteriorate at high temperatures. Besides, the opened package of canned food should be stored in the fridge for no longer than a day, and before giving wet food to the cat, it should be warmed up to room temperature.
Wet Cat Food Benefits
Wet cat food is the ultimate choice for many felines because it offers unbeatable advantages.
Wet cat food provides the cat with extra moisture, not only maintaining proper fluid levels but also reducing the likelihood of kidney and urinary tract diseases.
Helps kittens switch from liquid to soft dry cat food.
Good cat food is suitable for senior cats and cats with dental problems.
It has a strong flavor and suits picky cats.
Best Wet Cat Food
We've rounded up the list of the best cat wet food that contains all the proteins, fats, and micronutrients your cat needs to stay fit and frisky. This high-quality wet cat food is free of carbohydrates, cheap fillers, and unhealthy additives.
Read on to discover the best cat foods for your feline.
Smalls Fresh Kills Fresh Minced Chicken Meal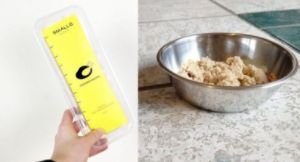 Status: Best quality affordable wet cat food
Find on: Smalls      
The cat food company Smalls delivers wholesome meals based on your cat's calorie needs and health condition.
A wide variety of foods: fresh food, freeze-dried cat foods, treats, pate cat food, and meal toppers contain human-grade ingredients, premium protein, all the necessary vitamins, and minerals. This low-carb and moisture-rich diet will keep your feline healthy and happy for all nine of his lives.
Before feeding this Smalls wet cat food, you should thaw the package overnight in the fridge. The subscription plan can be easily adjusted if necessary.
Pros
It features fresh human-grade ingredients
This moist cat food contains rich animal protein
Low in carbohydrates
Contains enough moisture for proper hydration
Grain-free; suits cats with food sensitivities
Rich in essential nutrients
Provides feeding recommendations based on cat's calorie requirements
Cons
Protein options are limited to chicken, beef, and turkey
Smalls doesn't portion out cat's meals
Blue Buffalo Wet Cat Food Healthy Gourmet Variety Pack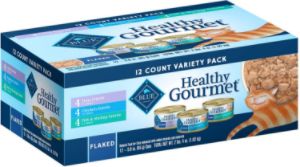 Status: One of the best canned cat foods
Find on: Amazon
This wet cat food is rich in aroma and consists of juicy pieces covered in a delicate sauce for a unique taste.
This BLUE AAFCO approved cat food is packed with high-quality protein that most cats love (fish and shrimp, tuna, chicken meal).
This is great food for picky cats because it features only wholesome ingredients, doesn't contain animal by products, wheat, and corn. This good wet cat food is especially beneficial for your feline's health as protein supports muscle health, healthy garden vegetables contain B vitamins, vitamin E supplement, beta carotene, manganese amino acid chelate, phytochemicals that improve the immune system.
Besides, taurine promotes eye and heart health, whereas omega-3 fatty acids and sunflower seed oil make the coat shinier and aid in digestion.
Pros
Doesn't contain poultry, chicken, by-product meals, wheat, corn, or soy
Free of artificial flavors or preservatives
Features protein as the first ingredient
This pet food is AAFCO approved
Cons
Some customers complain that the food can cause diarrhea and vomiting
Some people complain that the packaging is not tight enough
Weruva Mideast Feast Wet Cat Food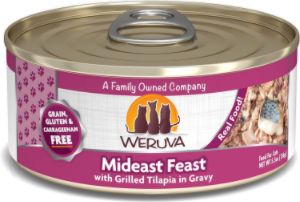 Status: Top rated wet cat food
Find on: Amazon
This grain-free wet cat food offers hand-flaked chunks of Tilapia and tuna in gravy. This is a win-win combination that most cats love.
We bet your feline will go crazy for this amazing natural flavor! The healthiest canned cat food by Meruva is low in phosphorus, magnesium, and supports urinary tract health, and therefore suits cats with kidney disease.
All the ingredients are of high quality and have a recognizable texture so that you always see what you get. You won't find carrageenan in cat food by Meruva, as well as soy, wheat, or corn gluten meal.
Pros
It is grain-free, gluten-free, and carrageenan-free
Works well for felines with kidney disease
It is made according to the highest standards for human-food production in BRC/USDA approved facilities
Certified by AAFCO
Cons
Weruva features hard bits that may make cats cough during eating
According to Weruva cat food reviews, it is too starchy
Can sometimes cause diarrhea
Purina Pro Plan Wet Cat Food Chicken and Turkey Favorites Variety Pack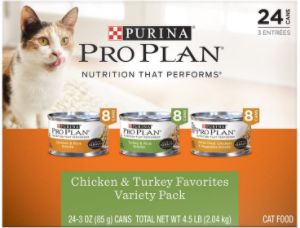 Status: Best cat food for older cats
Find on: Amazon  
If you are looking for a variety of tastes with amazing flavors and great texture that will feed your cat's true nature and fuel her inside, then this 24-count pack is everything you need.
This pack encompasses three different recipes: Turkey and Rice, Chicken and Rice, White Meat Chicken, and Vegetable. All the ingredients are packed in gravy for a great taste.
This balanced nutrition has been checked for quality and safety, therefore, you can be 100% sure that this meal doesn't contain harmful ingredients and won't harm your furry friend's health. On top of that, this authority cat food includes 25 essential vitamins and minerals, taurine, and amino acids that support the feline's immune system, healthy skin, and coat.
Pros
Contains 45% protein; features real meat as the first ingredient
Good value for money
Offers a yummy taste and a tender texture
Formulated without artificial colors, flavors, preservatives, corn, and wheat
Cons
Some cats may vomit after eating this food
Won't satisfy picky felines who don't like turkey flavor
Watery
There may be large chunks of food
Nom Nom Cat Food Meal Delivery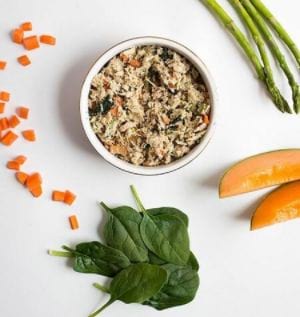 Status: Best cat wet food
Find on: Nomnomnow
If you want to get the quality of homemade cat food but don't want to put time and effort, then Nom Nom is a great choice.
This cat food meal delivery service is known for providing fresh, tasty, human-grade food. You will get fresh food with top-rated ingredients (shredded chicken or fish, vegetables, and fruit) that have been chosen according to your cat's weight, age, and nutritional needs shipped to your doorstep.
The subscription plan is flexible, and you are welcome to choose the most convenient model.
Pros
Includes highly-digestible animal protein
Features human-grade ingredients
Portioned out with cat's calorie needs in mind
Food arrives fresh
Isn't starchy
Low carb cat food
Cons
The cost of service isn't affordable
Includes plant ingredients
Limited to chicken and fish recipes
Purina Fancy Feast Kitten Classic Pate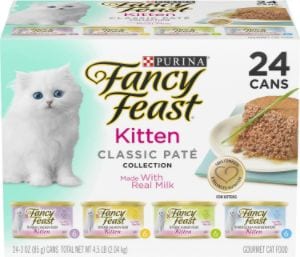 Status: Best kitten wet food
Find on: Amazon
This complete and balanced kitten's nutrition is packed with everything a small kitten needs when he starts discovering the world.
Thus, this grain free kitten food features either real poultry or seafood as the first ingredient, all the necessary vitamins and minerals to ensure all-around development.
The pate texture of this wet kitten food is easy to eat for kittens if their teeth are still coming in.
Pros
This Fancy Feast pate is grain-free
The pack of Fancy Feast wet foods includes various flavors
Features real poultry and seafood as the first ingredient
Good price-quality ratio
Can be considered the best cat food for senior cats with bad teeth
Cons
As Fancy Feast reviews show, certain health problems may occur: diarrhea, vomiting, loss of appetite, and decreased energy levels
Contains milk that may cause allergy
Crave Grain Free High Protein Wet Cat Food Trays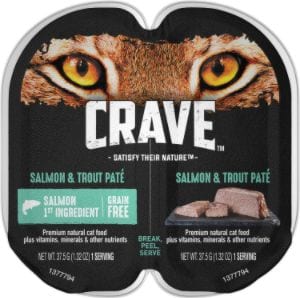 Status: Best wet cat food
Find on: Amazon
This moist cat food features high-quality protein (shredded chicken or fish) as the first ingredient to ensure your cat has strong muscles, a lean body, and can chase and pounce all day long.
The protein amount is 12%, which is proven to satisfy your cat's cravenness for meat. Aside from high-quality protein, this healthy wet cat food is packed with all the necessary vitamins, minerals, and nutrients to ensure all body systems function well.
Pros
Grain-free, corn-free, wheat-free, soy-free
Doesn't contain artificial flavors or preservatives
Single-serving containers are easy to use
Real protein is the first ingredient
AAFCO approved
Cons
Trace amounts may be present
Small portion size
Pate texture may be a downside for some pet parents
Wellness Complete Health Turkey & Salmon Formula Grain-Free Canned Cat Food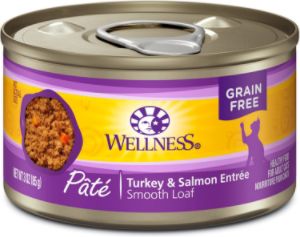 Status: Best grain free cat food
Find on: Amazon, Chewy
This nutrient-dense recipe features high-quality sources of protein (salmon and turkey) as the main ingredients, therefore, your feline friend receives only the best for his muscles and gets enough energy for his adventures.
Wellness cat food features wholesome ingredients without fillers, therefore, your cat will always come back for more. This pate is rich in fish oil, antioxidants, taurine, minerals, and vitamins that promote overall health and support the immune system.
Pros
Grain free food
Real protein supports strong muscles
Soft and moist
Supports urinary health
Doesn't contain wheat, soy, corn, artificial flavors, colors, and preservatives
Cons
According to Wellness cat food reviews, it makes your cat poop smell bad
Contains carrageenan
Pricey
Tiki Pets Tiki Cat Luau Wet Food Salmon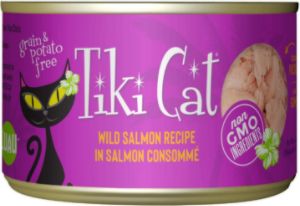 Status: Best wet cat food for weight loss
Find on: Amazon, Chewy
This is not just food, this is a true paradise for picky cats. Tiki Cat high moisture soft cat food features wild-caught Alaskan salmon in a luscious consommè so your furry carnivore will yowl and howl for this tasty meal.
Every bite is packed with taurine, fish oil, vitamins, minerals, and essential amino acids (iron amino acid chelate, zinc amino acid chelate, and copper amino acid chelate) that promote healthy digestion, skin, and coat.
Pros
There are no by-products, fillers, no guar gum in cat food by Tiki Pets
Grain-free
AAFCO certified
This Tiki cat food has a great smell
The Tiki Pets has the IATTC Dolphin Safe Certification
The luxurious consomme-based formula is a purr-fect fit for finicky cats
Has enough moisture
This best canned food for cats is low fat, zero carb, and is suitable for all life stages
Cons
Expensive
May cause diarrhea in cats
Features shredded chicken that may cause problems with chewing
Doesn't come in cans larger than 6oz
ZiwiPeak Canned Cat Food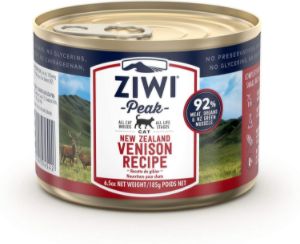 Status: Best canned kitten food, best senior cat food
Find on: Amazon, Chewy
This non-prescription low phosphorus cat food gives a fussy eater everything he needs to stay healthy and upbeat.
This high protein cat food is formulated with a nutrient dense cat diet in mind; it features fresh meat, organs, and bone as the source of protein and New Zealand green mussel that provides chondroitin and glucosamine for healthy joints. Being the healthiest cat food, it is free of TSPP, BPA, and carrageenan.
Pros
Doesn't contain antibiotics, hormones, grains, soy, rice, corn, wheat, potatoes, sugars, glycerin, preservatives, guar gum, carrageenan
Promotes healthy joints
Has enough moisture
Works well for cats with food allergies
Cons
May cause vomiting
Contains chickpeas
Tiny Tiger Pate Beef & Poultry Recipes Variety Pack Grain-Free Canned Cat Food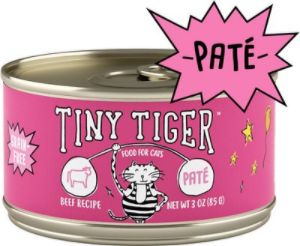 Status: Best limited ingredient cat food
Find on: Chewy
This Tiny Tiger cat food offers delicious and balanced nutrition. Beef in each bit ensures the necessary amount of protein your feline friend needs.
This blend is packed with taurine, a variety of minerals, and vitamins. Besides, this wet food provides real broth to keep your kitty hydrated. Pros
Grain-free food
Features high-quality animal protein
Real beef broth (or chicken broth in another option) ensures the necessary moisture level
Corn, wheat, and soy-free
Great value for its price
Cons
May cause vomiting
Not all cats like the flavor
Comes in small cans
What Should You Look For When Shopping For Wet Or Canned Foods?
If you are looking for high protein canned foods, then consider the following parameters.
A Great Company Reputation
Buy from companies with an excellent reputation for safety, quality, reliability, and good customer service.
Pet food ingredient lists are written in order of weight, so if the chicken is listed as the first ingredient, it does not mean that it is the predominant ingredient. Also, make sure wet cat food contains the essential complexes your feline needs: zinc amino acid complex, copper amino acid complex, iron amino acid complex, manganese amino acid complex, and others.
Instead of relying on rules of thumb, think critically
Be sure to look at each ingredient. The food should not contain a lot of plant ingredients as cats are carnivores.
Seek out highly-digestible protein sources
Animal protein is easily absorbed by the body. Sometimes, other wet cat foods feature large amounts of vegetable protein (e.g. pea protein) as an alternative to meat, but it is not as effective as animal protein.
Are meat by-products a wholesome source of animal protein
Meat byproducts include the spleen, lungs, brain, kidneys, chicken liver, blood, bones, stomachs, and intestines without their contents and are meat ingredients that cat food may contain.
A pound of meat by-products could be primarily beef muscle meat and organs or it might be minimally-digestible pig intestines
It is impossible to know for sure which parts of the animals were used. Animal by products are not the best ingredients in cat food because they are dangerous for cats with food allergies, IBD and food sensitivities.
Avoid ingredients that could harm your cat over time
Some ingredients are dangerous in the long-term perspective. Carrageenan is an algae derivative that thickens wet cat foods. However, it can be carcinogenic. Artificial colors, as well as preservatives BHA, BHT, and ethoxyquin, are harmful to the physical and emotional health of cats.
Look for a species-appropriate nutrient breakdown
Typically, cats require a diet rich in protein, moderate in fat, and low in carbohydrates. The nutrient breakdown should be the following: 70% moisture, 19% protein, 6.3% fat, and 1.7% carbohydrates.
Frequently Asked Questions
We've got you covered on a variety of topics in terms of the best wet cat foods, but there are some issues that you may want to clarify. We will consider them in detail below.
What's the healthiest wet cat food?
The healthiest cat food is the food that features animal protein as the first ingredient and doesn't contain any harmful ingredients: by-product meals, artificial flavors, corn, soy, gluten, and other ingredients that can be health-hazardous.
What is the best wet cat food for indoor cats?
The best wet cat food for indoor cats must contain all the necessary vitamins and minerals for your feline to stay healthy, energetic, and happy. Besides, always go for grain free foods. Steer clear of wet food that contains much fiber and is high-calorie.
The best overall wet cat food for indoor cats is Wellness Complete Health Turkey & Salmon Oil Formula Grain-Free Canned Cat Food. The best wet food for cats for weight gain is Tiki Pets Tiki Cat Luau Wet high calorie cat food.
The best wet food for kittens is Purina Fancy Feast Wet Cat Food because it is packed with all the necessary ingredients to support your small furball at the early stage of his life.
The top rated senior cat food Purina Pro Plan Wet Cat Food Chicken and Turkey Favorites Variety Pack will benefit senior cats.
What is the best cat food recommended by vets?
Usually, the vets recommend the best wet cat food brands: Purina, Blue Buffalo, Crave, Wellness, Tiki Pets, ZiwiPeak. We've analyzed these vet recommended wet cat foods in our guide.
What is the best inexpensive wet cat food?
Such cat food manufacturers as Fancy Feast's Classics, WholeHearted, Authority are the brands that offer the best affordable wet cat foods and healthy foods.
What should you do if your cat won't eat wet food?
If your cat is not eating wet food, then the following steps need to be taken.
Get your cat on a specific feeding schedule
If your cat is used to eating at any time he wants, then you should change the regimen. Feed him regularly at the same time and make sure the cat is motivated enough to try the new food.
Mix wet food pieces with dry food pieces
Increase the amount of wet food gradually until you have completely switched your pet to wet food. Be patient, this process is long and may take several weeks. Use this guide to choose the best wet kitten foods or food for adult cats. Remember, your furry friends deserve the best.
Read more about Best Diabetic Cat Foods and Tips on Feeding and Our Guide to Chicken-Free Cat Food