Who said that Birthday parties could not be arranged for pets? Our fluffy buddies are real family members, so a bright celebration can take place on such an occasion. Of course, the best present for your birthday cat is delicious treats. Some favorite food or exotic meals you do not give to your pet companion every day.
Why not prepare a homemade cat birthday cake that will contain only the most flavoring ingredients your feline is crazy about? And we talk not about traditional sponge cakes with cream or other desserts that should be baked for the sweet buffet. You can prepare an easy cat birthday cake from the feline's most loving products. Here are the best recipes on how to make a cat birthday cake pet owners can try.
Best Birthday Cake for Cats Recipes
How to make a cake for a cat? Easily, with the most helpful recommendations and hacks. Let's take a closer look at the most interesting recipes to show you that cats love cakes, muffins, and other treats.
The only rule is you need to know how to cook these meals from the birthday treating menu. So, let's dive into the cat cake recipe book together.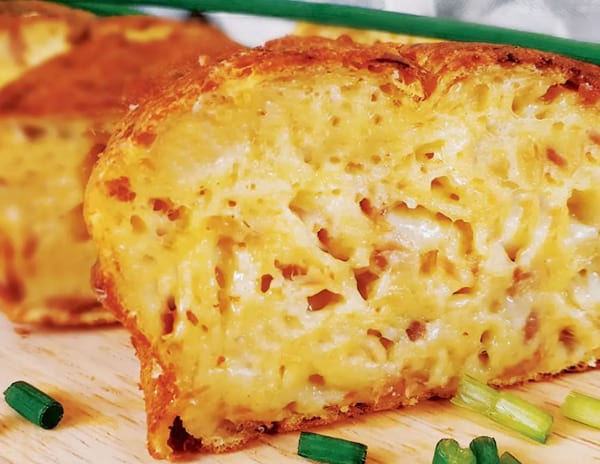 A Special Cake with Tuna and Cheese
If you are still asked the question: "Can cats eat cheese?", we are glad to say "Yes"! Just try this Birthday treat!
Ingredients  
1

 Tuna can

3-4

tbsp

Shredded cheese

3-4

tbsp

Flour (you can use rice flour or coconut flour)
Butter

1

Egg
Instructions 
The tuna cake for cats is similar to the muffin-like bakery. First, switch your oven and heat it to 350 degrees.

Open the can with salmon and mash it with the fork in the bowl.

Add 1 egg, all purpose flour, and cheese to the bowl and mix all the ingredients.

Take the baking tin (you can use your muffin forms as well) and smooth it with some butter.

Add the dough you have mixed in the bowl. Make sure that it is distributed equally.

Put the mini birthday cake into the oven and bake for 15-20 minutes.

If you use cats' muffin forms, the baking process can take 10-15 minutes only.
Notes
Cool the dish and treat your feline with one of the most delicious and cute birthday cakes! Be open to experiments with dressing and serving ideas. Add some salmon slices, dry kitty treats, or even a tiny tuna cat toy to the top of the fish cake!
🍲 13 Homemade Cat Food Recipes Every Cat Will Love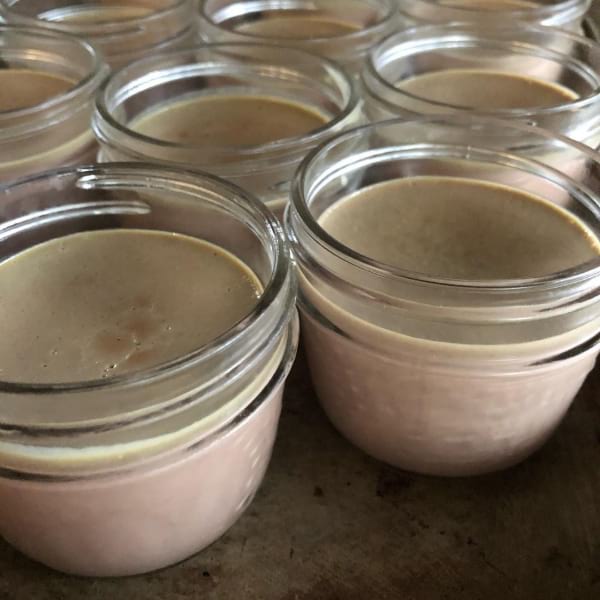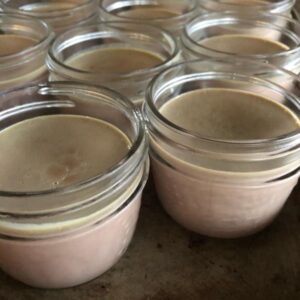 Liver & Shrimp Kitty Cat Cake
This is one of the easiest homemade cat treats (no-bake). Just pick sides with the best-matching serving and create the wonderful cake for your B-day feline!
Ingredients  
1

package Liver pate
ham slices
Shrimps for serving
Cat treats for serving

1

egg yolk
Instructions 
Open the package with liver pate.

Mix the liver with 1 egg yolk and add some feline dry food.

Put the mixture into the bowl, put it into a plastic bag or a ziptop bag, and leave in the fridge for 1 night.

Get the cat's birthday treats out of the fridge and shake them down on the plate.

Dress the liver cake with shrimps* and cat food your pet loves.
Notes
*Can cats eat shrimp treats? Just try! Usually, felines adore seafood,

including cooked shrimp

. Most birthday cakes for cats include fish, shrimps, and other sea products.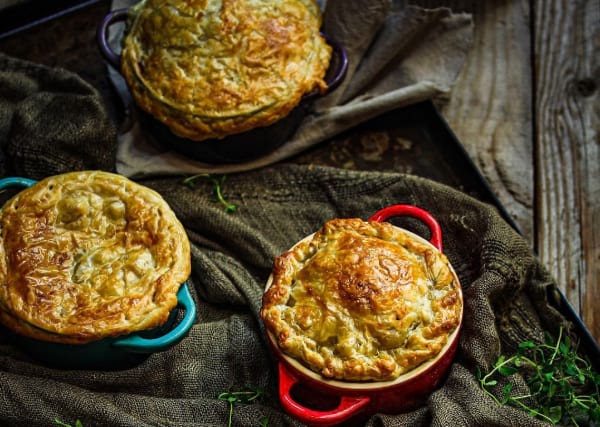 Chicken & Sweet Potato Cats' Patty Cake
One of the simple cat cake ideas is to prepare these treats with minimum budget-friendly ingredients. Bon appetite to your Birthday fluffy boy or girl!
Ingredients  
3

Sweet potatoes

1

Egg

1

tsp

Salt

3

tbsp

Flour

100

ml

Milk

3.5

ounces

Chicken

50

ml

Chicken broth
Instructions 
You can cook both a cat-themed birthday cake and muffins according to this one of the simplest cat cakes recipes.

First, boil sweet potatoes and chicken. Do it in separate pans not to spoil the chicken broth with the sweet potato flavor.

Let chicken and sweet potatoes cool completely. Start with the dough preparation. Mix 1 egg with salt, milk, and floor.

When the chicken broth is cooled up, add it to the mixture.

Blend chicken and mash sweet potatoes. Add mashed potatoes and cooked chicken to the kitty cake.

Mix ingredients well and put them into the heat-up oven (350 degrees).

Bake for about 15 minutes if it is a kitty cat birthday cat, and 10 minutes if these are sweet potato puree* & chicken muffins.

Dress the cat birthday cake with cat treats, ham, or other favorite food of your fur baby.
Notes
*Can cats eat sweet potatoes? Sure! Moreover, this cat-themed birthday cake is notable for its insensible sweet potato flavor due to other ingredients (milk, chicken, and broth).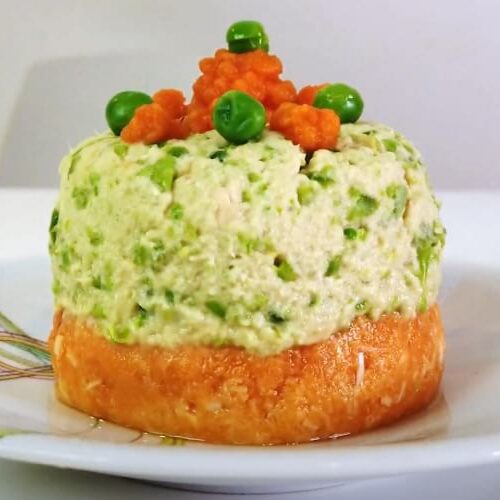 Salmon & Vegetable Cat Birthday Cake (Cupcake-Like Serving)
Do you want to arrange a party with guests for your B-day pet? Excellent! Prepare colorful (almost a rainbow cat cake!) and tasty cat cupcakes for all the felines on your celebration.
Ingredients  
3.5

ounces

Boiled and shredded chicken

1

Can of salmon
½

cup

Green vegetables (peas, broccoli, string beans)
½ Sweet potato or carrot (optionally)

1

tsp

Salt
Instructions 
Steam or boil a sweet potato/carrot and green vegetables you decided to use for these cupcakes.

Shred chicken and boiled vegetables. Add some salt to vegetables when they are still warm.

Open the can with salmon and put the drained slices of fish onto the serving plate.

Cover salmon with the form for cupcakes or cookies. It can be round or of another shape (for example, it is possible to make a cat-shaped cake this way).

Make the next layer from diced chicken. Flavor with some salt.

Place the next layer made of orange vegetables (shredded sweet potato or carrot).

Make the next layer of green vegetables (mashed peas, beans, or blended broccoli).

Serve the cupcakes with cream cheese* and green peas. This way your cupcakes will become the brightest and tastiest cat birthday decorations.
Notes
*Can cats eat cream cheese? Some felines adore treats with this ingredient, other bewhiskered pets do not prefer it at all.
You know your birthday fluffy boy or girl the best. In case your feline dislikes cream cheese, you can replace the sauce with the Tiki cat wet food or live pate.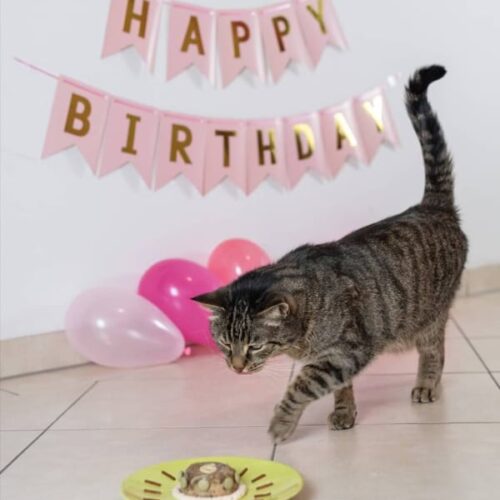 The Laziest Recipe for B-Day Pet Cakes for Cats
Make fancy birthday cakes for your felines in 5 minutes! Don't believe that it is real? One moment! Only three ingredients and several minutes of your time are required.
Ingredients  
1

Cat food can
Liver or fish pate for decoration
Dry cat treats for decoration
Instructions 
Prepare birthday cakes for cats to eat with no hassle. Just take a can with cat food from the fridge.

Shake it off onto the serving plate.

Add some decorations at your fancy. For example, take a cooking bag and draw a circle (made of pate or other sauce) around the canned food.

Put some dry cat treats to the top together with the birthday candle.

Ready! Maybe this is not about the designer Cat Noir birthday or Pusheen cat cake but yummy for your dear feline!
If you are searching for more complicated cat friendly cake recipes to create eye-catching masterpieces like Cat in the Hat cake or something like that, you can tailor the easy ones with your own experiments. For example, you can create small muffins or cupcakes with catchy decorations.
The patty cat cakes for birthdays can be complemented with the top made of broth jelly or liver pate.
Select the favorite products of your B-day feline and be open for experiments while using well-loving food as the main ingredients of the main celebration dish!
🍲 Learn how to make gravy for cats
Frequently Asked Questions
What is a good birthday treat for a cat?
It can be a cake, muffins, or cupcakes. But the most important thing is the set of ingredients the treat is made of. Select only feline-friendly products according to the healthy diet  (or grain free diet) of your bewhiskered pet (mashed sweet potato, wet cat food, poultry, cottage cheese, etc.).
Can cats eat birthday cake? What cake can cats eat?
If you are ready to cook the special homemade birthday cake recipe, your feline will adore this treat for sure. Do not ask the most traditional questions like: "Can cats eat pineapple? Can cats have cinnamon?". It is better to avoid common desserts people eat at their B-day parties. Prepare the feline-friendly dish (with seafood, vegetables, meat, liver, etc.) and enjoy your cat eating the cake!
How do I spoil my cat on my feline's birthday?
Prepare the favorite meals of your feline friend and use only those ingredients your cat likes. Of course, you can spoil your furry companion with the purchased birthday treats as well. Use these recipes as alternatives for your B-day feline menu. All the cakes have a short prep time and are made of the most common products. If your cat has trouble biting, then a soft small bowl of white albacore tuna or chicken snack will be a great treat.
How do you throw a birthday party for a cat?
Here are some tips that will help you make your cat's birthday party a blast.
Purchase catnip toys.

Invite your cat-loving friends and family members.

Prepare a cat-shaped cake for the visitors.

Set up some human games.

Buy more cat birthday treats or cupcakes for cats.

Place empty boxes throughout the room (it will be one of the best moments for your cat).

Purchase cat-themed decorations.

If you invite others to this celebration, do not request that they bring a present for your cat. Instead, offer them the option to give to an animal charity.
Why do cats go crazy for fish?
It's unknown why cats are so fond of fish. It might be the strong odor, the high protein level of fish flesh, or a combination of the two.
Can cats eat cheese?
Cheese isn't a required or even natural element of a cat's diet, and dairy can often cause stomach issues. Cats should only consume cheese in little amounts and as a treat.
Can cats have sweet potato?
Sweet potatoes can be eaten by cats in moderation.
Final Word
How to celebrate your cat's birthday without a delicious cake? It is possible to create a real masterpiece that will be loved by your bewhiskered darling. Create a pink cat cake with gluten-free natural colorants like beet or strawberry to treat your she-lady. Nothing is impossible if you have proven recipes.
Prepare a cartoon cat birthday cake with the help of a professional baker or make this treat yourself at home. Complement the party buffet with candles, feline dry treats, toys, etc. Use creative cat cake designs for birthdays to impress your pet and guests!