Most people think that cats are the loveliest and most eligible creatures on our planet. Their charming small faces, whimsical demeanors, and ridiculous antics make them difficult to resist. Particularly in the case of fluffy cat breeds because they are like plush toys that come to life and please our eyes.
There are various types of fluffy cats but they all are beautiful, cute, and even a bit funny. Here is a picture guide of the top small, medium, and big fluffy cat breeds to help you figure out what furry cat breed is right for you.
Fluffy Cat Breeds
Maine Coon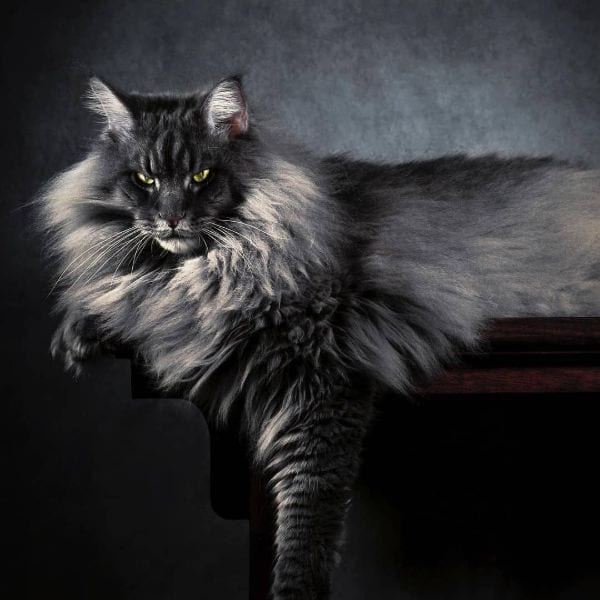 Being an extremely long-haired and energetic feline, the Maine Coon is known as the fluffiest cat breed. Such a huge cats breed as the Maine Coon can grow to big sizes, sometimes to the size of some wild cats.
The main problem with Maine Coons lies in the fact that this grumpy cat breed requires a bit more daily grooming compared to other ones.
Munchkin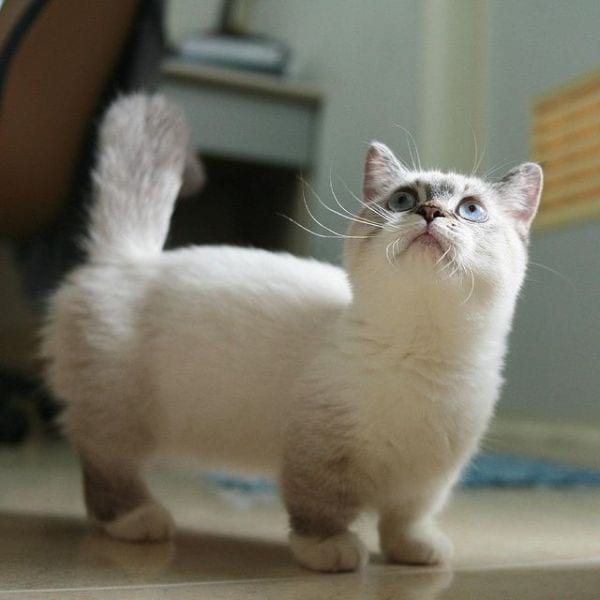 The fluffy Munchkin cat can be short-haired or long-haired, both variations are possible. As one of the most demanded small cat breeds, the Munchkin cats are clearly recognizable by their shorter legs, and that's why these tiny cats are often called Sausage cats.
But despite being short on legs, they have big and bright personalities. Munchkins are active, fun-loving, and affectionate felines who become loyal and devoted friends to their owners.
Persian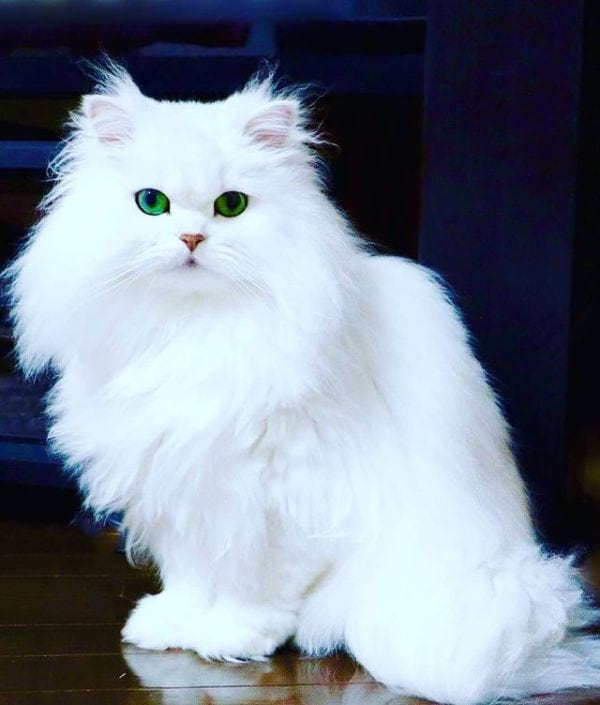 What is the cutest cat in the world? Maybe it is the Persian cat. This fluffy smushed face cat can leave no one indifferent with its stunning long hair, huge intelligent eyes, and royal mannerist.
A quiet, a bit laid-back but personable fur ball can get along well with kids and loves to be in the center of humans' attention.
Ragdoll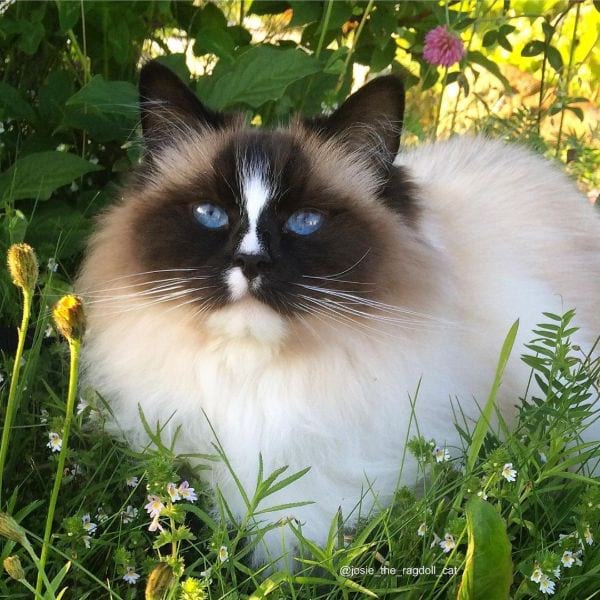 The fluffy Ragdoll cat is large as the Maine Coon. But while the Maine Coon looks like a buddy, the adult Ragdoll looks like a baby. The name of this breed comes from their peculiar features – a tendency to go limp.
The long haired kittens with big blue eyes and gentle, easy-going nature become perfect four-legged friends when they become adult cats.
Ragamuffin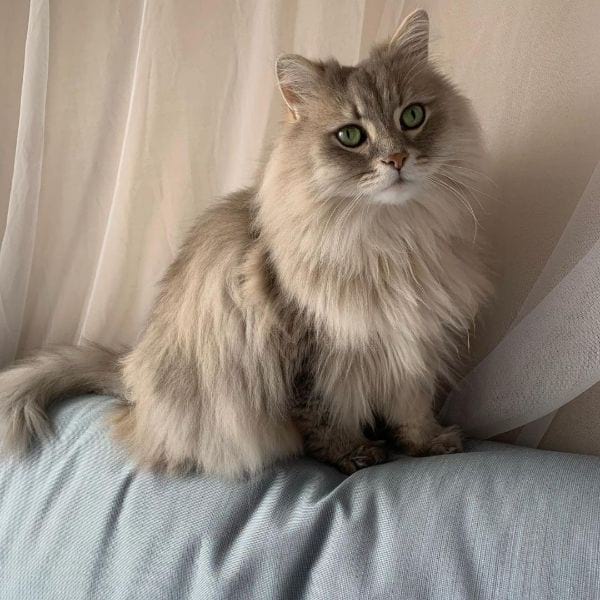 These awesome giants are also considered furry cats with fluffy tails. Their puppy-like behavior and easy-trainable nature make these felines great family pets.
The Ragamuffins feature a calm and patient temperament and friendly attitude to humans. They lean to low-maintenance animals and don't need daily grooming.
Himalayan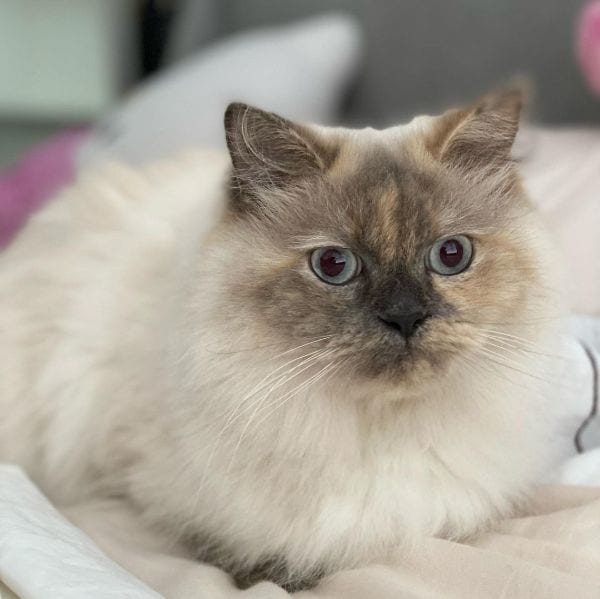 One more fluffy fur ball, the Himalayan is a hybrid of the Siamese and the Persian who likes attention and affection like the Persian and is quite playful and energetic like the Siamese.
This grey fluffy cat is full of curiosity and cuddly. Besides, the Himalayan does well with kids and other pets.
Birman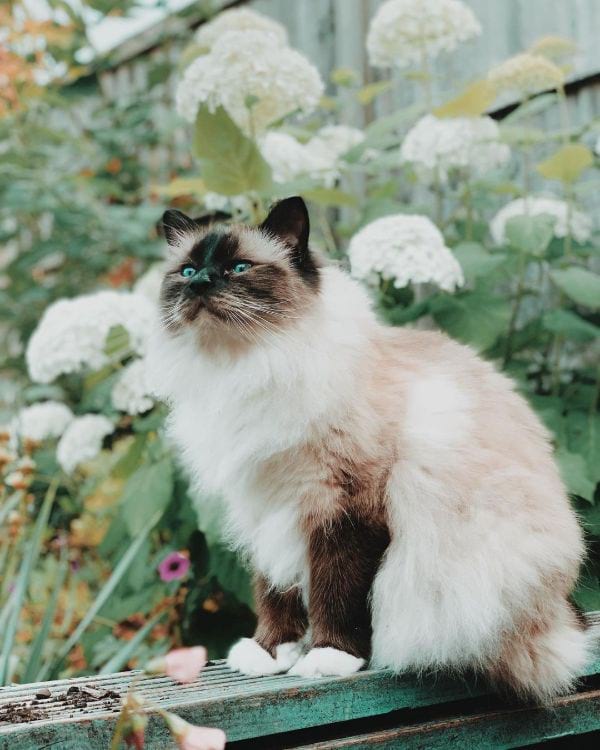 Felines of rare cat colors and interesting origin, the Birman refers to the most beautiful cat breeds on the globe. A bit furry version of a Siamese, this breed is famous for its sweetness and lush long coat that is extremely soft and low-maintenance. Most people find the Birman cats as tender and very gregarious companions.
Japanese Bobtail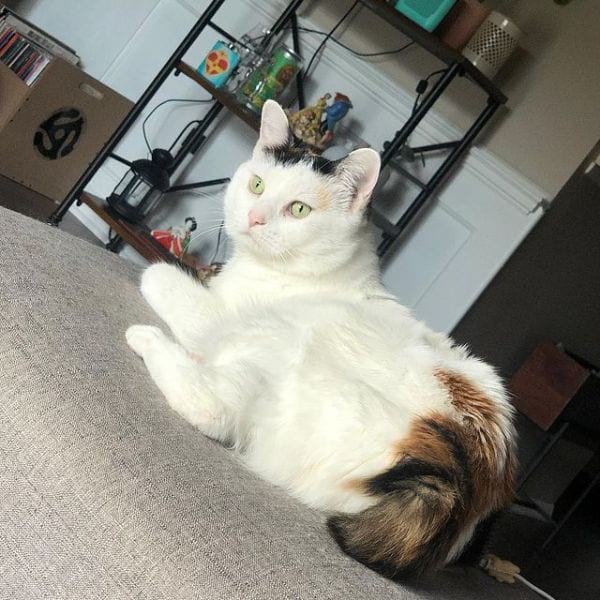 Known as a mascot that brings good luck, the Japanese Bobtail is at the top of the most popular Japanese cat breeds.
This fluffy short hair cat can be described as a people-oriented and curious animal that can get along perfectly with everyone and everything. Surely, this fur ball differs from other breeds by its short and kinked bobtail.
Norwegian Forest Cat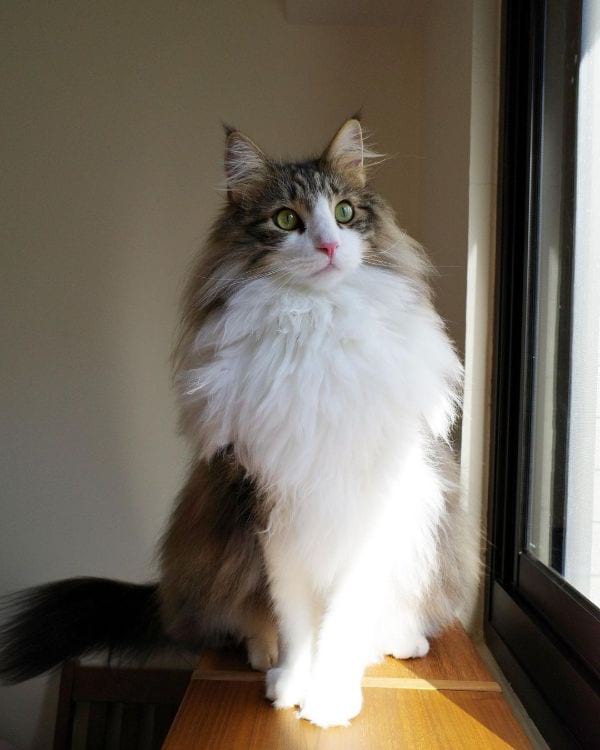 The extra long thick double coat is the main feature of the Norwegian Forest cat, one of the biggest fluffy long haired cat breeds. Norwegian Forests attract cat lovers by their amazing eyes, plumed tail, and pretty tufted paws and ears.
They require common grooming for felines with long plush fur and much attention from their pet parents.
Siberian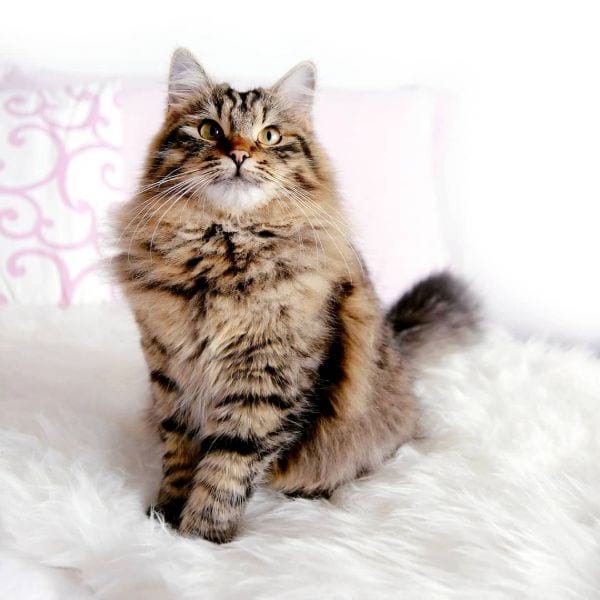 For active people who want to get an exotic feline, the fluffy Siberian cat is the ideal choice. The Siberian cats don't need too much grooming due to their habit to spend most of their time outside.
These long-haired felines are usually extremely energetic and they like swimming and playing in the water.
Exotic Shorthair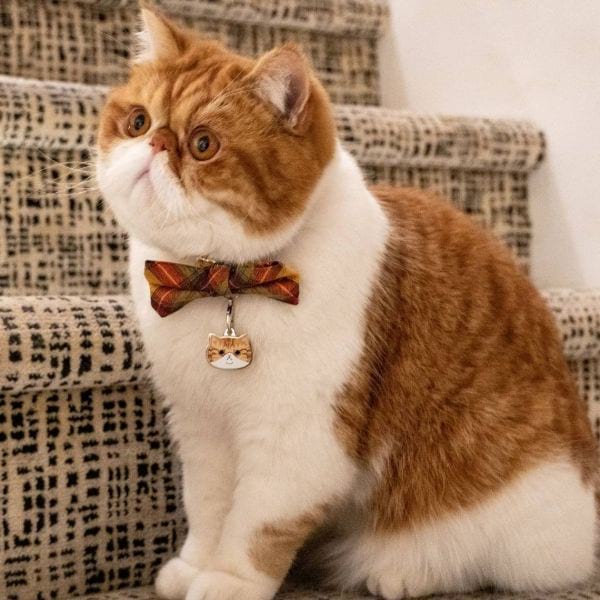 As a cousin of the Persian cat, the Exotic Shorthair is characterized by the same facial features. However, there is a great difference between these two big house cat breeds.
The Exotic Shorthair as you see from its name has short fur and, thus, has fewer grooming requirements. But like all Persians, this cat breed often faces a long list of health issues.
American Bobtail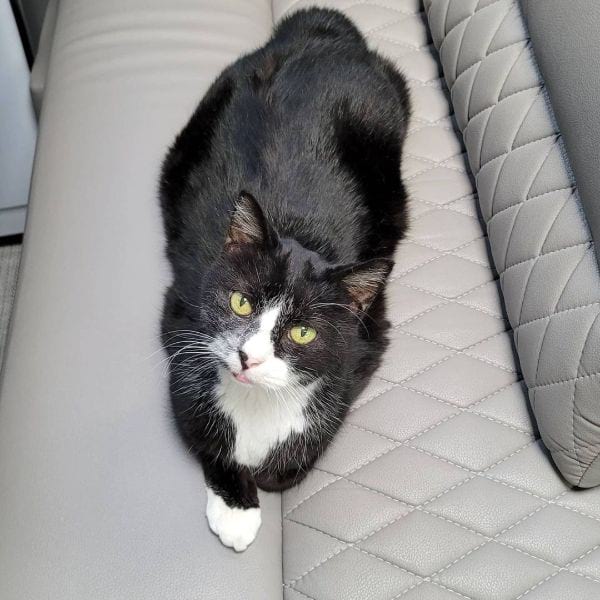 The American Bobtails can be both short and long-haired variations. Smart, loving, and extremely interactive, they are excellent for families. The American Bobtails usually have a great passion for games and even can play side and seek for hours.
FAQs
What kind of cat is fluffy?
The cats with plush, full coats and fluffy tails belong to fluffy cat breeds. However, there are some different cat breeds that also refer to fluffy ones but don't have long fur. They fall into this kind of cats due to their dense, full coats.
What is the fluffiest cat?
Our list of the cutest cat breeds includes the 12 most cuddly cats. However, the Maine Coons are considered the fluffiest cats on this list.
Are fluffy cats rare?
The breeds of fluffy cats are quite rare. Not every feline has the genetics to grow a plush and furry coat. Just a few cats are inclined to grow coats that are dense or long enough to be referred to the category of fluffy cat fur types.
How much do long-haired cats shed?
It is widely believed that cats with short hair shed less than cats with long coats. And it is totally wrong. Sometimes short-haired house cat breeds, for example, such a grey cat breed as the Russian Blue can molt as much as long haired cats. Thus, don't get hung up on the fluff-on-your-furniture factor if you want to have a fluffy kitten because this factor will depend on how regular you will groom your fuzzy cat.
Are there fluffy cats that don't shed?
One thing is certain, among all cat breeds there are just two that never shed – the Peterbald and Sphynx. Among domestic long hair cat breeds, there isn't any that doesn't shed.
How do you groom a fluffy cat?
Consistent care and grooming are a must for a soft cat with long hair. In such a way you can help your four-legged companion stay away from terrible hairballs and keep your feline's skin healthy. Besides, it is in your power to make regular care a fun and pleasant ritual for you both. Follow the next useful tips for preventing a bad fur day.
Set up a routine: Being creatures of habits, cats can be easily taught daily grooming (brushing and bathing). A pet parent should be patient, kind, consistent, and positive to make your hairy cat's regular caring a fun part of the day.
Brush often and right: Most long haired cat breeds need brushing up to 1 to 3 times a day. Moreover, it is necessary to use a special brush for combing your feline. The cat brush has to be designed to work with fluffy types of cat coats. One more important thing you should know is the way of brushing: always brush your super fluffy cat in the direction of the fur.
Remember, you shouldn't ignore regular visits to a groomer and vet to check up on the state of your cat's coat as well as your cat's general health.
Conclusion
Fluffy cats are pretty creatures that can make a great addition to any family. There are a lot of fluffy kitten breeds mentioned in our list of the most popular plushy silky fur cat varieties above. Focus on the unique appearances, personal features, and temperaments of all these cat types to choose the most suitable one for you and your home.