Cats are active and curious pets, which are loved for their loving and playful character. However, sometimes they can be too naughty or even aggressive. In these cases, pet owners choose to modify the cat's behavior by different means.
One of the most popular ways of training pets is the use of a shock collar for cats. They are an effective means of training if they are combined with positive reinforcement training.
Aside from being effective, this method is safe and it isn't stressful. Thus, a study by animal welfare specialists has provided new evidence that using electronic containment systems to restrict where pet cats venture does not result in long-term wellbeing problems.
Usually, shock collars have several modes with vibration and sound, and the use of a shock is the last resort.
We've analyzed the best pet collars, and have chosen five cat shock collars that will meet all your needs and won't harm your furry friend.
Best Shock Collar for Cats – December 2022
PetSafe Pawz Away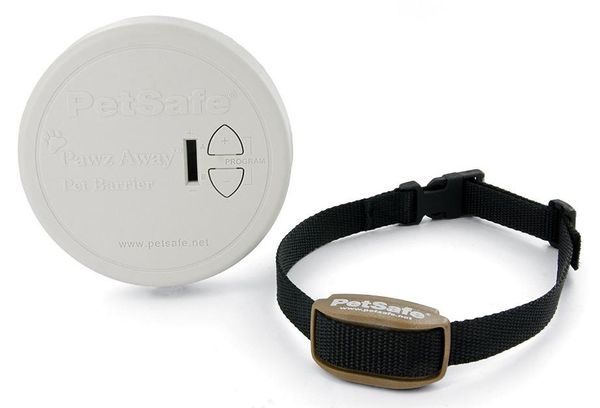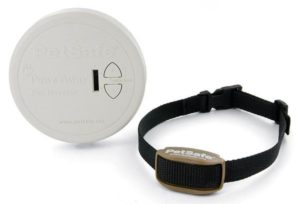 Find on: Amazon, Petsafe.net, Chewy
If you want to keep cats away from different areas or train them, then this cat shock collar indoor & outdoor is what you need. The collar is lightweight and it produces beeping sounds when a feline is near a forbidden area. The kit features a collar and a wireless Instant Pet Barrier. This barrier is waterproof, and it fits easily in different places such as a dining table, furniture, laundry, kitchen counter. It has an adjustable barrier range. Thus, the barrier protects areas from 2 – 12 feet diameter from the barrier transmitter.
The barrier transmits an elliptical radio signal adjustable up to 5 feet. The pet wears a Receiver Collar on its neck. When the pet enters a forbidden area, the collar will beep and deliver an electric current, which usually lasts from 3 to 15 seconds. If the cat doesn't react, then the collar will continue to correct at the maximum level, and the device will stop the transmission after 15 seconds. The collar won't cause any harm to your cat.
PROS
The receiver and collar are lightweight and waterproof
Safe and comfortable for pets at least 6 months old and 5 pounds or more
Automatic safety shut-off – correction stops after 15 seconds
This electric collar for cats has an adjustable range
CONS
The transmitter requires 3 AA batteries (not included)
eXuby – Small Cat Shock Collar w/Remote – Designed for Training Cats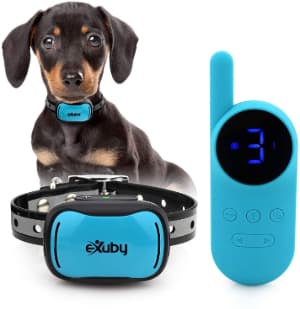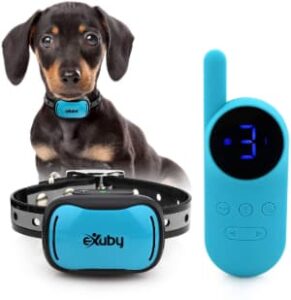 Find on: Amazon
Those cats, who do inappropriate actions such as chewing, scratching, jumping, attacking spontaneously, can be stopped with the help of this collar. It's highly effective. This collar has been designed for small dogs, but it can be used for cats because it offers a variety of options. The collar specifications are L: 24 inches H: 1.2 inches.
The collar has a free training clicker, which means that you can contribute to the development of a conditioned reflex. Thus, just use the clicker before using the shock. The cat will expect a shock after the click and with time, it will stop doing harmful things after the click and the use of shock is optional. Thus, some pet owners think that this is much better than using shock constantly.
Besides, the collar features other training forms such as vibration or sound. If the idea of using a shock isn't for you, then you can use these modes. Their intensity ranges from 1 to 100. The kit features one collar, one water-resistant collar receiver, one remote transmitter. The receiver and remote have rechargeable batteries so that you don't worry about buying new batteries regularly. This saves your time and money.
Moreover, the brand offers a 30-day money back guarantee. Thus, if you aren't satisfied with the quality, you can send the collar back within this period.
PROS
Water-resistant
Has three modes: shock, sound, vibration, each mode has 1-100 intensity
This shock collar for cats with remote is suitable for small pets
The remote and receiver have rechargeable batteries
CONS
Isn't recommended for long-term use
The battery life isn't long
Aetertek AT-211 Rechargeable Small Dog Cat Training Collar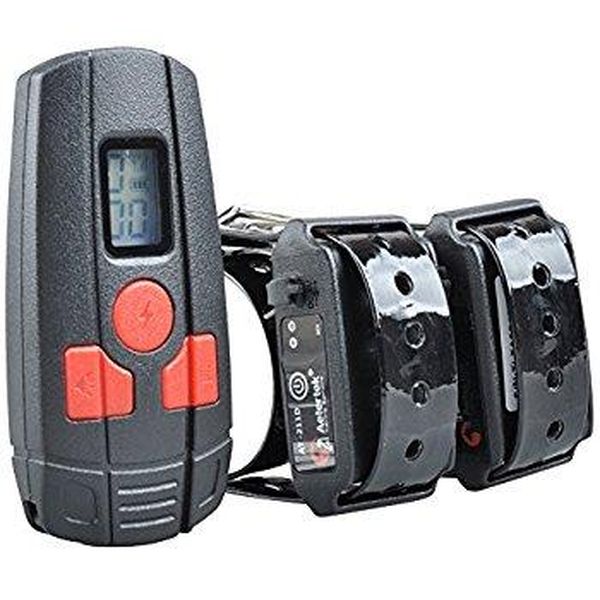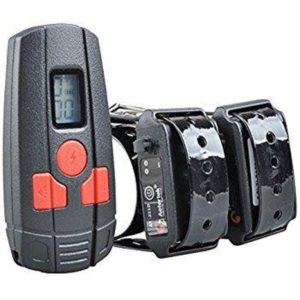 Many reviewers claim that this cat shock collar with remote is handy in those circumstances when you've tried many training methods and none of them was effective.
This collar has been designed specifically for small pets, therefore, it is perfect for cats! It means that the collar is lightweight, fits perfectly the cat's neck, and it is comfortable to be worn all the day.
The collar offers three training forms: electric shock (9 levels of progressive shocks), vibration, and a beeping sound. This is amazing because can owners can use vibration or the beeping sound function to deter the cat from doing unwanted actions. Using the electric shock function is the last resort, and many cat owners say that they don't use it often or don't use it all. However, if in some cases the use of the shock is necessary, its strength is not high. Thus, your feline well-being and safety are fine.
On top of that, the rechargeable batteries come along with the collar and the remote control. This is a huge advantage because you shouldn't buy new batteries constantly.
Overall, this is a good product at the current price, and many reviewers say that this collar does everything the more expensive collars do at less than one third the price.
PROS
Designed for small pets, that is why it fits the cat perfectly
Has three training forms
Has a remote control
Has rechargeable batteries
Environmentally friendly
An LCD display
CONS
Some reviewers state the rechargeable battery life is too short
DugCandy Dog Training Collar with Remote Control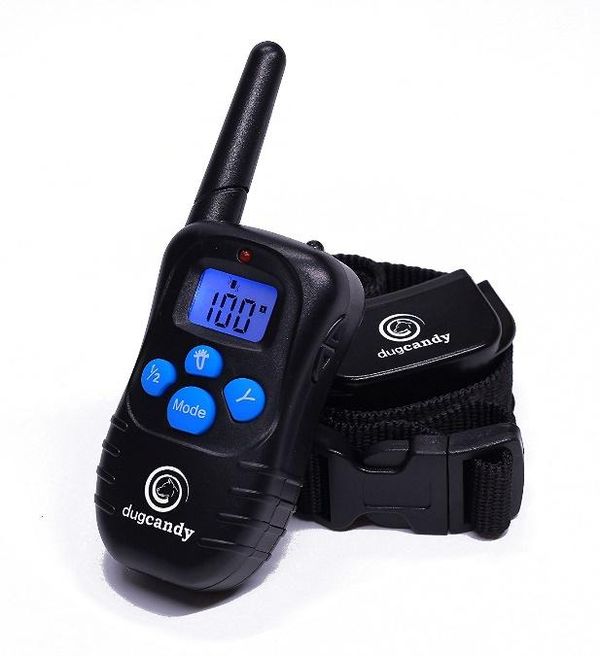 This collar is a wise buy for those cat owners, who value the safety of their pet, should go for this product!
If your goal is to modify the behavior and eliminate cat's aggression, then this collar is for you. It is easy to use, that is why it is popular among regular pet owners and expert trainers.
The collar is rain resistant, it is made of nylon, that is why it is lightweight, smooth, soft, and durable. The length of the collar is enough to make the pairing process easy and comfortable. Also, there is an LCD-screen receiver, and the transmitter, specially designed for use during the day and at night.
It features different modes, thus, this cat shock collar for outside and indoor use is great. Choose between a vibration mode, tone mode, and static shock mode with 100 customized levels. Besides, the collar remembers the last mode you used and powers on in the same mode the next time you use it. If there is a long period of inactivity, the collar will switch to the sleep mode.
Last but not the least, the manufacturer offers a lifetime replacement guarantee and a refund warranty. It means that the manufacturer is confident in the quality of the product and really cares about the buyers. So, if you find the collar uncomfortable or your cat isn't satisfied with it, feel free to exchange it or return the collar for a full refund.
PROS
It is easy to use for professional trainers and common users
The product comes with a lifetime replacement guarantee and a refund warranty
The collar is lightweight, durable, rain resistant
There is the LCD-screen receiver
Three modes with 100 customized levels
CONS
The collar can be too big for small cats
K9 Bark Collar Small Dog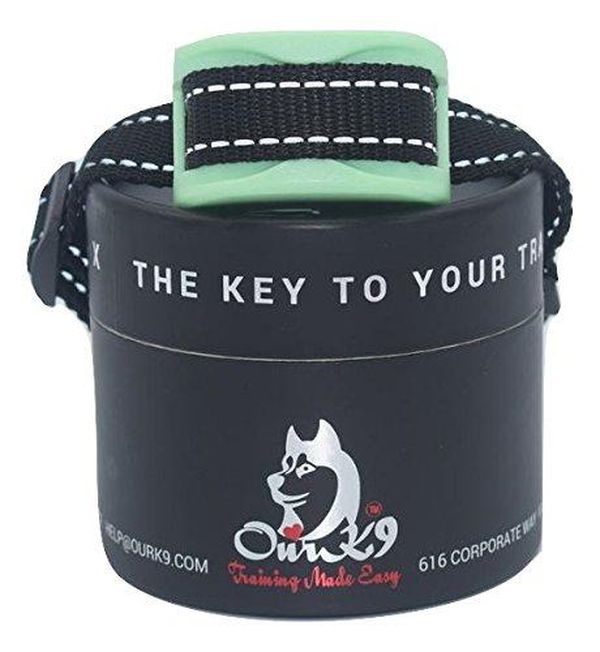 K9 LLC manufactures 15 different types of bark collars and 6 remote training collars, and this manufacturer has gained trust among pet owners. The brand tries to create collars, which will be suitable both for large and small pets.
The collar is fully adjustable and it fits great even the smallest necks. It has seven levels of sensitivity adjustment and four modes: beep, ultrasonic, vibration, shock, and it is up to you which mode to choose.
In 2018, the company has upgraded model safety protocols, thus, the collar has become even safer for pets. Besides, a huge advantage of the collar is that any charger or outlet can charge it. The collar has protection up to 1 amp.
Buy the collar and enjoy the 2-year guarantee.
PROS
Reliable and safe
Any charger can charge it
Has 7 levels of sensitivity
Has 4 modes
CONS
If it fits too tight, it can hurt the pet
Things You Should Know Before Buying A Cat Shock Collar
A shock collar is a collar with an electrical device attached to it. This device delivers a shock to the neck of the cat. Before buying this device, consider the following factors.
A shock collar is a good option not only because it gives a shock of different intensity, but because it offers different modes. Usually, there are three types of stimulation. The tone makes an unpleasant sound, vibration means that the collar vibrates on the cat's neck, and static stimulation means that the collar delivers an electric shock. These types of stimulation give the cat time to re-evaluate its behavior. That is why the use of shock is optional.
Electric shock control options
A shock collar should provide options for shock control. The intensity of the shock should range from low to mild. If there is no such option, then don't buy the collar because a strong electric shock can be health-hazardous.
A good thing about the shock collar is that it can work automatically. Search for shock collars with automatic functions. In this case, you will know that even if you are not with the pet, the collar will work.
The collar should be either manufactured for cats specifically or if it was designed for dogs, it should be cat-friendly. The collar should give a proper fit, if it is loose, the cat can lose it, but if it is too tight, it can irritate cat's skin.
The collar shouldn't be too massive in order not to get caught in a tree, fence, branch, etc.
The quality of the used material
The collar should be made of high-quality and durable material, for instance, nylon. It should be lightweight, soft, water-resistant, and stretchy.
Collars, receivers, and remotes should have rechargeable batteries. You take off the collar, plug the batteries in, and recharge them. Search for collars with long battery life.
The distance you can control a collar from really matters. So, look for collars with a wide range.
To be even more effective, the collar should have additional features. They include a beep sound, vibration before a shock delivery because they can eliminate the need for using a shock in some cases. The cat hears the sound or feels the vibration, knows that afterward comes the shock, and stops doing harmful actions. Besides, there should be an LCD display. It displays different information such as a battery level, statistic data, range. Also, having a waterproof remote control is a plus.
Usually, the shock collar is cheaper compared to a professional cat/dog trainer. The price range is from $25 to $200. The optimal price is about $70.
Types of Shock Collars
There are several types of collars that can be used for cat training.
This system is used for pets who should stay in a certain area. The main goal is to keep the cat safe.
The system consists of a collar and electric wire. This wire serves as an invisible fence, which is placed underground. When the cat is near the boundary, the collar produces noise, which means that the cat should turn away. If the noise isn't enough, then your cat will feel a soft shock charge. Its intensity can be increased if the cat doesn't obey.
Obedience collars aka remote shock collars come with a remote, used manually by the owner to deliver a shock if the cat misbehaves. The collar and the remote usually have rechargeable batteries, they are water and rain resistant.
Alternative Methods
Some pet owners look for alternatives. If for some reason you don't want to use a cat shock collar for doorway or another type, then the cat spray control system can be an option. This motion-activated unscented spray keeps the cats away from dangerous areas. Motion sensors detect movement and release a quick burst of annoying spray. The motion detector covers up to 3 feet.
Why Should You Use These Electronic Collars for Pets?
Using an electronic collar for pets can have many benefits. First, these collars serve as a training tool and allow owners to better control their pet's behavior when they are not present. Electronic collars can help pet owners teach their animal commands such as "come" or "stop" and provide a mild shock correction when needed.
Besides, these collars can help to prevent pets from running away or getting into places where they shouldn't be. This can give owners peace of mind that their pet is safe and secure when they are not around.
Arguments Against Shock Collars For Cats
Using a shock collar for cats can be a controversial choice. Although some pet owners may swear by the effectiveness of a training collar for cats, there are also several compelling arguments against using these devices.
Animals trained with shock collars are often scared of their owners or of the situations in which they were shocked. This type of training is not conducive to a healthy relationship between the pet and the owner.
Shock collars are not always effective in training cats. Without proper direction and guidance from the pet owner, shock collars can actually lead to more bad behaviors instead of correcting them. Additionally, cats may learn to associate their owners with negative experiences if they have been shocked too harshly or too often.
In general, cats that are trained with shock collars may lead a less enjoyable life. If a cat has experienced pain and fear due to shock collar training, it may become anxious or withdrawn.
How To Effectively Use Training Collars For Cats
Using a training collar to modify your cat's behavior is an effective and humane way to control unwanted behaviors. Here are some tips on how to successfully and safely use training collars.
When using a shock collar for cats, it is important to start off with the lowest setting possible. This will allow your cat to get used to the sensation of the collar without being overwhelmed. You should never use a high setting when introducing them to a training collar.
When using a shock collar for cats, you should set clear boundaries that define where your cat is not allowed to go. For example, if you have a fence around your backyard, your cat should understand that it's not allowed to cross that boundary. Make sure they know the consequences of going past this boundary before introducing them to the shock collar.
Pair with Positive Reinforcement
When introducing your cat to a shock collar, it is important to also pair it with positive reinforcement. This will help them understand that there are consequences for certain behaviors and that they can be rewarded for showing desired behaviors.
It is important to keep training sessions short and sweet when using a shock collar for cats. Overwhelming them with too much stimulation or making the sessions too long can be counter-productive.
By following these tips, you can help ensure that your cat is appropriately and effectively trained using a shock collar.
FAQ
Do shock collars work on cats?
Shock collars should be used as a training tool. The effectiveness of shock collars depends on the type of the cat and its temperament. Some people say that shock collars help pet owners cope with aggressive cats, but the collar doesn't work with less aggressive cats. The collar can make it even more aggressive, and the cat won't respond to punishment.
Can you use a shock collar on a cat?
Yes, you can use a shock collar on a cat. Usually, they are used to modify cat's behavior. However, you should use only those collars, which have been designed specifically for cats or small pets (including dogs). The voltage of a dog shock collar for large breeds is usually higher, and if you use it on your cat, it can be very dangerous.
How do I keep my cat off the counter?
One of the ways to keep the cat off the counter is to use shock collars. They are used for pets (both dogs and cats) that have behavior problems such as scratching, food aggression, chewing on furniture, etc. Shock collars are safe for your cats and they have several levels of shock intensity so that you control the strength of the shock.
When your cat misbehaves, then the collar delivers a shock, and then the cat stops doing whatever it does. Usually, shock collars offer many modes such as vibration, sound, shock, that is why the pet owner is free to choose which mode to use.
Besides, these collars are designed both for indoor and outdoor use.
Do vets recommend shock collars?
The answer to this question is not clear-cut. While some vets may recommend shock collars, others are likely to discourage them. This type of punishment-based device can be controversial because there is potential for misuse or overuse. For example, if the shock is too strong or used too frequently, it could cause physical harm or pain to the animal.
Do they make shock collars for kitty cats?
No, most shock collars are not suitable for kittens or cats. Shock collars can be too powerful and dangerous for young animals. In addition, the use of a shock collar on a kitten or cat carries the potential risk of causing physical harm and mental stress to your pet.
Are shock collars illegal?
Shock collars are not illegal, per say, but they can be considered inhumane and cruel, depending on the state or country you live in. In some states and countries, there are laws that prohibit using shock collars for any purpose other than as a training aid. It is important to research your local laws to make sure you are using the device correctly and ethically.
Can a shock collar kill a cat?
The short answer is no, a shock collar cannot kill a cat. The physical pain caused by the electric stimulation delivered by a shock collar is not enough to be fatal and usually causes only mild discomfort. However, the psychological impact of using shock collars on cats should not be overlooked; cats are sensitive animals that can suffer from stress and anxiety after being exposed to a shock collar, which can lead to long-term behavioral issues.
Can dog collars be used on cats? Do bark collars work on cats?
Despite the fact that it could appear that a cat might wear a collar made for a tiny dog (such as a pug or chihuahua), cats should only wear collars made for cats. Besides, bark collars are not effective for cats because cats don't respond to the same stimuli as dogs do.
Conclusions
Thus, a cat shock collar is one of the methods to help the cat avoid dangerous situations. Considering all the above, we came to the conclusion that Aetertek AT-211 Rechargeable Small Dog Cat Training Collar is a clever investment.
It is lightweight, and it is comfortable to wear all day. The collar has three main modes: electric shock (9 levels of progressive shocks), vibration, and a beeping sound.
You decide which mode to use. Besides, the kit also features rechargeable batteries in the collar and the remote control. All these important features you'll get at about $76.
Use this collar to keep your cat safe, calm, and happy!