Cats can actually suffer from diabetes, just like humans. Most cat owners are afraid of being told that their felines are diabetic. So what do you do if the diagnosis is confirmed? Of course, the most important thing is not to panic!
Diabetes is not a death sentence and most cases of Diabetes Mellitus can be treated and managed successfully. In many cases, a high-protein, low carbohydrate diet alone can be an effective tool for controlling diabetes and providing your four-legged friend a long, healthy, and fulfilling life.
Pursuing their own commercial interests, a lot of famous pet food brands produce cat food products designed especially for diabetic cats. However, if your feline is diabetic, don`t forget that choosing the right cat food is one of the most important decisions you`ll make for your cat's health.
Check out the top 12 most respectable diabetic cat food brands on the market today and choose the best cat food for your diabetic feline.
The Basics of Feline Diabetes
Specialized pancreatic cells create insulin. When blood sugar levels increase, it is released into the bloodstream. Sugar is utilized to power biological functions or is transformed into other substances and stored for later use in cells thanks to insulin.
Cats with Type 2 diabetes have chronically elevated blood sugar levels because their cells no longer respond to insulin as they should. More insulin is produced by the pancreas in response, but over time, the organ essentially wears down, and the cat finally needs insulin injections to survive.
The Role of Obesity in Diabetes
Obesity is one of the most significant factors that causes diabetes in cats. Hormones produced by fat cells decrease the body's ability to respond to insulin.
Purina Veterinary Diets Dietetic Management – High-quality Wet Food for Diabetic Cat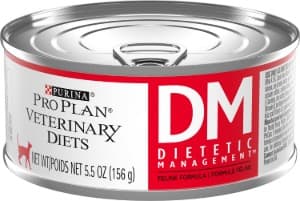 Find On: Chewy
Optimized with organic ingredients to meet the special dietary needs of felines with diabetes, Purina Veterinary Diets Feline DM Dietetic Management Food Formula is the first recommended canned food for diabetic cats in 2018.
This low carb, high-protein food formula helps you as an owner of the diabetic cat properly manage the glucose levels in your cat's body and, thus, control diabetes.
Purina Veterinary Diets Feline DM Dietetic Management is intensively tested and scientifically designed cat food that can help nutritionally manage adult and senior cats as well as cats with certain medical conditions.
PROS
High-quality product that contains high levels of protein and low levels of carbs
Includes a huge amount of antioxidants to promote a hostile environment for the development of struvite and calcium oxalate crystals
Great option for diabetic felines, adult and senior cats
CONS
Only one flavor option
May trigger allergy in some cats
Purina Pro Plan Veterinary Diets DM – Dry Cat Food for Diabetic Cats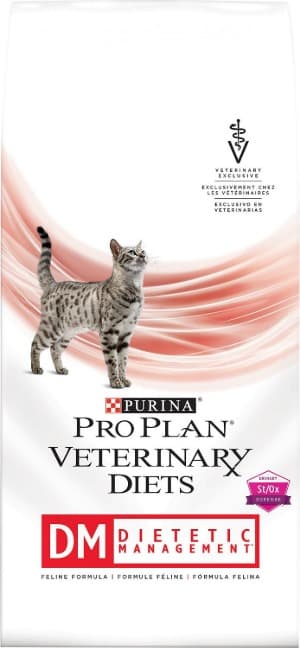 Ingredients: Poultry By-Product Meal, Soy Protein Isolate, Corn Gluten Meal, Soy Flour, Animal Fat Preserved with Mixed-Tocopherols (Form of Vitamin E), Corn Starch, Animal Liver Flavor, Calcium Carbonate, Phosphoric Acid, Fish Oil, Potassium Chloride, L-Lysine Monohydrochloride, Dl-Methionine, Choline Chloride, Taurine, Powdered Cellulose, Salt, Vitamin E Supplement, Zinc Sulfate, Ferrous Sulfate, Niacin, Manganese Sulfate, Vitamin A Supplement, Calcium Pantothenate, Thiamine Mononitrate, Copper Sulfate, Riboflavin Supplement, Vitamin B-12 Supplement, Pyridoxine Hydrochloride, Folic Acid, Vitamin D-3 Supplement, Calcium Iodate, Biotin, Menadione Sodium Bisulfite Complex (Source of Vitamin K Activity), Sodium Selenite.
Find on: Chewy
Purina Veterinary Diets DM Dietetic Management Feline Formula is the dry version of their diabetic-friendly wet food. It is one of the most affordable high-protein, low-carb cat food for picky diabetic cats who prefer dry food products.
The DM food formula high in protein and low in carbohydrates is designed especially for the management of diabetic felines and it works with a feline`s unique metabolism in order to stabilize glucose levels and help control the disease.
This cat food is also loaded with antioxidants and well-suited for senior cats who may have some serious dental issues.
PROS
Formulated with high protein levels and low carbohydrates to support the special dietary needs of diabetic felines
Contains a high level of antioxidants in order to promote an environment unfavorable to the development of struvite and calcium oxalate crystals
Perfect palatability and great taste
Suited for cats with diabetes and senior cats who have dental problems
CONS
There are some cats who passed bad gas after eating this food
Such dry cat food should be supplemented with wet food for moisture
Rachael Ray Nutrish Natural Wet Cat Food for Diabetic Cats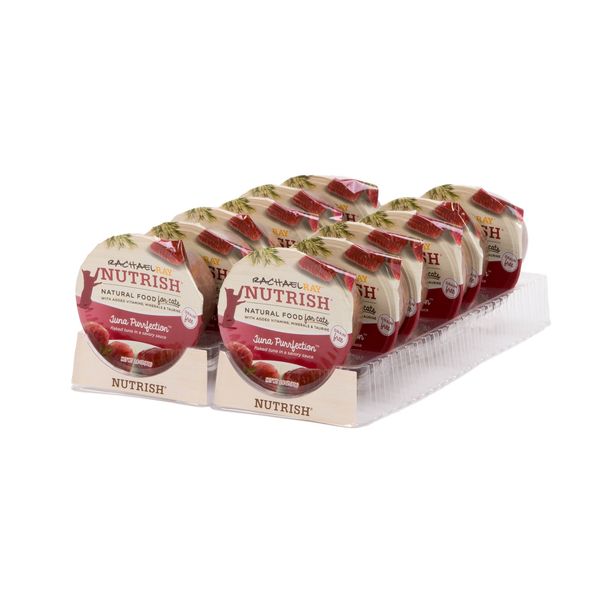 Most veterinarians say that Rachael Ray is the most affordable and the most beneficial natural wet cat food on the market today. It is also known as the top diabetic meal because it contains high levels of protein and its first ingredient is a chicken or fish.
This food is grain-free and has no corn, soy, wheat, chemical colors, flavors and preservatives. It comes in eight different food formulas and provides a 100% nutrition for your cat with diabetes.
PROS
High levels of animal-based protein
Made only from natural organic ingredients
Does not contain grains, contain corn, soy and wheat
Free from artificial colors, flavors and preservatives
Affordable price
CONS
May trigger an allergic reaction in some cats
May contain small bones
BLUE Wilderness Chicken For Adult Cats with Diabetes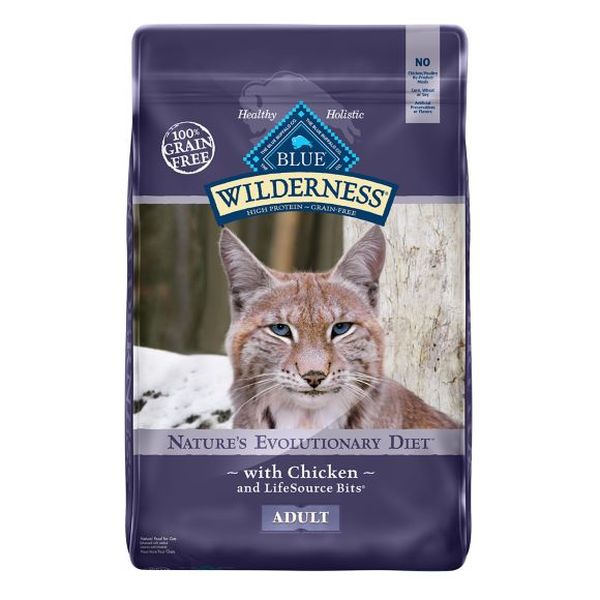 This premium BLUE Buffalo protein-rich recipe for adult cats is one of the best options available for diabetic felines. It is made with tasty high-protein chicken and sweet potatoes, which offers a very small but healthy source of carbs.
The food formula of BLUE Wilderness also includes blueberries, cranberries and carrots which provide antioxidant enrichment and is absolutely free from grains and gluten.
If you`re still looking for the right cat food for your diabetic cat, pay attention to the diabetic-kitty friendly BLUE Wilderness products (but previously consult with the vet).
PROS
Produced with high-quality ingredients and real meat
Has no meat by-products, artificial additives, preservatives and colors
Good alternative to a raw diet
Ideal option for diabetic cats
CONS
This dry cat food should be supplemented with wet meals
BLUE Buffalo Kitty Yums Natural Soft-Moist Cat Treats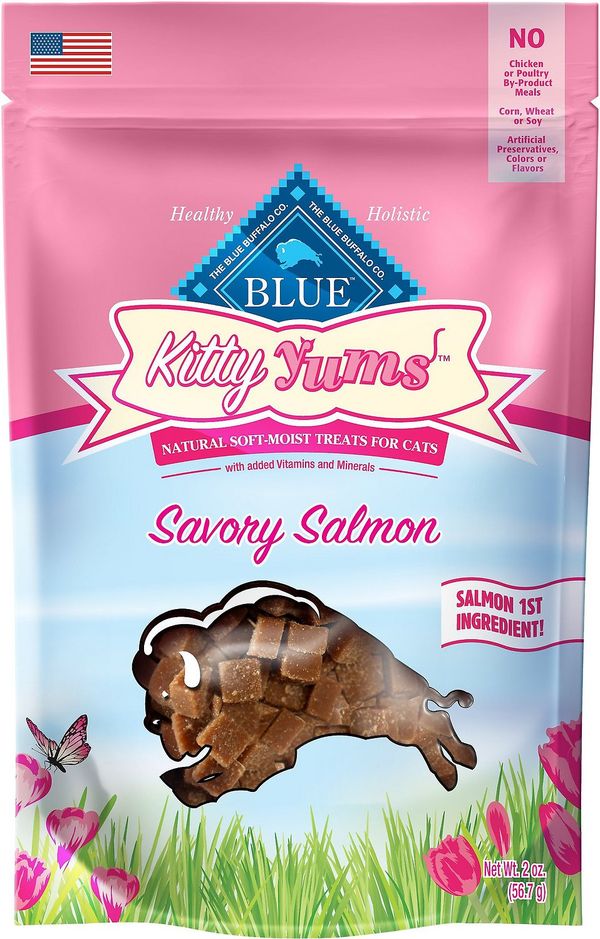 One of the most recommended brands for diabetic cats is the BLUE Kitty Yums Soft-Moist Treats. It is a natural, holistic and healthy food that doesn't include any meat by-products, grains, corn, soy and wheat.
It is made from fresh deboned poultry in the form of tender and very soft morsels and that's why this food is good for all cats of all ages.
PROS
High in protein
Contains essential vitamins and minerals
Free from grains, corn, soy, wheat and meat by-products and fillers
Has very soft texture to eat
Good for older or senior cats
Provides well-balanced nutrition for diabetic felines
CONS
Some felines do not like the texture of this soft-moist food
Some ingredients may trigger allergy
IAMS Proactive Health Healthy Senior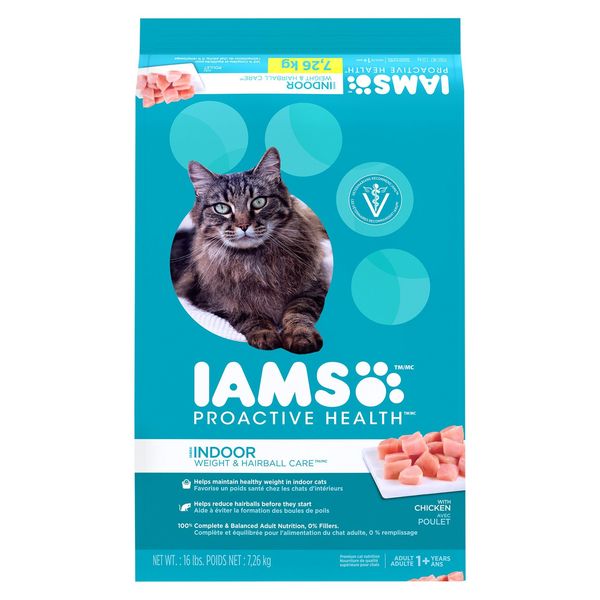 The famous IAMS Proactive Health makes a holistic dry food that is designed especially for indoor cats. However, the IAMS Proactive Health is suited not only for indoor cats but also for cats who need special care or suffer from diabetes.
The IAMS Proactive Health Healthy Senior is a specialized meal created with chicken as the main ingredient to offer quality protein that is so important for treatment of diabetes. This dry food has 10 % less fat than the regular IAMS products and comes with the specific balance of amino acids and L-Carnitine that help maintain a healthy weight of your adult feline.
PROS
Designed for adult cats 1 years and older
Good for diabetic cats
Includes L-Carnitine for burning fat and healthy weight maintenance
Provides high levels of protein
CONS
Some cats have diarrhea (a very small number)
This dry food should be supplemented with wet cat food for moisture
Wellness Core Chicken, Turkey & Chicken Liver Canned Cat Food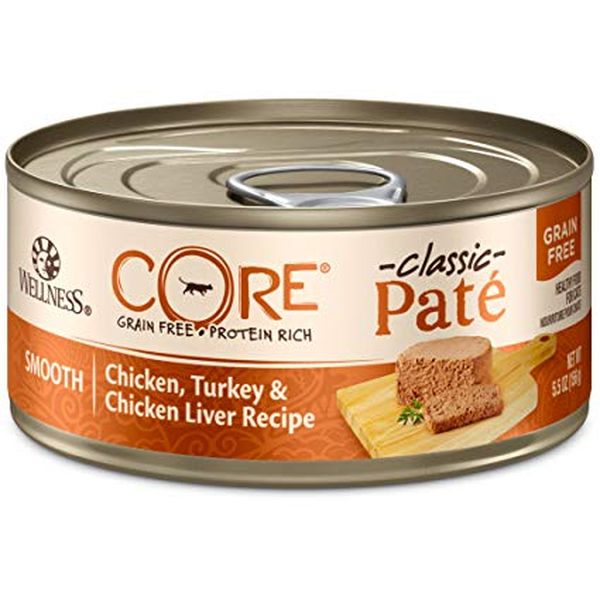 Being one of the most popular high protein, low carb wet food for diabetic cats, the Wellness Core food products are made from ingredients that are all natural and organic.
This grain-free cat food comes in five different flavors and contains no meat by-products, artificial colors, preservatives and flavors. Additionally, it includes lower calorie intake which helps indoor and diabetic cats maintain their healthy weight.
Thanks to a grain-free food formula and high level of protein, there are no allergy risks present, that is why this meal is one of the best selections when you have a cat with diabetes in your hands.
PROS
100 % sure grain free
Made with premium proteins
Contains probiotics for healthy digestion
Meets the nutritional needs of indoor and diabetic cats
Has no meat by-products, wheat, soy, corn, preservatives, flavors and artificial colors
Available in five different flavors
CONS
Some cats have diarrhea
Some flavors are off-putting
Instinct Original Grain-Free Wet Canned Cat Cuisine – High-Protein Low-Carb Cat Food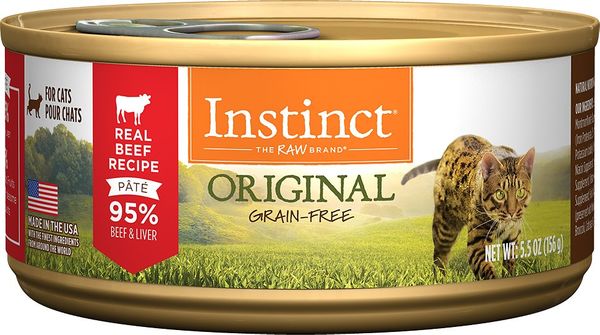 Formulated for cats of all ages, shapes and sizes, the Instinct Original Grain Free products are made especially for your four-legged friend to unlock her potential to thrive. And even if your cat lives with such diagnose like diabetes, be sure that the food produced by Nature's Variety can satisfy your feline friend`s needs and provide a well-balanced diet.
This vet-recommended food is full of animal protein (about 95%) with chicken as the main ingredient and it also includes about 5% of vegetables, fruits and other wholesome ingredients.
By the way, Nature's Variety is one of the most respectable brands which produces grain-free cat food that does not contain any artificial colors, flavors and preservatives.
PROS
Rich in animal protein
High in moisture
Contains no grain, potato, soy, wheat and corn
Free from chemical preservatives, colors and flavors
Has eight different formulas for every taste
Very affordable price
CONS
Relatively high in fat (not good for obese cats)
Some cats do not like fruit and vegetable ingredients which are included in the formula
Sheba Perfect Portions Paté Wet Cat Food Trays: Wet Food for Diabetic Cat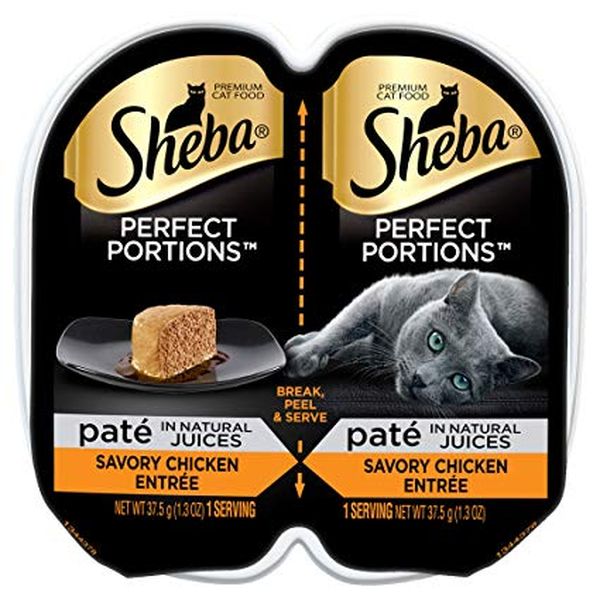 Known as one of the most convenient wet food for diabetic cats which is ideally sized for a fresh meal every time, the Sheba Perfect Portions Savory Chicken Entree is a top brand on the market today.
The Sheba Perfect Portions comes in many different food formulas and can satisfy any picky feline.
This natural wet cat food is produced with 100% real meat or fish which is the main ingredient and, moreover, in natural juices. It is formulated without gluten, soy, corn or wheat and this meal contains essential vitamins, minerals and only high-quality grain-free ingredients that make it the perfect diet for cats with diabetes.
PROS
Has no grains, gluten, soy, corn or wheat
Great selection for cats who are suffering from allergy, diabetes, obesity or digestibility
Has two fresh portions in each tray
Filled with vitamins and minerals for overall cat`s health
CONS
Some cats  may not like a pate
Merrick Purrfect Bistro Low Carb Dry Cat Food for Diabetic Cats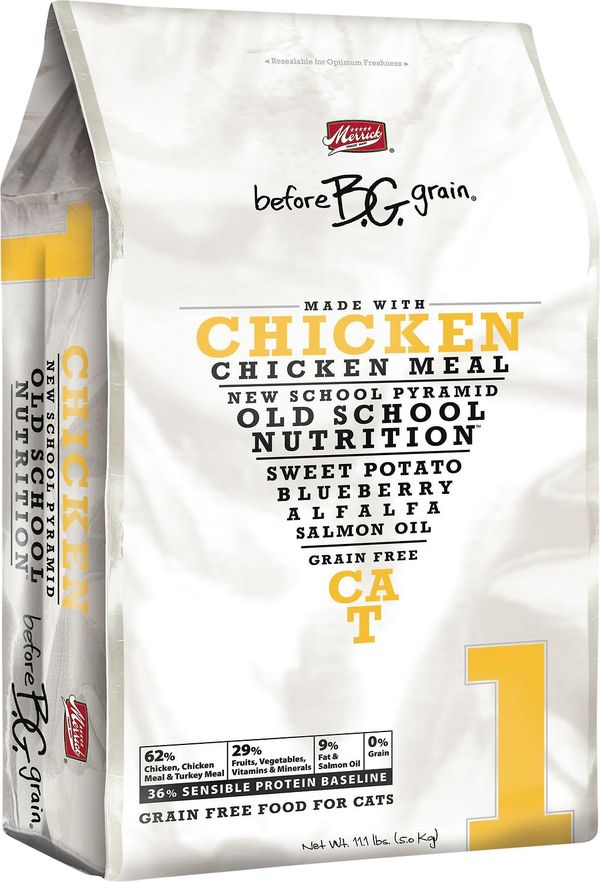 With its low carbohydrate and ultra-high protein content, the Merrick Purrfect Bistro Grain-Free Dry Cat Food is an excellent choice for kittens, adult and senior cats as well as for obese and diabetic felines.
This cat product contains 0% grain content and only 9% fat, chicken is the first and main ingredient and it also contains taurine. This food is one of the most organic on the market and that makes it a perfect low carb dry cat food for diabetic cats.
PROS
Contains meat as a primary ingredient
Made in the form of small kibble sizes (all cats and even kittens can eat it easily)
Suitable grain-free food formula for kittens, adult, senior, obese and diabetic cats
Loaded with antioxidant-rich fruits and vegetables, vitamins, minerals and taurine
Affordable price
CONS
This is dry food and every owner who has a diabetic cat should supplement it with wet food for moisture
ZIWI Peak Air-Dried Cat Food Recipe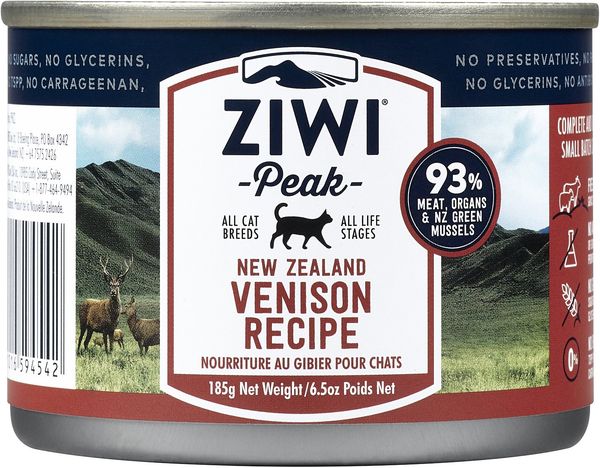 ZiwiPeak is perfect for your diabetic feline because its first five ingredients are meat (venison, venison broth, venison liver, venison lung and venison heart).
Made from high-quality venison, this food does not contain any meat by-products or fillers, it is free from antibiotics, Growth Promotants and added hormones because 100% single-source venison is grass-fed only on sustainable New Zealand farms.
The ZiwiPeak cat food is among the top organic brands that formulate the foods which are similar to what ancient cats would have fed on. Thus, this  dry cat food (canned cat meal is also available) is balanced nutrition for cats of all ages, diabetic felines and cats with allergies and food sensitivities.
PROS
Contains lower levels of fat
100% its protein is from single-source venison
High in protein
Helps control a healthy weight
Good option for diabetic felines, cats with allergies and food sensitivities
CONS
One of the most expensive cat products on the market
May cause vomiting
Natural Balance Limited Ingredient Diets Dry Cat Food for Diabetic Cats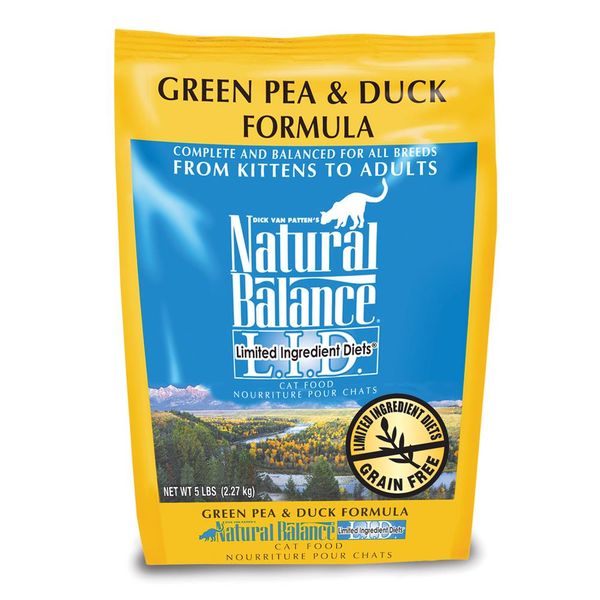 If you have an adult or senior cat, you`ve already noticed that she doesn't run and jump like she used to. Don`t forget that such inactivity can lead to weight gain and as a result to diabetes. Natural Balance Limited Ingredient Diets is an ideal selection, in any case, whether you have the cat with diabetes or she is at greater risk of becoming diabetic.
This high protein, low carb product is known as a quality dry food for diabetic cats. It doesn't contain grains and the main advantage of this meal provides a limited ingredient diet that makes it perfect for cats with sensitivities.
Moreover, this diet is all natural and includes prebiotic fiber that helps prevent your cat from overeating and control her weight.
PROS
Perfect choice for overweight cats
Produced by hypoallergenic food formula
Designed without grain
Formulated for the needs of cats with diabetes
Provides a limited ingredient diet
Has six different flavors to choose from
Has no artificial preservatives, flavors, colors and bleached ingredients
CONS
Can make your feline friend finicky
Should be supplemented with canned food for moisture
Things to Consider When Buying Food for Diabetic Cats
Pay attention to these things when buying diabetic cat food.
Wet vs. Dry
When purchasing food for your insulin-dependent cat, consider obtaining the moist option. Wet food is preferable since it has more moisture and protein than the dry varieties.
Protein content
Comparing the protein composition of wet and dry cat diets is difficult. Try to keep in mind to buy wet food with at least 10% protein and dry food with at least 40% protein.
Calories
As diabetic cats are frequently overweight, choosing food that includes controlled calories is helpful.
FAQ
What to feed a diabetic cat?
If your feline becomes diabetic, the right diet plays a critical role in the management of this disease. Most experts and qualified veterinarians say that a high protein, low carb diet is beneficial for cats who suffer from diabetes. The reason for this is that cats are true obligate carnivores and their perfect diet includes a huge amount of protein, moderate amount of fat and a tiny amount of carbohydrate.
According to recent studies, a high-protein, low carb food formula helps you improve insulin sensitivity in your feline friend. Moreover, the diabetic feline diet should necessarily include such supplements as taurine and L-Carnitine. Taurine has a positive impact on ocular, liver, nerve and heart functions  while L-Carnitine aids in transporting fats into cells to facilitate metabolism and promote weight control.
What is good food to feed a diabetic cat?
Diabetes is a very manageable disease in cats. You can also help your pal by choosing the right food formula. When selecting the cat food for your diabetic feline, pay attention to the food label.
Don`t forget that the ideal caloric intake should be as follows: 50 % (or greater) calories from animal-based proteins (like poultry, fish or beef), 20 – 45 % calories from fats and no more than 2 % calories from carbohydrates. Besides, look at the water content because it should be at least 70 % of the total food weight.
What kind of food is good for diabetic cats?
As has been said already, cats with diabetes can remain healthy and happy with the right diet plan. To feed your diabetic feline, start by choosing the food formula that is appropriate and healthy for her.
When it comes to commercial cat food, you can find the perfect caloric composition in canned cat food formulas. This kind of food commonly contains high-quality protein sources such as chicken, fish or beef in sufficient quantity and it is low in carbohydrates.
However, if your cat is picky and doesn't eat wet food, you have to focus on a high protein dry cat food. You can feed your diabetic four-legged friend dry cat food that is high in protein and fiber, grain-free and contains a minimum amount of carbs.
Can you reverse diabetes in cats?
Yes, you can!
The appropriate diet and insulin therapy within the first four to six months after diagnosis can lead to diabetic remission. This means that cats newly diagnosed with diabetes have a chance to become non-diabetic. This is possible if the diagnosis is made early enough in the course of the disease and the pancreas is not irreparably damaged.
When it comes to the cat who has suffered from diabetes long enough and has the irreparably damaged pancreas that can not secrete insulin, you should realize that such cat is beyond cure and requires to be treated for diabetes for the rest of her life.
The best thing you can do for your favorite is to take your feline to the veterinarian on a regular basis at least once a year. However, if you have an adult or senior cat, it would be better to examine her twice a year. Your vet can perform routine blood and urine testing to make sure that your pet is healthy or identify early changes to provide timely assistance.
What are the symptoms of diabetes in a cat?
About 80 – 95 % of diabetic felines have diagnosed Type 2 diabetes when the cat's body doesn't use insulin properly. Overweight and obese cats have an increased risk of getting Type 2 diabetes because excess weight makes the feline`s body less sensitive to the effects of insulin. Besides, this type is also known as adult-onset diabetes since older cats are more likely to be obese.
Quite on the contrary, Type I diabetes is called juvenile-onset diabetes and it is believed to have a genetic predisposition combined with immunologic destruction when the pancreas produces little or no insulin.
The sooner you know that your cat is diabetic, the better chances to cure her. But in order to do so, you need to know the symptoms of diabetes in cats. There are four main signs which are usually seen in cats with diabetes.
The first and main symptoms are increased thirst and increased urination, besides, as a result often litter box visits. Be attentive to your cat's behavior changes, especially if your feline is older or is overweight. If you have noticed your four-legged friend drinking more than usual and unusually frequent urination, you have to take her to the vet without hesitation.
Another symptom of diabetes can be changed appetite. Some cats with diabetes can eat less because they just do not feel well. Other cats, in contrast, can eat more than usual (it is called polyphagia) as their hypothalamus signals them they are hungry. When you see such changes, visit your vet immediately.
As the symptom of feline diabetes can be sudden weight loss, followed by obesity. Even if your cat starts eating more, she will lose her weight because your kitty can not use calories she consumes for energy and her body begins to burn its own body fat for energy. However, this weight loss will soon be replaced by weight gain because your feline diabetes progresses.
As for the later symptoms of the disease in cats, you can notice changes in gait and walk, vomiting, decreased activity, depression, and weakness.
Be attentive to your feline because with early diagnosis and immediate treatment, this disease can be easily and relatively quickly managed.
How can I treat my cats diabetes naturally?
Sometimes diabetes may be controlled with a low-carb diet alone and no insulin. However, many cats require both insulin and a low-carb diet.
Will my cat live long despite having diabetes?
Sure! Diabetes isn't the end of the world. You must take good care of your cat, follow the veterinarian's advice, and stick to a diabetic-friendly diet.
How many times do I need to feed my diabetic cat?
If your cat needs insulin injections, feed it two to three times each day. In the meanwhile, you can provide it with low-carb snacks. If your cat doesn't need insulin injections, then stick to a comfortable schedule.
Are Veterinary Diets Good For Diabetic Cats?
Not always. Look for minimal carbohydrate content, lots of hydration, and plenty of animal protein. If you want to feed your cat veterinary prescription food, consult with your veterinarian.
Conclusions
If your cat suffers from diabetes, you should be very attentive to your feline friend. When your cat`s diabetes is properly managed, your pal can live her normal, playful, and happy lifestyle.
Remember, your diabetic feline requires only proper management and special high-protein, low-carb diet. Look through the list of the top 12 diabetic cat food brands once more time and choose the most appropriate one for your four-legged friend.
Just don't forget to consult with the veterinarian before switching your diabetic cat to a new food.
You may also like:
11 Best Soft Dry Cat Food Brands