Gray cats are so alluring! So that they can't do without a purrfect name that reflects their beauty, grace, and fantastic looks. Yes, their smoke-colored fur gives rise to names that mean silver or gray most often. And there is nothing wrong with classic options – we have them on this unisex cat names list too. However, besides good old Fluffy, Ash, Moon, and Rain, you'll find a wide variety of more sophisticated and interesting gray cat names.
What's the difference between «gray» and «grey»?
Actually, they are the same. The thing is «gray» is the common American English spelling, while «grey» is the common British English spelling.
Below, you'll see not only the grey cat names meaning blue or inspired by gray things and foods, but also amazing grey cat names emphasizing the uniqueness and personality of cats.
The best gray cat names, popular classic names, creative names, Russian names, names for males and females, all kinds of names for gray cats.
Good luck to find your perfect name ideas.
Best Gray Cat Names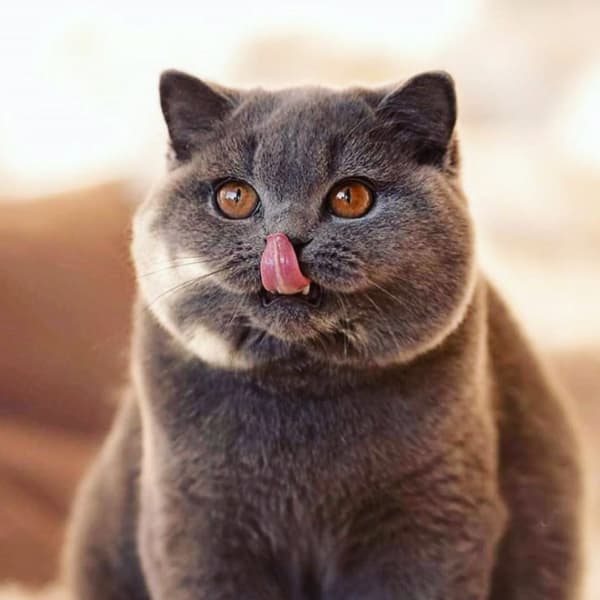 Let's start this gallery of gray kitten names with the best win-win kitty names for gray, silver, blue, and lilac cats.
Indeed, your cat deserves a perfect name. Adorable, mysterious, funny, witty, ironic, cute, or badass… choose the best kitten name to suit the temper of your furry love.
Wolf – Tells a lot about the personality of a dark gray cat.
Rain – For a kitty with a permanently gloomy mood; consider irregular spelling like Rayne or Rainn to make it chic.
Zelda – From «Griselda», means «gray»
Moonstone – A precious name for a special kitten; moonstone is known for its healing properties – so is your grey kitten.
Hiccup – A character from «How to Train Your Dragon»
Tabby – The name of Abraham Lincoln's gray tabby cat.
Graham – The name of Ed Sheeran's grey kitten name.
Ashton – In the Bible, it means "town near to an ash tree", or "from the ash tree".
Hazy – For a cat with a light gray color.
Griseldis – Means "gray" in French; ideal for noble cats.
Silvie – This name means "forest" in French; choose this name for cats with iridescent silver coats.
Platinum – For cats whose fur color resembles this precious metal.
Jewel – Means a "precious gem".
Grayson – Signifies "Son of Gray".
Grim – The name of African Dutch (Afrikaans) origin means "God of Life".
Hawk – Means "falcon, bird of prey".
Winston – The meaning of this name is "joyful stone".
Male Gray Cat Names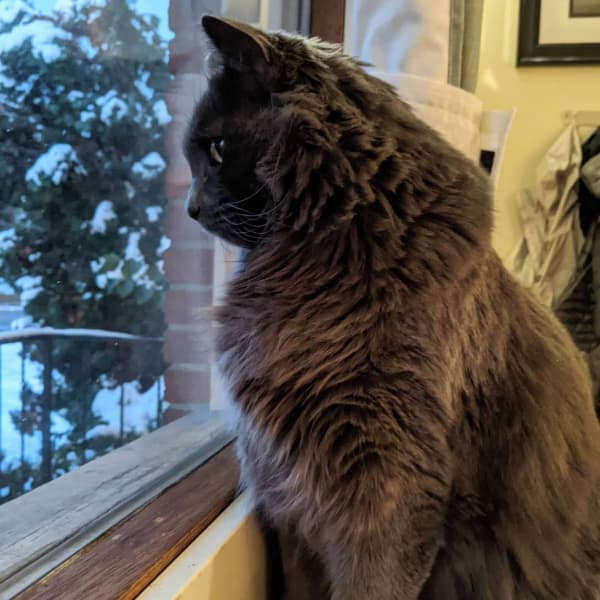 No matter if you're challenged to pick out boy names for gray cats or male kitten names, take a look at this list of great names for male cats to find out if one of them pops out at you saying «Pick me!» There are various options on the menu: from cute cat names for boys to badass ideas for naughty cats.
Baloo – A fun-loving and easygoing sloth bear from The Jungle Book.
Grayson – A distinguished sounding name to fit a gray kitten's siamese markings.
Asteroid – Great name for a grey cat and cat owners who like the space.
Chrome (Chroma) – Gray-t gray male cat names for a shiny silver-gray kitten.
Grady – One of the most unusual punny cat names for boys.
Stone – This solid name links the inner and outer characteristics of your grey cat.
Seymour – This is a perfect name for a noble cat.
Ezra – This name has a religious meaning and is perfect for real leaders.
Flint – The name for a curious kitten with gray fur.
Caillou – This French name means "stone".
Grimbart – A great name for the mystical gray cat.
Moon – Great for cats whose coat color resembles this celestial body.
Sylvester – Means "wild".
Barney – Means "defender"; great for true leaders.
Jackal – In Sanskrit, the name signifies "resembling a wild dog".
Shane – This is a name of Irish origin, meaning "God is merciful."
Chillie – Means "cold".
Cocoa – Means "Powdered Chocolate".
Pretty Female Gray Cat Names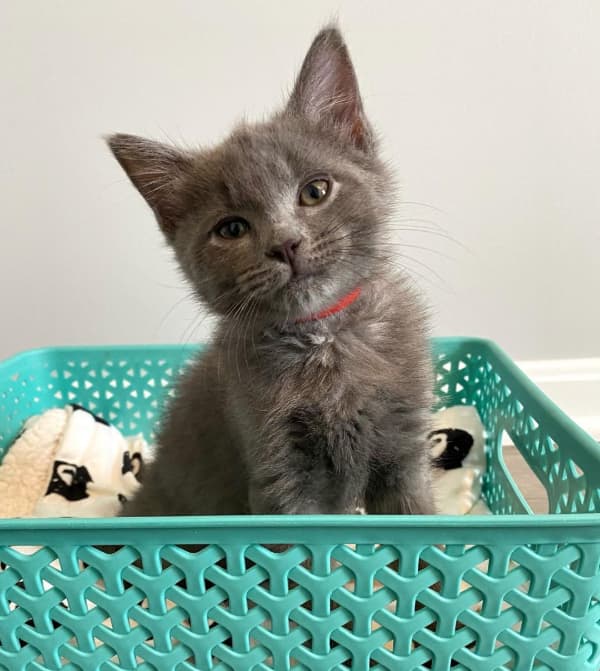 You've just brought home your little grey girl and have no idea of how to call her? We'll provide you with some help here too: the best gray female cat names are picked and gathered in one female cat names grey list especially for you. Thus, you will easily find «the one» that works for your grey cat princess.
Stardust – One of the most magnificent and mysterious grey kitten names female.
Grace or Gracie – Means beauty, kindness, mercy. Bonus: it's one of those grey kitten names that sound similar to your cat's fur color.
Lady Grey – Another graceful name for a charming female kitty.
Cinder-Ella – Cinder is grey, and your cat is a princess. Shorten it to Cindy, Cinder, or Ella.
Lilac – A color-matching name for a lilac cat.
Art (Artemis) – The Greek goddess of the beautiful silver moon; goddess of the hunt.
Lavender – This is a perfect name for cats with the rarest coat color in cats – lilac.
Venus – This name of Greek origin means "goddess of love". It's perfect for your affectionate kitty.
Sylvie
Luna
Sage
Emily
Blossom
Aster
Spencer
Pearl
Cute Gray and White Cat Names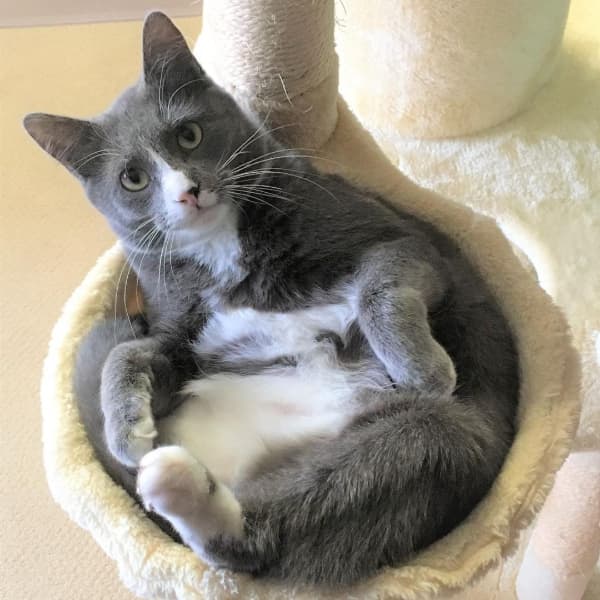 If you look closely to your cat fur color, can you see other colors mixed in? If your lilac kitty has some splashes or dashes of white, this list of cool names for a grey and white kitten will come in handy.
Scroll down to check grey-white cat names ideas:
Albus – The name grey and white cat breeds after Albus Dumbledore, of course.
Karma – Means action, work, or deed.
Lucky – Having a gray and white kitten is like rolling a pair of dice.
Oreo – Tasty food-inspired name for gray and white cats.
Panda – In case your white and grey cat is as cute and lazy as a panda.
Tinsel – A fun and festive name for a grey and white kitten; it evokes the hulidays.
Topaz – For smokey gray topaz, a wonderful name for a female grey and white cat.
Checkers
Domino
Smurf
Popular Gray Cat Names
Names that mean gray or associated with grey are probably the most popular ones for gray cats. They may seem not very unique, but they're simple, basic, and one-size-fits-all. Here is a grey cat name brainstorming tip for you: to come up with a popular name for gray cats, try to describe your kitty's fur color using as many adjectives, nouns, and verbs. This network of associations will lead you to the best grey cat name ideas.
Ash/Ashley – Probably, one of the most popular unisex feline names for a light grey cat (resembling ash powder)
Tom – From the «Tom and Jerry» cartoons; this famous grey cat name brings us back to childhood.
Pebbles
Puff – A typical name for a fluffy light grey cat.
It's so common to choose the name associated with things that are gray:
Shadow
Smokey
Misty
Smudge
Granite
Silver
Some of the popular gray color names are:
Pepper
Aria
Cosmo
Luna
Graycie
Russia-Inspired Names for Russian Blue Cats
These names for gray cats will complement any Russian Blue kitten. They are all inspired by Russian words and often Russian human names. If your new gray kitty is Russian blue, it's too trivial just to choose the names that mean blue. Meanwhile, Russian pet names will be much more intriguing, unique, and fun for your cute cat with an evil spirit.
Myshka – Meaning «little mouse»
Pepel – Ash, cinder.
Boris – A popular Russian blue cat name.
Bublik – Bagel.
Feliks – Russian form of Felix, meaning «lucky»
Misha – A form of Michael; in Russian, Misha also means a bear cub.
Lev – Lion (one of the wild blue names)
Sasha – Shortened from Alexander, it's among very popular names for blue Russian cats.
Pushkin – Famous Russian poet.
Loki
Rurik
Onegin
Kuzma
Babushka
Sonia
Viola
Badass Gray Cat Name
Sometimes our beloved cats behave like evil dogs, crushing the home, tearing everything apart, and not listening to people comments. These are the moments when we realize their sweet baby names are not enough to describe their unruly spirit.
The grey cat names in this section are meant to provide you with awesome ideas on how to call your badass kitty:
Hurricane – Cool name for a crazy badass fluffy grey cat.
Yuki – Meaning «snow storm»
Asteroid – For grey cat lovers who also love space.
Bullet – Cool unisex name for a silver cat.
Mack – From the Ballad of Mack the Knife.
Shark – Sharky
Komala – Cute grey Pokemon name for a grey kitten.
Gunner – This is another example of grey and black cats names with dark meanings.
Iron
Stormy or Storm
Thunder
Spirit
Bandito
Windstorm
Flash
Funny Gray Cat Names
Grey cat names are often born from that funny and playful behavior of our cute fur ball. Funny gray names for gray cats are often ironic, include pun and comparisons with other grey animals… which sometimes sound too crazy and even absurd.
Check this list of gray kitten names to find out what's on the fun menu for your new cat:
Bluebell – Comes from «blue», another variation of grey color names.
Silvertoes – Cute and funny name for a silver tabby cat.
Checkers – Especially nice for a multicolored grey cat with green eyes.
Foggy – Inspired by silver-gray foggy mornings.
River
Mojo
Taco
Furbaby
Stripes
You can try a funny animal-inspired comparison name for a dark gray cat:
Mouse
Pigeon
Goose
Anchovy
Koala
Elephant
Cool Cat Names for Gray Cats
If your kitty is the James Bond type and is too cool for Smokey, Misty, Shady, and Tabby cat names, maybe one of these grey names will become the perfect name for your cool feline:
Blue – Concise and symbolic name for a blue tabby cat.
Mercury – For extra superstar power, you can add «Freddie»
Silverfish – Cool name for a sly silver tabby kitten.
Tinder – For grey kittens that break the hearts and love communication.
Echo – For a cat that follows the owner everywhere.
Sir Sterling – Made of silver; a wonderful option for a light grey or silvery cat.
Sir Greystoke – When you add «Sir», all grey names become posher.
Grey Ghost
Lotus
Thyme
Cooper
Ford
Glen
Pheonix
Unique Names
If typical grey cat name ideas inspired by grey color variations are too boring for you and too basic for your unique kitty, consider some creative cat names for gray cats from this list.
These new cat name ideas are fresh, juicy, memorable, and one-of-a-kind… just like your one-of-a-kind kitty.
London – For a smoke cat, that is as grey and gloomy as the weather in London.
Miku – Japanese for «beautiful sky»
Reva – Grey tabby kitten name meaning «rain» in Hindi.
Yin – Female cat gray name; from the Chinese 银 meaning «silver» or «money».
Earl Grey – It's a regal name for a regal gray kitty.
Grey Gatsby – A literary pun for the Great Gatsby, that is perfect for your gray gentleman cat.
Dorian (Gray) – Dorian Gray is a young and beautiful character; will be the inspiration for unique male cat names.
Princess Elsa – The princess who froze everything to silvery ice.
Indigo – A creative name for a grey kitty with blue eyes.
Cyanite
Cardoon
Whale/Whaley
Poppy
You can also come up with new gray cat name solutions by checking «grey» or «silver» in different languages:
Abu-abu – grey in Indonesian
Argent – silver in French
Argento – silver in Italian
Arian – silver in Welsh
Boz – grey in Azerbaijani
Cawl – grey in Somali
Fidda – silver in Maltese
Grau – grey in German
Grigio – grey in Italian
Gris – grey in French and Spanish
Hiriwa – silver in Maori
Hopea – silver in Finnish
Kelabu – grey in Malay
Liath – grey in Irish
Plata – silver in Spanish
Prata – silver in Portuguese
Zilarra – silver in Basque
Choosing the Best Gray Cat Name
When looking for grey cat names ideas, cat owners can be inspired by lots of things. Great cat names for grey cats come from superheroes, book and movie characters, funny expressions connected with gray kitten behavior, shadow shady color things and objects, food, and cartoons like «Tom and Jerry».
Some cat owners try to recognize the ideal grey cat name in the cat's appearance and personality: likes and dislikes, size, gender, eyes, breed, fur type (if it's a grey long-haired cat, furry names are the best match; slick names are more suitable for short-fur grey cats.)
Hopefully, we've managed to help you pin down the perfect name for your gray kitten.