Your cat is a wonderful and unique creature that gives you immense love but at the same time it needs your attention and care. When you get a small kitten or an adult cat into your home, first of all, you should find your four-legged furry friend such a punny name that will suit it and its outstanding personality.
We'll help you with that. Below you can see a great list of cat names that are puns. Our collection of the best cat pun names can help you choose the right nickname for your feline.
So check it out thoroughly and you'll definitely find the most interesting punny name for your four-legged favorite.
Best Punny Cat Names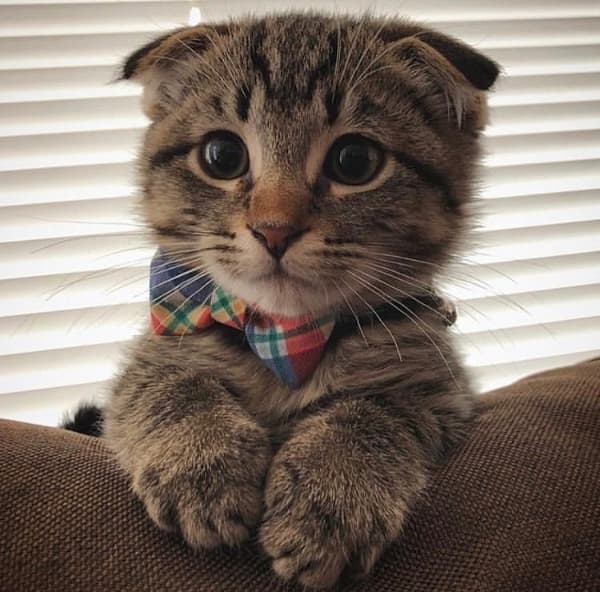 Today most cat owners find such boring and trivial names as Tiger, Max, Bella that were so popular several years ago. They are looking for more extravagant and unusual cat names and perhaps you're not an exception!
Well, it's time to view our amazing collection of the best funny cat puns that can surprise and inspire you. First of all, pay attention that we've divided our collection into three gender-based large groups to make it easier for you to find the most appropriate name from our list of puns.
Female Pun Names
If you're the owner of female feline beauty, focus on the punny names for girl cats and kittens presented below. Decide what pun combination fits your furry star most of all.
Abitail – the great pun name for the kitty with a pretty striped tail.
Paw-lite – perfect for a tender light feline.
Catniss – nice option for the owner who wants to stress how graceful the cat is.
Clawful – the cool punny name to underline the beauty of the kitty.
Hiss-terical – if your cat is very loud, that is the right name for her.
Catmare
Catie
Jessicat
Bubbles
Fitz
Catitude
Jennipurr
Jennifurr
Hypurr
Purr-ceptive
Meow-low
Taffy
Male Pun Names
Searching for the most stunning punny names for male cats? Take a look at the best male cat name collection below and choose the right name to show the bright character of your cat.
Bossy Paw – cool for a bossy brave cat.
Jude Paw – if your four-legged friend likes to be in the center of attention like an actor, this option will be great.
Mr. Bean – your cat is strange, funny and cute, well, this name will suit your favorite well.
Picatso – great for a creative and extraordinary feline.
Lord Pawpaw – this is the right name for a noble and intelligent cat.
Catrick
Mewo-Wise
Paw Newman
Purrcy
Dottie
Meowses
Cat Damon
Tig Tiggler
Tom Pawyer
The Great Catsby
Unisex Pun Names
Here is the list of cat puns that can suit both male and female cats. More than 20 punny awesome cat names that can astonish not only your feline but also your family, friends and even vets.
Cat-titude – for a very gentle and tender cat.
Catzilla – if your pet is large and strong, this name is right for it.
iCat – the name for a cat that prefers to watch TV with its owner.
Just Kittin – for a small and gentle cat.
Miraclaw – if you appreciate your kitty so much and it is a real gem in your family, this name can be suitable for it.
Furby
Lickers
Megabyte
Ewok
Paw-sionate
Purrson
Purrfect
Octopuss
Terabyte
Santa Claws
Winky
Cat Pun Names Inspired by Celebrities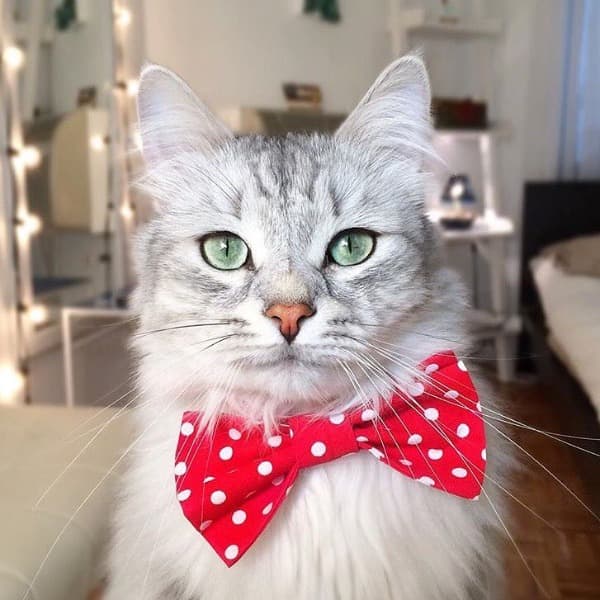 Celebrities! These outstanding people can inspire not only us but also our four-legged friends. The roster of the most impressive celebrity cat names will let you figure out the best name for your cutie.
Brad Kitt – if your favorite is handsome like Brad Pitt, this punny name will be appropriate for it.
Kitty Purry – the great choice for a distinguished bright kitty.
Catalie Portman – the brilliant option for cats with long dark fur.
Cat Benetar – for cats with a really loud voice.
Cindy Clawford – if your cat walks like a real model, this will be a perfect name for it.
Cat Moss
Catty B
Meowly Cyrus
Catsy Cline
Cat Stevens
Catris
Dolly Purrton
Kitty Poppins
Kitten Rock
Cat Middleton
Cat Pun Names Inspired by Food and Drinks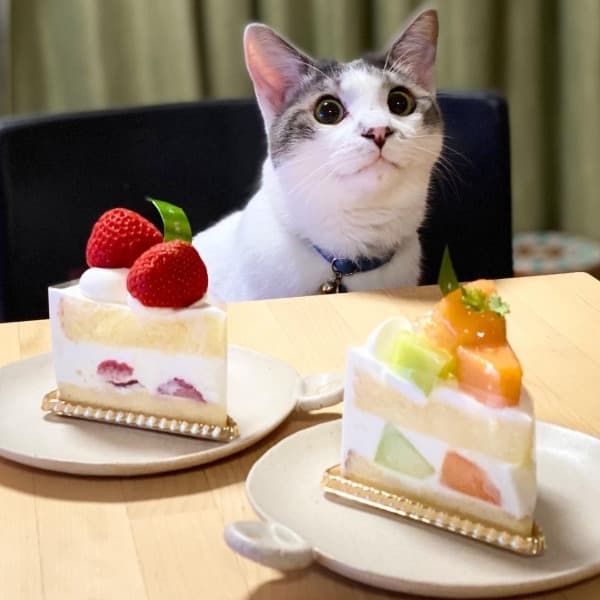 The great thing about this category of cat pun names is that they are also considered as unisex ones that work for all breeds, sexes and ages. All of these options are punny, fun and unique. Just look at them and find the right one for your feline.
Eclair – for a cat with black spots on the body.
Cattage – great for a kitty with white fur.
Dijon – the perfect name for a cat with a spicy character.
Frycat – for a cat that likes to eat more or for a fatty kitty.
Oreo – nice for a black and white cat.
Reuben
Gimlet
California Roll
Floyd
Kona
Kolsh
Merlot
Lungo
Taquito
T-Bone
Twix
Purrine
Vesper
Wedge
Historical Pun Names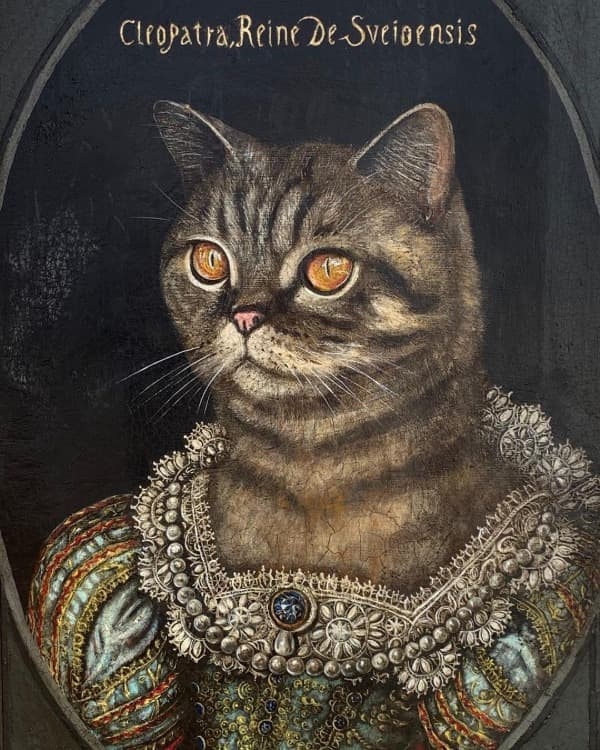 Giving a historical pun name for your lovable feline guarantees that it will entertain you and amaze your friends and guests. View the list of the funniest names for cats with historical and pun backgrounds and find your inspiration.
Cleocatra – for an extremely beautiful kittie.
Dalai Pawma – the cool name for a wise and calm pet.
Don Kitty-ote – if your favorite is brave and strong, this name will be right for it.
Mewssolini – for a rebellion and unruly cat.
Hairy Houdini – great for an artistic and extravagant cat with bright fur.
Hisston Churchill
Fidel Catstro
Marie Purrie
Martin Luther Kitten
Pawdius
Purr-amid
Sir Isaac Mewton
Shakespurr
Purrson
Cat Pun Names from Movies
There are so many great movies and memorable characters. So no wonder that there are so many funny screen names for cats based on popular movies. Here we've collected the most fabulous options based on two great movies.
Punny Star Wars Cat Names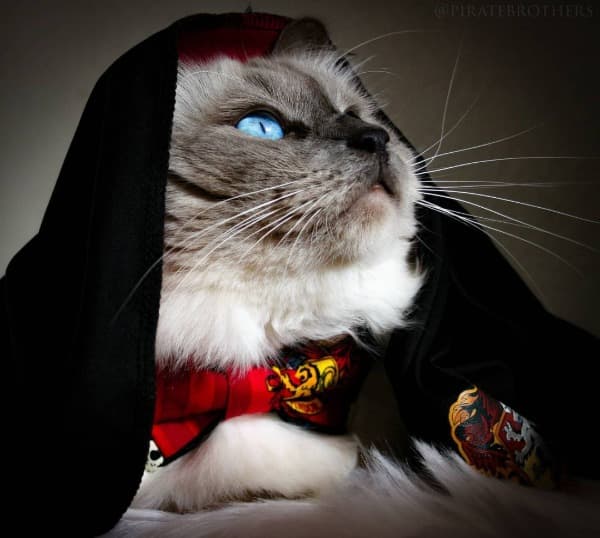 Star Wars is an iconic movie that can leave even cats indifferent. Look at the most interesting pun cat names created on Star Wars background.
Admiral Catbar – for a bossy and dominant cat.
Captain Purrcard – if your favorite is featured with strength, this name will fit it.
Chew-Paw-Cca – for the cat with long fur.
Luke Skywalpurr – the best name if you want to make your kitty popular among your friends.
R2-Mewtoo – if your cat is very obedient and does everything you say, this will be the appropriate name for it.
Mewhura
Mewbacca
Meows O'Brien
Mew-Mew-Eight
Jabba the Cat
Coruscat
Revenge of the Hiss
Obi Wan Catnobi
Nabmew
Paw Solo
Purrincess Leila
The Furst Order
William Catner
Warcat
Harry Potter Cat Pun Names
A lot of great ideas people bring from one more epic movie called Happy Hotter. Pay attention to these brilliant meow puns.
Hairy Pawter – for a mystical cat.
Lord Voldercat – the nice pun name for a suspicious and leery feline.
Pawdma Petil – for a careful and prudent cat.
Cho Fang – great for Asian cats.
Pawtunia – if your kitty is delicate and a bit mysterious, this name will be great for it.
Flich
Fuzzclaw
Catric
Purrsley
Errol
Triwiskers
Lumos
Sirius Black
Percy
Pixie
Choosing a pun cat name for your four-legged friend is a perfect way to make it outstanding and unusual. Besides, it isn't so difficult to find a punny name for your favorite if you know where to find inspiration.