It goes without saying that all cats are unique, so they require personalized care and a special name. You understand that choosing the right name for your feline is extremely responsible because the cat will have this moniker for the rest of his life. Thus, you want this name to be as special and beautiful as possible.
Does your cat have piercing blue eyes and a white coat? Are beautiful yellow eyes and gray fur the pride of your feline? Make sure to choose the name that fits your cat's appearance and personality.
The possibilities are endless, and sometimes it's hard to narrow it down to just one. We want to help you and facilitate this choice. Below there is a collection of unusual and unique girl cat names, unique male names, names from movies, cartoons, and books. We bet you'll find the name you and your cat will love.
Unusual and Unique Girl Cat Names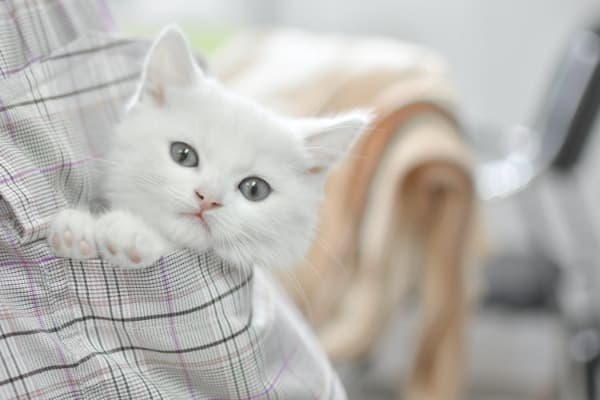 There are many unusual cat names that fit perfectly the most beautiful felines. Is your kitty one in a million? She deserves the meow-gical name that emphasizes her personality and beautiful appearance. Here are unusual female names for cats for your inspiration.
Ramona – this name of Spanish origin means "wise protector".
Cora – name, meaning "Heart", is great for affectionate cats.
Gera – this name of the Greek goddess suits blue-eyed beauties.
Eva – great for a heavenly beautiful kitty.
Lea – a French name for an elegant feline.
Cinderella – for a cat that has fairytale beauty.
Diamond – suits girl cats with shiny fur.
Sierra – a female name for a smart cat.
Inky – choose this name for a black cat.
Dakota – a name for a friendly cat.
Orange – this name is suitable for a ginger cat.
Marmalade – for yellow or orange cats.
Zara – means "radiant" in the Arabic language.
Ashley – a perfect name for a grey cat.
Sunshine – a sweet name for a tiny kitty.
Frida – means "peace".
Opal – one of the sophisticated names for lilac cats.
Bebe – perfect for a tiny kitty.
Stella – one of the girl cat names that means "star".
Molly – a great cat name for unique looking cats.
Cleo – one of the good cat names for beautiful cats.
Olive – one of the most popular black cat names.
Gracie – cats named Gracie are cute and sweet.
Penny – one of the awesome cat names for aesthetic cats.
Eloise – suits noble cats.
Felicity – one of the best cat names, meaning "happiness".
Melody – this name means "song".
Minerva – a Roman goddess of wisdom.
Celine – the name denotes "heaven".
Selina – means goddess of the moon.
Acura – unique kitten names girl.
Ambrosia – one of the plant names for girls.
Amore – a beautiful name that means love.
Astarta – one of the unusual kitten names, meaning "star".
Barbie – great for little cuties.
Awesome – for a cat who is just awesome.
Arizona – one of the geographic-inspired names for cats male.
Sapphire – for a precious cat.
Danger – refers to the group of badass cat names.
Unusual and Unique Male Cat Names
Are you looking for unusual male cat names that have a little bit of individuality and come to your lips easily? Here are some ideas you might find inspiring.
Momo – this name is popular in Japan, it means "peach" and is great for cats with a peach coat.
Moscato – name your sweet cat after this sweet white wine.
Qwerty – great name for cats who love gadgets and fall asleep on the keyboard.
Machiavelli – for a dominant cat.
Ping Pong – for a little kitten who jumps on all surfaces.
Rolf – for a cat with a wild beast inside.
Zuri – the name means "lovely" and is suitable for beautiful cats with shiny coats.
Felix – great name for cats who enjoy life.
Tofu – is your cat big and fluffy? This name is a win-win option.
Luke Skywhisker – a punny name for "Star Wars" fans.
Kilamanjaro – for cats who love height.
AC/DC – welders will appreciate this name.
Godzilla – is your cat inquisitive and ruining everything in the house? There is no name that suits him better.
Angus
Sheldon
April
Ozzie
Zippy
Rory
Yara
Bacon
Dash
Hemingway
Merlin
Yoshi
Tuxedo
Amadeus
Aztec
Baxter
Casanova
Dante
DaVinci
Duke
Excalibur
Fabio
Gideon
Jackson
Floyd
Hickory
Mogul
Niles
Orlando
Uncommon Names for Cats from Movies and TV
Zorro
Bambi
Chauncy Gardener
Doc
Jed
Atticus
Lilith
Loki
Nala
Pippin
Akira
Arwen
Eleanor
Frida
Genesis
Hermione
Frida
Helix
Ariel
Nadia
Pixel
Rogue
Rosebud
Trinity
Tinkerbell
Venus
Xena
Zelda
Winnie
Mystique
Katniss
Hermione
Pebbles
Rosebud
Scully
Sansa
Amelia
Cersei
Serena
Goldilocks
Book Character Names for Cats
Ellery
Piper
Virginia
Zélie
Moriarty
Shera
Akira
Hazel
Ophelia
Guinevere
Arrietty
Ginny
Lolita
Matilda
Peeta
Scarlett
Aslan
Beowulf
Bilbo
Cedric
Augie
Aesop
Anakin
Atari
Bender
Boba Fett
Crusoe
Atticus
Gulliver
Amory
Caspar
Hazel
Finch
Marvin
Thompson
Heathcliff
Mowgli
D'Artagnan
Finch
Frodo
Gale
Gandalf
Gatsby
Gollum
Harry
Kipling
Legalos
Moriarty
Sherlock
Watson
Weasley
Ulysses
Geography-Inspired Names for Cats
Chicago
Florence
Georgia
Aspen
Sydney
Cairo
Bronx
Brooklyn
Cooper
Dixie
London
New York
Jersey
Lou
Milan
Kyiv
Pisa
Memphis
North
Rio
Texas
Vegas
Phoenix
Paris
Lviv
Westie
Oslo
York
Vein
Tirana
Sofia
Vatican
Brussels
Berlin
Madrid
Dublin
Athens
Rome
Bucharest
Amsterdam
Prague
Tallinn
Warsaw
Belgrade
Oman
Qatar
Bhutan
Nepal
Tokyo
Amman
Damascus
Male
Kuwait
Doha
Manila
Baku
Singapore
Ankara
Beirut
Laos
Kramatorsk
Unique Names for Cats inspired by Disney and Pixar
Dash
Duchess
Figaro
Oliver
Mittens
Elsa
Binx
Ursula
Nemo
Cinder
Jasmine
Abu
Alladin
Alice
Bambi
Buzz
Beast
Belle
Cinderella
Darla
Dory
Grumpy
Flower
Lady
Lilo
Meg
Merida
Moana
Nala
Rajah
Ralph
Simba
Stitch
Timon
Tarzan
Triton
Wendy
Zazu
Zeus
Woody
Mr. Whiskers
Spunky
Mr. Fluffypants
Iggy
Mr. Twitches
Sergeant Tibbs
Tigger
Boo
Jack Jack
Dusty
Arlo
Mirage
Tallulah
Pete
Rufus
Ivan
Pluto
Kida
Diablo
Meeko
Kristoff
Basil
Leia
Groot
Thor
Gamora
Boba Fett
Celebrity Names for Cats
Cairo
Dorito
Choupette
Kitty Purry
Moke
Princess Peony
Shanti Om Bb
Anaca
Apple
Agnes
Ariela
Apollo
Axel
Bing
Blue Ivy
Bodhi
Booker
Ivy
Judy
Clio
Daisy
Diesel
Dream
Egypt
North
Rain
Flynn
Faith
Brooklyn
Romeo
Gravity
Homer
Lula
Lottie
Maddox
Mason
Milan
Sasha
Monroe
Onyx
Otis
Prince
Rex
Saint
True
Stella
Stormi
Willow
Harper
Winter Zuma
Wyatt
Trixie
Usher
Story
Rosalind
Royal
Rumi
Sailor
Seven
Seraphina
We hope that you will find these unique ideas inspirational and choose the name that will fit your kitty perfectly.