Disney is a company with a rich history – since 1939, it has been making great fairy tales. These fairy tales have presented the world with a variety of lovely cartoon characters who have conquered tens of millions of hearts and thousands of charming names that can be great ideas for your new four-legged kitten.
From the adorable Duchess, Marie, Berlioz, and Toulouse to the evil duo of Si and Am in the "Lady and the Tramp" cartoon, there are many male and female Disney characters to fall in love with. Besides, Disney has folded the Marvel and Star Wars franchises into its offerings, therefore, many amusing characters and fascinating names with unique meanings await us.
When it comes to Disney cat names, you have carte blanche. You can pull a cat name from classic and modern cartoons, go for Disney princesses names, Disney prince names, fantastic monikers of villains and sidekicks.
We did a deep dive into famous Disney cats names and compiled over 100 names that will take you on an exciting journey into the world of magic and fairy tales.
Cute Disney Names for Cats and Sweet Disney Sidekicks to Name Your Cat After
An adorable feline makes your home the happiest place in the world. The process of selecting a name is both exciting and tough, but Disney fans have a great starting point. We've chosen the best girl cat names and cat names for boys to inspire you. One of these charming cute Disney cat names is sure to bring a smile to your face.
Ariel – this name of a beautiful red-haired princess from "The Little Mermaid" suits orange or calico cats perfectly.
Bambi – a cute name for a kitty with a shy personality.
Pumba – one of the Lion King names for pouncey little furballs.
Gideon – this name of the antagonist in "Pinocchio" suits rascally cats.
Lady – refers to the cutest Lady and the Tramp cats names; if your cat is elegant and calm, go for this name.
Fabius (Arielle) – for easy-going cats.
Prince John (Robin Hood) – the name for a kind kitten.
Babette (Beauty and the Beast) – the name for mesmerizing beauties.
Drizella (Snow White) – for cats who stand out among others.
Pom-Pom (Cinderella 2) – great for white fluffy cats.
Figaro (Pinocchio)
Iggy (Doc McStuffins)
Thumper (Bambi)
Atta (A Bug's Life)
Lumier (Beauty and the Beast)
Flounder (The Little Mermaid)
Mushu (Mulan)
Olaf (Frozen)
Dory (Finding Nemo)
Joy (Inside Out)
Names From Disney Cats and Tiger Names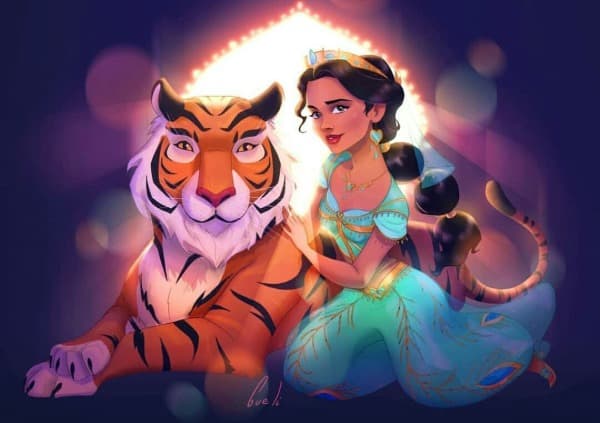 Cats are one of the most memorable and beloved characters in Disney cartoons. Do you enjoy watching the tricks of the cat Figaro from Pinocchio' and admiringly observe Jasmine's reverent relationship with her tiger Raja?
Are you laughing at Si & Am's antics and crying together with Simba? All these marvelous characters can become an inspiration for your cat's name.
Nala (The Lion King) – suits an elegant cat.
Sergeant Tibbs (101 dalmatians names) – names of the sidekick of the Colonel is perfect for tabby cats.
Lucifer (Cats name from Cinderella) – this Cinderella cat name of a tertiary antagonist sounds great for black cats.
Shere Khan (The Jungle Book) – do you want to embrace the wild nature of your furry feline? This name is your ultimate choice.
Sarabi (One of the Lion King female names) – the name for real queens.
Mochi (The new heroes) – for a cat who is super cute.
Kovu (The Lion King II) – for a noble and kind-hearted cat.
Snowbell (Stuart Little) – for cats with white fur.
Hit Cat (Aristocats) – a great name for a mischievous kitten.
The Cheshire Cat (Alice in Wonderland)
Si & Am (Lady and the Tramp)
Tigger (The Many Adventures of Winnie the Pooh)
Simba (The Lion King)
Mufasa (The Lion King)
Rufus (The Rescuers)
Dinah (Alice in Wonderland)
Oliver (Oliver movie cat)
Gideon (Pinocchio cat name)
Sabor (Tarzan)
Felicia (The Great Mouse Detective)
Funny Cat Names Inspired by Disney Villains
Disney villains are ambiguous characters with their personalities, but that's why they are captivating. If you like your kitty's wild side, get inspired by these good villain names.
Doctor Facilier (The Princess and the Frog) – a name for a naughty kitten.
Edgar Balthazar (The Aristocats) – this one of the Aristocats character names for cute and fluffy cats.
Gaston (Beauty and the Beast) – for a noble and outgoing cat.
Frollo (The Hunchback of Notre Dame) – is your kitty ruthless when he plays? Search no further, this option is perfect!
Hades (Hercules) – this name of the god of the Underworld with a great hairstyle suits cats with a fiery temper.
Zira (Lion King II) – if your cat is brave.
Hopper (A Bug's Life)
Horned King (The Black Cauldron)
Jafar (Aladdin)
Queen Grimhilde (Snow White and the Seven Dwarfs)
Queen of Hearts (Alice in Wonderland)
Ratcliffe (Pocahontas)
Ratigan (The Great Mouse Detective)
Scar (The Lion King)
Shan Yu (Mulan)
Ursula (The Little Mermaid)
Madam Mim (The Sword in the Stone)
Maleficent (Sleeping Beauty)
Clayton (Tarzan)
Female Disney Cat Characters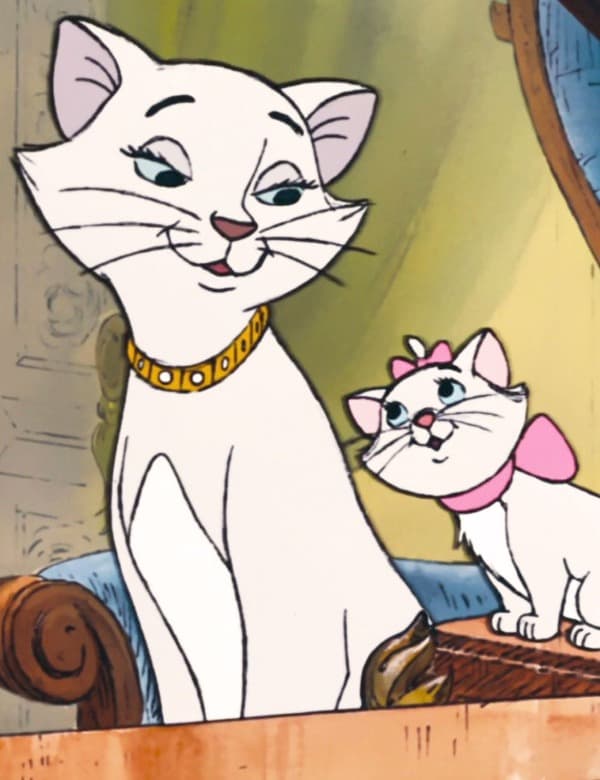 Disney has a wide variety of pretty and sweet feline characters. Not all felines are elegant and cute princesses, there are strong and stoic female characters that can be a great source of inspiration.
Take your love for Disney to a new level by giving your sweet feline cute female cat names inspired by Disney.
Esmerelda (The Hunchback of Notre Dame) – this tiny girl was the only person who treated Quasimodo kindly. This name is perfect for a cat with emerald eyes.
Wendy (Peter Pan) – this name of Peter's best friend suits friendly cats.
Willow (Pocahontas) – this is the epitome of wisdom; the name suits calm cats.
Captain Amelia (Treasure Planet) – this character embodies such traits as fearlessness and beauty, choose this name for brave cats.
Mirage (Aladdin TV series) – for kittens with high intellect.
Hera (Herkules) – for a true princess.
Sarafina (Lion King) – for noble cats.
Lucybelle (The Cat from Outer Space)
Zelda (The Fox and the Hound 2)
Daisy (Donald Duck's partner)
Cleo (Geppetto's fish from Pinocchio)
Grimhilde (Snow White)
Jane Porter (Tarzan)
Jasmine (Aladdin)
Nancy Tremaine (Enchanted)
Nani Pelekai (Lilo & Stitch)
Yzma (The Emperor's New Groove)
Male Disney Cat Characters
Before choosing Disney character boy names, take note of your cat boy's personality, appearance, breed, or characteristics. No matter what your boy cat's personality type — from playful and serene cats to strong and fearless – we've got the best Disney names for cats.
Ali (Aladdin) – if your cat is a real prince.
Donald (Duck, cartoons) – is your cat really funny? This is a win-win option.
Eric (The Little Mermaid) – perfect for a Disney black cat.
Stitch (Lilo and Stitch) – does your cat have a shiny blue coat? Give him this unique name.
Gaston (Beauty and the Beast) – one of the Disney boy names for tuxedo cats.
Genie (Aladdin)
Rafiki (The Lion King)
Simba (The Lion King)
Timon (The Lion King)
Oliver (Oliver and Company)
Gideon (Pinocchio)
Pete (A Goofy Movie)
Simba (The Lion King)
Sultan (Beauty and the Beast)
Ambrose (The Robber Kitten)
Milton (Plutopia)
Pistol Pete (Goof Troop)
Aristocats Cat Names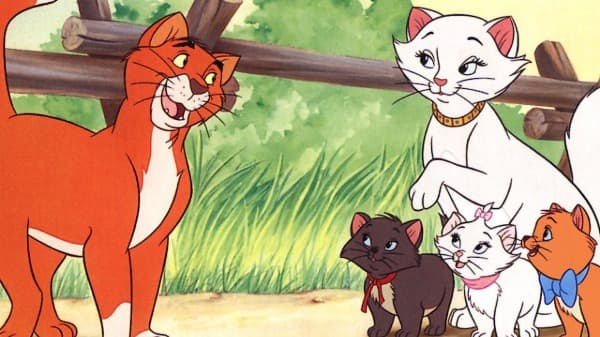 Are you a fan of one of the cutest Disney cartoons "The Aristocrats"? Is your new arrival as pretty as Duchess? Is she as pampered as Marie? Name your cat after the most loved cat character.
If you've been looking for cat names from "The Aristocats", look no further, we've got a complete list of the Aristocats kitten names.
Duchess – great for an elegant and beautiful white cat.
Thomas O'Malley – a fun name for a boy cat.
Berlioz – for a cat who can be shy and mischievous at times.
Toulouse – a cat who has plenty of spunk.
Marie – for a bossy girl.
Peppo – one of the best Disney inspired cat names.
Billy Boss
Napoleon
Scat Cat
Lafayette
Edgar Balthazar
Empowering Disney Princess Names for Your Cat and Disney Prince Names
Tiana (The Princess and the Frog)
Belle (Beauty and the Beast)
Moana (Moana)
Merida (Brave)
Kida (Atlantis: The Lost Empire)
Princess Melody (The Little Mermaid II)
Megara (Hercules)
Aurora (Sleeping Beauty)
Prince Adam, a.k.a. The Beast (Beauty and the Beast)
Prince Eric (The Little Mermaid)
Prince Charming (Cinderella)
Prince Phillip (Sleeping Beauty)
Prince Ferdinand/Florian (Snow White)
Aladdin
Hans (Frozen)
Awesome Pixar-Inspired Cat Names
Woody (Toy Story)
Finn McMissile (Cars 2)
Carl (Up)
Jack Jack (The Incredibles)
Ham (Toy Story)
Holley Shiftwell (Cars 2)
Dusty (Planes)
Eve (WALL-E)
Crush (Finding Nemo)
Coco (Coco)
Buzz (Toy Story)
Arlo (The Good Dinosaur)
Andy (Toy Story)
Barbie (Toy Story)
Destiny (Finding Dory)
Dusty (Planes)
Fear (Inside Out)
Forky (Toy Story)
Cat Character's Names From Disney Movies and TV
Here are wonderful cat names from Disney movies for beautiful queens and kings.
Jafar (Aladdin)
Lady Tremaine (Cinderella)
Chernabog (Fantasia)
Scar (The Lion King)
Maltese de Sade (Chip 'n' Dale Rescue Rangers)
Mr. Dark (Something Wicked This Way Comes)
Poppins (Mary Poppins)
Thackery Binx (Hocus Pocus)
Mad Madam Mim (The Sword and the Stone)
Fat Cat (Chip 'n' Dale Rescue Rangers)
Bonkers D. Bobcat (Raw Toonage)
Sassy (Homeward Bound: The Incredible Journey)
Goose (Avengers: Endgame)
D. C. (That Darn Cat)
Li Shang (Mulan character)
Bambi
Goofy
Donald Duck
Pluto
Daisy Duck
Disney Names For Multiple Cat Households
If you have several cats, these names will be perfect for them.
Coolest Star Wars Character Names
Yoda
Rey
Han Solo
Luke Skywalker
Jabba the Hutt
Finn
R2-D2
Marvel Hero Names
Scarlet Witch – is a twin of the Speedy Quicksilver.
Wolverine – is a fictional character in the X-Men.
Thor – is the God of Thunder.
Gamora – is the adopted daughter of the supervillain Thanos.
Cyclops – is a superhero in the X-Men.
Storm – is the first prominent female comic book character of African descent.
Unisex Names Inspired By Non-Animated Movies
Winifred and Mary – the Hocus Pocus Sanderson sisters.
Roger and Jessica – are seen in Who Framed Roger Rabbit.
Jack Sparrow – the renowned captain from the Pirates of the Caribbean movies.
Ben, Mel, and George – three Angels in the Outfield baseball players.
Retro Disney Characters
Minnie (as in Minnie Mouse)
Faline (Bambi)
Darling (Lady and the Tramp)
Pike (Treasure Island)
Anastasia (Cinderella)
Wendy (Peter Pan)
Picking the Perfect Name
The magical world of Disney is fraught with many names that you can choose for your lovely furry pet. You can get inspired by Disney cat names Aristocats for lovely kittens, Pixar cat names, and names of Disney animated characters that suit perfectly mischievous and playful kittens.
Remember that you shouldn't give a name to your cat right away, give your feline friend some time to show his true personality. Besides, you can take into consideration distinctive appearance features (chic white fur, striking eyes, or a unique pattern). If you can't make up your mind, then you can let your kitty choose the name himself.
For instance, write different names on index cards and place various treats. Give the name that corresponds to the eaten treat. If your feline ate several treats, this is a great reason to choose the name of a Disney character who loves food. Besides, try calling your cat by different names to see if he responds to it: meows or cuddles.
FAQs
What are some unique cat names for black cats?
Oogie-boogie (The Nightmare Before Christmas)
Maleficent (Sleeping Beauty)
Jafar (Aladdin)
Lady Tremaine (Cinderella)
Chernabog (Fantasia)
Lucifer (Cinderella)
Who is the most famous Disney cat?
One of the most well-known cartoon cats in the world, the Cheshire Cat is known for its absurd advice and toothy grin.
Bottom Line
Thus, Disney offers thousands of unique and beautiful cat names that you can choose as a great moniker for your kitty. Use some creativity, inspiration, and the list of Disney cat names we've submitted to find the purrfect name for your sweet cat.