Orange cats have something that draws us into their orbit. Their beautiful fur (sometimes with tiger stripes) and outgoing personality make them stand apart from the rest.
If you have decided to welcome a ginger cutie to your family, then pleasant chores await you. Indeed, choosing an orange cat name is one of the best parts of being a fur-parent. This process can be quite a hassle, that is why we are here to help you.
Ginger kitties are rare, that is why they deserve a special name that is easy for you to call out and easy for them to learn. You can get inspired by cartoons and movies, food, nature, and famous characters. Besides, only about two out of 10 orange cats are female, so if you have a female ginger cat, you are extra lucky!
She deserves a cute and sweet name that will emphasize her personality. We recommend that you choose short yet fancy nicknames that will complement the beauty of your orange feline.
So, if you are constantly asking: "What should I call my ginger cat?", in this article, you will find the answers.
Irish-inspired Names for Orange Cats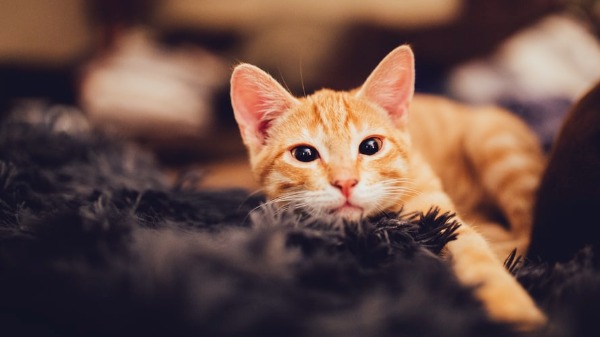 The Irish have many distinctive traits, and red hair is one of them. If your orange cat has red shades, then you can choose Irish cat names that mean "sun" or "fire". If your bundle of joy is full of energy and very affectionate, you can choose a name that means "life" or "love".
Here are some Irish names for orange cats for your inspiration.
Flannery – one of the ginger girl cat names, meaning "russet hair".
Flynn – this name of Irish origin is one of the most popular boy cat names for orange cats.
Finley – this beautiful name means "fair-haired hero", and it is great for a little orange cat.
Keegan – is your cute ginger cat super energetic? This name means "fiery" and suits perfectly red kittens.
Rory – means "red-haired king".
Lia – cute kittens girl names for an optimistic furbaby.
Orla – a female name of Celtic origin means "golden princess".
Fionn – one of the boy names for cats, meaning "fair-haired".
Rooney – a cool name for a red tabby cat.
Gallagher – has an interesting meaning "foreign helper" and suits both red cats and yellow cats.
Aiden
Sheena
Patrick
Clancy
Rohan
Roisi
Beckett
Cillian
Jameson
Oatcake
Champ
Popular and Famous Orange Cat Names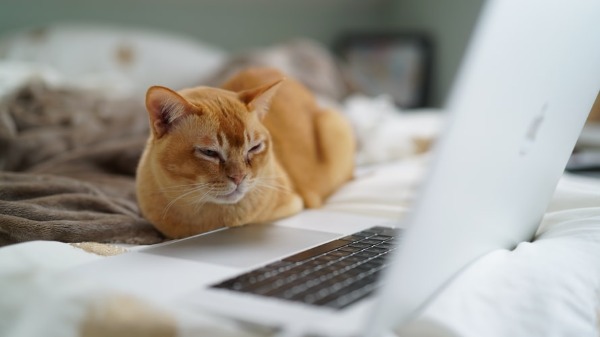 Are you on the hunt for an orange cat name for your sweet ginger kitten? The choice of options is limitless, so you can get inspired by popular and famous names for an orange cat.
Do you have a favorite character or movie? Give your furbaby a beautiful nickname.
Here are the names of famous orange tabby cats and other popular ginger cats.
Nala – one of the most popular girl cat names for orange cats from "The Lion King".
Oliver – the main character in the animated film "Oliver & Company".
Puss in Boots – the name of an extra cute cat from "Shrek".
Simba – this orange lion from "The Lion King" has won the hearts of millions of pet owners.
Aslan – the main character in "The Chronicles of Narnia" series.
Chester – the official mascot of Cheeto snacks.
Garfield – the name of the famous pesky orange cat.
Sahara – this is not only a large desert but also a great name for an orange female cat as it means "just before dawn".
Leo – one of the famous cat names for energetic felines.
Ollie – a famous name for cheerful cats.
Elmo – the name of this giggling character from "Sesame Street" is perfect for lovely kittens.
Nacho – does your cat love cheese? Then that's a great name for him.
Pumpkin – perfect for cute clumsy kittens.
Sunny D – name your cat after this delicious orange juice drink.
Sunflower – if your cat is as lovely as this yellow flower.
Sunset – a very romantic name for a cat whose fur resembles the colors of a sunset.
Flammèche – means "tongue of flame" in French and is perfect for ginger cats.
Autumn – great name for auburn cats.
Hawaiian Names
Alani – name for an orange.
Meli – means "honey."
Kaipo – signifies "sweetheart."
Keanu – stands for the breeze.
Nani – great for a beautiful cat.
Halloween-Inspired
October
Lucifer
Salem
Tarot
Pumpkin
Badass Orange Cat Names
Is your ginger feline curious and playful? Is he or she affectionate and elegant? Did magnificent eyes and soft fur win your heart? Make sure the name is the perfect reflection of his character, appearance, or both!
Your orange companion needs the best name, that is why we've rounded up badass fire names for male cats and cute ginger female cat names.
Prince Harry – one of the badass cat names for outgoing ginger cats.
Fireball – perfect name for copper-haired kittens.
Firecracker – for a noisy and playful cat.
Firefox – a cute nerdy name.
Flame – great for orange tabby cats.
Peaches – suits a fluffy orange cat.
Phoenix – great for furry Maine Coons.
Chuck Norris – a funny name for Chuck Norris fans, who want to name their cute orange cat after this genius actor.
Ruby – great for girl cats with a red coat.
Mimosa – a catchy name for an attractive cat.
Carmen Sandiego
Reba
Conan
Archie
Poison Ivy
Ablaze
Blaze
Copper
Rojo (Spanish for red)
Rosy
Ginger
Funny Orange Kitten Names
Bringing a cute orange cat into your home means welcoming an extra ray of sunshine. This furry ball is super funny, curious, and active, and he has got purr-sonality. Such an extraordinary family member deserves an extra-special name.
Here are funny and cute names that suit your apricot-tinted family member perfectly.
Cheese – great for a yellow tabby cat.
Cheeto – cute name to make you smile each time you call your furry friend.
Cherry – if your cat is as sweet and beautiful as cherry.
Julius – means "greatest".
Kumquat – this name of Japanese citrus sounds cute.
Macaroni – a perfect name if you have a cat-foodie.
Mai Tai – this alcohol-inspired cat name is easy to learn.
Marmalade – one of the cutest ginger kitten names.
Papaya – sounds good for a brown and white tabby.
Sangria – one of the unique kitten names.
Lipton – if your cat has yellow fur.
Xerès – the name of a white fortified wine produced in Spain.
Tang – the name of the sweet drink.
Ignis – means "fire".
Sonnenschein – means "sunshine" in German.
Carrot Top
Cat Winslet
Drew Hairymoore
Hazmat
Ron Fleasley
Snooki
Tabbytha
Cute Names Inspired by Food
Is your cat an avid foodie? Does he like trying various foods? Does your orange cat steal your snacks? You should emphasize this trait by coming up with sweet food names for cats.
Blueberry – name an orange and brown cat.
Tiramisu – for a golden tabby cat who likes sweets.
Sushi – for cats who love fish.
Olive – for cats who like forbidden food.
Cashew – good for an orange cat with green eyes.
Sage – refers to cool cat names for orange cats.
Latte – if your cat's fur resembles this drink, choose this name.
Apricot – sweet name for an orange fluffy cat.
Caramel – is your kitty's personality as sweet as caramel? Choose this name.
Carrots – a funny food name for a long haired orange cat.
Safran – name your orange cat after one of the world's most popular spices.
Ingwer – means "ginger" in German.
Nutella – for sweet and cute kittens.
Cayenne – the name of a hot pepper plant.
Mango
Paprika
Tangerine
Gouda
OJ – short for orange juice
Sweet Potato
Tabasco
Spicy-Sounding Names
Turmeric
Pepper
Chili
Ginger
Mustard
Cumin
Fruity-Fresh Orange Cat Names
Mango
Tangerine
Peaches
Clementine
Satsuma
Valencia
Mandarin
Celebrity Male Names for Ginger Cats
Do you know that 80% of ginger cats are male? If you have been lucky to find a sand-colored cat, orange white cat, or orange tiger cat, you need a name that sounds courageous. Orange cats are the redheads of the feline kingdom, that is why they need appropriate names.
Here are great names for orange male cats that will make your pet stand out.
Apollo – Apollo was known for his musical inclinations, so the name is great for a chatty kitten.
Blake Griffin – if your cat is of noble blood, this name that means "lord" is perfect for him.
Chester – this name is associated with cheerful cats.
Ed – refers to musical cat names for orange cats.
Ernie – one of the good names for orange kittens who like playing.
Kennedy – for active cats with leadership qualities.
Rufus – this name of Latin origin means "red-headed".
Ed Sheeran – the British pop star.
Rupert Grint – British actor best known for his role as Ron Weasley.
Ewan Mcgregor – a famous Scottish actor.
Eddie Redmayne – an English actor; he received many awards for his role as Stephen Hawking.
Damian Lewis – a famous English actor and producer.
Prince Harry – a member of the British royal family.
Female Names
If you are a proud owner of an orange girl cat, then you have an extra special kitty on your hands. Female orange cats are pretty rare, so they need unique girl cat names.
Your ginger cat will give you positivity and warmth on the most cloudy days. Give your personal sun a beautiful name and bask in the rays of her orange love.
Amber – a sweet-sounding name for a yellow-ish orange female cat.
Adele – is your cat a fan of music? This name is perfect for her.
Ariel – choose this cartoon-inspired name for an orange long haired cat.
Fergie – this nickname is used for royal orange kittens.
Emma
Gem
Isla
Julia
Grace
Lindsey
Lucy
Magenta
Mary
Miranda
Poppy
Satine
Winnie
Amelia
Coral
Clementine
Unique Orange and White Cat Names
Orange cats are very charming, and orange and white cats are extremely beautiful. These cats can be stubborn and independent, cocky and funny, obstinate and cunning, obedient and affectionate. Choose orange and white cat names that suit your cat best.
Orion – the name of the orange and white cat from "Men In Black".
Tony the Tiger – a famous mascot for Frosties.
George – great for a laid-back cat.
Nemo – one of the cutest Disney-inspired names.
Scarlett – the name of a famous cat who was featured in the fund-raising and was known for saving her kittens from fire.
Ferrari – you won't hear this name anywhere else; it is perfect for adventurous cats.
Maple
Citrus
Vermell (Catalan)
Pula (Filipino)
Dandelion
Oscar
Tulip
Zepher
Jasmine
Maisy
Guster
Oswald
Marigold
Luna
Names Inspired by Cartoons, Books, and Movies
Ginger cats have found a home in various cartoons and movies. Some of them are associated with laughter and happiness, whereas others are associated with audacity and self-indulgence. Here are special cartoon cats' names.
These famous orange cats hold a special place in our hearts, and maybe one of these names will touch special strings of your heart.
Wilma Flinstone – this is the name of a prehistoric cartoon wife.
Jessica Rabbit – a playful name for a cartoon orange cat.
Brian – the cartoon cat from "Top Cat".
Goose – a famous cat in the movie "Captain Marvel".
Gizmo – from the movie "Gremlins".
Milo – from the movie "Milo and Otis".
Pepper Ann – the main character of the famous '90s Disney cartoon.
Pippi Longstocking
Josie
Quasimodo
Azrael
Heathcliff
Hobbes
RiffRaff
Mr. Jinks
Finding the Right Name For Your Orange Cat
Orange may appear to be a difficult hue to find inspiration in, but once you start exploring, you'll be astonished at how many alternatives you have. Consider their distinct orange hue for adorable cat names inspired by their fiery fur, or their personality for names based on natural elements that represent this vivid and lively color. Besides, certain character traits or the ambiance a cat creates when it is around may be great sources for inspiration.
To be more creative, go for orange cat names from gemstones. For instance:
There are names that mean "orange" in other languages. For instance:
Katom – Hebrew
Karaka – Māori
Laranja – Portuguese
Marants – Yiddish
Naranja – Spanish
Oranssi – Finnish
Oren – Welsh
FAQs
Why are orange cats unique?
Orange cats are regarded to be more friendly and loving than other types of cats. Orange cats, on the other hand, may be more inclined to participate in dangerous activities.
What is the most common name for orange cats?
What to call a ginger cat? Rosie, Penny, and Ginger are one of the most common names for these naughty cats.
Conclusion
Consider your interests, your cat's appearance and temperament when naming a female orange cat or a ginger male. When it comes to purrfect red cat names, the sky is the limit! Select whatever sounds great to you and makes you smile.