The Bengal cat is a special breed that is in high demand among cat lovers around the world. The Bengal is a hybrid of the usual domestic cat, the wild Asian leopard cat, and the extravagant Egyptian Mau.
If you've brought such a special feline to your home, the next step should be the choice of the name for your unique four-legged companion. Pay attention to the list of the best Bengal cat names below and find the appropriate one for your awesome kitten.
Picking the Perfect Name
Having a problem coming up with the right name for your cheetah print cat? Naming a feline is both the most pleasurable and most challenging part of becoming a new pet parent.
There are so many Bengal cat name ideas out there and it can be really funny to look through them and choose the fitting one for your little Bengal tiger cat. However, so many awesome cat names can be confusing and make the choice more complicated for you.
Because of this, our list of Bengal cat names is divided into 11 sections in order to make the choice of a name for your marble Bengal cat easier and more enjoyable.
Names Based On Gender
Female Names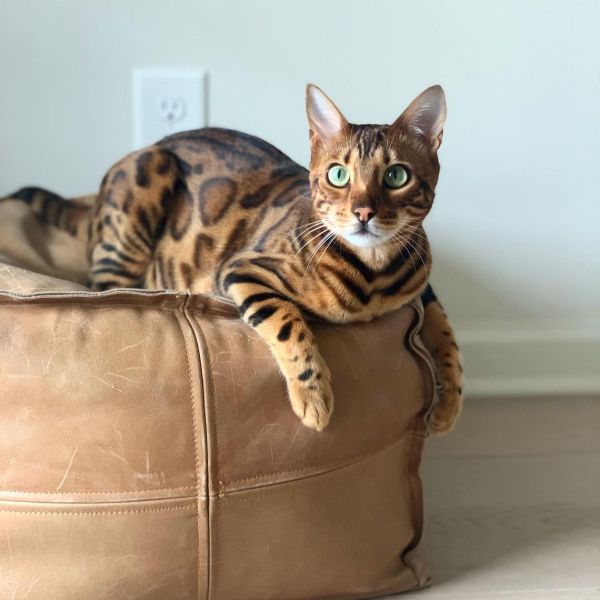 Alexa, like a variation of the male baby kitten name, stands for the greatest for the female Bengal feline.
Amore from Italian can be translated and meant 'love'.
Asta simply means bright and gorgeous like a star.
Avalon is a wonderful choice among female kitten names that can underline the uniqueness of this breed.
Isis is one of the sought-after cat goddess names that originated in Africa. It is the name of the African goddess of good fortune.
Hebony fits perfectly the black Bengal cat.
Maat is known as one of the mythical cat names that fits female Bengals because it is the name of the goddess of harmony.
Nala is a royal cat name of African origin that means 'successful'.
Oni is a unique name for the cats who are loved and wanted by their pet owners.
Sarabi from Swahili denotes 'mirage' and greatly stresses a gentle and noble side of the Bengal cat's nature.
Taffy can be a cool name for cats – females – that means 'loved one'.
Amber is perfect for cats with amber eyes.
Daisy means 'day's eye'.
Adaeze meaning daughter.
Hildr is the name of a Valkyrie in Norse mythology.
Idun is the Norse goddess.
Owen is the name of a young warrior.
Winnie means a gentle friend.
Isis is the name of the Egyptian goddess.
Ginevra – the name of Italian origin is great for your fur baby.
Male Names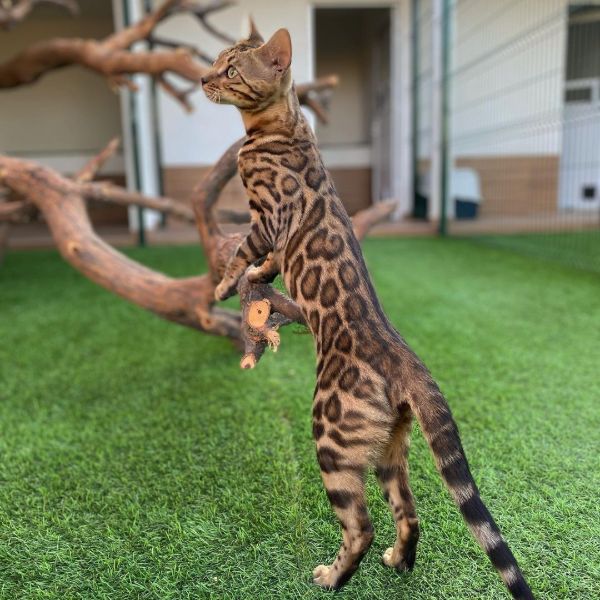 Archer is a cool choice for such a brilliant hunter.
Atlas means that this cat is always on the lookout for something new and interesting.
Bongo is a great striped Bengal cat name that denotes the feline who has a good vocal talent.
Browser is a cool male cat name for the feline who constantly explores the neighborhood.
Chief means one who loves to be at the top.
Dynamo stands for the melanistic Bengal cat who is extremely active and energetic.
Fidget is one of the Bengal names that mean mischievous nature.
Harley is among the top of famous boy kitten names. Harley Davidson is a well-known motorcycle brand that is so cool and special like the Bengals.
Hunter reveals the wild nature of the cat that looks like a tiger and likes chasing the prey.
Max from Latin stands for the greatest or biggest. This name is perfect for the cat that looks like a leopard.
Scooter is one of the good kitten names that fits the felines who are always in motion.
Tank can reflect the stubborn temperament of the melanistic Bengal cat.
Vulkan is one of the most popular male cats names that shows a violent temper.
Winner is one of the best warrior cat name ideas that can be perfect for Bengal.
Ben means 'blessed'.
Frank is a wonderful name for happy cats.
Leo is great for playful cats.
Hemang suits fierce cats.
Loki – god of mischief.
Shere Khan is a fictional Bengal tiger, the main character in Rudyard Kipling's Jungle Book.
Craig meaning rock.
Unisex Names
Blaze
Blizzard
Cosmo
Puma
Peanut
Rio
Sam
Sunset
Ziggy
Lynx
Onyx
Unique Appearance-Based Bengal Cat Names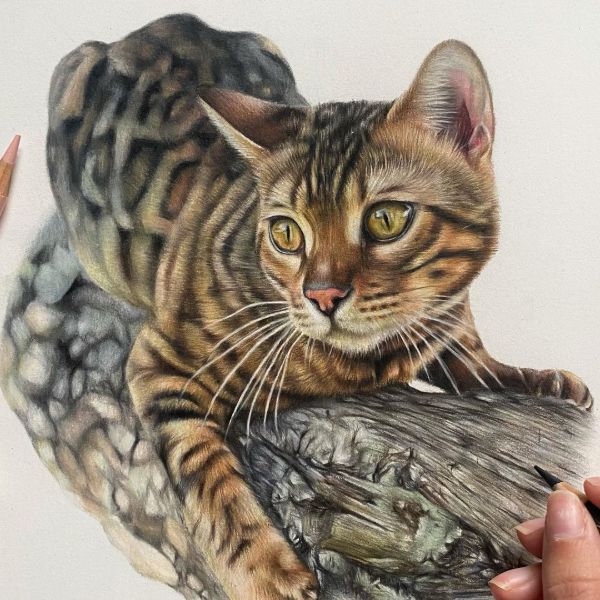 Aagney denotes 'born of fire'. This is one of the most popular Asian cat names.
Amber matches for yellow-orange cashmere Bengal cat.
Buttons is a stunning cat name that stresses spots on the fur.
Cayenne is a nice choice for an orange Bengal cat because it is a spice of a ginger color.
Chocolate is suited for the Bengal of brown shades.
Hemang can fit brilliantly the feline who shines outside as well as inside.
Lion/Lioness is an excellent option among the awesome cat names for the Bengals.
Ocean can match greatly for a blue Bengal cat.
Onyx means black gemstone and it will be a perfect name for charcoal Bengal cats.
Pebbles is suitable for the bright gray Bengal feline.
Smokey is right for a gray Bengal cat.
Spotty can underline the spotted coat of your favorite.
Brown Bengals
Aurelia – means "golden" in Latin.
Autumn – signifies "fall."
Flynn – in Irish, it denotes "son of the red-haired one."
Kamala – means "pale red" in Sanskrit.
Snow Bengals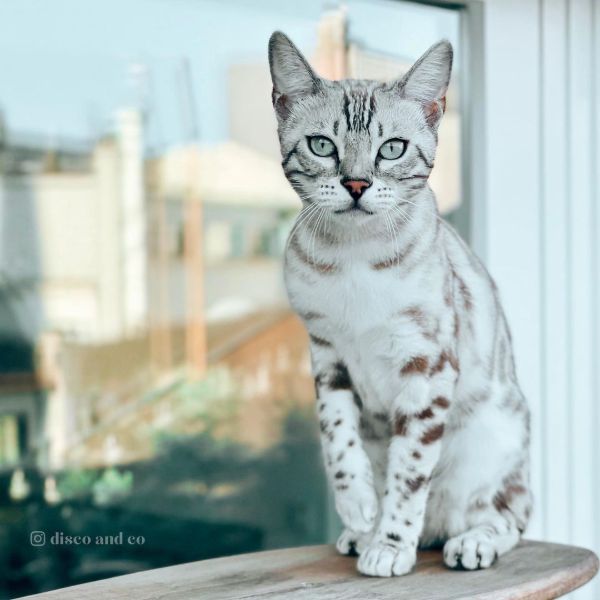 Chilly is associated with cold and snowy weather.
Frostine is great for a female Bengal cat of white color.
Frosty can fit your male Bengal to show its peculiar coat color as well as independent nature.
Icy reflects the strong temperament of your special pet.
Lunar is a trendy name for a feline with silvery-shaded fur.
North is the side of the Earth known for its snowy and cold weather conditions but associated with white colors.
Polar is similar to a polar bear but cool for the Bengal.
Snowden is suited to any Bengal whose coat features white hues.
Stormy can match for the Bengal cat to show its rebellious spirit.
Yeti stands for a snowman and can be a nice option for a white Bengal kitten.
Silver Bengals

Shimmy can fit the Bengal of silver hues as this name marks a tremulous gleam.
Silber from German can be translated as 'silver'.
Tinsel is a silvery Christmas decoration.
Tony is a sign of the cereal 'Frosted Flakes'. It is great for the Bengal cat silver feline.
Snow Bengal Cat Names
Chilly is associated with cold and snowy weather.
Frostine is great for a female Bengal cat of white color.
Frosty can fit your male Bengal to show its peculiar coat color as well as independent nature.
Icy reflects the strong temperament of your special pet.
Lunar is a trendy name for a feline with silvery-shaded fur.
North is the side of the Earth known for its snowy and cold weather conditions but associated with white colors.
Polar is similar to a polar bear but cool for the Bengal.
Snowden is suited to any Bengal whose coat features white hues.
Stormy can match for the Bengal cat to show its rebellious spirit.
Yeti stands for a snowman and can be a nice option for a white Bengal kitten.
Silver bell is a great name for a Bengal cat.
Argent from French means 'silver'.
Gin is the word known as 'silver' in the Japanese language.
Granite shows a strong temperament of the Bengal and its coat color.
Jubilee is known as a silver anniversary.
Pearl can fit your silvery Bengal and reflect your tender attitude to your favorite.
Plata is well-known as 'silver' in Spanish.
Charcoal Bengals
Inky – if the cat's coat is deep black.
Nisha – means "night" in Sanskrit.
Onyx – a black gemstone.
Raven – for an active black cat.
Shadow – for a mysterious feline.
Yamini – means "night" in Hindi.
Zorro – for an energetic feline.
Blue Bengals
Bluebell – symbolizes stability and gratitude.
Spot – for a cat with a distinctive beautiful pattern.
Neptune – the God if water.
Bengal Kitten Names for the Wild and Exotic Creatures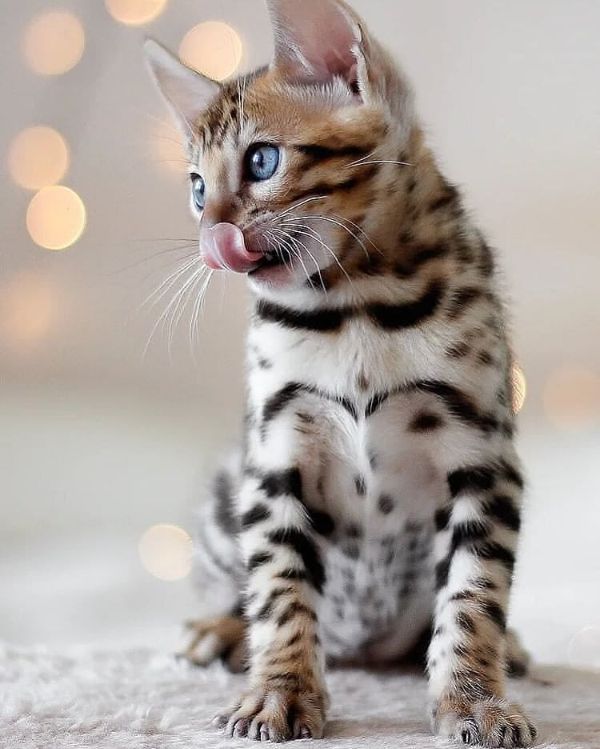 Achilles is a regal name male Bengal kitten. It means a wonderful and mighty warrior in Greek mythology.
Aislin from Irish means 'vision'. Any Bengal cat is an excellent hunter with brilliant eyesight.
Bala is a word that denotes 'strength and power' in Indian.
Breeze is for a fast and energetic feline. This name is a gem among mischievous cat names.
Boldness is suited for a brave and courageous Bengal kitten who always looks for its prey.
Goya is nice for the Bengal cat as it means a wild cat who lives in South Africa.
Hawk reflects the nature of a real hunter.
Hondo can be the right choice for a leader as this name comes from 'The Clone Wars'.
Jett means a black gemstone so this name fits a dark-colored Bengal kitty.
Ramses is known as a powerful Egyptian god.
Yacoub is a Greek word that stands for the one who is from the forest. It is one of the famous tiger names for Bengal males.
Mango is the name of a tropical plant.
Good Names for a Pair of Bengal Cats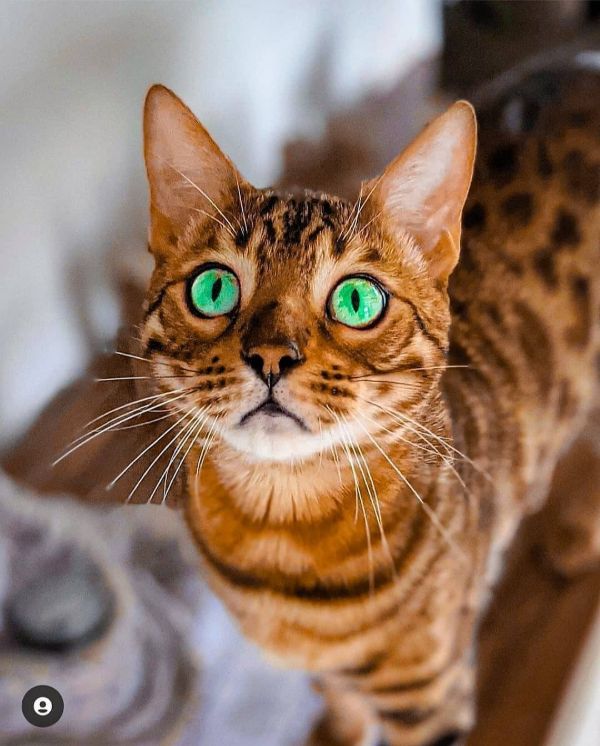 Apu stands for 'unique' in Hindi, great for a friendly cat.
Griffin means 'powerful master'. It is a half lion and half eagle creature. So this name fits a half Bengal cat well.
Kali is good for energetic and active Bengals as this word means 'action or motion' in African.
Kenji from Japanese means 'wise' and 'full of power'.
Khan, one of the best jungle cat names, comes from 'The Jungle Book'.
Minus is a Latin word that stands for 'stripes' and well-suited for the cat that looks like a cheetah or tiger.
Suri means a 'red rose' and is good for orange-shaded Bengal cat colors.
Tabbert from Germany is brilliant and smart just like any Bengal.
Tamala can be great for black Bengals and is known as one of the African black kitten names because it denotes 'dark tree'.
Tiana is one of the most frequently used Greek cat names. It is translated as 'Goddess' in Greek.
Aslan is the true king from 'The Chronicles of Narnia'.
Nechama means comfort.
Shakti is another name of the Hindu goddesses Durga.
Amalthea is the name of the Greek nymph.
Homer is the name of the Greek poet.
Cool Names Based On Plants And Flowers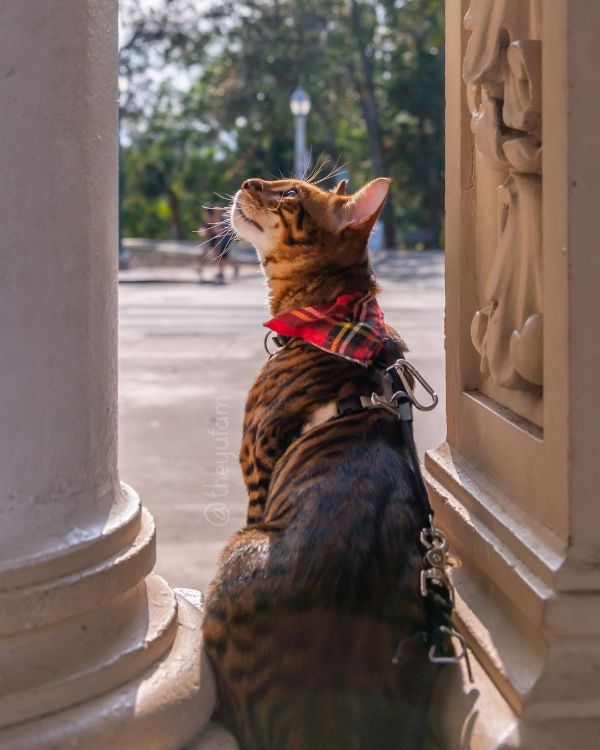 Amaryllis – a plant with spectacular trumpet-shaped blooms in a variety of colors.
Ayla – means "oak tree" in Hebrew.
Dahlia – a daisy-like flower endemic to Mexico and Central America.
Fleur – means "Flower" in French.
Tiger Lily – an orange Asian blossom with dots of black and purple.
Cute South Asian Bengal Cat Names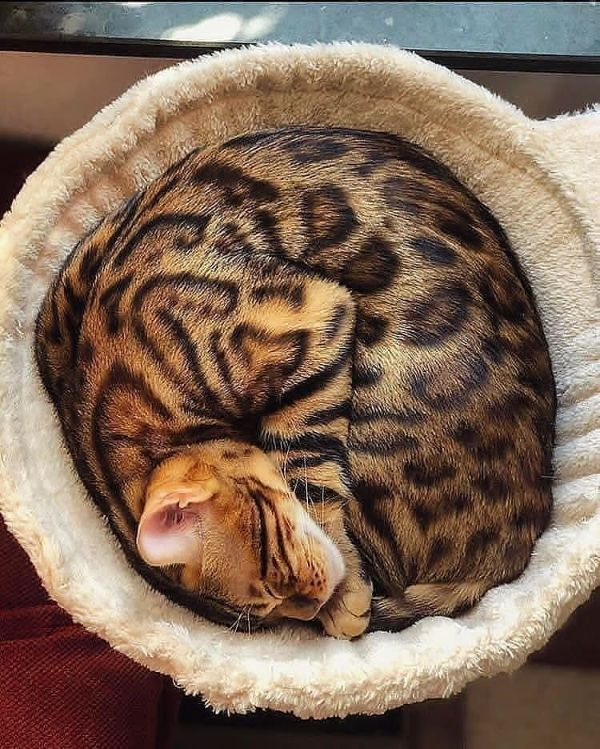 Jameelah – means "graceful."
Aadhavan – means "the Sun."
Ace stands the creature who excels like any Bengal.
Babar is an outstanding fictional elephant.
Bebi is a cute name for such a massive and muscular cat as the Bengal.
Blaze can fit the Bengals of orange color.
Chase is good for a true hunter like the Bengal cat.
Drive is suitable for such an energetic and active feline like the Bengal.
Flush shows how fast your half wild kitty can be.
Fox/Foxie can reflect the hunting nature of the Bengal cat.
Killer is the right name for the cat who loves hunting and chasing its prey.
Trapper is the name that can underline your cat's natural ability to hunt, catch and kill its prey.
Saber is a classic Bengal name.
Funny Names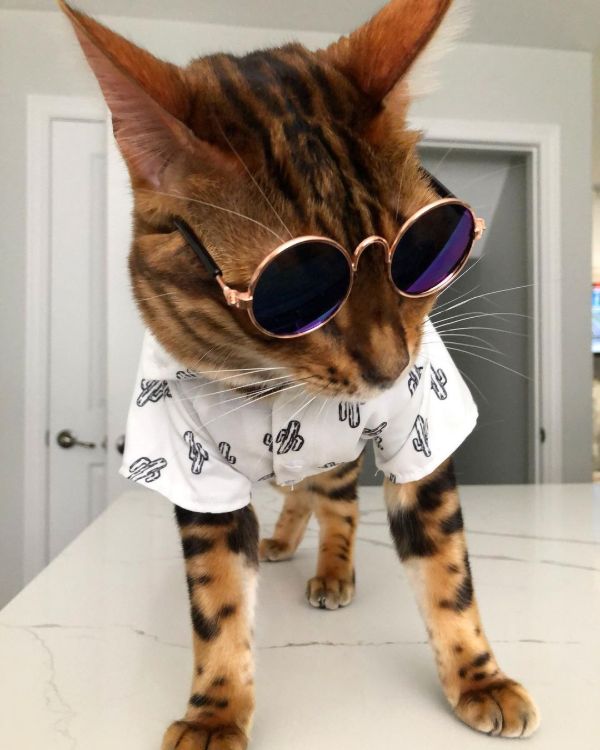 Abby Tabby can impress anyone who meets your Bengal for the first time.
Baloo shows that the Bengal is a very big and strong creature.
Best Fur-End is an honorable name for such a loyal four-legged companion.
Big boy/Big girl can suit the Bengal if the owner wants to stress the size of its pet.
Bubbles reflects the coat pattern as well as the size of this massive breed.
Catniss is a tender name for your huge female cat.
Clawsome is suitable to stress the sharpness of the claws of your hunt-loving feline.
Tarzan is one more cool and ridiculous name that comes from the movie but is suitable for the Bengals well.
Turbo is perfect for such an active and always moving creature.
Wild Thing is right for Bengal anyway.
Milo and Otis are great for two Bengal buddies.
Some Popular Tiger Inspired Names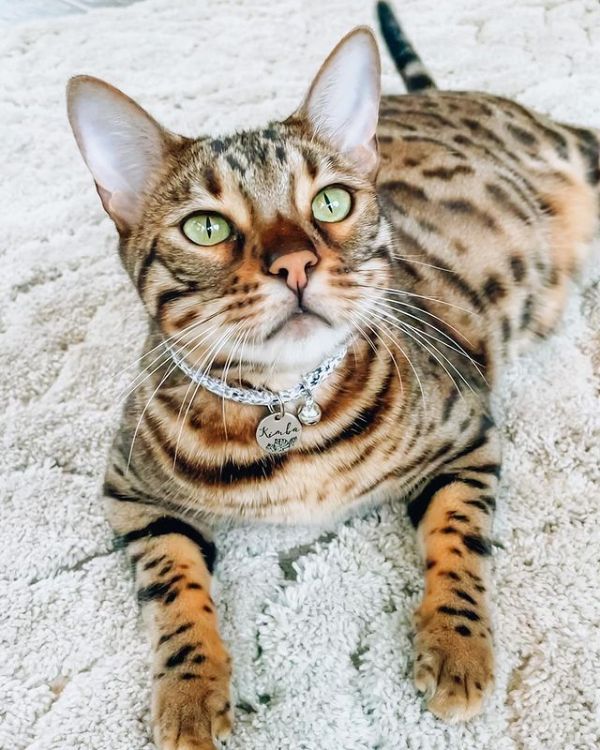 Ade is an African royal cat name.
Aslan is a lion from the well-known movie called The Chronicle of Narnia.
Harimau means 'tiger' in the Indonesian language.
Leo is short for 'leopard'.
Rajan is a tiger named from the Disney cartoon called 'Aladdin'.
Simba, one more cartoon character, is a loyal and courageous lion from the famous 'The Lion King'
Tiger/Tigress seems quite common for the Bengal but this name reflects the ferocity of such a wild domesticated creature.
Tigerino is an Italian version of the traditional name.
Tiger Lily includes the savagery of the tiger and the gracefulness of the lily. In fact, this is one of the best flower names for cats of this breed because it features an orange color – take a look at our Orange Cat Names guide.
Tigger is one of the Bengal tiger names that comes from 'Winnie The Pooh'.
Tigey is a version of the word 'tiger' from 'The Garfield'.
Tora from Japanese stands for the word 'tiger'.
Vitaly is a cartoon tiger from 'Madagascar 3'.
Scar is the name of Simba's evil uncle.
Adofo

can be the best choice for a fighter or warrior.

Blare

can be super for a very loud feline.

Bastet

is a cat goddess that originated in Egypt. It means a powerful, strong creature.

Jungle

simply shows the area – homeland of wild cats.

Frolic

is appropriate for playful cats who like spending time with humans.

Kek

is a God of darkness in African culture. This name is right for the dark-colored Bengals.

Kenway

is at the top of exotic cat names for the Bengals. It means a brave warrior in English.

Lash

is nice for naughty and rebellious cats.

Oba

stands for a king in African and this name demonstrates the noble nature of Bengal.

Rayas

from Spanish can be translated as 'stripes'. This is one of the most interesting male and female

striped cat names

.

Salem

is a movie character. This is a witch's cat of black color.

Selma

means 'secure' and shows that your Bengal can stand up for itself.
How to Teach Your Cat Its Name
When you've finally found the best name for your little Bengal, you may face one more problem – how to teach your furry friend to recognize its name. Actually, any Bengal kitty has not only an interesting and exotic coat pattern, but it also has a wild temperament and freedom-loving nature.
So it can be a bit difficult to train such an independent creature to respond to its name. But there are a few tricks that can help you. First of all, you should start to train your cat by its name only when your feline is calm and patient. Then prepare good food for training (it can be something tastier than you usually use).
The next step is the beginning of the practice: say the name of your feline and, if it looks at you, you should give it a bit of food and say 'yes' favorably. In most cases, the Bengal tabby cats don't need a lot of training sessions to remember their names.
Two or three practices can be enough. However, you should be patient because some cats require more training.
FAQ
What should I name my Bengal tiger?
Everything depends on the cat's personality and your imagination. Here are some inspiring ideas.
Gemstone and Precious Metal Themes Names For Bengal Cats
Pearl
Ruby
Sapphire
Amber
Opal
Bengal Names Based On Myth And Legend
Anubis – is the god of funerals.
Aphrodite – the goddess of love and beauty.
Apollo – the Roman god of music and poetry.
Ares – the Greek God of war
Artemis – the goddess of the hunt in Greek mythology.
Atlas – the name of the Titan who held the heavens on his shoulders.
Boreas – the Greek God of the north wind.
Calypso – the name of the mythical nymph.
Historically Themed Names For Bengal Cats
Cicero
Cleopatra
Dante
Napoleon
Shakespeare
Virgil
Why are Bengal cats so special?
The breed is truly very caring and kind. The Bengal is a faithful companion who is very attached to humans. To be happy, the Bengal, being a huge, athletic cat, needs to run, leap, and romp. It is a perceptive and vigilant cat.
Are Bengal cats cuddly?
Bengals are on the less affectionate side of the cat scale. While they require a lot of attention, they do not require it in the form of cuddling. They'd rather play with you than snuggle with you for hours.
Conclusion
The list of the Bengal cat names exotic and unique like this breed itself can help you pick the most appropriate name for your cute and wild feline. Check this list one more time and find the best name for your distinctive cat.