There is a bunch of various cat coat colors, and they all look great as they accentuate the beauty of a feline. In this article, we will focus on the descriptions of silver coat cats and smoke coat cats, since felines with this unique color deserve special attention.
An effect and not a color
What is silver and smoke cat? Silver or smoke is not the color of the coat but an additional effect on the coat, which can be combined either with a basic solid color (cream, blue, white, black, brown, etc.) or a special pattern (striped, tortoiseshell, bicolor, spot color).
For example, a cat can be a blue smoky point or a chocolate silver tabby. Sometimes in colorpoint cats, it is difficult to identify both silver and smoke cat colors, since the color on the muzzle has blurred boundaries.
Genetics
What is a smoke cat? What is a silver cat? Are they different? The answers to these questions are found in genetics.
Smoke and silver are caused by the inhibitor gene I.
How does the silver gene work in cats? This gene suppresses the production of pigment in non-agouti cats, and in agouti cats, this gene suppresses the production of red pigment. Allele I for inhibitors is dominant compared to allele i for non-inhibitor.
For example, a cat with i/i is neither smoky nor silver. If the cat is I/i or I/I, it can be either silver or smoky. A silver cat agouti will have A / – I / -, and a smoky cat will have a / a I / –
On top of that, the smoke effect is more noticeable if the cat is homozygous for the inhibitor gene (I/I).
Smoke
This effect means that fur has a certain color, whereas the hair root remains unpainted. The smoke color of the cat can only be solid, and any manifestation of a pattern or spots of fully pigmented fur is considered a color defect.
In short-haired cats, the smoke effect is almost invisible, while in long-haired cats, it is much more noticeable. On top of that, this effect can make the base color of the coat paler and colder. The face of such a cat may have a brilliant effect.
Descriptions of Smoke Colors in Cats
The smoke effect can be seen in cats of various colors. Below we take a closer look at each of them.
Masked Silver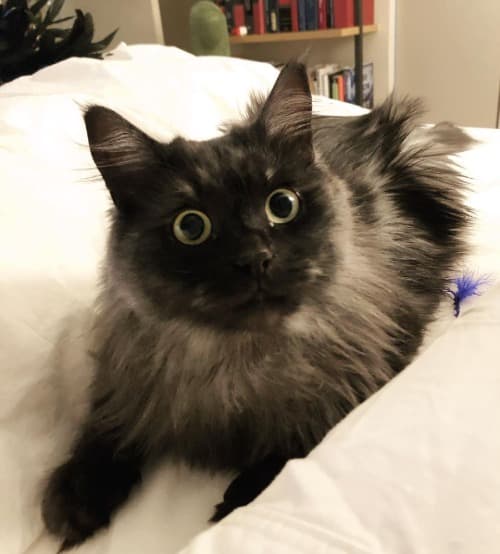 The color of these cats resembles the color of Siamese cats – they have a black mask and face, their paws are also black. The color of the coat is silver and almost white at the base, and the color spreads along the hair shaft.
Grizzle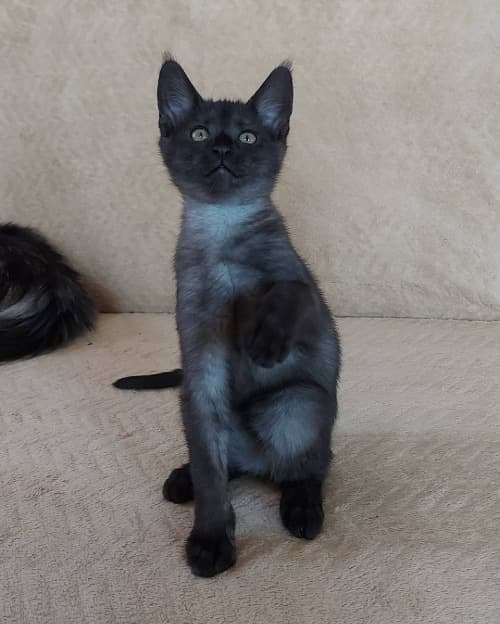 This color is found in the Chausie breed. This black cat with silver undercoat has silver-tipped fur and green eyes.
Black smoke tabby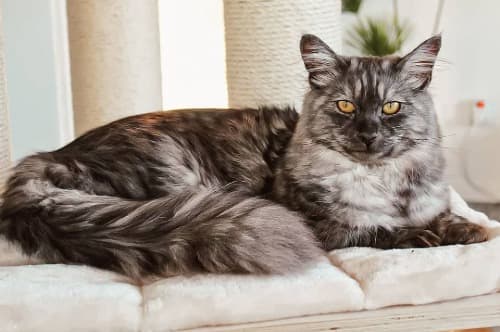 Black smoke cats have a golden or copper tint in their eyes. The coat color is black or dark brown with silver areas. How rare is a black smoke cat? They are second only to black cats in terms of popularity among domestic shorthair cats and some purebred felines (e.g. Maine Coons).
Blue smoke cat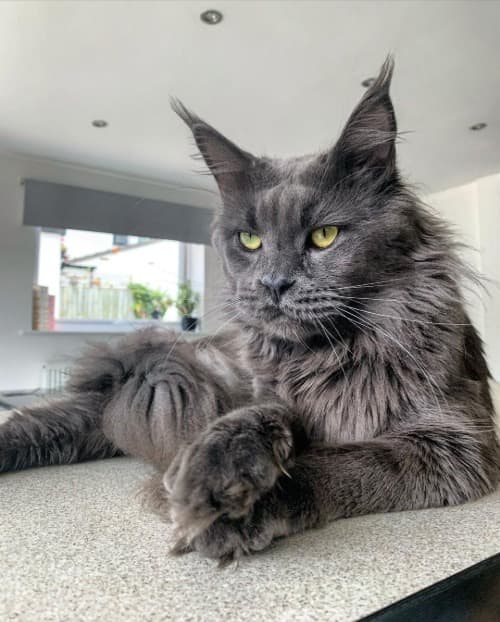 The color of the eyes is gold or copper. Their fur, nose, and paw pads are gray-blue.
Chocolate smoke cat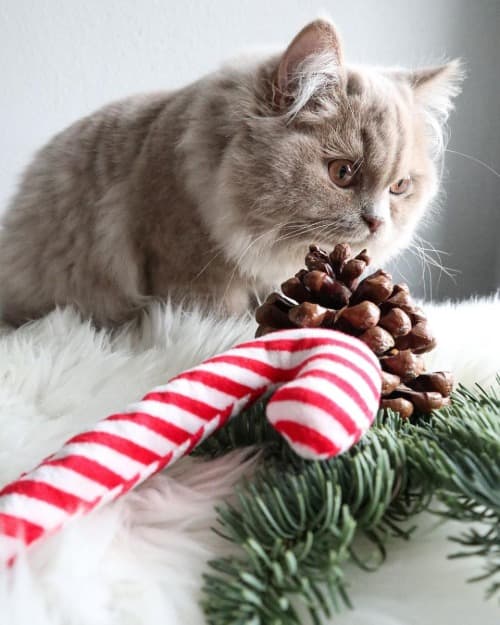 The presence of gold and copper pigments in the iris of the eye is a distinctive characteristic of chocolate smoke cats. The nose and paws are brown or reddish-brown.
Red smoke cat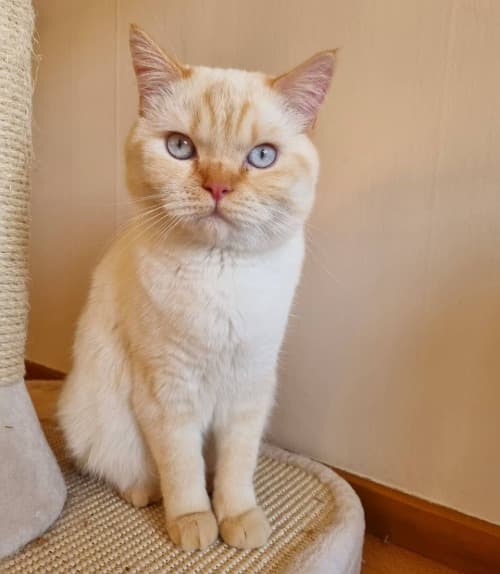 These cats have a reddish-orange tint on a whitish background. Males are red, and females can be either red or tortoiseshell.
Smoke tortie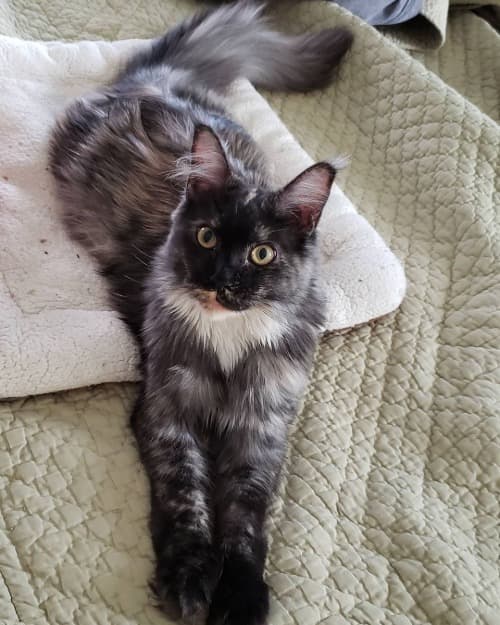 A smoke tortoiseshell cat has black and red pigmentation, the base of the coat is lighter, and there are areas of fur with black and red tips.
Smoke point cat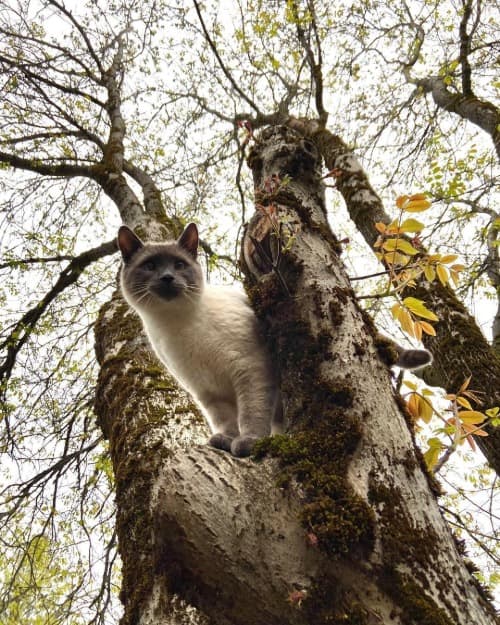 The coat is white, and the color of the face is similar to the color that Siamese cats have – a black nose, a black mask, and white areas extend all over the face. The eyes are usually blue.
Silver
This effect is only relevant for tabby cats. If the cat is agouti, then the pattern on its coat is an alternation of several colored stripes: a dark stripe alternates with a lighter stripe or a stripe with a red tint.
Silver cats have a very "cold" and "metallic" color. Sometimes silver-colored cats may have yellowish tints, but this is a defect that is caused by polygenes.
Silver tabby cat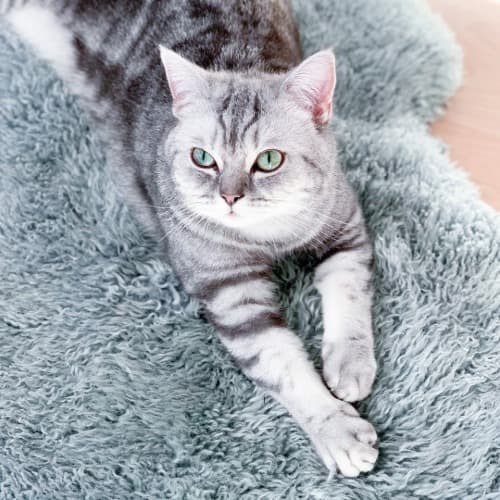 Silver tabby cats have a white undercoat that emphasizes their bright silvery fur, and bright black markings that give them a particularly striking appearance.
Black and silver cat
The main color of the coat is light, stripes of dark silver (almost black) and light silver alternate. These cats have a light-colored nose, there may be beige areas on the face, the eyes of a black and silver tabby cat encompass light shades.
Cinnamon silver tabby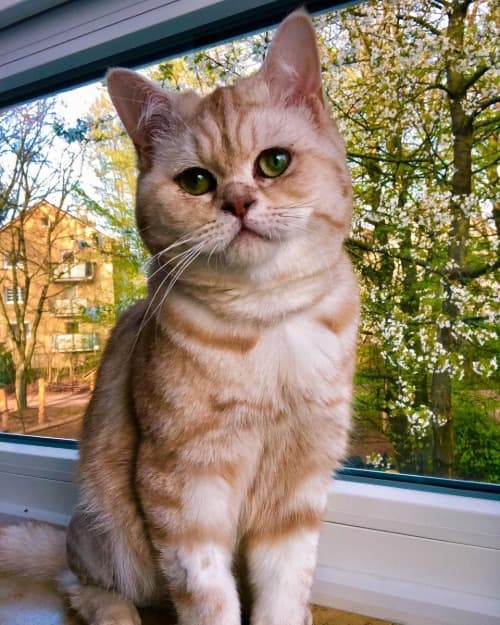 The main color of the coat is white, and the tabby pattern consists of cinnamon stripes and white stripes. The face features light shades, the eyes are usually green or light brown.
Silver tortoiseshell cat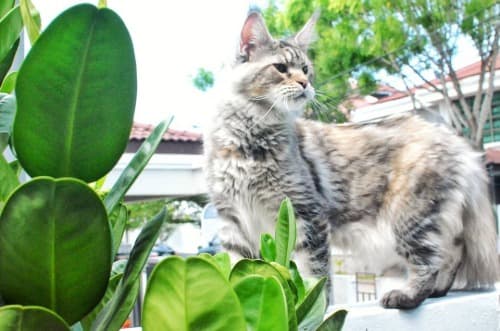 A silver tortie cat means that a cool silver shade is dominant, and stripes of red and dark brown are found along the entire spine and on the sides of the cat.
Silver point cat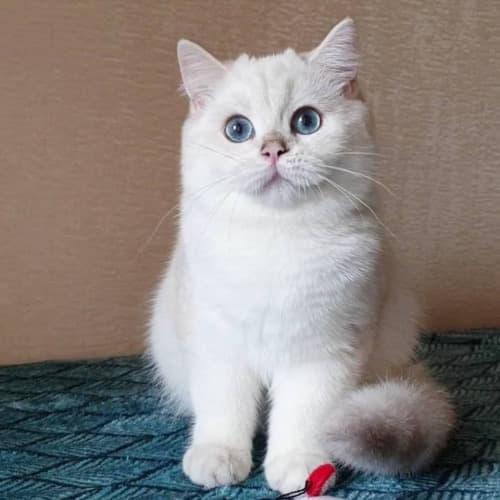 The cat is mostly white, and the color point pattern is located only on the tail, and it is not very bright. The eyes are usually blue.
Chocolate silver tabby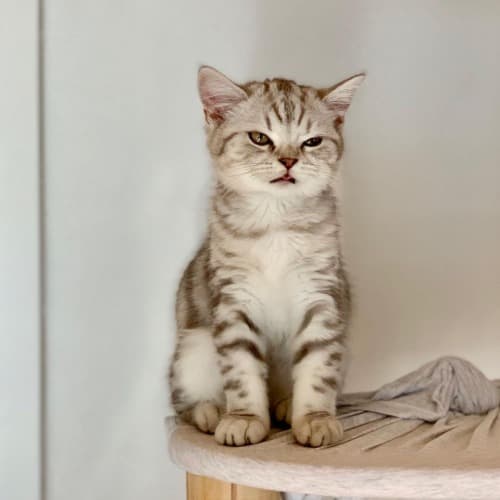 The classic tabby pattern features a base color (cream) combined with chocolate stripes. The eyes are light brown, and they are in perfect harmony with this coat color.
Silver and white cats
The color is similar to the pattern of a tiger, sometimes silver predominates, but in some breeds, white is dominant. The eyes are often light brown or light green.
Red silver cat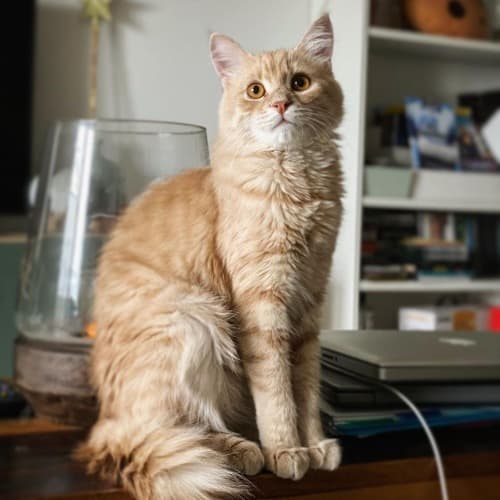 Cream smoke cats have red or cream markings on a silvery background.
Silver smoke cat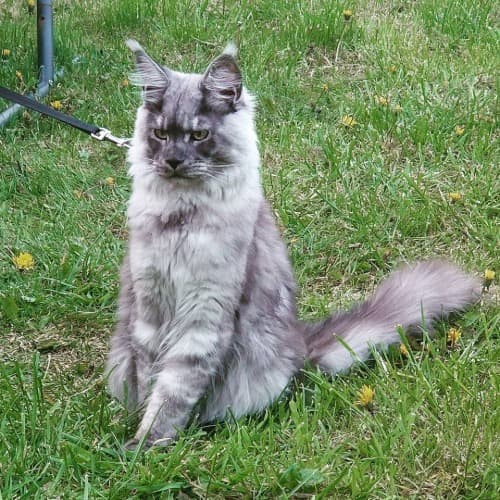 The base color is pale, and the stripes are silver.
Pewter
Pewter cats resemble shaded silver cats. The only difference is that pewter cats have orange eyes.
As you can see, the silver and smoke effect is possible in many variations that are found in different breeds. If you are looking for a cat with unusual coat color, then choose one of the options considered above.