Blue-eyed cats look great but are quite rare in the cat world. All kittens are born with blue eyes, however, after reaching six weeks of age, their eye color changes.
Special cells, known as melanocytes, produce the pigment melanin, and these cells are responsible for the color of the cat's eyes. A large number of melanocytes produces a deep copper color of the eyes. Felines with fewer melanocytes have yellow or green eyes, and those pets who have very few melanocytes, are the owners of different types of blue eyes (dark blue eyes or crystal blue eyes).
There are various types of cats with blue eyes, and each of them has its unique appearance (there are calico cats, grey tabby cats, cream point and brown cats with blue eyes, as well as black cats with blue eyes) and distinctive blue-eyed personality. In this article, we'll share information on what cat breeds have blue eyes.
11 Best Cat Breeds With Blue Eyes
Here is the list of beautiful cats with magnificent blue eyes.
Siamese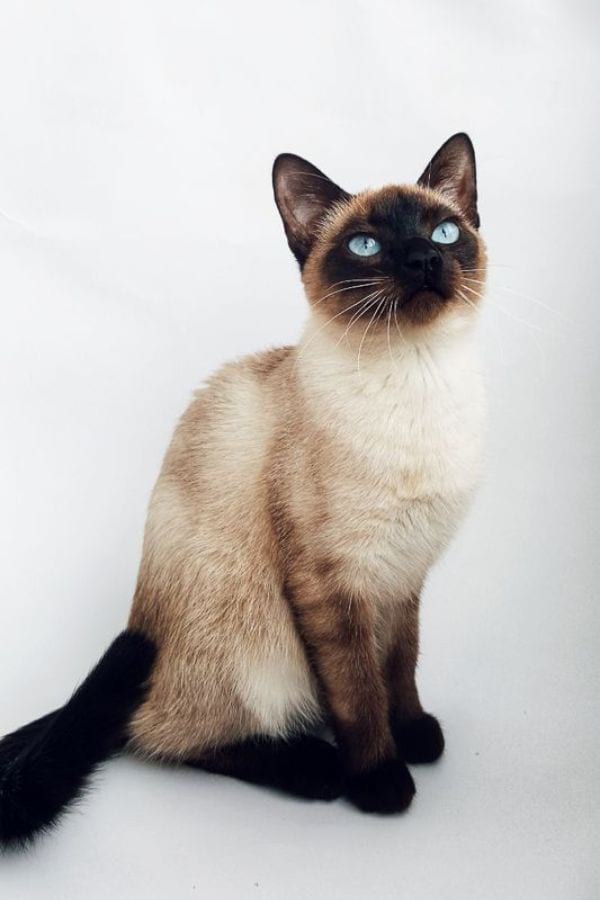 Breed Overview
Height: 8-10 inches
Weight: 8-10 pounds
Physical characteristics: pointed coloring, almond-shaped blue eyes, a wedge-shaped head, sleek, short fur.
These pointed cats are lovely, chatty, intelligent, affectionate – all these qualities make them perfect family pals.
These dog-like cats adore spending time with all family members, Meezers will follow their owner with pleasure, play various games eagerly, and willingly cuddle in bed with their loved ones.
Their fur is short, they shed not as much as other domestic cats, they have a unique point pattern (lynx point, chocolate point, flame point, blue point) and gorgeous blue rare eyes.
Snowshoe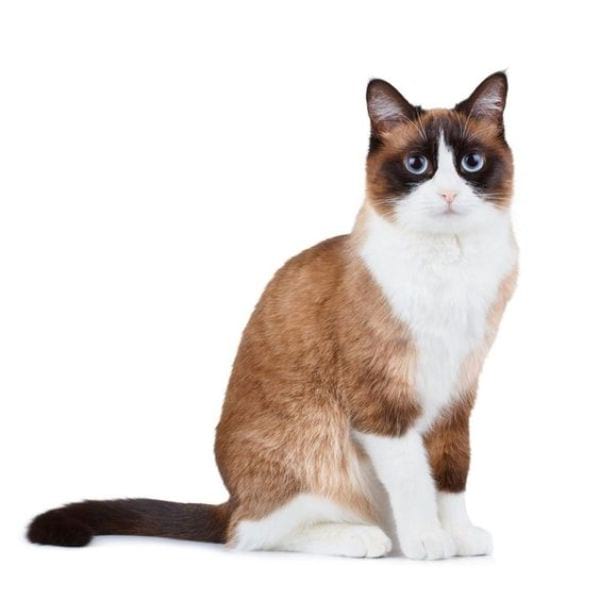 Breed Overview
Height: 8 – 10 inches
Weight: 7-12 pounds
Physical characteristics: a short, medium, or long coat; the body is light with darker points on the muzzle, tail, and ears
Do you want to have a cat who is always up to something active and interesting?
Then this cross of a Siamese cat and American Shorthair is just what you need. Having beautiful white paws that look as if they have been dipped in snow, stunning blue eyes, and a graceful body, these felines will definitely win your heart with their exceptional beauty.
As they are the relatives of the Siamese cats, these gorgeous cats with big eyes are also intelligent, extremely affectionate, and vocal (if you don't mind regular conversations with your cat, then go for this feline!)
Tonkinese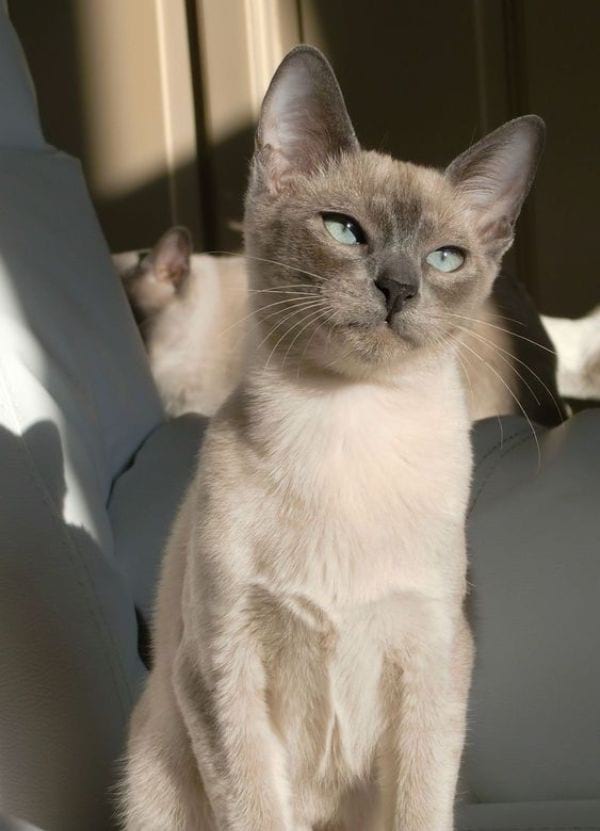 Breed Overview
Height: 8 – 10 inches
Weight: 6-12 pounds
Physical characteristics: short, silky hair and aqua blue eyes; the coat color includes blue, platinum, and champagne, whereas patterns encompass mink, point, and solid
These felines have charmed cat lovers all around the world. Their coat is short and silky, they come in a variety of colors, and they can have blue, aqua, or yellow-green eyes.
The Tonkinese cats have appeared as a cross between Siamese and Burmese breeds. They are as affectionate as their Siamese relatives but not as chatty. Besides, they are energetic, sociable, and maintain their playful instincts all of their lives.
Turkish Angora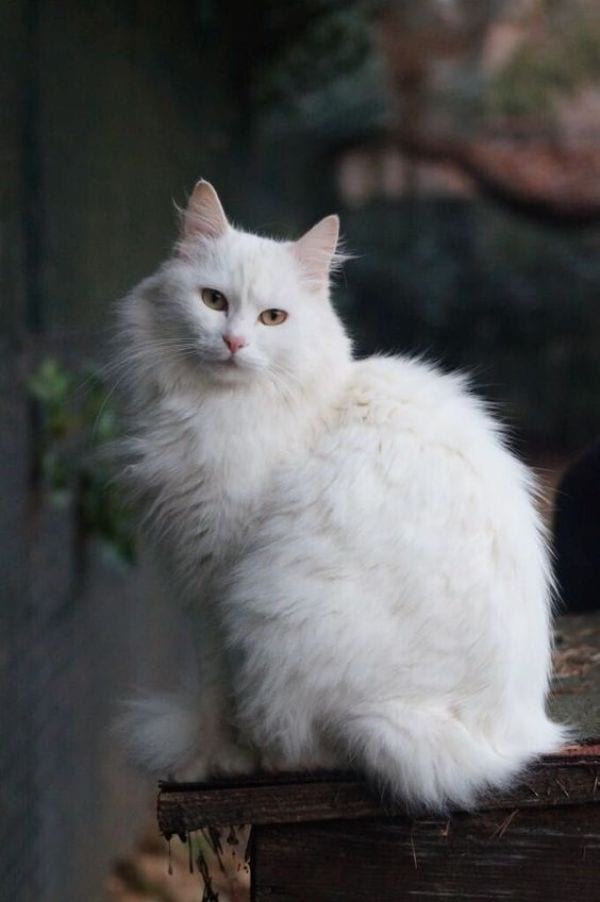 Breed Overview
Height: 8 – 10 inches
Weight: 5-9 pounds
Physical characteristics: long and silky coat of white color
Turkish Angora cats are a great combination of long glistening white fur, large ears, a fluffy tail, almond-shaped eyes that can be green, amber, gold, or bicolor, and a medium-sized head.
These felines love to be in the spotlight, they have a boisterous side and love to run, jump, and explore the surroundings. At the same time, they have a gentle side and will always curl up next to you.
Ojos Azules Cat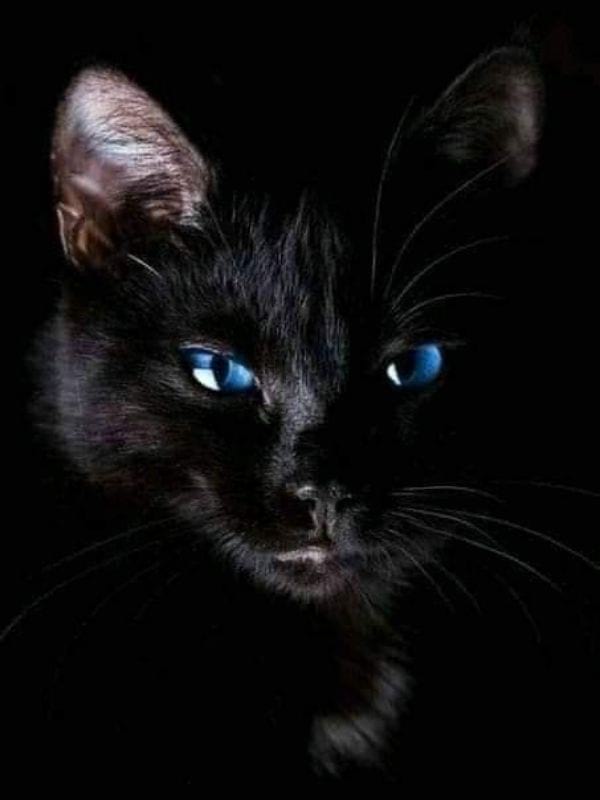 Breed Overview
Height: there is no breed standard yet
Weight: there is no breed standard yet
Physical characteristics: a short coat of various colors except for white
This is one of the rarest breeds in the world and is distinguished by its unusually beautiful blue eyes, despite the absence of a color point or solid white coat color. This breed appeared in 1984 in New Mexico after a tortoiseshell cat gave birth to kittens with the same blue eyes like hers.
These cats continued to produce litters of different colors with the same beautiful blue eyes. Ojos Azules felines are active, curious, and friendly what makes them great for families.
Balinese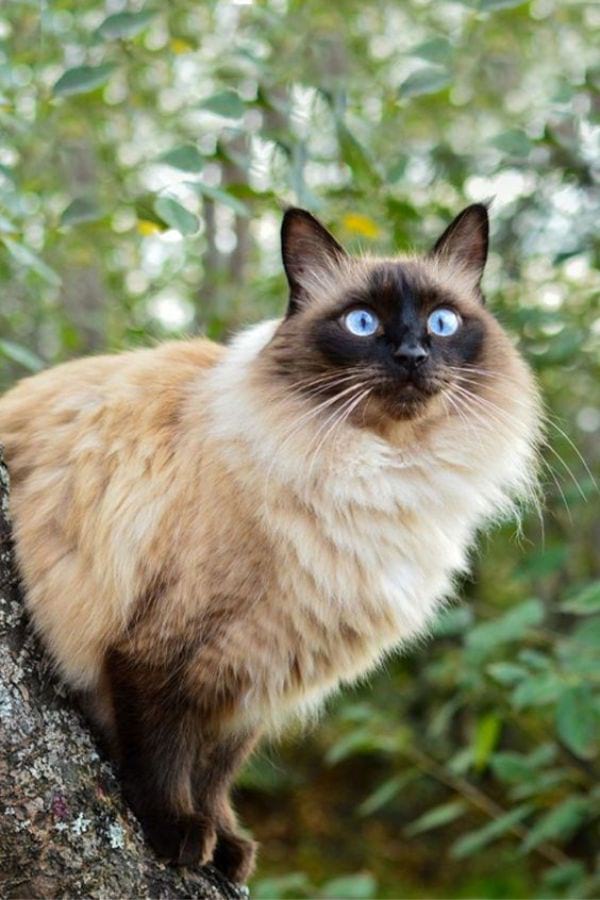 Breed Overview
Height: 18 inches
Weight: 6-11 pounds
Physical characteristics: a long coat with points located on the face, ears, paws, and tail and beautiful blue eyes
Balinese cats are Siamese cats with a longer coat. Despite their beautiful look, these felines aren't just a pretty face. They are witty, clever, loving, curious, and playful. Balinese cats are great family pets, but keep in mind that they love attention and communication, so if you want to have an introverted kitty, then this option isn't for you.
Persian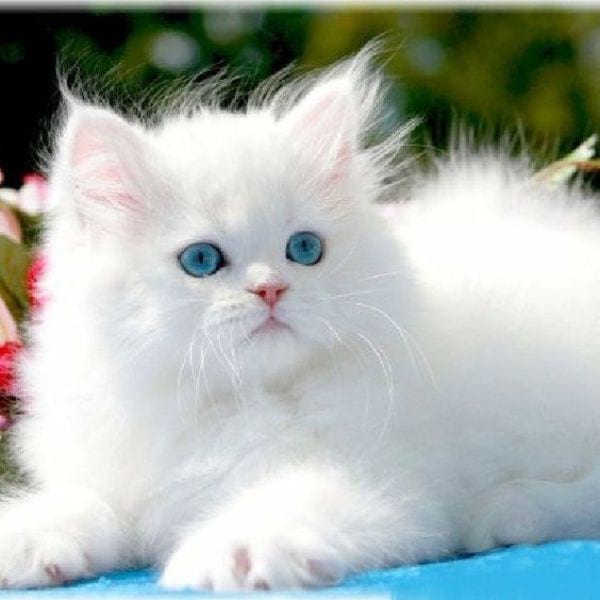 Breed Overview
Height: 14-18 inches
Weight: 7-12 pounds
Physical characteristics: a smushed face, a long, silky coat of different colors (bicolor, tabby, calico, solid), and other variations
These smooshed face cats with lush coats are known for being gentle, affectionate, calm, loving, and undemanding. They are not very active, not fans of loud environments, that is why they are perfect indoor cats.
These flat-faced cats get along well with other pets and children, so they are great companions for families. The only downside is a high-maintenance grooming regime that a doll face blue eyes Persian cat requires.
Birman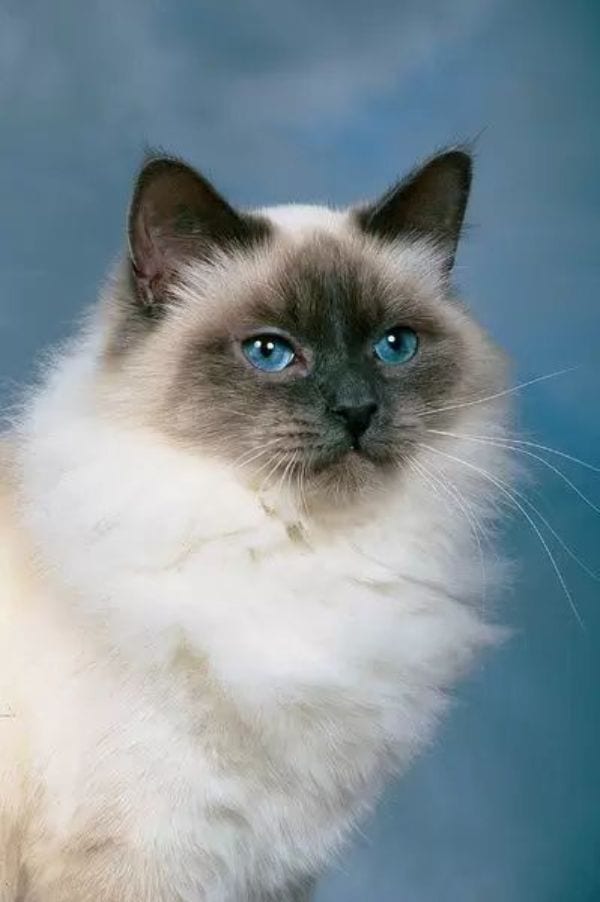 Breed Overview
Height: 15-18 inches
Weight: 10-12 pounds
Physical characteristics: Long, silky fur with pointed markings (tortoiseshell, blue, seal, red, chocolate, cream, and lynx)
It is believed that the Briman breed has appeared as a result of breeding Siamese cats with the cats imported from Burma. These felines are characterized by a stunning appearance – their body is white, whereas their face, paws, and ears are usually of a darker color. Brilliant blue eyes look incredibly magnificent in comparison with this coloring.
Speaking of their personality, Birman cats are playful, loving, and super sweet. They are extremely social but not as noisy as their Siamese counterparts.
Ragdoll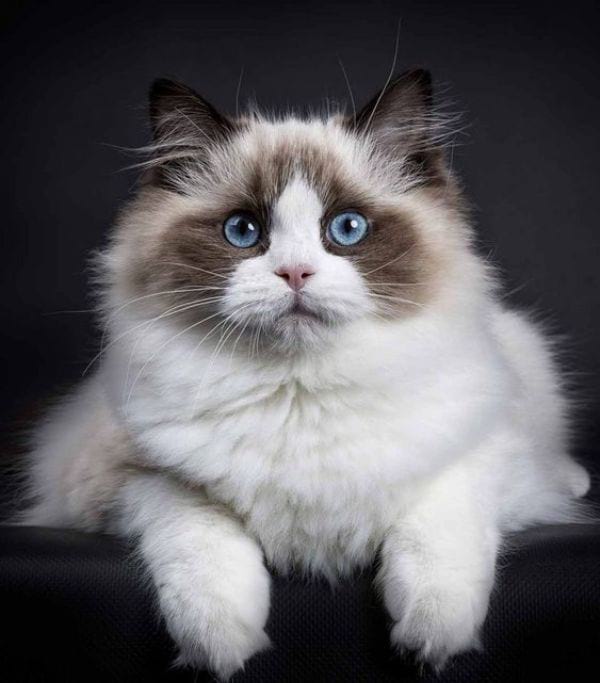 Breed Overview
Height: 9-11 inches
Weight: 8-20 pounds
Physical characteristics: Semi-longhaired coat and deep blue eyes
These cute and fluffy felines are called Ragdolls because they love to lie limp when you pick them up. Besides, they are great lap cats. Their silky fur, as well as friendly and intelligent nature, make them perfect cuddle companions and loyal friends for families. Ragdolls are one of the most beautiful long haired blue eyed cat breeds. Take a look at our list of the most interesting Ragdoll cat name ideas.
Himalayan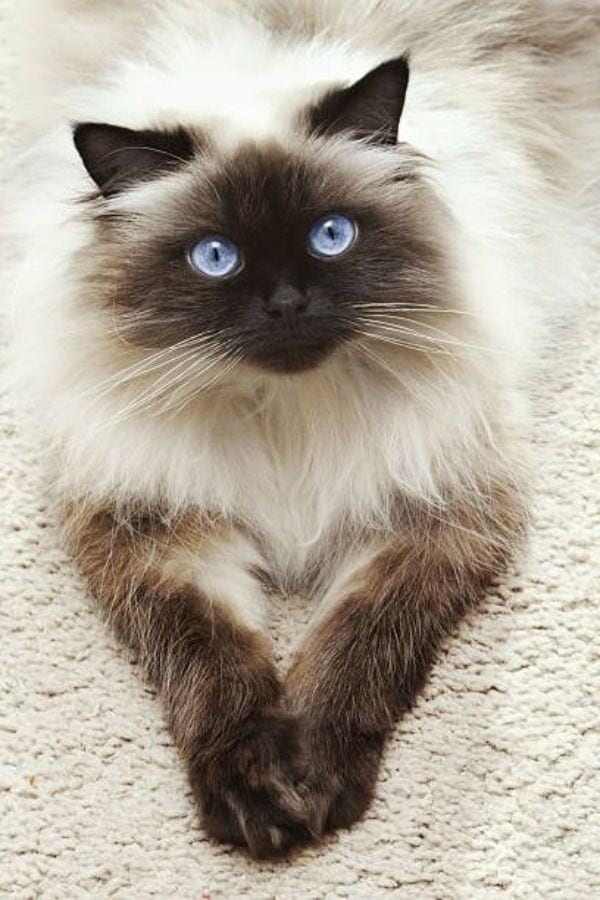 Breed Overview
Height: 18 inches
Weight: 7-12 pounds
Physical characteristics: A muscular body, a cream, blue, great, or chocolate coat with pointed markings
Himalayan cats or Himmies are a cross of Persian and Siamese cats. These medium-sized felines boast a long, dense coat, and deep blue eyes.
These gentle felines are an embodiment of affection, they will snuggle with you in the bed regardless of the time of day. You will observe these kittens snoozling in sunlight or running through the living room.
Javanese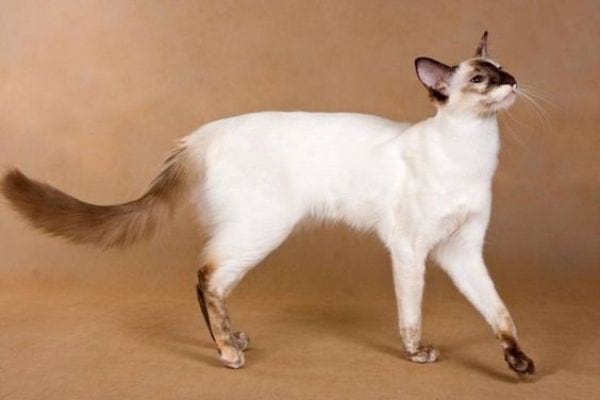 Breed Overview
Height: 12 inches
Weight: 4-13 pounds
Physical characteristics: a mid-length coat of various colors (seal, blue, lilac, white, cream, fawn, smokey) with various patterns (solid, tabby, bicolor, tortoiseshell); the color of the eyes is green, blue, dark yellow/brown)
The Javanese cats are elegant and slender, the coat is dense and sheds a little, so these felines are a perfect pick for people with allergies. The Javanese bond with all family members, so they are just great pets for big families.
Frequently Asked Questions
What breeds of cats have blue eyes?
There are many breeds with blue eyes. These breeds include Balinese, Siamese, Persian, Himalayan, Javanese, and Birman. Besides, Ragdolls can also have blue eyes, but it is not obligatory for them. On top of that, cats of the Ojos Azules breed have dark coats and blue eyes.
How common are blue eyes in cats?
Why are kittens eyes blue? All kittens are born with blue eyes, but this kitten eye color in adult cats is quite rare. This cat eye color is connected with cat genetics and means an absence of the production of pigment in the iris.
What kind of cat has blue eyes and white fur?
Persian and Himalayan cats are mid-sized, they have a fluffy white coat and blue eyes. Of course, the shades of their eyes vary: from sapphire blue to ocean blue. Besides, Siamese cats feature various color points, and they also have deep blue eyes.
However, an absolute winner in the contest "the most beautiful blue eyes" is the Khao Manee. This rare breed has a pure white, silky, close-lying coat and beautiful blue eyes.
What breed of cat is GREY with blue eyes?
The grey color is also known as blue and has a beautiful pearl overflow in a soft shade. However, some experts say that a grey cat with blue eyes does not have blue eyes, since blue eyes are characteristic of cats whose coat colors (white and color points) are caused by a lack of melanin pigment, which is responsible for color saturation.
Blue cats have rich emerald green, yellow, or deep copper eyes. However, in 1984 the Ojos Azules breed was registered. The name of this breed is translated as "blue-eyed" from the Spanish language, and the main characteristic of this breed is blue eyes. The coat colors can be different, but the main requirement is the absence of large areas of white color or its complete absence, as well as the inadmissibility of the Siamese color (the presence of points of different colors). These felines are carriers of a rare mutation, and theoretically, a gray cat with blue eyes of the Ojos Azules may exist.
What Causes Cats to Have Their Blue Eyes?
Eye color depends on:
The degree of concentration of a dark brown pigment called melanin in the iris of the eye. Melanin is also found in cats' fur. It forms the color of the cat – gives color to the coat and creates a pattern.
How light passes through the eye and scatters in it.
All kittens are born with blue eyes, but they develop eye pigmentation when they are six weeks old. If cats still have blue eyes when they are eight weeks old, their eye color will likely remain blue. Blue eyes are quite rare in adult cats.
Which Cats Have Sapphire Blue Eyes?
The Birman breed, also known as the sacred cat of Burma, has clear blue eyes. Another breed that is known for its sapphire blue eyes is Ragdoll.
What are Pointed Cats With Blue Eyes?
Balinese cats have a beautiful pointed pattern and deep blue eyes. They have appeared as a result of a spontaneous genetic mutation in purebred Siamese felines.
Are Blue-Eyed Cats Blind or Deaf?
An estimated 65% to 80% of blue-eyed, solid-white cats are deaf. Blue eyes, which are common in pointed breeds like the Siamese, are not genetically linked to deafness, though.
Why are blue eyed cats cross eyed?
The majority of occurrences of convergent strabismus are hereditary and safe for cats. These problems are present from birth onward. Crossed eyes that appear later in life are typically an external indicator of an underlying issue.
Conclusion
We hope this list of blue eyed cats will help you make the final choice and become the proud owner of blue-eyed happiness.