More and more people are willing to adopt a pet to have a faithful friend and a good companion. The number of cat lovers dominates over the fans of dogs and puppies. Felines can live both in the block of flats and detached houses. And one of the most popular breeds around the world is Siamese.
These bewhiskered buddies can impress you with their intelligence, curiosity, and gorgeous appearance. Some Siamese owners state that their pets try to talk with them! These felines are very positive, chatty, and vocal. It goes without saying that their meowing and purring can be considered as the true dialog with their beloved Mom and Dad.
If you are ready to become happy parents for one of the Siamese cute kittens, it is high time to explore local breeders and catteries. Citizens of Illinois can be sure that there are many trusted sellers around them. Let's take a closer look at the most reputable breeders that offer Siamese kittens for sale in Illinois.
Siamese Cat Breeders in Illinois with Kittens and Cats for Sale
Siamese kittens can be of different coloration. There are lilac point, blue point, chocolate point, and seal point bewhiskered buddies to order in IL. Illinois sellers offer both short-hair and long-hair Siamese kittens.
Some kitties are of rare color points like dark brown or blue seal ones. There are traditional Siamese cat babies to order with wedge and apple heads.
Your search can start with the IL craigslist or visits to shelters and pet rescue centers. But here you hardly can find purebred Siamese kittens. If you are looking for a reliable breeder or cattery in Illinois, explore the table with the most trusted local sellers.
| Cattery/Breeder | City/town | Website | Telephone/Social Media | E-mail |
| --- | --- | --- | --- | --- |
| SAHJA | Chicago | sahjasiamese.com | 1- 815-877-8358 | [email protected] |
| Adopt a Pet | Chicago | adoptapet.com/s/adopt-a-siamese/illinois/chicago | 1-815-728-3273 | [email protected] |
| Kris Thompson (individual breeder) | Round Lake | gokitty.com/seller/profile/id/216047 | N/A | N/A |
| Siamese Royalty | Belleville | siameseroyalty.com | 1-618-443-4368 | [email protected] |
| CFA Siamese Kittens | Carthage | ambientelectrons.org | 1-217-440-7920 | [email protected] |
| Meezer Fever | Rockford | @meezerFever | 1-779-203-4276 | N/A |
Let's take a closer look at the best-matching variants in the context of Siamese kittens for adoption in Illinois.
SAHJA

This is a local breeder with a good reputation. Besides Siamese kittens, SAHJA offers Oriental felines in Illinois. The breeder is located in Chicago. But it is possible to ship the kitty throughout Illinois:
from/to Chicago;
from /to Orlando;
from/to Rockford;
from/to St. Louis, etc.
It is worth noting that all the SAHJA's cats are vaccinated and fed properly, according to the CFA regulations. Contact the breeder via the specified telephone number on the website or email.
Adopt a Pet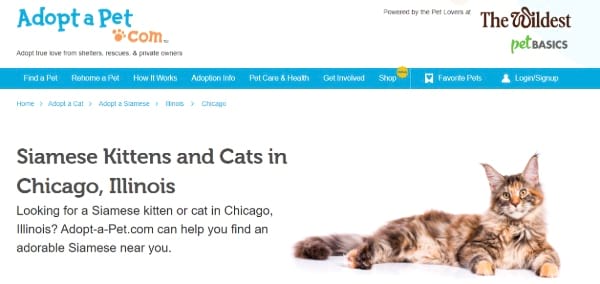 This is a large shelter that performs throughout the USA. One of the offices is located in Chicago (IL). Adopt a Pet offers Siamese kittens that were left by owners. Additionally, there is some kind of feline craigslist. Local sellers can offer kitties of different breeds to adopt.
There are both small kittens and adult cats in the Adopt a Pet online catalog. Some kitties can be shipped from nearby Chicago towns like Willow Springs, Evanston, Morton Grove, etc.
Kris Thompson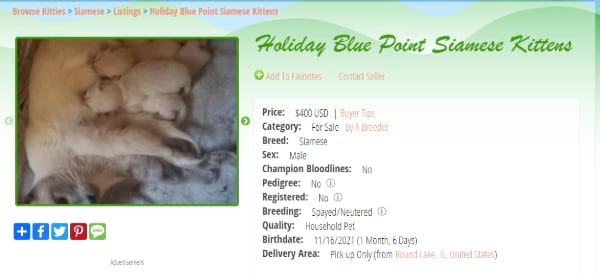 The advertising about selling Siamese kittens is available on the GoKitty website. This is an individual breeder from Round Lake, Illinois. It is worth mentioning that the price for male kittens is rather affordable – only $400 for a 1-month baby. The parents are a seal point Siamese she-cat and a blue point he-cat.
The only way to contact the seller is to write down the message on the GoKitty website. The low cost of the kitty can be explained with no registration in the CFA list and absent pedigree background.
Siamese Royalty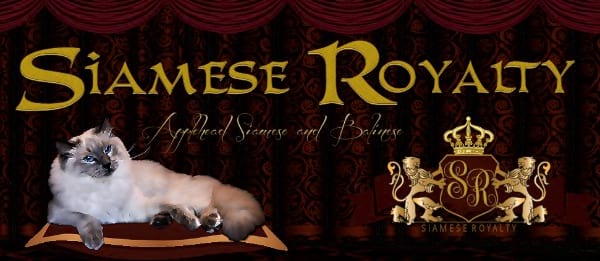 The Siamese Royalty cattery represents itself as a premium breeder of Siamese cats. There is a totally responsible approach to selling kitties. All the potential buyers are screened to be sure that the feline is going to be adopted by caring and loving owners.
This is one of the most trusted sellers of Siamese kittens in central (and south-central) Illinois. Additionally, the breeder offers Balinese cat babies of traditional color points.
Speaking about Siamese kitties bred by Siamese Royalty, all of them are vaccinated, FIV & FELV blood tested, socialized, and obtain CFF registration. Besides small kittens, the breeder offers adult purebred cats for adoption (including for breeding purposes).
CFA Siamese Kittens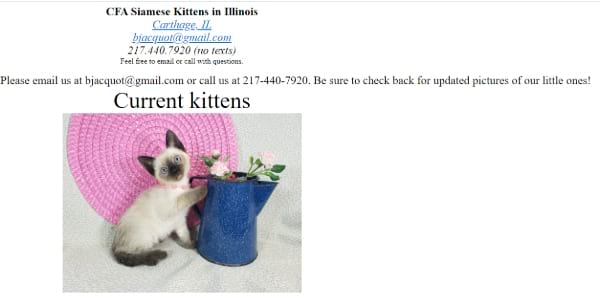 A breeder has a business-card website. The contact information together with photos of available Siamese kittens is presented on the homepage. There are male and female kitties to buy. This is a small local cattery with purebred blue point and lilac point Siamese kittens for sale.
Meezer Fever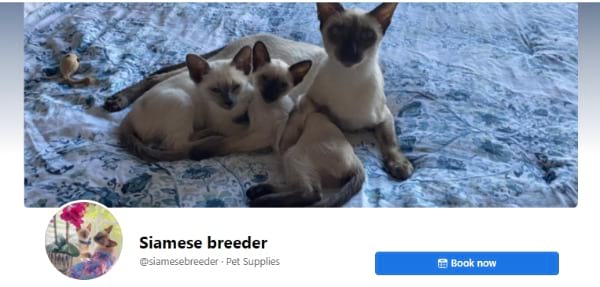 If you are searching for Siamese kittens in Rockford (IL), visit the Facebook page of the local individual breeder. There is also an Instagram profile with cute photos of the kitties and their parents. The seller offers Siamese wedge-head felines of traditional color print.
Facebook followers can observe the real life of their potential Siamese kittens for sale Illinois. The owner of the Meezer Fever cattery regularly posts photos with family members who play and care about cute felines.
Frequently Asked Questions
How Much Does a Siamese Kitten Cost?
Many potential buyers ask the same question: "What is the average price of a Siamese cat?". The costs may vary from $400 up to $2,500 for a kitten.
How much are Siamese kittens? The pure Siamese cat price will always be higher. Additionally, top breeders who register felines, vaccinate them, and undertake other testing and arrangements can raise the costs.
Does Coloration Matter the Siamese Kitten Price?
Do not forget about the rare coloration of the bewhiskered buddy. For example, blue seal point Siamese cat will be more expensive than the traditional chocolate point feline. If you want to adopt a kitty of this breed for free, start your search from the local shelters and other pet care establishments centers like the Chicago Siamese rescue center.
How Can I Buy a Siamese Kitten?
You should pick sides with the best-matching breeder or cattery and place the order. Usually, local sellers offer to visit them and choose a Siamese cat for sale. There are also shelters and Siamese cat rescue Illinois centers where many felines are waiting for their caring owners. Contact the seller of your interest and book an appointment.
How Many Cats Can I Have in Illinois?
Four dogs and four cats, each older than six months, are the maximum number that can be owned, housed, or sheltered in a single home.
Final Word
Siamese cats are often adopted by feline lovers. They like the companionship of people and always promote love in response to care and love. If you are searching for a Siamese kitten in Illinois, there are many variants to opt for. Note that a range of trusted sellers is around you. Just start your search and stay pleased with the fluffy pet companion of your dreams!