Siamese cats are among the most popular felines in the world. They are very clever, friendly, active, and moderately vocal. If you are searching for a faithful pet companion, a Siamese bewhiskered buddy can become your top variant. These felines socialize well with other pets and are very playful when it comes to games with children.
Florida citizens can count on the range of local catteries and breeders with purebred Siamese kitten buddies for sale. Additionally, there are rescue centers where the kitten or adult cat can be adopted for free. Let's take a closer look at the list of the most reputable Florida breeders and catteries that offer Siamese cats for sale.
Siamese Kittens for Sale in Florida
It goes without saying that you can start with a Siamese cat craigslist search in FL. Some individual sellers offer kittens of different ages and color patterns locally at an affordable price. But this is about your luck. Today, there are several ads to take into account, but tomorrow there will be nothing offered on the local craigslist.
That is why it is more reasonable to explore Siamese cat breeders with certifications and a good reputation in Florida. They almost always have available kitties for sale and meet all the CFA regulations including the immunization plan, deworming, and flea treatment procedures, etc.
Here is a list of 8 recommended catteries and cat breeders in Florida if you are willing for the Siamese cat adoption.
Cattery/
Breeder

City/town
Website
Telephone/
Social Media
E-mail
Blue Isles Siamese
Fort Myers
blueislessiamese.com
1-239-229-2679
[email protected]
Adopt a Pet
Lakeland
adoptapet.com/s/adopt-a-siamese/florida
1-863-728-3273
[email protected]
Suyaki Siamese Cattery
Miami
suyaki-siamese.com
1-305-234-1220
[email protected]
Siam Bali Rags
LaBelle
siambalirags.com
1-863-675-4075
N/A
Cat Lover
(individual breeder)

Orlando
gokitty.com/kitten/profile/id/86871
N/A
N/A
Melkatz Siamese Friends
Tampa
facebook.com/groups/SIAMESEFRIENDS
N/A
N/A
DoxiSiam (individual breeder)
Palm Beach
facebook.com/DoxiSiam/
1- 561-779-8065
[email protected]
SKA (Siamese Kittens Available) (individual breeder)
Port Charlotte
N/A
1- 941-216-5796
[email protected]
It is worth noting that you are able to buy not only Siamese baby kittens in the local catteries but felines of other breeds like Balinese, Sphynx, etc. Some breeders make a specialty out of selling purebred puppies together with kitties.
Blue Isles Siamese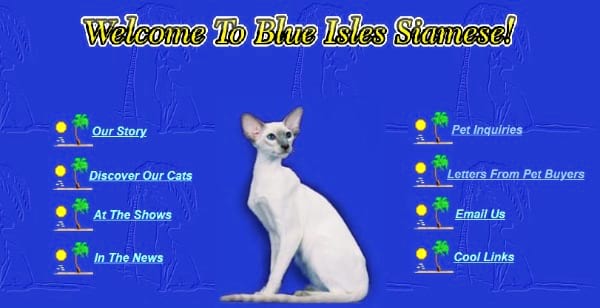 If you are searching for Siamese kittens in Fort Myers (FL), take a closer look at the local cattery Blue Isles Siamese. It was established in 1991. The cattery offers purebred wedge-head Siamese kittens for sale.
The interesting fact about the FL-based breeder is that the owners (Jewel and Linda) name queens, studs, and small baby kitties after the most well-known islands (Bali, Fiji, Seychelles, Bahama, etc.).
You can contact the Blue Isles Siamese cattery via email or telephone. All this information is presented on the official website.
Adopt a Pet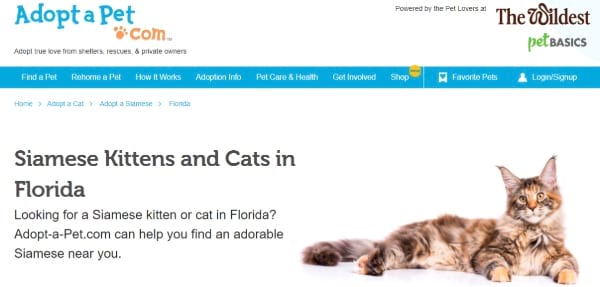 This is the US adoption service with the interstate delivery of pets to adopt. Additionally, Adopt a Pet offers local advertising for people from Florida.
Usually, it is rather difficult to find purebred Siamese kittens for adoption on this website. Nevertheless, there is an option of booking if some sellers appear with kitties of the consumers' interest.
The local Adopt a Pet office in Florida is in Lakeland. Feel free to contact the company via the telephone number specified on the site. Also, you can visit the local shelter and ask the Adopt a Pet managers for any available Siamese kittens in Lakeland (Florida) personally.
Suyaki Siamese Cattery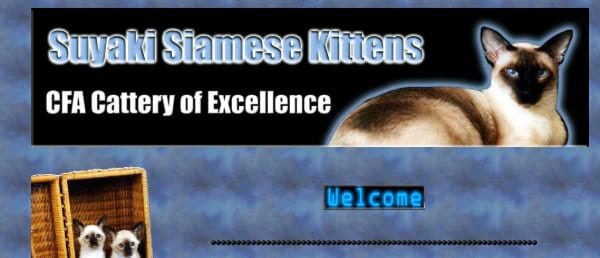 This cattery offers Siamese kittens for sale in Miami. The main pride of this local breeder is the kitties with the champion bloodlines and friendly temperament. All the kittens are bred uncaged.
The Suyaki cattery offers all the certificates and rewards to view on the website. If you are searching for choc point Siamese kittens, visit Charlene in Miami with her beloved felines.
Siam Bali Rags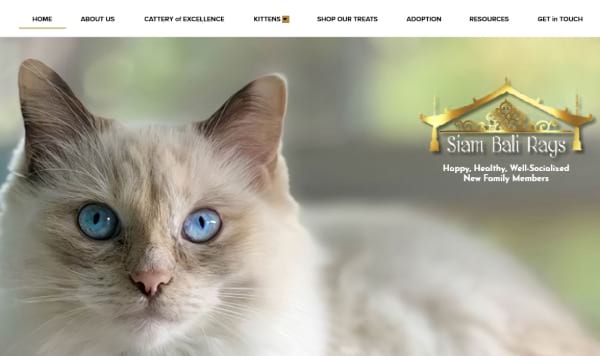 This is one of the biggest central Florida Siamese catteries. Siam Bali Rags is located in LaBelle (FL). It is worth mentioning that besides the blue point, seal point, chocolate point, and lilac Siamese kittens, this cattery offers cats of other breeds:
Balinese kittens for sale (Florida);
Tonkinese felines for sale (FL);
Birman purebred males and females;
Ragdoll felines for sale in LaBelle.
All the certificates and photos of the sold and available kitties are waiting for you on the official website on the cattery. Here, you can find the contact information (email, telephone number) as well.
Cat Lover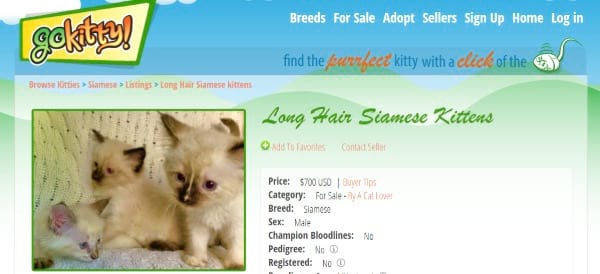 This is an individual breeder from Orlando. A seller with the nickname Cat Lover offers long-haired Siamese kittens at a really affordable price ($700). If you are not searching for felines with champion bloodlines and excellent pedigree, this variant is great for you.
All the kitties are dewormed and passed all necessary defleaing procedures. The seller does not ship babies throughout Florida. So, you can opt for these Siamese kittens only in Orlando.
Melkatz Siamese Friends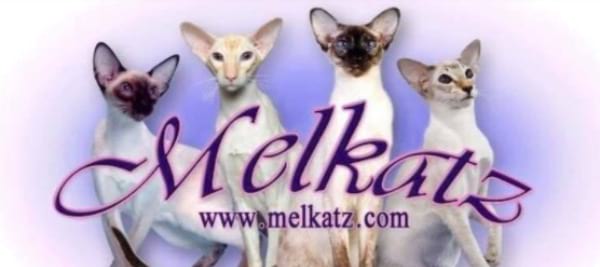 If you are searching for Siamese kittens for sale in Tampa, the Melkatz cattery is ready to help with this task. There are available seal, chocolate point, and colorpoint Siamese babies with beautiful sapphire eyes.
This seller has a public Facebook page with cute photos of the kittens and other posts related to felines, their behavior, skills, and funny situations.
DoxiSiam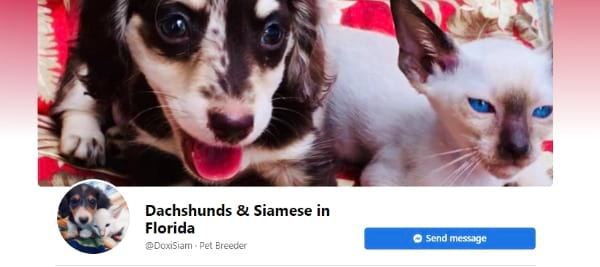 This breeder sells Siamese kittens online on Facebook. Besides these feline buddies, DoxiSiam offers Dachshund puppies for sale in Florida. The breeder is located in Palm Beach. It is possible to ask the seller about short videos and photos of available lynx point Siamese kittens.
SKA (Siamese Kittens Available)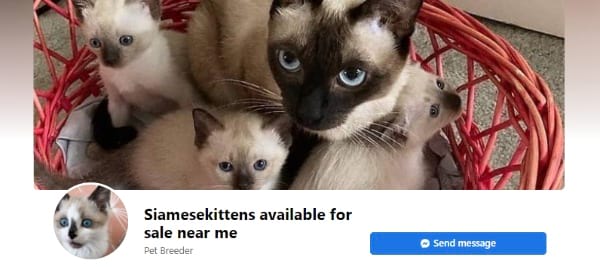 This is a Siamese cat rescue in Florida. One of the available services is the adoption of kittens in Fort Lauderdale and Port Charlotte. It is difficult to count on purebred kittens for sale here. But all the bewhiskered kitties are very friendly and obtain the vaccination passport.
Some of the felines have a rather rare coloration and individual features of character. Among available kittens are both apple-headed and wedge-headed Siamese he-cats and she-cats.
Frequently Asked Questions
If you are searching for a Siamese fluffy kitten for sale in Florida, get detailed information about the price of the feline of your interest in the FAQ section.
What Is the Average Price of a Siamese Kitten?
The average Siamese cat price in Florida is about $600-$1500. Everything depends on the breeder (its reputation, the kitty's age, color pattern, and other factors). Siamese cat babies 1-3 months old can be adopted from local rescue centers almost for free. But the chance to buy a purebred baby Siamese cat is rather small.
How Much Do Siamese Cats Cost?
Traditional Siamese breeders sell kitties at $700-1,200 in Florida. The most expensive felines of this breed are blue point kittens for sale. Their prices can vary from $1,700 up to $2,500 if the cat's parents obtain sound pedigree and rewards from the world's CFA shows.
How Many Cats Can I Have in My House in Florida?
Every family is allowed a maximum of three cats and three dogs weighing less than 50 pounds each.
Editor's Note
Do you need 2 Siamese cats?
Due to their natural desire to seek out humans or other cats, Siamese cats can experience sadness or anxiety when left alone for extended periods of time. For this reason, Siamese cats are frequently purchased in pairs so that they can keep each other entertained.
To Sum Up
Siamese cats are the best pet companions. Their notable features are pointy ears, catchy crystal-blue or sapphire eyes, and slim bodies. You can select either a fluffy long-hair feline of this breed or a short-hair one. Color points on their face and fur on other body parts can vary as well.
If you are searching for Siamese kittens for adoption in Florida or are willing to buy a purebred kitty from reputable breeders and catteries, explore the list of trusted sellers in the FL counties. You have a great chance to become an owner of a chatty and vocal pet – do not miss your opportunity to make friends with a gorgeous Siamese baby!