A new chapter has begun in your life – you have brought home the cutest black and white kitty. Congrats! Now, an exciting process awaits you – you should pick the name that perfectly matches your cat's appearance and personality.
Is your cat playful or shy? Is your furry companion friendly or wild? Does he or she have a cute appearance? Does your feline have a super sweet demeanor? If you are thinking about picking the perfect black and white cat name, we are here to assist you.
We dug into information on how pet parents call their black and white felines and share some tips on what to name a black and white cat.
Popular and Famous Black and White Cat Names
It's not a secret that black and white cats are the most dapper of our furry friends. They are popular not only for their piebald fur but also for their curious, affectionate, outgoing personality.
There is a variety of names you can choose from. Below, we offer a list of names that were tops this year – you will definitely find a good fit for white and black cats.
Sirius – name your cat with striking eyes after this popular Harry Potter character.
Figaro – name your playful and sweet kitty after this character in "Pinocchio".
Charlie Chaplin – this genius is the symbol of the silent movie era, so why not to call your beautiful cat this way?
Cortez – this punny cat name is perfect for a funny cat.
Cheshire – one of the famous cat names for white cats with black spots.
Oreo – does your feline's pattern resemble this famous sandwich cookie? Opt for this name.
Bigglesworth – if you are a fan of the famous cat of Dr. Evil in the Austin Powers movie.
Diana – choose this royal name if your kitty is a true princess.
Bella – means "beautiful".
Lucy – means "shiny", so it is perfect for black and white kittens.
Max – means "the greatest".
Leo – for a noble, mighty cat who always shows his dominance.
Lily – name your black and white kitten after this beautiful flower.
Jack – is your white and black cat gracious? Choose the name with this meaning.
Rocky – means "famous ruler".
Mona Lisa – if you are a fan of this famous painting, express your love for art with this name.
Cat Stevens – a punny version of the name of the famous singer-songwriter.
Creative Names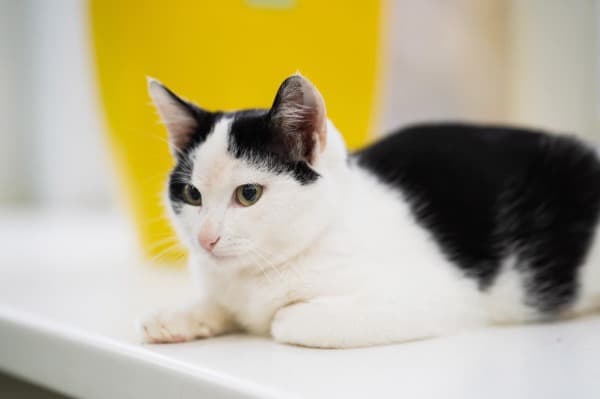 If you are not into classics, you can go for creative options to call your furry ball. You can choose punny names that sound funny and cute, creative names inspired by food and drinks. Besides, famous movie characters can be your source of inspiration.
You'll find a perfect match on the list of cat names for white and black cats below.
Whispurr – a funny name for an affectionate bicolor kitten.
Nyan – a name of a viral internet sensation.
Kit-Kat – if your kitty is as sweet as this candy bar.
Eclipse – this beautiful name is great for cats who unite light and dark.
Noir – means "dark" in French.
Lucky – if your cat brings you good luck.
Emerald – if your black and white cat has piercing green eyes.
Cappuccino – if your cat's coat color resembles this coffee drink.
Puma – if your cat is wild and dark.
Onyx – one of the cute names for your kittens.
Jupiter
Moon – if your cat's fur is soft and shiny.
Phoenix – one of the names for a black and white female cat that means "rebirth".
Pirate – if your cat surprises you with his antics.
Rebel – for a cat with a rebellious nature.
Black pearl – if your cat is one in a million.
Mikado – for noble and dominant male cats.
Contrast – if your cat has a conflicting personality.
Flecki – a creative name for a laid-back cat.
Read more: Shocking Facts About Dilute Calico Cats
Movie-Inspired
Citizen Kane – a drama film, released in 1941.
Darth – is one of the main fictional characters in "Star Wars."
Humphrey Bogart – a famous actor.
James Bond – a fictional secret service agent.
Jolly Roger – it is the old English word for the colors flown prior to or during an attack to indicate a pirate ship.
Matrix – a famous science fiction film.
Mr. Darcy – a novel character, one of the main characters in Jane Austen's "Pride and Prejudice."
Animation-Inspired
Cruella
Felix
Goofy
Minnie
Sylvester
Music and Art-Inspired
Jazzy
Maestro
Piano
Steinway
Pixel
Speck
Animal-Inspired
Lemur
Leopard
Penguin
Zebra
Dalmation
Cool Male Cat Names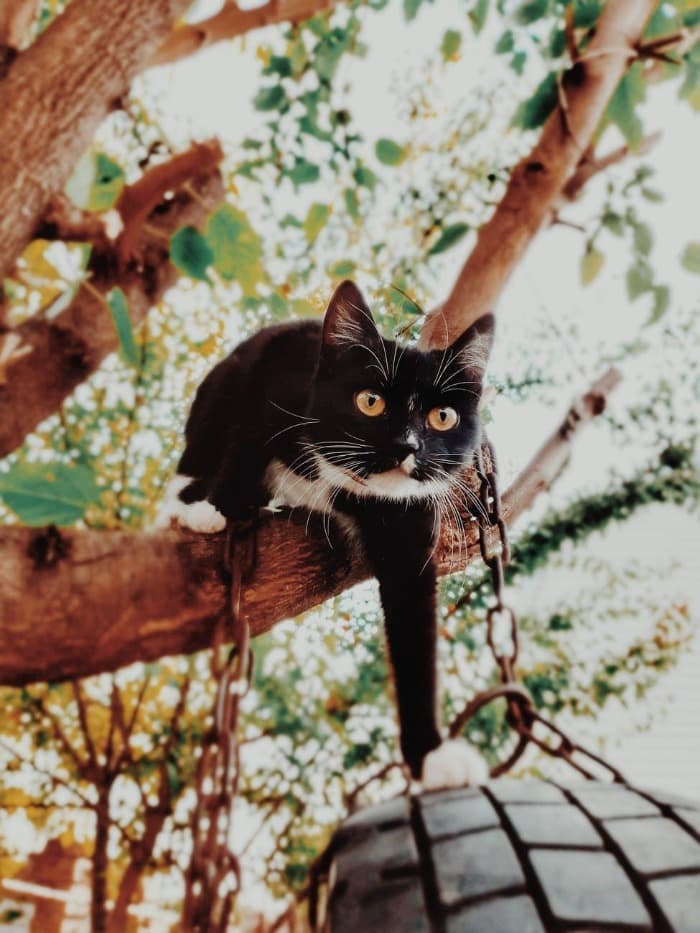 Naming your black and white kitten is one of the most exciting processes. If you have brought a bundle of joy home, be sure to choose the best name for him.
Get inspired by his look, personality, or both! Here are boy cat names black and white you are welcome to use.
Tatsuki – one of the black & white kitten names; means "honor".
Taeko – means "brave".
Domino – one of the most popular boy cat names.
Hiroshi – means "generous".
Kimi – for a noble cat.
Bessie – great for a white cat with black spots.
Frostbite – name your cat if he has white tips.
Eightball – great for fluffy black and white kittens.
Bogart – for a black and white spotted cat.
Oscar – if he is a real star in your life.
Chaussette – if you have a great sense of humor, choose this name.
Eclair – a great name for active and playful cats.
Whityblack – cute nickname for smart cats.
Gismo – for a cat with a spotted pattern.
Nero – means "black" in Italian.
Maestro – for curious and sociable cats.
Yin Yang – if your cat makes your life harmonious.
🍲 – Best Homemade Cat Treats Recipes
Female Cat Names
Sara – the name means "blossom"; it suits affectionate cats.
Precious – if she holds a special place in your heart.
Maggie – means "pearl"; suits a tender kitty.
Spicy – if she is playful and fancy.
Autumn – one of the best

white cat with black spots names.

Ember – for a glowing and friendly cat.
Shady – if her coat has mostly dark black shades.
Godiva – if she has luxurious fur.
Morticia – the character from "The Adams Family"; the name for a piebald cat.
Fifi
Lori
Sophie
Tess
Minnie
Lollipop
Ladybug
Magic
Odette
Unique Food-Inspired Names
Chip – one of the best names for black and white cats with green eyes.
Cookie – great for a cat that loves cookies.
Cupcake – great for a cat with a sweet personality.
Espresso – for a cat with dark brown spots.
Milkshake – for a kitty with a long coat and black spots.
S'more – suits a playful feline.
Sundae – a popular street food in Korea.
Cute Clothing-Inspired for Bicolor Cats
Bicolor cats look like they are wearing black tie formal wear. They look super sweet and cute, so choose the most adorable tuxedo cat names with meanings.
Bow Tie
Vintage
Bandit
Professor
Alfred
Chess
Butler
Boots
Sneakers
Mythological and Warrior Names
Check out these warrior and mythical names for your feline companion.
Senshi
Bastet
Nakano
Gladiator
Hercules
Odin
Storm Cloud
Maverick
Nightstorm
Lightning
Sith
Silverpaw
Redstar
Dark Wing
Snowpaw
Ares
Cartoon & Game-Inspired Cat Names
Felix
Sylvester
Sebastian
Mooch
Penelope
Pongo
Snoopy
Mickey
Orca
Whaley
Soccer
Chess
Domino
Ace
Funny Names For Black Cats With White Spot and Paws
Monty
Cindy Clawford
Oprah Whisker
Chairman Meow
Sunspot
Astaire
Chanel
Cupcake
Duke
Emperor
Figaro
Inky
Jazz
Kiss
Luna
Obsidian
Choosing the Best Black and White Cat Name
Are black and white cats special? Definitely! Therefore, they require special love and a special name, and in this case, the sky is the limit. Finding a win-win option can be quite a hassle, that is why we want to share with you some tips.
Consider not only your cat's patterned coat but also his personality. Is your cat feisty, playful, sassy, or lovely? The name should emphasize his unique personality.
Consider your hobbies or interests when choosing the name. Get inspired by your favorite book characters, movie or cartoon heroes, musicians, or pop stars.
Check the classic variants and the latest trends. Probably, you will find something you will enjoy saying.
Overall, just have fun with this process, listen to your kitten (maybe he will choose the name himself), and follow your heart to find a special moniker that will be dear to your heart and your feline friend will love.
Trends in Black and White Cat Names
Many of the world's most creative minds kept black and white cats as pets. That fact alone speaks volumes about your character! Tuxedos were popular among Shakespeare, Beethoven, and Sir Isaac Newton. In that spirit, how about naming your cat Maestro?
There have been several portrayals of this beautiful feline due to the increasing popularity of black and white cats. There will always be fictional characters to name your black and white cat after, from Felix to Figaro. There are numerous creatures that look like these cats. Panda, Orca, and even Pepe Le Pew are excellent names for a black and white cat.
You may also like:
What Smells Do Cats Hate the Most?
Here's Why Your Cat Sometimes Sticks His Tongue Out
Common Cat Sleeping Positions & What They Mean