Many caring pet owners are often interested in resolving one serious question on how to stop hairballs in cats. It is worth noting that this is an absolutely natural process. And you as your feline's Mom and Dad should only help your buddy cope with any unpleasant sensations these furballs bring to their life.
One of the great ways to do this is to pick sides with the best-matching cat food for hairballs. This way you will stop the regular vomiting and nausea of your bewhiskered friend. Find out other ideas and tips on how to help a cat with a hairball.
Do you want to find a cat food that is meant for cats that lose hair regularly? Let's take a closer look at the premium feline nutrition plan based on wet and dry goods of the trusted brands. Here is a list of top hairball control cat food to take into account if you have a fluffy kitty who lives indoors.
A Quick Comparison of Our Favorites
Rating
Photo
Cat's Food
Bullet Points
Price
Best Choice

Blue Buffalo Indoor Hairball Control

Natural taste

Free from preservatives

15-lb bags are available

Protein-rich

Premium food to control hairballs

Check Price

Best Price

IAMS ProActive Health Hairball Care Cat Food

High-fiber dry cat food

Natural chicken taste

Affordable price

Recommended for young cats (+1 year)

Free from preservatives

Check Price

Best Among Premiums
Hill's Science Diet Hairball Control

Urinary care & hairball control

Natural contents

Medium-fiber and protein cat's food

No artificial flavors

Check Price

Best for Kittens

Blue Buffalo Wilderness Chicken Hairball 

Extremely rich in proteins

Maintains kittens' health

No artificial components

Natural chicken taste

Check Price

Best for Balanced Nutrition

Solid Gold Chicken & Coconut Oil Canned Cat Food

Balanced nutrition

Vitamin-rich canned food for adult cats

Rich in amino acids and fiber for high-quality hairball control

Check Price
The 9 Best Cat Foods for Hairballs
Premium cat food is about your feline's healthy skin, digestive tract, fur, and various internal processes in the organism. Your pet will not lose hair much and get rid of other health issues if you choose a perfect dietary plan.
Here is a list of the best hairball control cat food with a positive impact on the cat's stomach, appearance, and overall health.
Blue Buffalo Indoor Hairball Control Cat Food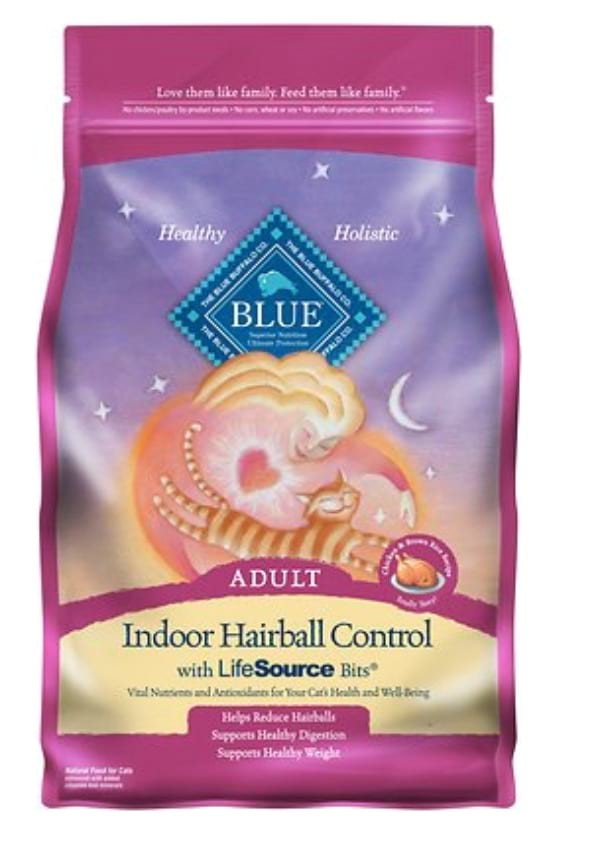 Type of the cat food

Dry

Protein & Fiber percentage

Fiber 6%

crude protein 32%

Feline's age

Adult
When it comes to buying high-quality hairball control dry cat food, consider the best choice for today. This is a great solution in terms of cost and ingredients. The food is enriched with a variety of nutrients that improve the digestive system of cats which is so necessary for the healthy development and prevention of hairballs.
Blue Buffalo Hairball Control Indoor is perfect for adult felines to help them with furballs and improve their overall health. This is the best cat food due to its protein-rich contents, affordable price, and convenient packing. It is possible to buy 3, 5, 7, or 15-pound packs with dry and healthy treats for your pet.
This is premium hairball remedy cat food without artificial flavors. Most kitties are in love with its natural chicken meal taste. Be sure that your feline friend will go crazy with these treats too.
PROS
Protein-rich
Convenient packaging
Easy to transport and keep (dry cat food)
Medium-level fiber contents
100% natural ingredients (chicken)
No preservatives and artificial flavors
CONS
For adult cats only
Mono-ingredient (real chicken) cat dry foods
IAMS ProActive Health Hairball Control Cat Food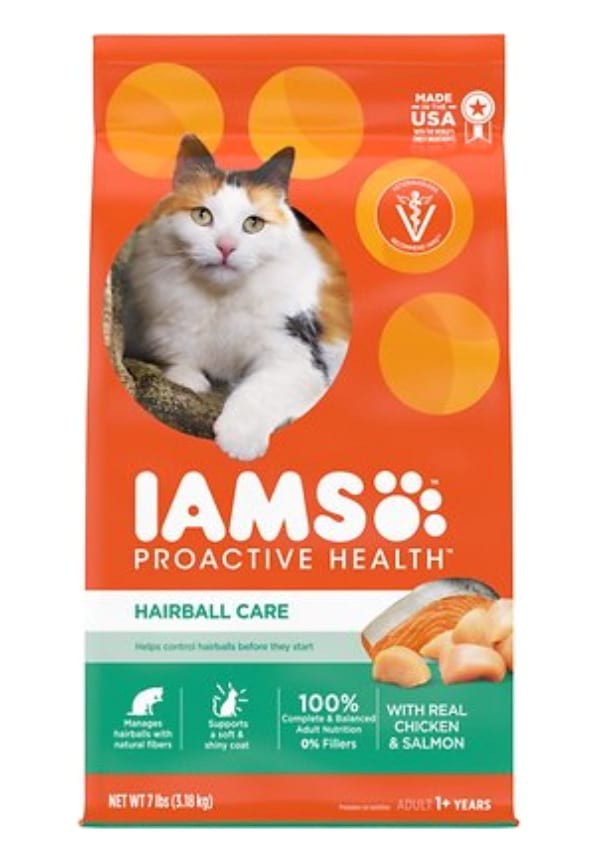 Type of the cat food

Dry

Protein & Fiber percentage

Fiber 8.5%

crude protein 32%

Feline's age

Adult (+1 year)
In search of cat food hairballs control, to save and get the desired result, pay attention to this dry cat food by IAMS. The price and quality will pleasantly surprise you. With each serving, your feline receives enough fiber and proteins.
There are chicken or salmon flavors available to order. A wide range of packaging variants is presented – from 3 and up 16 pounds. This is the best hairball treat for cats with the mono-ingredient dietary plan. It is comfortable to switch from the nutrition required for kittens to this cat healthy food. IAMS Cat Food Hairball Control is suitable for he-cats and she-cats from the age of 1 year.
PROS
Protein and fiber-rich
Convenient packaging
Two available tastes (salmon and real chicken)
Both for young and adult cats
No preservatives and artificial components
CONS
Possible allergic reactions to salmon
Mono-ingredient pet food
Hill's Science Hairball Control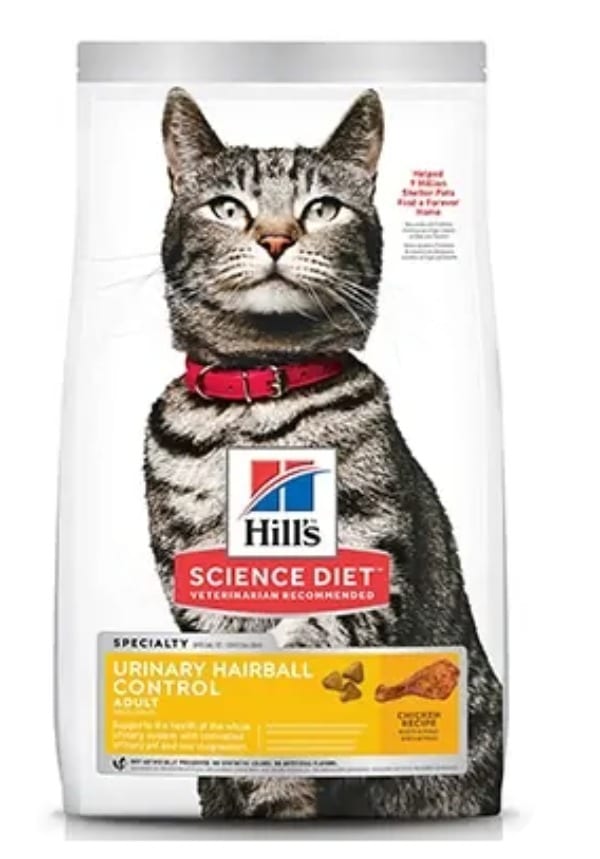 Type of the cat food

Dry

Protein & Fiber percentage

Fiber 6.5%

crude protein 29%

Feline's age

Adult 
Your cat will forget about the issues of hairballs, and improve the condition of the urinary system at once with such a dietary plan. The mono-ingredient chicken content guarantees a sufficient amount of nutrients such as fiber and proteins.
The Hill's Urinary & Hairball Control is the best solution to the issue of your pet's digestive system. It is the best cat food for hairballs and vomiting. Antioxidants and nutrients contained in food have proven their huge role in removing and preventing lumps from hair.
PROS
Medium-level protein & fiber contents
Urinary care together with hairball control
Premium ingredients with zero preservatives
No artificial components and no corn gluten meal
Natural chicken taste
CONS
Premium pricing
Mono-ingredient pet food
Blue Buffalo Wilderness Chicken Hairball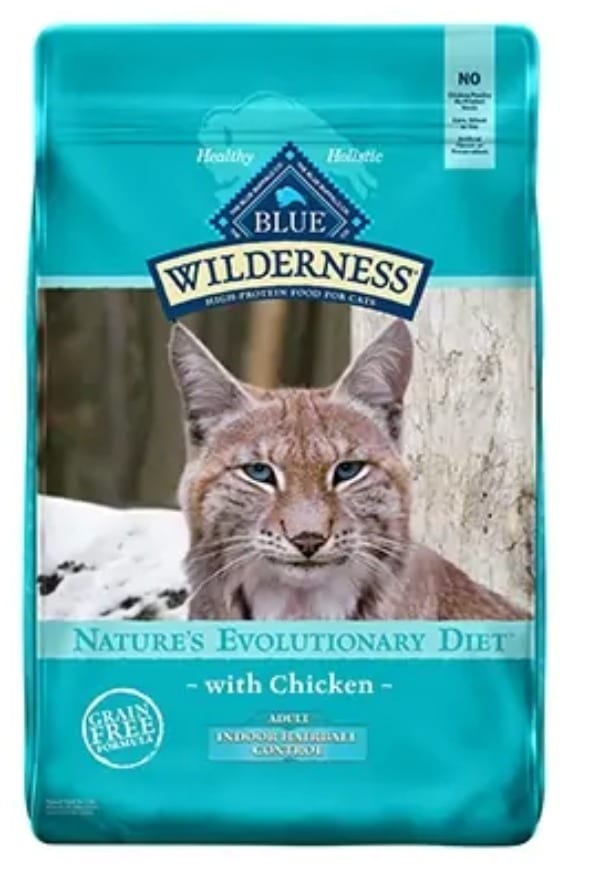 Type of the cat food

Dry

Protein & Fiber percentage

Fiber 5%

crude protein 38%

Feline's age

Kittens
This is well-known hairball prevention food for kittens. Each serving contains a required norm for bewhiskered babies to grow active and healthy. From a small age, your feline will not have any problems with cat's hairballs if you count on Blue Buffalo Hairball Control (Wilderness Chicken edition).
It is not a special line for young animals but includes a large amount of crude protein, which contributes to excellent care for them. It is rich in fiber which improves digestion and prevents hairball formation. Great combination of price and quality, as well as food for long-haired cats.
PROS
Highly rich in proteins
Affordable pricing
Natural chicken taste with zero preservatives
Long-haired friendly dry food
Maintains kitten's health
CONS
Poor in vitamins and minerals
Medium-level fiber contents
Only small (5 lb) and medium (11 lb) packs are available
Solid Gold Tropical Blend Chicken & Coconut Oil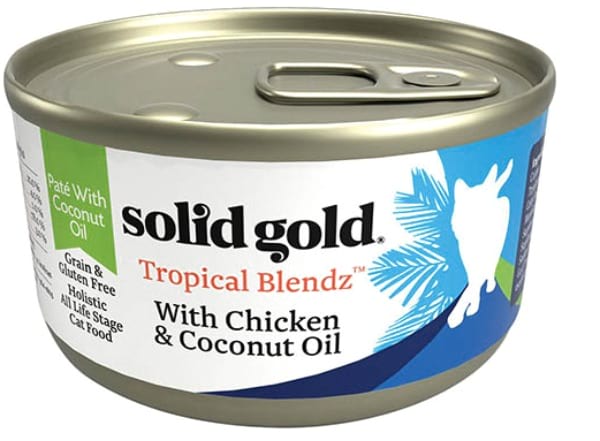 Type of the cat food

Canned wet food

Protein & Fiber percentage

Fiber 5%

crude protein 35%

Feline's age

Kittens & adult cats
If you are searching for wet food for hairballs, take a closer look at these canned treats. Its contents will impress with a range of nutrients and healthy fats to exclude internal health issues, including inflammatory bowel disease. Additionally, Solid Gold is rich in natural fiber that is required for your cat's healthy skin and coat.
This premium pate includes chicken, vegetables, and coconut oil. All these ingredients help move excess hair through the gastrointestinal tract. These best cat foods do not contain soy, gluten, or offal. The variety of tastes (besides chicken meal) is rather rich too.
PROS
Totally balanced food
Canned hairball control food
Natural fibers and amino acids
Vitamin and mineral-rich contents
Suitable for any feline's age
No soy and corn gluten meal
CONS
High pricing
Some pets dislike its taste
Purina ONE Hairball Adult Formula Dry Cat Food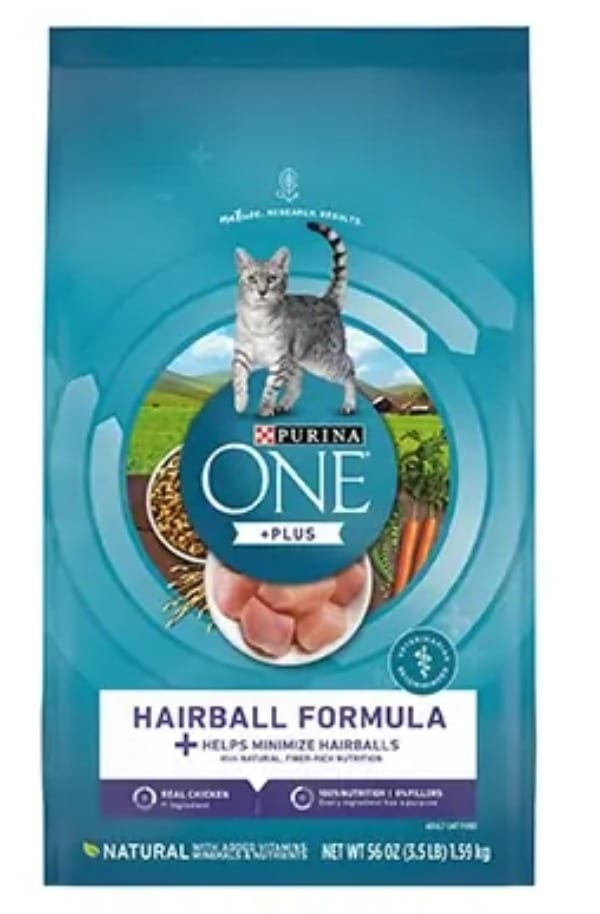 Type of the cat food

Dry

Protein & Fiber percentage

Fiber 4.5%

crude protein 34%

Feline's age

Adult
This is one of the most affordable cat foods that prevent hairballs. Although it does not have as many positive vignettes as other feeds, it is superior to simple cat foods. Looking at the fiber content of about 5%, this product is still a better solution than ordinary control cat food.
The content of Purina Hairball Formula Plus is enriched with calcium and a huge amount of protein. There is a portion of wholesome grains to make your pet's nutrition plan well-balanced.
PROS
Balanced and high quality food
Canned hairball control food
Natural fibers and calcium
Protein and mineral-rich contents
22 lb. packs are available for the bulk order
CONS
Medium-level fiber content
Does not fit for outdoor cats (for indoor cats only)
Honest Kitchen Dehydrated Cat Food for Hairballs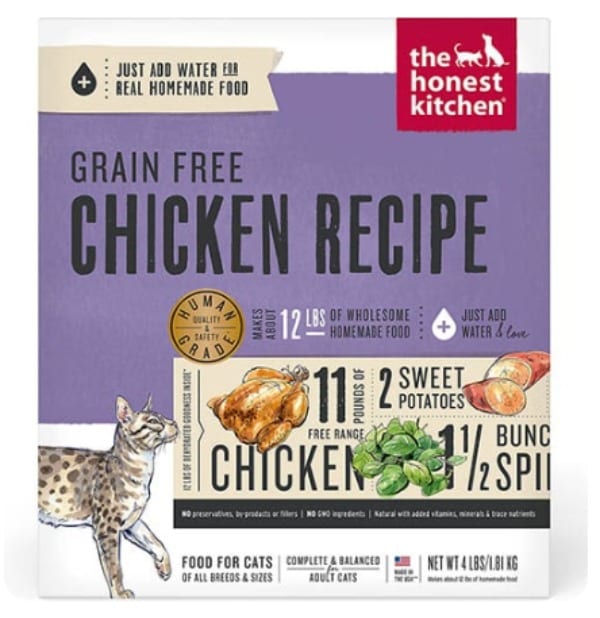 Type of the cat food

Dry

Protein & Fiber percentage

Fiber 4%

crude protein 30%

Feline's age

Adult
This is one of the best dehydrated hairball control cat food. It does not contain gluten but is filled with numerous nutrients. Your pet will stay pleased with the taste of this homemade food. This product is recommended for allergic felines. Mix the powdered dry cat food with warm water. The serving is ready – vegetables and poultry will satisfy your bewhiskered buddy.
PROS
Chicken by-product meal
Taste of homemade food
Liquid consistency & natural fiber
Premium powdered ingredients
CONS
Medium-level fiber and protein content
Most cats difficulty adapt to dehydrated only-cat food
Hill's Science Diet Adult Cat's Hairballs Control Canned Food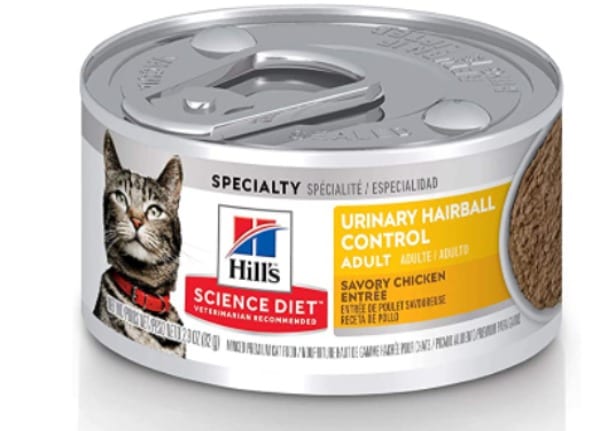 Type of the cat food

Wet

Protein & Fiber percentage

Fiber 4%

crude protein 7%

Feline's age

Young & adult
As Hill's Science Diet dry cat food, canned jam-like treats of the same brand is one of the best meals every willing cat consumes. The benefit of this product is its doubled power. First, it's great efficiency against hairballs. Secondly, this is urinary care. Felines prefer Hill's Science Diet for its savory chicken meal in the form of vitaminized pate. Additionally, 5% fiber and 7% protein help to deal with hair lumps.
PROS
Chicken savory taste
For young, adult, senior felines at once
Urinary & anti-hairball care
Premium ingredients
CONS
Medium-level fiber content
Low-level protein content
High pricing
Greenies Feline Smartbites Hairball Control Cat Treats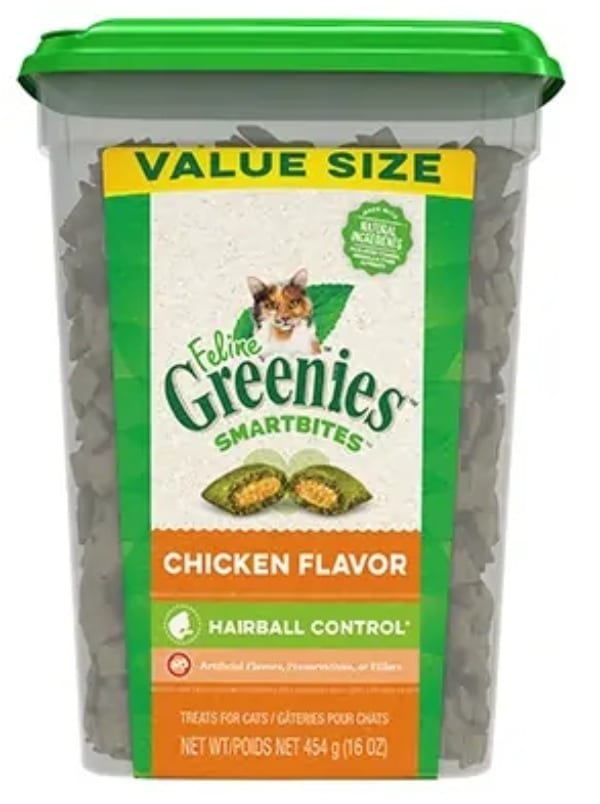 Type of the cat food

Wet

Protein & Fiber percentage

Fiber 6.5%

crude protein 29%

Feline's age

Young & adult
Everyone loves treats, especially children and pets. Your cat ownership is similar to having a baby who wants some goodies all the time. Here are yummy but healthy treats for bewhiskered buddies.
It is far from the best overall cat food. Nevertheless, these "smartbites" will come in handy for hairball control and extreme molding prevention. Greenies treats contain many minerals, vitamins, and nutrients to let your pet have a healthy bite.
PROS
Better cat's skin and fur due to vitamins, nutrients, and minerals
For young, adult, senior felines at once
Anti-hairball care
Value size for numerous servings
Hairball control
Chicken taste
CONS
Medium-level protein content
Only treats, not for a complete dietary plan
What Are Hairballs in Cats?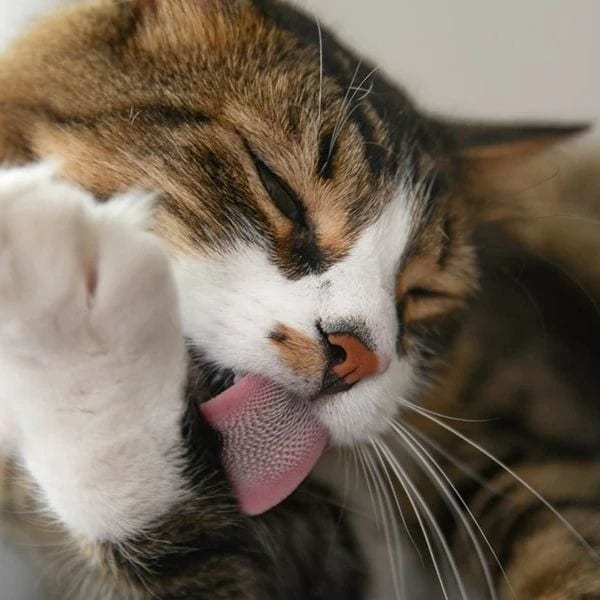 Hairballs are unpleasant lumps of hair in the form of a cigar. When it enters the cat's esophagus, it takes the form of a ball and gets into the stomach. This is unpleasant but very common among your bewhiskered pets. Furballs are disgusting and can cause much discomfort to the feline.
In fact, hairballs are a great danger and a real challenge for owners of fluffy buddies. You need to be prepared for the fact that you will face this issue. Thus, only bald breeds like Sphynx can avoid problems with the dead hair removal.
What Causes Hairballs, and Are They Dangerous?
Cats form hairballs because they lick their fur on their own. Thus, having small notches on their tongues, they affect the hairs and swallow them when they shed. Therefore, a pack of fur poses a serious threat to the health of indoor cats.
When a cat tries to get a lump out of its throat, it starts coughing and choking. And this should not be neglected. The real danger for your pet really exists. For example, various digestive issues can take place together with dehydration of the feline organism.
How Often Should Cats Get Hairballs?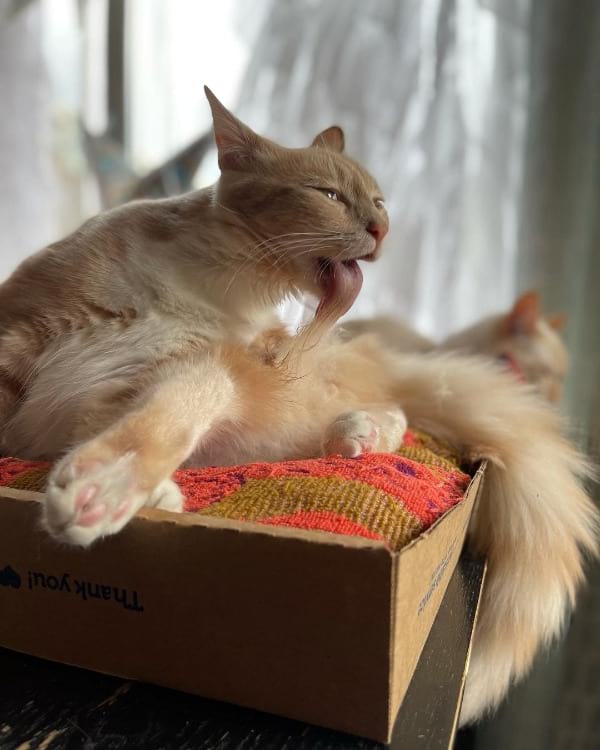 Hairballs appear in cats from time to time, about once a month. These balls of dead compressed hair are created frequently and often come out naturally. Pay attention to the balanced nutrition and care of your cats. Buy the best hairball cat food to maintain your cat's health. However, if this does not help, visit a competent vet and check your pet's digestive health.
How to Tell If Your Cat Has a Hairball?
Distinguishing whether your cat has a tangle of hair or just coughs, is difficult to determine even from a veterinarian. But it should be noted that repeated vomiting, diarrhea, and loss of appetite may mean that you need to help your pet. Often such cases lead to gastrointestinal obstruction and require surgery. Be very careful and cautious!
How to Prevent Hairballs
Cats have very beautiful and shiny fur due to the fact that they pay great attention to their cleaning, about 4% of their life. Therefore, it is impossible to completely prevent the formation of tufts of hair, but following some recommendations can help them:
Plan regular haircuts.
Clean the cat's fur yourself.
Give special anti-hairball cat food to prevent the formation of lumps of hair.
Take a closer look as caring pet parents at our best choices for your bewhiskered friends. The blend of premium components in the cat foods for hairballs will help your feline cope with hairballs and stay healthy.
How to Choose the Best Cat Food for Hairballs
Select the best hairball control food for cats very carefully. Most pet shops offer qualitative balanced nutrition for felines of any age and other qualities. If you need a high-fiber cat's dietary plan, try mixing canned pumpkin and plantain leaves while cooking DIY food for felines. This is a great natural fiber blend for your pet.
Natural fibers promote better digestion and removal of lumps of hair from the body of cats. Use only 2 percent of canned food in the diet of cats and 10 percent of dry food containing fiber. But try not to overdo it with nutrients.
Other Hairball-Prevention Options
To reduce the formation of balls of hair, you must follow these rules:
Add fish oil that is rich in amino acids to food at least 1-3 times a week.
Avoid feeding your feline with wheat gluten products and goods with artificial flavors.
Carefully and often comb the hair of your feline for hairball management.
Remove excess hair with a brush regularly and visit groomers if your pet is too fluffy.
Control your cat's diet and add digestive enzymes to it.
1 teaspoon of olive oil every week will promote better digestion.
Add wet food to the cat's diet to prevent the hairball formation and their removal.
Additionally, your pet can require intensive hydration and care. Love and give your furry friend more attention if the hairball issue disturbs your pet. Consult your vet about a new diet based on the premium nutrition plans you can find in the pet shops.
FAQ
What Foods Help Cats with Hairballs?
For cats, a hypoallergenic diet will help in the fight against feline health issues like kitten hairballs. Often this is food sold in veterinary shops with special markings for the cat's digestive tract.
The nutrition plans that help caring owners to control hairballs can vary. It is possible to choose dry food with vitamins and required antioxidants or other premium treats with a protein base. Also, anti-hairball foods can be served in the form of a pate. It will help to remove any useless and dead hair from the feline organism.
Is Wet Cat Food Better for Hairballs?
Yes, absolutely. Since the wet food is soft, it will pass faster and more efficiently. This consistency of feline treats even can prevent the organism from forming hairballs. Cats fed wet diet / canned foods will have fewer hairballs. Especially, if we speak about special nutrition plans with such ingredients in the pate like Omega 3 and other fatty oils.
Does Hairball Control Food Work?
It is important not to forget that the feline is being treated. A cat hairball diet that is designed to fight hairballs is short-term. If your cat feels better, it is important to switch to a portion of regular food as soon as possible to avoid any addictions. But today's premium cat foods are possible to use on a regular basis. Check the list of components to be sure that your pet gets a daily norm of nutrients and microelements besides anti-hairball active agents.
Where Can I Buy Hairball Cat Food?
Products to help your cat deal with hairballs can be found at veterinary shops or clinics. Additionally, you can order nutrition online from the appropriate pet stores. Buy only certified foods with high-quality ingredients not to cause even more serious problems than difficulties with the dead feline hair removal.
Can Cats Poop Out Hairballs?
Dead hair that has entered the intestinal tract is partly excreted in the cat's feces. But approximately its half is also left in the digestive tract of your feline. While being compressed, hairballs appear in the cat's organism.
Pooping of dead hair and the process of hairball removal can take place once or twice a week (it's normal). If your bewhiskered pet is disturbed by hairballs more often, a special diet is required.
Can Cats Die From Hairballs?
There is such a thing as trichobezoar which means a large accumulation of dead hairs in the feline stomach. This can cause intestinal blockage and the cat will suffocate to death. Do neglect any serious signs of the cat's health problems. Hairballs can be dangerous for your pet.
What Home Remedy Can I Give My Cat for Hairballs?
The best cat hairball remedies are caring parents and a good diet. But sometimes you can give your cat some tuna or sardines, especially canned ones. Here, there are many fatty oils that help the feline organism to remove dead hairs.
You can also add a teaspoon of melted butter or olive oil to your cat's food once a week. Experts also advise using a method such as dipping a cat's paw in petroleum jelly. These home remedies can help your pet to feel better.
Bottom Line
How can I help my cat with hairballs? Pay attention to your feline's grooming routines if your pet is rather fluffy. This way your bewhiskered buddy will lick less fur and have fewer problems with the cat's digestive system caused by hairballs. Additionally, pay your focused attention to the nutrition plan of your beloved pet companion. We have reviewed the best hairball control cat food while comparing all the pros and cons of these possible variants for your felines. Consult your vet if you are still not sure what diet will be the most optimal for your pet. Note that both dry cat food and wet food for felines obtain their own benefits. Additionally, you should remember that your pet can have its own tastes and favorites. Try some hairball control cat foods to see the first result and estimate your kitty's appetite. Always buy suitable nutrition! Mention that you should choose the right cat food only. Your sterilized feline requires one set of microelements and vitamins. While adult cats or kittens need another range of nutrients for their strong health.
To sum up, what is the best cat food for hairball control? According to customers' reviews and ratings on Amazon and Chewy, the top choice is Blue Buffalo Indoor Hairball Control. This is high-quality cat food free from artificial preservatives but rich in nutritive elements like vitamins, proteins, and oily fats. Check other our favorites we observed like Hill's Science Diet, Honest Kitchen, Purina Hairball Formula, etc.