Low protein cat foods are extremely important for cats with chronic kidney disease (CKD) as CKD can make a cat nauseous and decrease its appetite, as well as make it drink and urinate more. When it eats protein, it's more difficult for its kidneys to process the waste that comes with it, meaning more toxins accumulate in its blood. So, senior cats or felines with kidney and liver disease, should have a low protein intake or consume food, rich in highly-digestible proteins. If you are clueless when it comes to a low residue diet for cats, we've got you covered. In this article, we will explain why your feline friend needs less protein, how to choose the best low protein cat food, and share a review of the best cat foods for felines with kidney failure.
Why Is Protein So Important For Cats?
Cats are carnivores and require protein in their diets more than other animals. Cats are unable to efficiently digest carbohydrates. As a result, they require amino acids. These amino acids must be derived from protein in their diet. Specialized enzymes in the cat's liver allow the cat to synthesize amino acids from fat and carbohydrates. Therefore, cats can effectively use carbohydrates as energy sources, but cannot convert them into amino acids. This is why cats require a source of protein in their diet.
How Much Protein Does A Cat Need?
Cats are dependent on protein to survive. To make sure your cat gets all the protein it needs, feed it food that is at least 25% protein, which is about 2% of its weight. So for a 3-pound cat, only about half a cup of dry food a day would meet its protein needs. There are many protein sources for cats, including dry food pellets and wet food. Wet food usually has more protein but also more calories. While it's not necessary to count calories, just be aware of how many calories your cat is consuming and make sure they're meeting their calcium needs. Besides, you can also add fish to the cat's food to increase the protein count.
A Word About Protein Bioavailability
The composition of the food on the label indicates how much crude protein is in the food, but this information says nothing about how much protein the cat will digest. In that case, it all depends on the digestibility and bioavailability of the food. Food can contain different types of protein with different digestibility. For example, a protein that is 67% digestible is only 16 grams of usable protein. Protein bioavailability is a crucial part of feeding your cat well, but it's unclear which protein sources are the most bioavailable for cats. Without a complete understanding of how cats utilize protein, it's impossible to say which protein sources burn the cleanest.
What Happens If You Give Your Cat Too Little Or Too Much Protein?
In cats, most of the excess protein in the cat's diet is excreted with the urine. If you give your cat too much protein, it may urinate more than usual and may even drink more water. If you give your cat too much protein, it can cause kidney disease.
What happens if you give your cat too little protein? If you give your cat too little protein, it can lead to muscle loss, and you might notice that your cat is having trouble moving and exercising.
What is Low Protein Cat Food? Why to Choose Low Protein Pet Food?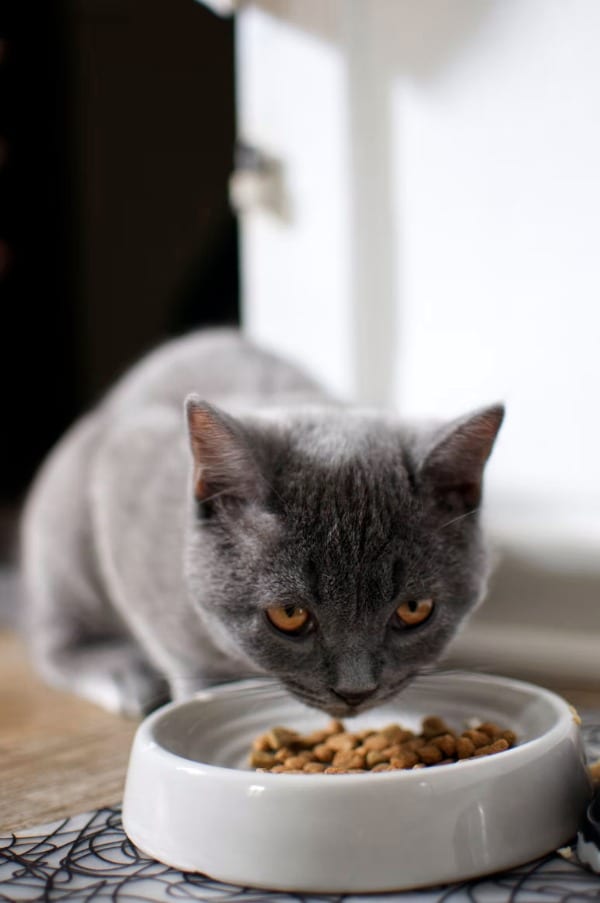 Like all carnivores, cats need protein to be healthy. However, too much protein can cause kidney and liver problems. In this case, a feline needs low protein cat food to improve kidney health and help the cat maintain a healthy weight. Besides, the lowest protein and lowest calorie cat food features various tastes and flavors, catering to even the pickiest kitty.
Does Your Cat Need Low-Protein Cat Food?
Adult cats with kidney and liver issues, as well as senior cats will benefit from eating less protein as ​​protein produces nitrogenous waste, which could place a burden on the kidneys or other organs. In any case, you should consult a vet to get the necessary advice and a list of prescription foods. Below, we will briefly consider groups of felines that need protein restriction.
Cats With Kidney Disease
Kidneys process nitrogenous waste caused by protein, so cats with kidney disease can't digest protein as healthy felines, which results in protein build-up in their bloodstream. In this case, felines should consume the lowest protein meat, stick to low protein diets, and eat foods without protein or with the lowest protein content. Another k/d cat food alternative is foods with high-digestible protein.
Cats With Liver Disease
The liver removes toxic byproducts of poor-quality protein digestion, which can lead to liver dysfunction. In this case, it is advisable to feed the pet food rich in easily digestible protein.
Senior Cats
Older cats are at risk for kidney disease, so they are better off eating foods with easily digestible protein to maintain overall health.
Risks of Low Protein Diet For Cats
For any typical cat, a low-protein cat diet is typically not the greatest choice.
High protein diets are generally preferable for your feline buddy since they support things like energy generation, weight control, and a decreased risk of obesity.
Without your veterinarian's advice, switching to a low-protein cat diet might have negative effects.
As obligate carnivores, cats rely on high-quality sources of animal protein for the majority of their nutrition. A typical cat may experience concerns with weight loss and starvation if fed low-protein cat food.
If your cat's regular meals don't include enough of the nutrients it needs (such as protein), it may end up overeating to make up the difference. This raises your cat's risk of gaining weight and obesity, which causes a number of additional issues.
A cat's diet must include protein. Your cat's organs and overall health might suffer significantly if you don't provide them with adequate protein. Always ensure that you feed your cat according to your veterinarian's advice.
How To Choose The Best Low Protein Food For Cats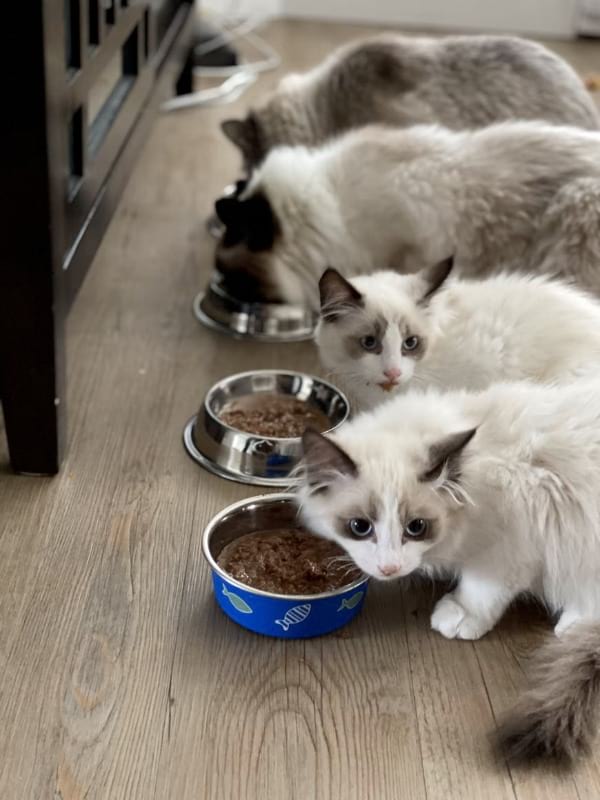 If you don't know which foods low in protein to choose, pay attention to these pointers to pay your attention to.
Protein Levels
To improve kidney function and stimulate your amigo's appetite, go for foods with a protein content of 28-35%.
Phosphorus Levels
Phosphorus stops the development of the disease. The content of phosphorus in terms of dry matter should be 0.3-06%.
Sodium Levels
Excess sodium impairs kidney function and raises blood pressure. The sodium content should be ≤0.4%.
Essential fatty Acids and Antioxidants
Omega-3 fatty acids and antioxidants reduce inflammation and slow the progression of the disease. Also, they improve the condition of muscles, joints, coats, and skin.
Top 8 Best Low-Protein Cat Foods Reviewed
Non Prescription Low Protein Cat Food – Weruva TruLuxe Grain-Free Natural Canned Wet Cat Food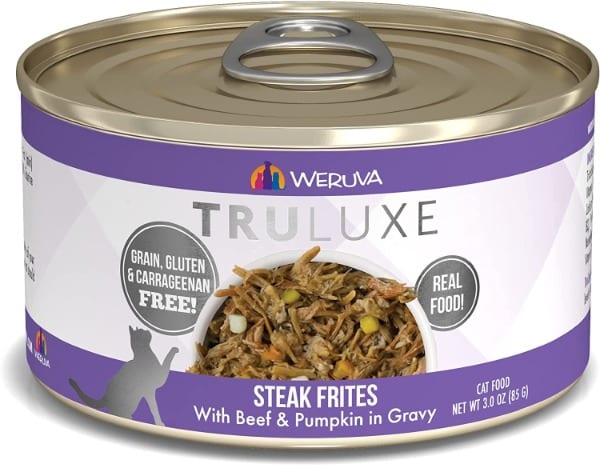 Main Ingredients: Beef Broth, Beef, Pumpkin, Sweet Potato, Potato Starch
Find on: Amazon, Chewy
This enticing gravy in every gourmet recipe features everything your little carnivore can strive for. This balanced meal in a can is grain-free, has zero GMOs or MSG, so it is fully safe for feline health. Besides, steak frites from Weruva offer a unique blend of essential amino acids, minerals, and essential vitamins for healthy well-being. Also, this food is rich in taurine, which supports heart and vision health. Cat parents say that this is one of the best non-prescription foods for cats with kidney problems due to its low phosphorus and protein content.
Pros
The main protein sources are grass-fed beef and pumpkin.
This food is low in carbs.
It doesn't contain harmful additives.
Contains high quality protein.
Contains enough moisture to keep your kitty hydrated.
The flavor is great.
Weruva Truluxe steak frites low phosphorus cat food is available in 3 oz and 6 oz cans.
This cat food is made from human-edible beef mixed with a variety of plant ingredients (carrot, pumpkin, and potato starch).
Cons
This low protein wet food isn't suitable for diabetic cats.
Some pat parents claim that this food isn't an option for picky eaters.
It is pricey.
Best Cat Food for Kidney Disease – Blue Buffalo Natural Veterinary Diet K+M Kidney + Mobility Support Grain-Free Dry Cat Food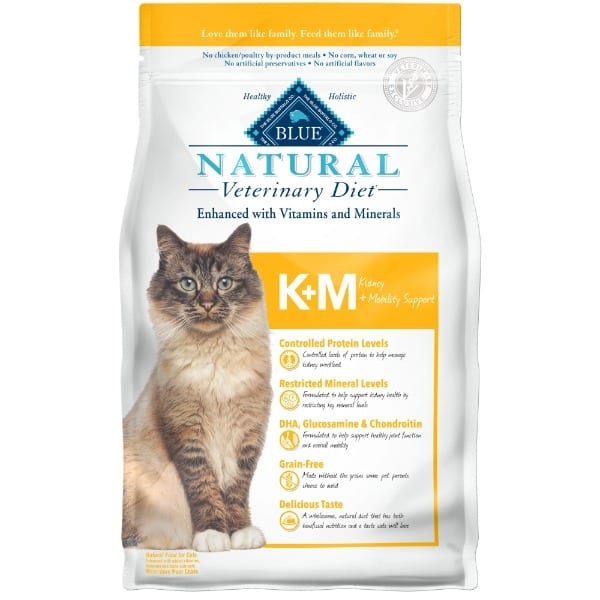 Main Ingredients: Deboned Chicken, Peas, Pea Starch, Potato Starch, Dried Egg Product
Find on: Chewy
This natural diet features a controlled level of protein to contribute to the healthy feline's kidney function. This grain-free formula is packed with the essential vitamins and minerals for a healthy coat and glucosamine and DHA that maintain healthy joints. Besides, a pleasant flavor and delicious taste won't leave your furry friend indifferent.
Pros
The main source of high quality protein is real chicken.
Controlled levels of sodium and phosphorus maintain healthy kidneys.
This low phosphorus dry cat food is enhanced with DHA, glucosamine, and chondroitin to keep your feline energized and mobile.
This grain-free vet recommended cat food is great for pals with sensitive stomachs.
This low protein diet for cats ​​doesn't contain corn, wheat, soy, gluten, or by-products.
The price-quality ratio is great.
Great for all life stages.
Cons
This prescription food isn't suitable for picky eaters.
This food is available only in one flavor.
Best Wet Cat Food for Kidney Disease – Hill's Science Diet Wet Cat Food, Adult 7+ for Senior Cats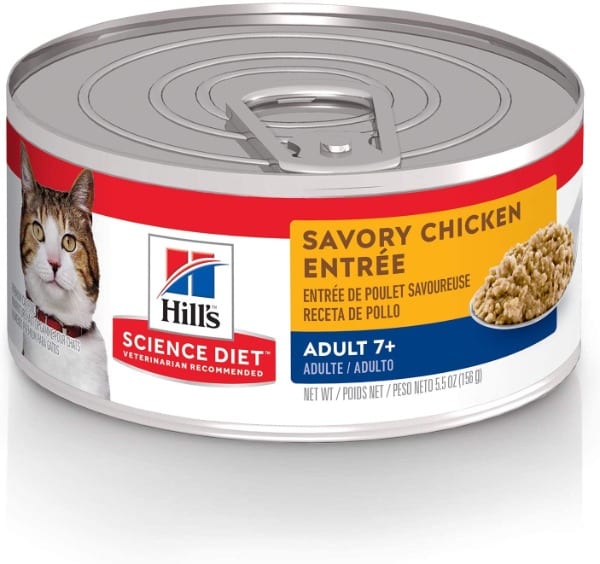 Main Ingredients: Water, Chicken, Turkey Giblets, Pork By-Products, Pork Liver
Find on: Amazon
This high-quality low phosphorus canned cat food helps senior cats maintain healthy kidneys, lean muscle, and healthy digestion. The first ingredient in this wet food is real chicken, which is a high-quality source of crude protein. This easy-to-digest formula contains antioxidants and C and E vitamins for a strong immune system.
Pros
Crude protein and antioxidants help mature cats maintain healthy joints and muscles.
This low protein cat food for older cats is great for pets with urinary blockages.
This food comes in various three flavors to make sure all picky eaters will love it.
Supports the feline's immune system.
Cons
This low protein senior cat food is expensive.
This low protein canned cat food contains grains.
Finicky cats don't like the flavor.
Some pet parents claim that the consistency is patchy.
Best Cat Food Cat Food Low in Phosphorus and Magnesium – Purina Pro Plan Gravy Chicken Entrée Urinary Health Tract Cat Food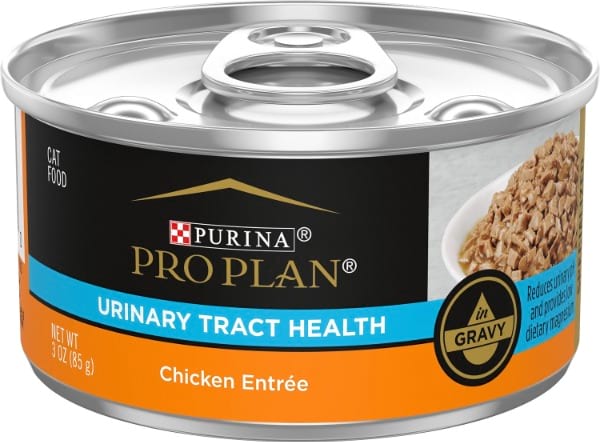 Main Ingredients: Water, Meat By-Products, Chicken, Wheat Gluten, Corn Starch-Modified
Find on: Chewy
This low protein wet cat food supports your kitty's urinary tract health because it reduces urinary pH. This soft cat food with gravy offers an optimal nutrient meal with a yummy taste young and adult kitties will love. Besides, the healthiest cat food by Purina contains omega-6 fatty acids for a glossy coat, essential amino acids, vitamins, and minerals (phosphorus, calcium, and taurine) to nourish feline's health.
Pros
This food features real chicken as highly digestible protein.
This soft cat food with gravy is packed with all the necessary minerals and vitamins that support your feline's health from nose to tail.
It doesn't include artificial preservatives.
Calcium and phosphorus contribute to strong bones.
Great for cats prone to urinary crystals.
Cons
Some pet parents complain that this food isn't suitable for sick cats with sensitive stomachs.
For some buyers, the smell is too strong.
Best Low Protein Cat Food for Kidney Disease – Hill's Prescription Diet c/d Multicare Urinary Care Cat Food, Veterinary Diet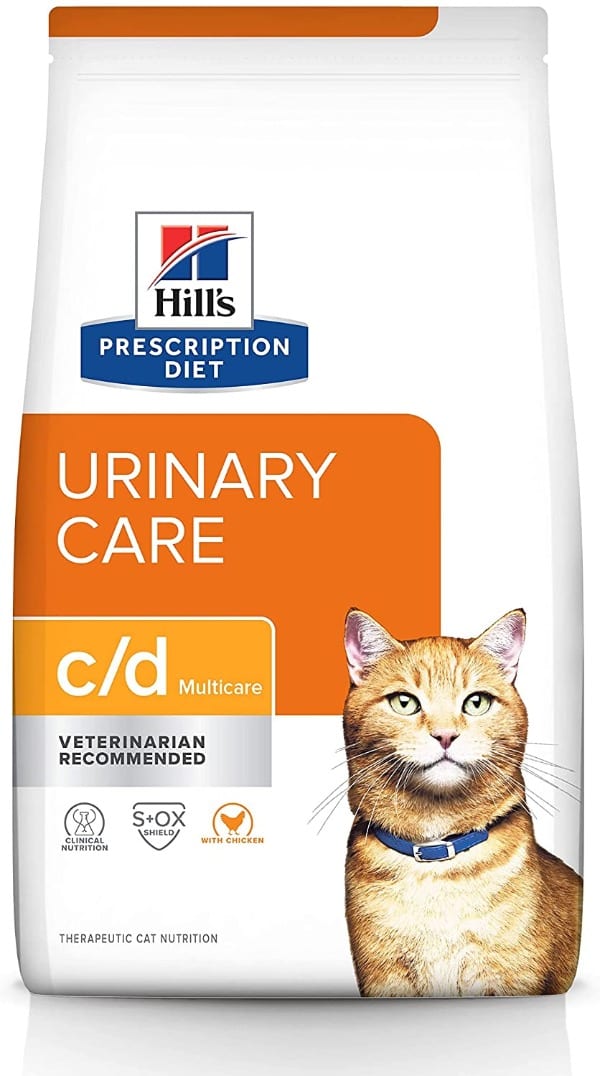 Main Ingredients: Chicken, Whole Grain Corn, Corn Gluten Meal, Whole Grain Wheat, Brewers Rice
Find on: Amazon
This low protein dry cat food was created by Hill's nutritionists and veterinarians to support the feline's urinary health. Adult cats with chronic kidney disease will love these dry kibbles as they smell and taste great. Besides, dry cat food is enriched with antioxidants, potassium citrate, and omega-3 fatty acids.
Pros
Based on clinical tests, the food was found to reduce the recurrence rate of the most common urinary symptoms by 89%.
Thanks to a special vet-approved formula, this cat food promotes desirable urine pH levels.
This prescription food by Hill's is recommended for the lifelong feeding of adult cats.
Reduces the risk of struvite and calcium oxalate crystals.
Cons
It may cause felines to throw up.
It is expensive.
The smell is obnoxious.
It's not the best option for cats sensitive to food changes.
Best Low Calorie Cat Food – Royal Canin Veterinary Diet Adult Renal Support D Thin Slices in Gravy Canned Cat Food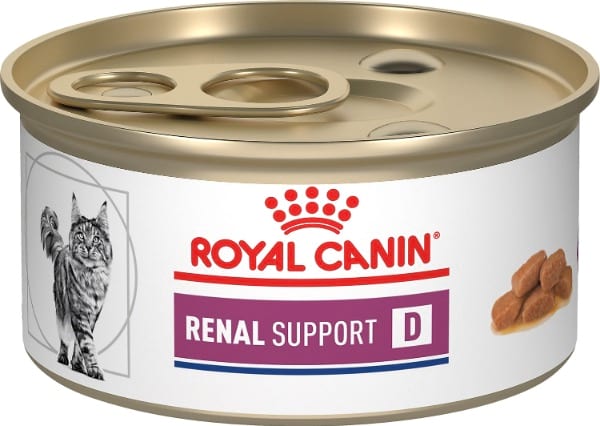 Main Ingredients: Water Sufficient For Processing, Chicken By-Products, Chicken Liver, Pork Liver, Chicken, Wheat Flour
Find on: Chewy
Royal Canin renal support cat food D (D means "delectable") is formulated to support kidney function of adult cats and encourage eating. This low sodium canned cat food comes in a variety of aromas to satisfy the exquisite tastes of all picky eaters. A rich complex of fatty acids from fish oil, crude protein, phosphorus, and antioxidants helps your furry friend support kidney function.
Pros
This food supports adult cats with kidney problems.
The morsels in gravy have an enhanced appetite trigger to stimulate your cat's appetite.
Royal Canin low protein cat food can be mixed with other low protein cat foods (dry or wet).
Cons
Gravy for cats with kidney problems includes by-products and wheat.
This food goes rotten fast.
Fussy eaters may reject to eat this low protein cat wet food.
Best Kidney Support Food for Cats – Forza10 Nutraceutic Active Kidney Renal Support Diet Dry Cat Food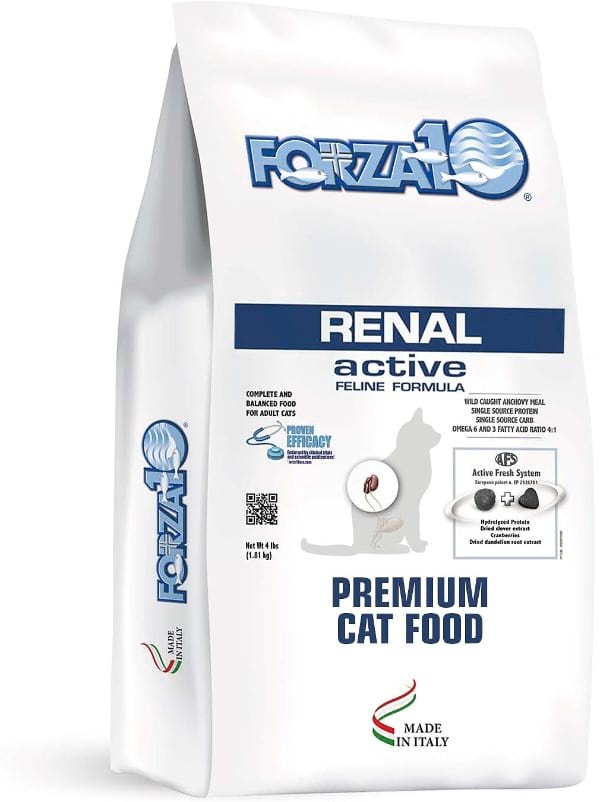 Main Ingredients: Rice, Hydrolyzed Fish Protein, Hydrolyzed Potato Protein, Anchovy Meal, Vegetable Oil, Fish Oil (Preserved With Mixed Tocopherols)
Find on: Chewy
This premium feline food is low in protein, phosphorous, and sodium, so it's great for felines with heart and kidney issues. This plant-based recipe features several sources of protein: hydrolyzed potato protein and hydrolyzed fish protein. It's worth mentioning that this protein is antibiotic-free, so it is a great fit for felines with sensitivities.
Pros
This food features restricted protein and sodium content. According to the guaranteed analysis, the crude protein is 26% min.
All the ingredients are highly digestible.
It doesn't have wheat, soy, by-products, artificial flavors, GMO ingredients, and preservatives. Therefore, it is a great option for cats with food allergies.
A blend of omega-3 & 6 fatty acids ensures the cat's fur, muscles, and joints are healthy.
Hydrolyzed fish protein and hydrolyzed potato protein improve digestibility.
Cons
Some pet parents consider this low sodium cat food quite expensive.
Rice is the first ingredient.
You will need a vet's authorization to purchase this food.
Best Non Prescription Low Protein Dry Cat Food – Purina Pro Plan Veterinary Diets NF Kidney Function Advanced Care Dry Cat Food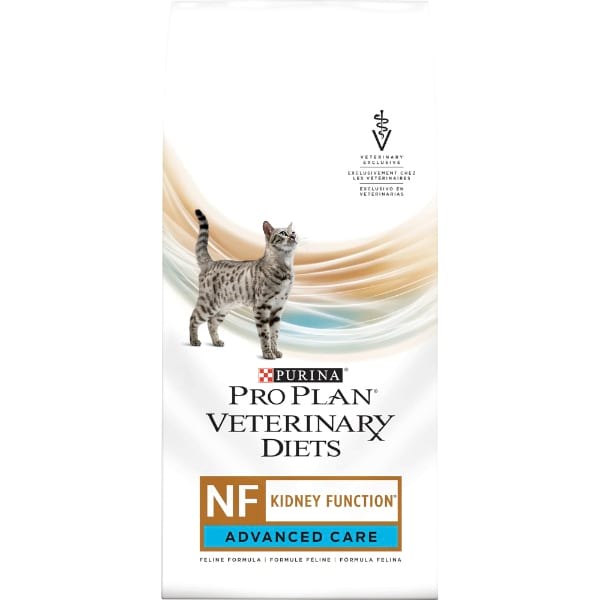 Main Ingredients: Brewers Rice, Tuna, Whole Grain Corn, Soybean Meal, Animal Fat Preserved With Mixed-Tocopherols
Find on: Chewy
This great-tasting dry food is low in protein and has a restricted level of phosphorous, therefore, it is great for weight management. Omega-3 and omega-6 fatty acids with DHA and EPA for healthy joints, muscles, and skin.
Pros
Hi Tor Neo cat food is created by professional veterinarians and nutritionists for advanced kidney care.
This food helps cats achieve healthy weight loss.
It contains natural fiber and this food is low in fat.
The flavor is great.
Great for cats with allergies and senior cats.
This low protein diet for cats is packed with the necessary antioxidants for a healthy immune system.
Cons
Kibbles are too big for some cats to eat.
It is pricey.
This low protein cat food for liver disease is calorie-dense.
FAQ
Which cat food has the least amount of protein?
Cat food with the least protein usually has a high amount of carbohydrates and fat. Some healthier dry foods for cats have 15% or less protein, but still include a significant amount of healthy nutrients and some animal by-products. When choosing a brand of cat food, be sure to look at the ingredients and compare brands to find the best one for your cat's needs. The nutritional needs of cats vary by age and activity level, so be sure to choose the best cat food for your pet.
What food is best for cats with kidney disease?
Cats with kidney disease shouldn't be fed high-protein foods because they can lead to kidney dysfunction. They need low protein foods, and they need to eat frequently since their bodies are unable to process food quickly.
What is a good protein percentage for cat food?
In order to ensure your cat is getting the proper diet, you should consult the manufacturer and look at the nutritional label. You will find the percentage of protein that is required by the cat in order to help them maintain a healthy weight. The amount of protein should be between 21% and 33% on a daily basis.
Is low-protein cat food healthy for cats?
Low-protein cat food is a great way for felines to stick to a restrictive cat's protein intake. High quality cat food supports kidney function, and muscles, and can be great for weight loss.
Do I need a prescription for low-protein cat food?
Sometimes you need a prescription to get good low-protein cat food. Everything depends on your cat's health condition and vet recommendations.
Does wet cat food have less protein?
Wet cat food is similar to dry cat food in many ways, but it does have one major difference from it. Dry cat food is usually 80% protein, while wet cat food is usually only 10% protein. You may be thinking that dry cat food is more nutritious because it contains more protein, but it's not. Cats need very little protein in their diet, mostly because of the high protein content in dry cat food, the cats would get a lot of the protein they need. They need more fats and vitamin C than protein.
What is the ideal nutritional content of low protein cat foods?
Protein is one of the three main nutritional components of food. The protein consumed by your cat must be low to prevent several health problems. Protein, in excess, can cause kidney and liver damage. Besides, the right amount of fat, fiber, and moisture also matters. Here is an example of ideal nutritional content.
| | |
| --- | --- |
| Crude Protein | 26% min |
| Crude Fat | 18.5% min |
| Crude Fiber | 2.0% max |
| Moisture | 8.0% max |
Does senior cat food have less protein?
Given that many older felines are thought to have undiscovered renal illnesses and would benefit from a decreased protein intake, certain senior cat meals have been created with lowered protein content.
How much can you expect to spend on a low-protein cat food?
The average box costs between $30 and $40, but small shipments often cost no more than $25. The most expensive bundles might easily exceed $50.
Can low-protein cat food be fed to kittens?
In fact, it is not advised to give kittens low-protein cat food. In order to promote their development, kittens need a diet that is richer in protein than adult cats need.
Wet vs. Dry
When comparing various brands, labels are important to comprehend. Any cat food you choose for a cat with liver or renal problems should ideally be moist. Low-protein wet cat food just makes it simpler for older or sick cats to safely and comfortably digest their food in addition to improving hydration.
However, if your cat likes crunchy kibble, pick up some wonderful low-protein dry cat food that is non-prescription and low in phosphorus.
Bottom Line
Thus, we hope this guide will help you choose the best option for your four-legged friend. Remember to stick to a protein content of 28-35%, and pay attention to the nutritional value. We recommend consulting a veterinarian if your pal has some health problems because in some cases, you will need either non prescription hydrolyzed protein cat food or cat food with a prescription.