Looking for non-traditional pet insurance for your four-legged friend? Eusoh is a company that definitely deserves your attention. Most Eusoh reviews show that it is the perfect pet insurance alternative that puts pets and pet owners first.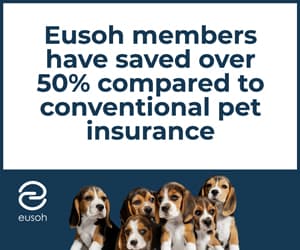 Everyone who has a four-legged companion knows how stressful a trip to the vet can be. But how much does a veterinarian visit cost? Actually, the bill you often get after such a challenging visit can be even more stressful than the trip itself. To ensure against unforeseen expenses and provide excellent treatment to your pet, you can join the Eusoh community and be sure that your family favorite will always get the best care possible.
How Does Eusoh Work?
The first thing you need to understand about Eusoh is that it isn't an insurance provider. However, in some ways, Eusoh works just like pet coverage. Compared to common pet medical insurance providers, Eusoh offers dissimilar services. For example, this pet health care insurance platform doesn`t fund as well as compensate the vet costs itself, but it guarantees your veterinary visit expenses will be covered through its community. This means that Eusoh is based on pet parents groups which let their members share a veterinary visit cost and provide proper vet care for their four-legged companions.
To be a part of Eusoh's community, you should register an account for your pet. You can easily do this directly from the Eusoh official website. As a pet parent you`ve got to know that if you own several pets, you should create an account for each pet individually because all your favorites will be considered as separate pets. Thus, each pet can be in a separate Eusoh group and this may entail both different membership fees and deposits. But at the same time, the Eusoh team is ready to provide pet owners who have several four-legged favorites with a multi-pet discount. Keep that in mind, just in case!
When you are accepted into one of the Eusoh groups, you have to wait for 30 days. During this period you cannot make any claims. After a 30 day window, you can take your pet to the vet when needed and, fortunately, you have no restrictions on which veterinarian you can visit.
Eusoh offers an absolutely searchable veterinarian treatment as well as provides a procedure guide that always lets you know what cost of vet visits will be covered by the group. As a result, Eusoh health pets insurance option is a smart way to be a happy pet owner with better, more extensive coverage, reasoned decisions and each member of the community have a chance to get help for sharing average vet bill for a dog, cat or any other four-legged family pet when necessary.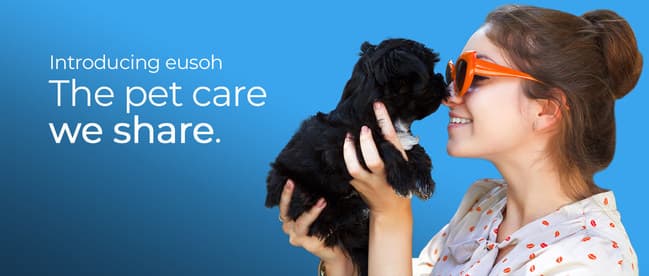 By the way, any Eusoh member can join any group or even make their own ones. If you join a pre-existing group, you`ll just have to wait for 24 hours while the group moderator accepts or rejects your request. No one guarantees you acceptance, but group members aren't allowed to remove other participants from the group. When it comes to creating a new group, you should know that any new group becomes active only if it has a minimum of 10 participants. In the Eusoh platform, there is no upper limit for groups.
A lot of Eusoh pet insurance reviews state that this is the best dog health insurance option because as a dog parent you can change Eusoh dog groups at any time they want without consequences. For the rest groups, participants are obliged to commit for 1 year term. Members can rejoin another group when their subscription is eligible for renewal.
Of course, it is possible to change their groups before a 1-year subscription is up. But in that case, the participants have to forfeit their deposit for the group they leave and make submit a new $48 deposit for a new group they join. Costs are not covered until participants accept the new group.
Eusoh vs Pet Insurance
As has been said already, Eusoh is a great alternative to the traditional pet insurance that covers routine care but it isn't a coverage provider. Eusoh is a new brand in the pet insurance industry and it is a peer-to-peer platform. A lot of pet parents tend to confuse this pet health brand with common pet insurance companies.
Well, they aren`t the same things, they operate under different conditions. However, there is no doubt that Eusoh is a substantive breakthrough in the pet insurance world that guarantees a transparent and comfortable way of covering the average cost of vet visit.
Eusoh`s main feature and major difference from any traditional pet insurance company are that Eusoh doesn't cover your expenses of vet visits and your pet medical treatment, Eusoh's community does this!
Pros
Being a new and a bit innovative pet insure platform, Eusoh has some clear benefits, such as:
The opportunity to join a pet loving community and share not only the expenses but also the interests. It is so exciting to find someone you can talk about family pets.
The quick and simple registration process that takes just a few minutes. You can sign up on the Eusoh website within minutes.
Free choice of vets you prefer for your pet. There are no restrictions on the vet you`d like to visit with your pet.
More types of medical treatments than traditional pet insurance. For example, the Eusoh community covers the costs of preventive care and so on at no additional cost.
The clear pricing structure and a generous bonus program. You`ll get a $40 reward for every pet you join Eusoh.
Lack of pet age limit. This means you can create the Eusoh account for a pet of any age.
Cons
When it comes to the disadvantages of Eusoh, you should take into account the following peculiarities:
The waiting period of 30 days. You won't be able to get any costs for reimbursement until you`ve been the participant for 30 days. Compared to the standard insurance policies, this waiting period is much smaller (maximum of 15 days).
Compulsory one-year commitment. You have to be a member of your Eusoh group for a year. If you left it earlier, your deposit will remain in your group.
Available Plans
Unlike the traditional pet insurance companies that offer various pet health care plans for the owners of four-legged friends, Eusoh registers all participants according to the same standard pet health plan. Eusoh coverage shares most expenses (accidents, illnesses, preventive care).
However, there are several exceptions for such procedures as dental care and neuter surgery. Besides, Eusoh isn't the platform that offers you pet insurance that covers spraying. This procedure isn`t also included in the available plan.
Plan Pricing
The pricing structure is one of the main things people want to know when checking out a new service. In the case of Eusoh, the pricing structure is really clear and simple. Everything starts with a standard membership fee that is $17 per month per one pet. If you are the owner of three pets, your membership fee can be reduced to $10 per month. But still your year pocket expense is $250 (which is deductible).
Besides your membership fee, you have to deposit $48 every month as a group member. That is necessary to make your deposit at the end of every month in order to stay an active member of the Eusoh community and remain your right to cover your pet health insurance cost.
Overall, you should pay $65 every month. This amount consists of your membership fee and deposit. The good thing is that even if the group`s vet expenses were higher than $48 per participant in a particular month, any member won't ever be asked to pay more than this amount.
In fact, Eusoh states that the average monthly cost of a cat is about $29 and the average dog health insurance for a month is nearly $41.
Eusoh Pet Insurance Waiting Period
The information about the Eusoh waiting period has been mentioned above. To be an active member of the Eusoh community, you`ll have to wait for 30 days after your registration. Before this term, you won't be able to submit your cost of pet insurance.
Pre-Existing Conditions
Eusoh pre-existing conditions include an obligatory waiting period of thirty days. Eusoh won't cover any cat or dog insurance cost if the pet has been injured prior to registering Eusoh or during the waiting period.
Moreover, when you join the group, the group member together with the moderator will decide whether you can be a participant of this group. Pets with a lot of pre-existing conditions might be ignored by the groups and, in this case Eusoh, will pay back your membership fee and monthly deposit.
Coverage Limits & Exclusions
Being a peer-to-peer platform, Eusoh has standard coverage and exclusions cases. Wellness care, illnesses, injuries, regular check-ups, alternative treatments, surgeries, prescribed medications, hereditary conditions and congenital conditions are referred to the traditional things that will be covered by the Eusoh`s group.
When it comes to the exclusions, you should focus on the pre-existing conditions again. According to the pre-existing conditions, the Eusoh`s group won`t cover any feline or canine health insurance expenses if the pet has shown symptoms before signing up Eusoh or during the thirty-day waiting period. For example, if the puppy has a broken leg before its owner applied for Eusoh, the community won't pay for this puppy and, of course, won't cover the puppy insurance cost for its broken leg.
All pets signed for Eusoh are limited to $8500 of reimbursement per year. This is an average amount compared to the traditional pet insurance companies that offer reimbursement from $5000 to $20000 per year.
Eusoh Pet Insurance Reimbursement and Deductibles
The Eusoh annual deductible is $250 and you can count on 80% of cost reimbursement. But a maximum year reimbursement is $8500.
Eusoh rating is constantly increasing. More and more people find Eusoh an excellent alternative to the usual pet insurance because it has a lot of benefits and comfortable options for pet parents.
For the customers who aren't satisfied with Eusoh service, there is the opportunity to return back their money. Just contact by emailing the Eusoh team and explain the reason for your disappointment. After that, you can expect to back your fee and deposit during thirty-days.
The Eusoh's customer service team works five days a week from 9 a.m. to 5 p.m. If you have any questions or problems, you can phone and find the best solution for you and your pet.
Third-Party Ratings
Among pet insurance rankings, Eusoh isn't on the top. However, there is a great reason for that. Eusoh isn't an average cost of pet insurance provider, it is a peer-to-peer subscription-based platform. That's why Eusoh can't be rated by the traditional financial stability analysis firms such as AM Best and so on. But the Better Business Bureau finds Eusoh an A+ rating.
Nowadays pet owners have so many insurance options for their four-legged companions. And these options aren't just limited by the traditional companies. The pet insurance industry is really growing and accepts non-traditional alternatives like Eusoh into its ranks. As you can see, Eusoh is a competitive platform that offers a lot of advantages to their clients and attracts them by its uncommon way to cover pet health expenses.
Having a pet is expensive. That's, actually, the truth. But Eusoh tries to minimize the costs of vet visits and provides standardized criteria like coverage, fees and exclusions in order to make the insurance process more transparent, convenient and simple.