Feline owners often search for interesting ideas to treat their pet companions. That is why cat desserts become more and more popular among people who have bewhiskered buddies at their homes. Of course, it is possible to purchase something delicious in the pet shop for your fluffy pet friend. But why not prepare some homemade yummy treats?
A great way to bring exceptional pleasure to your beloved feline is to regale the pet with cat ice cream. This treat will be the best-matching variant when it comes to boiling summer days. Let's take a closer look at the kitty ice cream recipes and frozen cat treats you can try at home for cooling up your bewhiskered gourmands!
Cat Ice Cream Recipes
If you would like to cook ice cream treats for cats at home, choose one of the available recipes in the article. This is a great way to step it up a notch when it comes to your feline's meals. Additionally, you can try such recipes for some special occasions like a cat's birthday or a pet party.
Here are 6 wonderful ice cream ideas and tips on how to make cat ice cream for hot summer days. Both kittens and adult cats will be thankful for such a cute treat to cool up when it comes to the torrid weather. Your pet will surely enjoy such a delicious dessert made of feline-friendly ingredients and your love!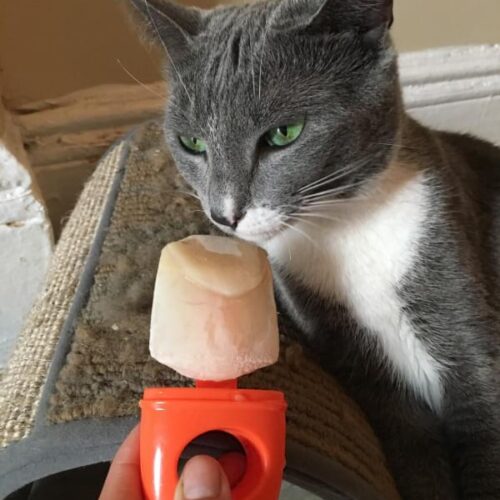 Cat Milk Ice Cream
This is a feline-friendly ice cream made of cat milk. Make this treat for a hot day in several easy steps!
Ingredients  
200

ml

Cat milk

4

Ice cream trays with sticks
Instructions 
Take 200 ml of cat milk.

Pour it into four ice cream trays.

Put the sticks inside.

Put the forms with cat milk into the freezer.

Freeze for about 4-7 hours and regale your pet with the yummy dessert.
Notes
Additionally, you can add any other ingredients your pet loves. For example, blended crisps and other dry cat treat components (for example, meaty sticks).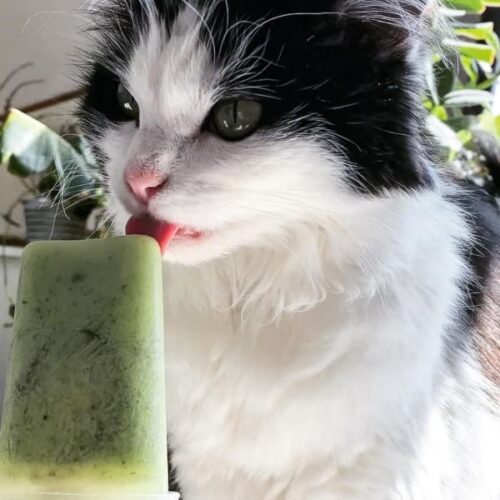 Cucumber Cat Ice Cream
This is great homemade ice cream for kitty buddies in summer. Especially, if your fluffy pet companion adores cold treats.
Ingredients  
2-3

Cubes of ice

200

ml

Greek yogurt or cat milk

1-2

Cucumbers

4

Ice cream trays with sticks
Instructions 
Blend cucumbers for your healthy cat ice cream.

Add ice cubes and blend the mixture one more time.

Mix cucumbers and ice with the liquid (cat milk or yogurt).

Pour the mixture into the ice cream trays.

Put sticks inside the molds. Place the ice cream trays into the freezer.

Wait up to 5-6 hours to make the dessert frozen.
Notes
This recipe can be repeated with fruit ingredients like banana and kiwi as well. Store ice trays with vegetable or fruit

cat ice cream

for no more than 2 weeks.
Check out these homemade cat soup recipes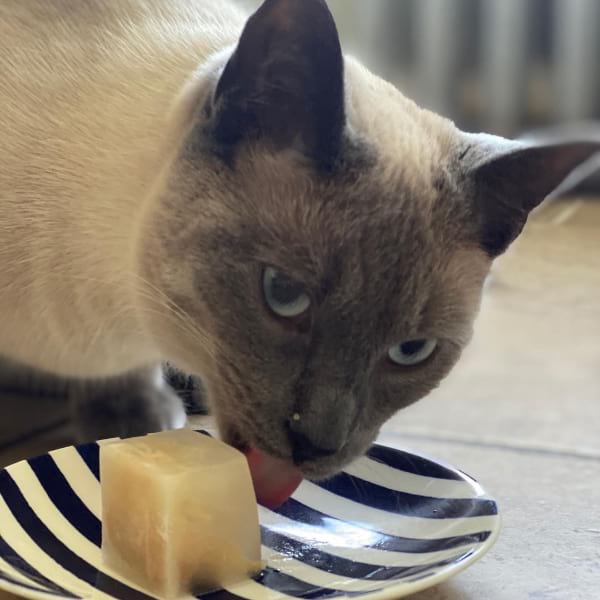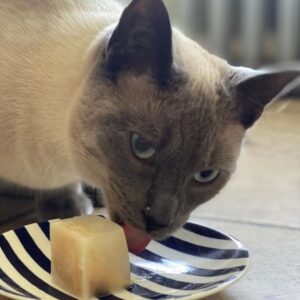 Ice Cat Popsicles
Most cat owners usually give chicken broth to their pets. According to the recommendations of the veterinarian, liquid dishes with poultry are good for the bewhiskered friends' digestive system. Chicken popsicles are a good alternative to warm broth in summer!
Ingredients  
300

ml

Chicken broth
½

cup

Chicken meat
Instructions 
Cool the chicken broth off.

Take chicken meat and blend it or rip it into small pieces.

Mix all the ingredients together.

Pour the mixture into the popsicle molds.

Freeze the dessert for 5-7 hours.
Notes
Most kitties will prefer the flavor and taste of such a treating popsicle. Moreover, this is a healthy variant of the cool dessert with no harmful components. You can replace chicken and broth with fish if your cats love tuna, salmon, or other seafood.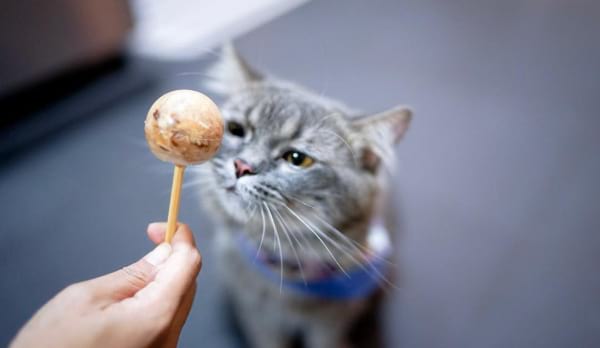 Tuna Popsicle for Cats
This is the wonderful variant of DIY cat treats in the form of traditional Chupa-Chups. Have some fun and arrange a lollipop party where kitties and dogs can take pleasure in tuna round popsicles!
Ingredients  
2

Cans of tuna

2

cups

Hot water
Instructions 
Put tuna into the bowl.

Pour off the oil and add hot water to the bowl with tuna.

Mix all the ingredients together. Use a fork to rip tuna into small pieces.

Take Chupa-Chups (or other sphere-shaped) molds.

Put the mixture into the molds. Do not forget to add sticks.

Freeze the tuna popsicles for 5-7 hours.
Notes
This cute dessert will not leave your pet companions indifferent. Use another fish for the popsicle recipe if you want (salmon, perch, etc.).
14 Irresistible Homemade Cat Food Recipes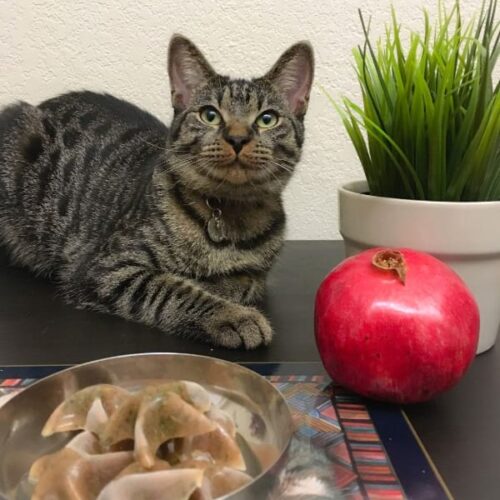 Icy Starfish Dessert
Can cats have ice cream? Sure, if we speak about special desserts for felines. This recipe of the kitty ice cream is made of chicken pate and catnips will have a corner in the heart of your pet (both cats and dogs)!
Ingredients  
3.5

oz

Chicken pate

1.5

oz

Catnip

1

cup

Warm water
Instructions 
Blend the chicken pate with catnips.

Add to the mixture some warm water.

Take starfish molds and put the ingredients inside.

The dessert will be frozen in 5-6 hours.
Notes
You can serve the icy starfish dessert with the powder made of catnip leftover. Create an exceptional atmosphere with such interesting cat treats!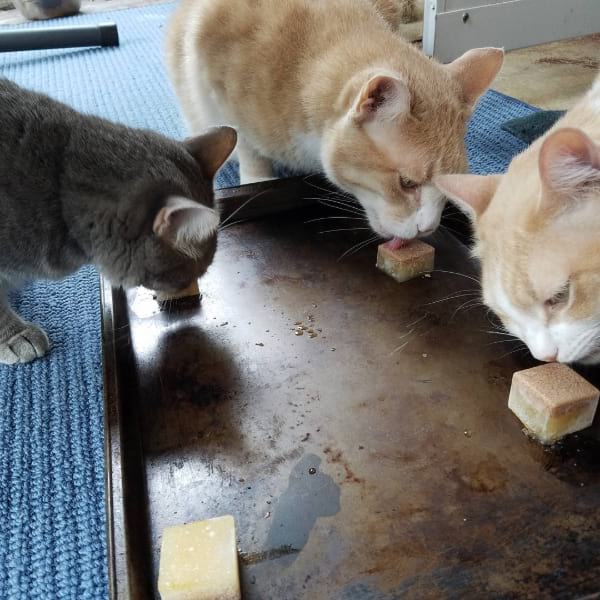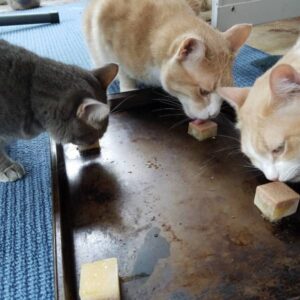 Icy Tarts for Cats
This is a great recipe for the first-ever ice cream for your bewhiskered buddies. Cats will be happy to taste such DIY icy treats made of their favored products.
Ingredients  
100

ml

Home-made gravy

4

oz

Cat milk or regular ice cream
Instructions 
Blend the gravy fine to make the first layer of the dessert.

Cool the gravy off for the tart. Put this ingredient into the molds.

Let the gravy stay in the freezer for 2-3 hours.

The second layer is something white - take vanilla ice cream or any dairy products.

Put over the frozen gravy in the mold the second layer of white color.

Let the tart be frozen (4-5 hours in the freezer).
Notes
Enjoy

cats eating ice cream

! When you take the tart out of the mold, the upper layer will be the main dish (frozen gravy) and the bottom one will be the dessert. A doubled pleasure is guaranteed!
FAQ
Is There an Ice Cream for Cats?
Yes, you can do it yourself with the help of cat-friendly products or purchase in pet shops.
Can Cats Tolerate Regular Ice Cream?
A small portion of vanilla ice cream is harmless for your buddy. But according to the Oakland Veterinary, chocolate (Is Chocolate Bad for Cats?) icy treats are poisonous for your bewhiskered friends! Cat pistachio ice cream can cause indigestion, so avoid this dessert as well.
Can Cats Eat Frosty Paws Ice Cream?
You can give frosty paws for cats but in small portions. But note that overdosing on frozen food can cause serious problems with the health of your pet companion. Cat's brain freeze effect is not just about a funny face while eating something cold. It is the same pain humans feel.
What Fruits Can My Cat Eat?
Looking for alternatives to cat ice cream? The naturally carnivorous diet of your cat does not include fruits. But a treat in the shape of cat-friendly fruits is acceptable, and some of them are even nutrient-dense.
Fruits safe for cats include:
Blueberries

Apples (without seeds)

Strawberries

Watermelon
Avoid any citrus, grapes, raisins, and currents at all costs. Additionally, cats may become ill if they consume sugar in excess, even if it is naturally occurring. If your cat frequently begs for ice cream, consider a veggie-forward substitute.
These vegetables are safe for cats to eat:
Carrots

Pumpkin is frequently used to add fiber to your cat's diet.

Broccoli

Cauliflower
Can Cats Have Vanilla Ice Cream?
Vanilla isn't harmful to cats, but it's also not the best thing for them either.
Final Word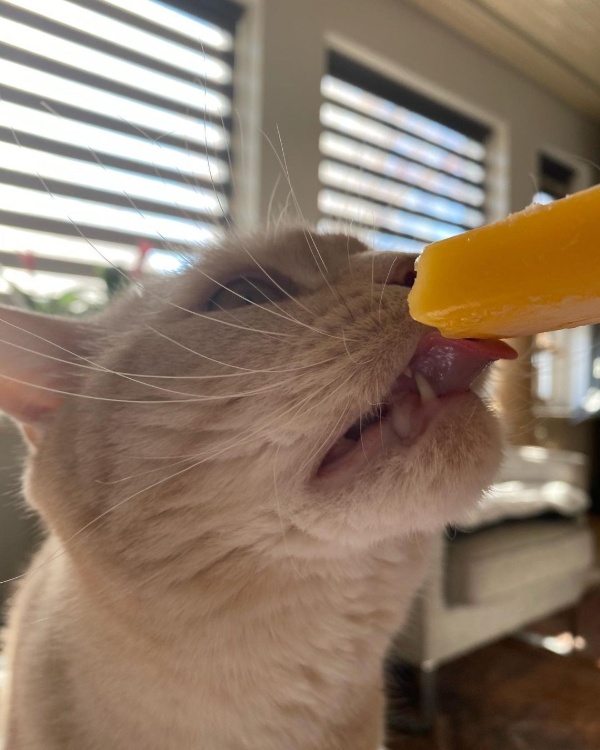 Can cats eat ice cream? Of course, they can. All the felines enjoy treats you can make of cat-friendly products. Make ice cream for your pet with cucumber, banana, sour cream, gravy, chicken broth, and other ingredients. For those who are not ready to prepare frozen desserts themselves, there are special cool treats like Pet Winery Cat or Purina Cat Claws ice cream.