The British Shorthair is a cat breed that is distinguished by its strong body, lush fur, and wide face. This attractive breed is at the top of the most popular feline breeds in America and Europe.
No wonder people who are going to buy a British Shorthair kitten can be shocked by its price. But don't worry! It's always possible to find an alternative and get a fur ball with a great pedigree for sale or even to adopt a British Shorthair kitten.
If you're looking for a cute British Shorthair kitten, we can help you to find a new furry companion near you. Here we've made a useful list of reputable breeders in California where you can find British Shorthair kittens for sale.
British Shorthair Kittens for Sale in California
Sasszkats Cattery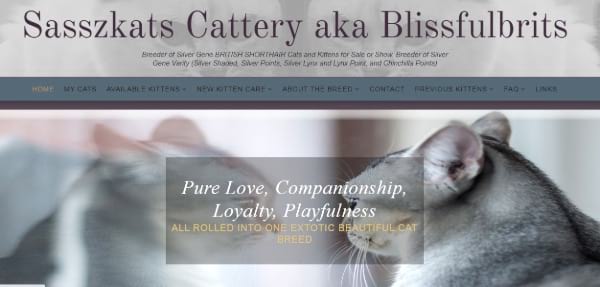 Website: www.sasszkats.com
A good spot where you can search for a new furry companion is Sasszkats. Sasszkats can be characterized as a small home cat breeder the main aim of which is to find loving masters for their British Shorthair kitties.
The cattery is situated in Northern California, CA, and specializes in producing healthy and affectionate cuties that fully exemplified the breed standards.
British Pacific Cattery

Website: www.british-shorthair-kitten.com
British Shorthair adoption is also available when it comes to this cat breed and a wish to have a purring companion. British Pacific Cattery provides a lot of appealing variations that allow everyone who is going to buy or adopt a small kitten to get it.
This organization has a good reputation among British Shorthair breeders, and it is also registered with FCA and TICA certification.
Minuet Kittens Cattery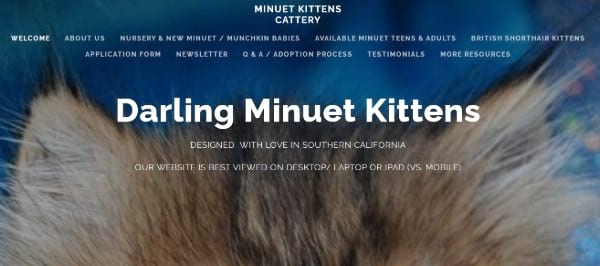 Website: www.minuet-kitten.com
In the opposite part of California, an hour drive from Los Angeles and San Diego, you can find Minuet Kittens Cattery. This can be a perfect cattery to buy a British Shorthair kitten for sale.
It's important to know that Minuet Kittens can offer CFA and TICO certification for all their adult cats as well as kittens. The cattery focuses on producing Lilac and Cinnamon British Shorthair kittens, Fawn and Chocolate British Shorthair kittens for sale.
Lionsheart Cattery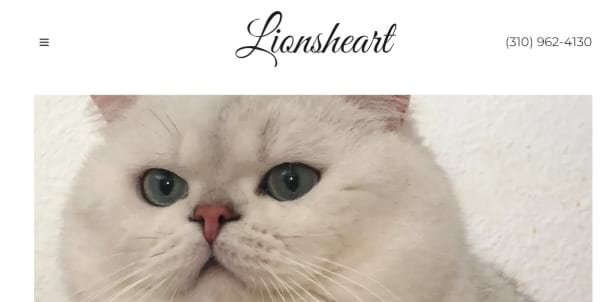 Website: https://lionsheartcattery.com/
People searching for a British Shorthair for sale in Los Angeles should pay attention to Lionsheart Cattery. This is an awesome place where you can find a lot of attractive offers when it comes to British Shorthair kittens. The cattery focuses on breeding Old, Classic, and Rare Bloodlines of British Shorthair cats and kittens. Visit its website and observe sale options.
BuffBarbies Cattery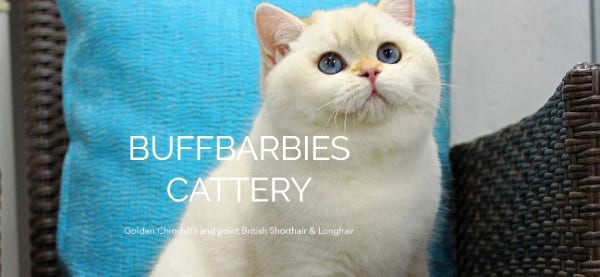 Website: www.buffbarbies.net
BuffBarbies Cattery is a registered TICA and WCF British Shorthair breeder located in Sunny, CA. All Buff Barbie kittens can be ideal household pets and they also meet breed standards for affectionate temperament and good health.
The British Shorthair cattery is interested in putting their kitties with nice and caring families. That's why you can purchase British Shorthair available kittens at a good price there.
Precious Brits SD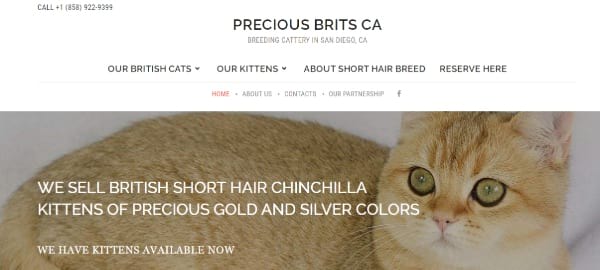 Website: preciousbritsca.com
Such an elite cattery specializes in producing only British Shorthair kitties of uncommon and precious coloration. Precious Brits SD is home for black and golden British Shorthair kitten variations.
The cattery is known as a reputable breeder that offers high-quality British Shorthair kittens for cat shows. However, Precious Brits SD always has some sale options because they don't want just to earn money, they also try to find proper masters for their fur balls.
Purrceptive British Shorthair

Website: britishbluekittens.com
A true paradise of Lilac British Shorthair kittens is located in Grass Valley, CA, and called Purrceptive British Shorthair cattery.
All the kittens at this cattery are registered with TICA certification and kept in a cage-free environment. This means that every fur ball is ready to be a perfect pet, and you can be a perfect cat parent as well.
Levada Land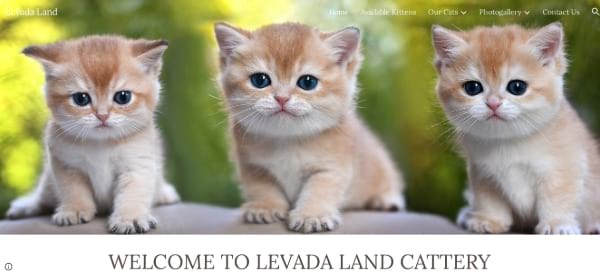 Website: https://www.levadaland.com/
Located in Folsom, Levada Land is a famous British Shorthair breeder that produces Chinchilla Golden British Shorthair kittens registered with the CFA and TICA.
This small cageless cattery puts its focus on raising kittens with loving and socialized personalities. Check its website carefully because the cattery often cuts British Shorthair prices in order to find caring cat parents for their kitties.
Noble Brits Cattery

Website: noblebrits.com
For those cat lovers who search for the British Shorthair for adoption in California Modesto, CA, we have good news. You can visit the Noble Brits Cattery website and check out all the available options.
Be sure this cattery tries to keep their kittens as close to breed standards as possible so you can select a lovely fur ball at a wonderful price and with a noble pedigree.
Kitti Kat Kattery

Website: kittikatkattery.com
The British Shorthair cat price can surprise everyone. But if you have a strong desire to bring a charming plush British Shorthair kitten, you can always observe kitten variants available as Kitt Kat Kattery for sale.
This British Shorthair home is situated in Northern California and is motivated to look for a warm and caring house where its kitties will feel comfortable.
Frequently asked questions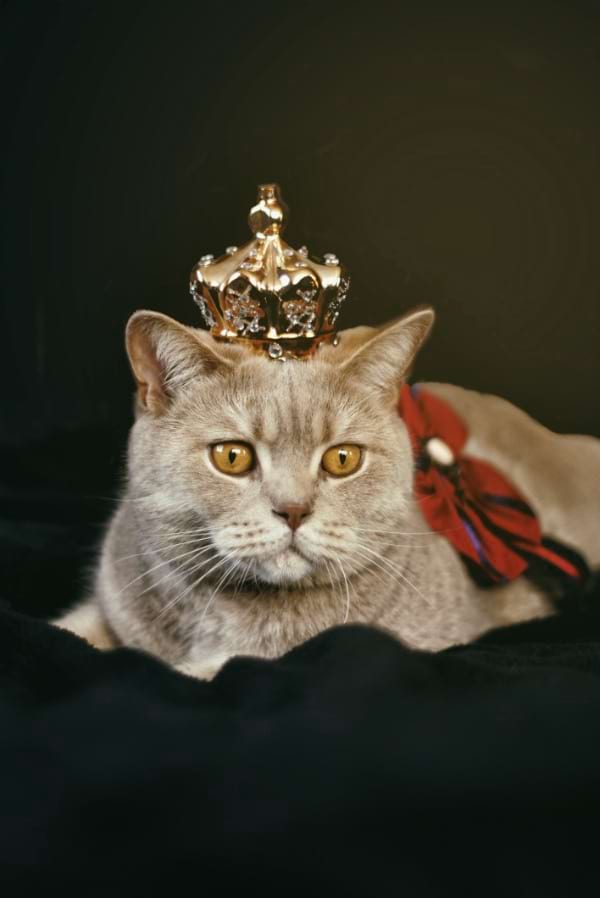 What is the average price of British Shorthair kittens in California?
How much are British Shorthair cats? The British Shorthair kitten price in California can vary a lot depending on the breeder's reputation and kitten pedigree. For example, if you decide to buy a British Shorthair kitty from an unknown cat breeder, it can cost from $500 to $900.
However, if you contact a British Shorthair breeder with a good reputation (and with FCA and TICA certification), the kittens can be from $1000 to $2000.
Is a British Shorthair worth it?
A British Shorthair is an excellent choice of pet for any cat lover. Not only are they incredibly cute and cuddly, but they're also very low-maintenance cats that require minimal grooming and don't demand a lot of attention.
Plus, their laid-back personality makes them perfect for busy owners who want a companion who can keep up with their lifestyle. If you're looking for a pet that is loving and gentle yet loyal and independent, a British Shorthair is an ideal choice.
Are British Shorthair cats noisy?
No. British Shorthair cats are not known to be a particularly vocal breed, although they may make some gentle chirps and purrs when content. They tend to be quieter than other breeds, making them ideal for those who live in apartments or value peace and quiet.
What to consider when buying British Shorthair cats in California?
When looking for British Shorthair cats in California, there are a few key things to consider. First and foremost, it is important to find kittens that come from reputable breeders. Not only should the breeder have experience with the breed, but they should also be able to provide health clearances and other details about their breeding program.
When it comes to the kittens themselves, there are a few key points to look for. British Shorthair cats have dense coats and should have bright eyes and thick fur. They also tend to be playful and friendly, so it is important to make sure that the kitten shows those traits before bringing them home.
It is also important to ask the breeder about the vaccinations and other medical care given to the kittens. Make sure that all health records are up-to-date and that any necessary tests, such as for Feline Leukemia Virus (FeLV) or Feline Immunodeficiency Virus (FIV), have been done correctly.
Finally, it is important to ask the breeder about what kind of support comes with the kittens. Many breeders will provide ongoing advice and guidance on how best to care for British Shorthair cats, so it is worth talking to them beforehand in order to get a feel for the type of service they offer.
How many cats can I legally own in California?
Only four (4) dogs or cats older than four months are permitted in each home. If you have five or more, a special permit must be obtained.