Interested in adopting a Ragdoll cat? It isn't difficult to realize why a Ragdoll kitty or adult cat can be a perfect family pet! If you're planning to adopt a Ragdoll cat or kitten but you're not sure where to start, below you'll find answers to all your questions.
There are several ways to become a Ragdoll cat parent. The first and the most rewarding way is to check out Ragdoll rescues where you can find a lot of amazing and cute Ragdoll cats for adoption.
Why Do People Need to Rehome Ragdoll Cats?
For those who have the time to devote to and adore them, Ragdoll cats are the ideal pets. But not everyone can make the commitment to own a Ragdoll. When they are unable to afford to provide their cat with the dream house, many cat owners may rehome their pet.
Here are some reasons for this:
The cat does not get along with the family's other pets.
An addition to the family, such as a child or partner.
Changing residences – a landlord forbids pets or international travel.
The owner's schedule has changed, leaving them with less time to spend with their Raggies.
Behavioral problems, including litter box neglect or an aggressive or timid attitude.
High maintenance costs like food, litter, and veterinarian visits.
Death of a previous owner.
Four Ragdoll Cat and Kitten Rescue Shelters
Four main locations specialize in placing and rescuing "unwanted" Ragdoll cats. These organizations offer a shelter for the abandoned Ragdoll cats and kittens and try to find loving families for them. So, the following establishments can be the right place for you where you can adopt a pet.
Ragdoll Rescue USA
As a noncommercial organization, Ragdoll Rescue USA gives shelter to retired Ragdoll cats for adoption and communicates with those people who want and are ready to become good pet parents. Though the main focus is put on the Ragdoll breed, there are other cats available for pet adoption.
Ragdoll Rescue USA is situated on the West Coast, but it operates all over America and supports cats' transportation to the shelter from home and from the shelter to a new family.
If you have a desire to take an adult Ragdoll cat or a small kitty, the only thing you need to do is to visit the official Ragdoll Rescue USA website to fill out the application form. On this website, you can find available Ragdolls for adoption. Besides, you can communicate with other adopters or people who want to adopt a Ragdoll cat with the help of Ragdoll Rescue USA.
Ragdoll International
One more organization that is engaged in promoting the Ragdoll cats and helping the Ragdoll cat breeders to rescue these gorgeous Ragdoll kittens is Ragdoll International.
You can find this Ragdoll cat shelter in Rhode Island, but it also works and helps Ragdoll cats all over the USA find new homes and loving masters. By visiting the Ragdoll International website, you can view all the available cats of the Ragdoll breed that are ready to be adopted by caring owners.
No matter whether you want to take or abandon a Ragdoll cat, you should fill out the application form on the website or their Facebook page.
Ragdoll Cat Rescue
One of the most well-known Ragdoll cat rescue groups is Ragdoll Rescue that works across the USA and Canada. This organization is aimed at gathering cats of this breed out of various animal shelters and Ragdoll rehoming.
Ragdoll Rescue keeps both registered and unregistered Ragdolls. So if you're looking for a new four-legged companion and use the Ragdoll Rescue website or their Facebook page, just choose the link of available Ragdoll cats and look at the options near your home.
Merlin's Hope Ragdoll Rescue
This shelter operates on the territory of Ennis in Texas. It takes care of Ragdoll cats as well as Maine Coons. However, it's important to know that Merlin's Hope Ragdoll Rescue works with a limited number of states.
If you're from Texas, New Mexico, Louisiana, Oklahoma, or Arkansas, you can turn to this rescue house and search for cool Ragdoll kittens or Ragdoll cats for adoption as well as Maine Coons.
Be ready to prepare an application form where you write detailed information about yourself, the conditions you can offer your new feline, and the aim of adoption. All of the available Ragdoll cats from Merlin's Hope Ragdoll Rescue are kept in temporary foster families.
Retired Ragdolls for Sale
The Ragdoll price usually amazes people. That's why some Ragdoll cat lovers choose a nice way to take this awesome feline. They start looking for a retired Ragdoll for sale in different Ragdoll catteries. And that's a great idea because in such a way you'll get a new adult cat of your favorite breed and the retired Ragdoll cat will find a caring person.
One of the most popular places where everyone can buy an adult Ragdoll cat for sale is Rainbow Ragdolls cattery. It offers only purebred retired Ragdoll cats, and the price is usually very attractive. This cattery is known as a highly reputable location (it has been operating for more than 14 years).
Rock Creek Ranch Ragdolls cattery also often offers older Ragdoll cats for adoption or for sale. You can visit its website and take a closer look at the available options. The cattery is situated in California, but it also operates all over the USA.
Other Ways to Find a Ragdoll Breed Rescue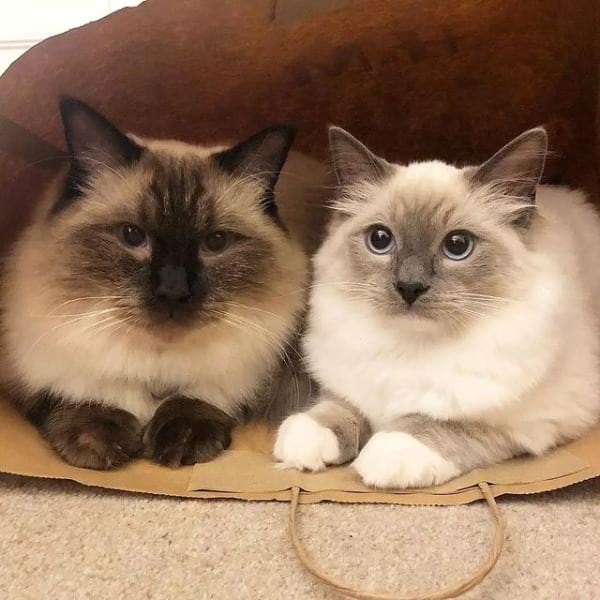 The Ragdoll rescue establishments are not the only ones that can help you if you're planning to get a Ragdoll kitten or a purebred Ragdoll cat to your home. You can also use such national sites as Adopt-a-Cat or Petfinder Ragdoll zip code types that offer a searchable database. These online organizations collect information about all private cat rescue groups and shelters, including those that work with Ragdoll cats.
Another useful website you can try is Rescueme.org. It helps abandoned pets find new homes as well as kind people find new furry companions. Visit this website and see how many Ragdoll cats are waiting for caring masters in the USA, and choose the fur baby that will be your new friend.
One more interesting option that can be useful for you is Specialty Purebred Cat Rescue Group that is situated in the Midwest but works across the USA. This rescue group saves all types of purebred felines and Ragdoll cats aren't an exception. So you can use their website and search for a Ragdoll for adoption.
Ad Analysis – How to Avoid Scams
Of course, a lot of people like checking out cat adoption ads to find a new kitty. But you should be very attentive if you choose this path because, unfortunately, there are many pet scams on the Net. Here are a few tips on how to avoid Ragdoll cat scams.
Don't be afraid of asking the phone number of the person who sells the Ragdoll cat or the vet clinic this cat has been to. If you aren't given the number or it isn't the US number, be sure this ad is a scam.
Try to get as many pictures of the Ragdoll cat or Ragdoll kitten as possible. This can prove that the cat is real.
Never send money if the person who sells the Ragdoll cat asks you for help because the cat is in a particular state.
Ignore the ads if the seller doesn't live in the USA.
When you see the ad from the Ragdoll breeder, ask about the Ragdoll breeder registration details to be sure who this person is.
Contact an Organization Near You for Ragdoll Cat and Kitten Adoption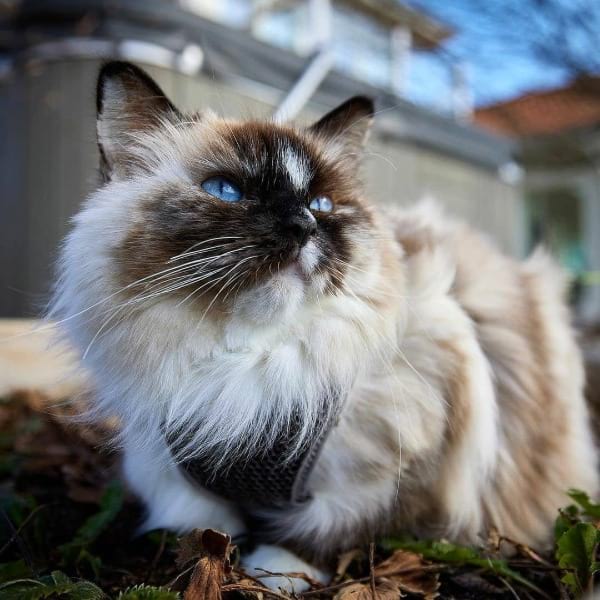 As you see, there are a lot of Ragdoll cat rescue organizations. They all are united by the common goal – to rescue Ragdolls all over the USA and even Canada. These rescue establishments help Ragdoll cats find new homes and loving masters.
If you are ready to foster a Ragdoll kitty, choose one of the organizations listed above and fill out the application form online on their websites or Facebook pages. That isn't difficult to do, but the result will be an amazing Ragdoll cat in its new permanent home.
How Much Does It Cost to Adopt a Ragdoll Cat?
The price range for adopting a Ragdoll cat is $75-$100.
Caring for a Rescued Cat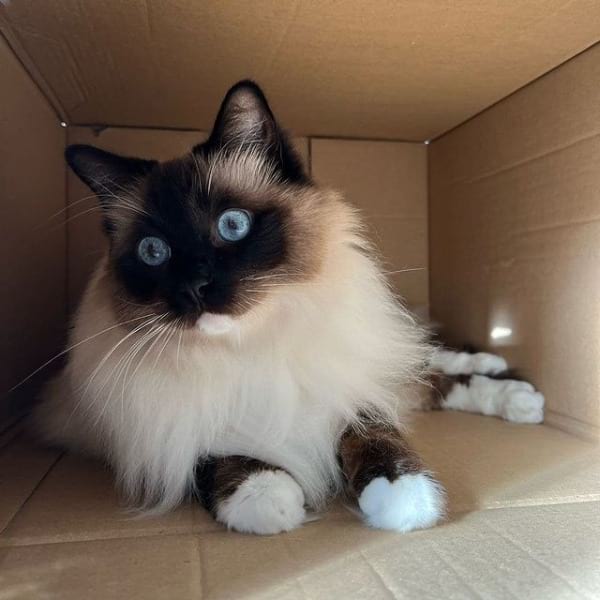 When you foster a rescued Ragdoll cat, you are not just saving the life of this feline, you are also the person who is responsible for the rehabilitation of this cat.
You should understand that some Ragdoll cats may come from loving families but for some reason, they happen to be in a shelter (but these cats are well-socialized). Other Ragdolls can have some problems with socialization because of a lack of loving master or ill-treatment. In this case, you should socialize with your new rescued favorite.
Socializing the Cat
Let your Ragdoll adjust to the new surroundings. Let your favorite just one room for its exploration. Introduce its new home with one room, and it will be a good start for your acquaintance.
Don't scold your new pet because of toilet issues. It would be better to put two or three toilet trays for your furry companion when it adapts.
Choose the quietest place to set water and food bowls for your Ragdoll.
Remember, your feline needs you to be socialized well. Take time to pet and groom your fur ball and spend as much time as possible with it.
Your rescued cat can be afraid of everything at first and you should be patient. Try to understand your new pet, and soon it will come out and adapt to its new loving home.
The Medical Checkup
It's very important to get your rescued cat to the veterinarian regularly and do checkups at least several times a year. Be ready that your new Ragdoll cat will be afraid of vets, but it will adjust over time. Think that it is a necessary measure that will help you monitor the health condition of your kitty.
Long-Term Cat Care
You should realize that your rescued Ragdoll cat may require long-term care. First of all, it can have serious health problems because of age, wrong diet, and so on. That's why medical checkups are so significant for your new cat. Don't forget about the psychological state of your Ragdoll kitty because of staying in a shelter.
It won't be too easy to regain the trust in people and feel safe at a new loving home. Besides, it is important to take care of the cat's physical condition as well as its emotional well-being. Ragdolls have a beautiful long coat, so they need regular grooming.
Besides, it is necessary to choose food for them in accordance with their needs and health condition. You can go for dry cat food, wet food, or prepare cat treats yourself.
Conclusion
If you're thinking about the adoption of a male or female Ragdoll cat and you love long-haired cats, be sure you won't be disappointed. This breed is perfect for people who are looking for a loyal four-legged friend. Moreover, affectionate Ragdoll cats get along well with children and they can easily live with other pets under one roof.