This article outlines the main highlights and advantages of the best Ragdoll breeders in Kentucky.
Ragdolls are amazing creatures that have conquered millions of hearts worldwide. Ragdolls are often known as "dog-like cats" or "puppy-like cats", due to their tendency to follow people around, their receptiveness to handling, and their relative lack of aggressiveness towards other pets. All these qualities make them exceptional companions both for singles and families with kids.
Today, finding a purebred Ragdoll kitten may be a daunting task. Therefore, we've decided to analyze the best breeders in Kentucky and provide an in-depth guide on the best catteries that raise beautiful Raggies. Keep reading!
Ragdoll Kittens for Sale in Kentucky
Check out this list of reputable Ragdoll breeders that offer Ragdoll cats for sale and have Ragdoll adults available.
Editor's Note
How many cats can you own in Kentucky?
The number of cats that a Kentucky citizen may possess is not restricted by state law.

This cattery is owned and operated by Cindy Carpenter, who is dedicated to raising happy and healthy Raggies in a well-air-conditioned environment with lots of natural light. There is enough area for cats to play and roam freely. Besides, the breeder regularly disinfects the cattery to maintain a healthy and safe environment. The cattery offers traditional Ragdolls in blue, red, and seal colors and lynx and tortie patterns.
Adoption Process
Kittens are ready for adoption when they are 12 weeks old. They leave the cattery spayed/neutered, and come with a health guarantee and a contract.
Testimonials
This cattery doesn't use cages. It provides roaming areas filled with various platforms for climbing and napping, as well as plenty of scratching posts.
Declawing isn't allowed.
Cindy is very professional and provides the highest level of care.
All cats are HCM-negative.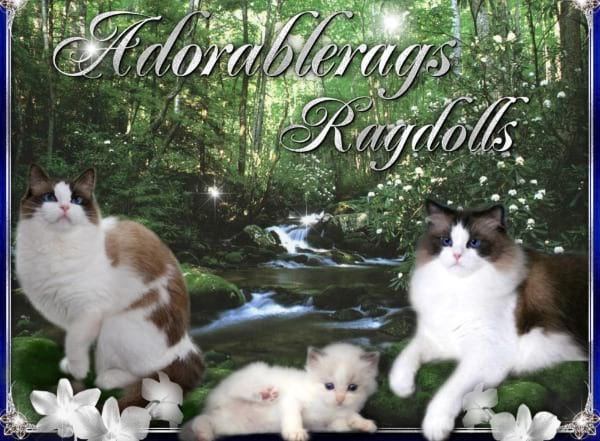 This cattery is focused on breeding Ragdoll cats that carry exclusively traditional lines. The owners of the cattery, Dr. Brian and Cynthia Bailey, are respected members of Ragdolls International, Ragdoll Fanciers Worldwide Club, Ragdoll Fanciers Club International, and Ragdolls of America Group. They constantly evolve and regularly attend educational seminars and participate in TICA shows. All kings and queens are HCM negative, so you can be sure that each litter doesn't have any genetic diseases.
Adoption Process
You can choose blue bicolor, colorpoint, or mitted Ragdoll babies with a gentle personality and enough energy to play with you. Kittens come spayed/neutered (*unless you buy breeder cats) and with a signed contract. If you want to hold a kitten, be ready to send a non-refundable deposit of $500. This breeder provides shipping services for an additional fee.
Testimonials
Owners of the cattery work with certified veterinarians who inspect the cattery every year.
This breeder follows the TICA Ethics Agreement.
All kittens are smart and playful.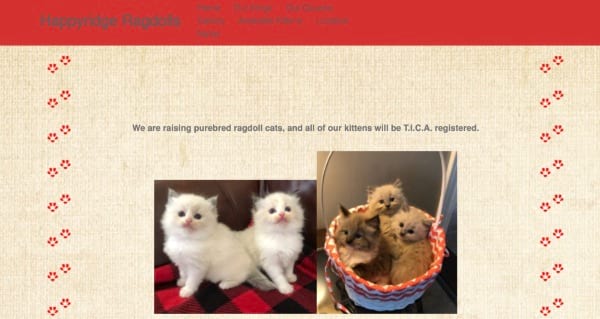 Happyridge Ragdolls is a member of TICA; it raises purebred Ragdoll cats with a cheerful and lovely temperament.
Adoption Process
You can buy blue colorpoint and/or mitted kitties with TICA registration papers. To learn more about the kitten's health, the package the breeder provides, and the price of the Raggies, contact this breeder directly.
Testimonials
All kittens have perfect bloodlines and easy-going temperaments.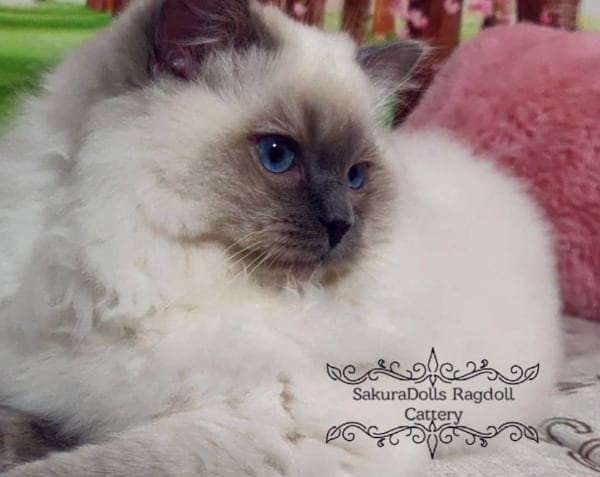 This TICA and CFA registered cattery strives to raise healthy and charming Ragdoll kittens ethically and responsibly. All kittens are treated as family members, and they regularly interact with other pets and people. A notable feature of this breeder is that breeding cats are tested negative for over 40 possible diseases met in cats.
Adoption Process
Both young kittens and adult cats are available for adoption. They come spayed/neutered, vaccinated, vet checked (3 exams are completed), nail trimmed, and groomed. A kitten also has TICA registration papers, parents' genetic testing results, and a go-home package. Besides, the cattery offers various guarantees, namely:
72-hour health guarantee against FeLV, FIV, and heartworm
2 Year FIP Health Guarantee
6-Year Genetic Health Guarantee
30 Days Trupanion Pet Insurance
30 Day Revolution© Flea Medication
To hold a kitten, a $500 non-refundable deposit is a must.
Testimonials
The owners of the cattery are very hospitable, they demonstrate a positive attitude towards future pet parents and are always ready to answer all questions they might have.
The breeder offers courier service. To learn about the conditions and rates, please contact the breeder directly.
The cattery focuses on quantity, not quality. Therefore, all queens are given a long break between litters and a vet check-up before their next litters.

This small cattery raises beautiful blue-eyed fur babies underfoot. Kittens are healthy, have a wonderful purrsonality, and have Supreme Grand Champion lines. At this cattery, they receive much love and attention, so the breeder strives to find families that will cherish these pets forever.
Adoption Process
When the kittens are 12 weeks old, they are ready to go home. All of them are healthy and negative for the HCM gene. Before leaving, kittens are vet checked, vaccinated, spayed/neutered, and TICA registered. Besides, together with the kitten, Ragdoll parents will receive all health records, a copy of the parent's pedigree (3 generation pedigree), and a kitten bag with food and toys.
To reserve a kitten, you must send a $300 non-refundable deposit for pet quality felines, and a $500 non-refundable deposit for show quality cats. Besides, retired adults are available for adoption. For prices, please contact the breeder directly.
Testimonials
All kittens are well-socialized.
This cattery pays special attention to the kittens' health (they undergo regular vet checkups) and offers a two-year genetic guarantee.
Editor's Note
What is the cheapest price for a Ragdoll kitten?
The cost of a Ragdoll cat ranges from $800 for a pet to $2000 for a show-quality kitten.
Bottom Line
Consider one of these reputable breeders to find a perfect family companion with exceptional pedigree and great disposition.