Ragdoll cats are kind, loyal, and very intelligent creatures that are a great fit for families of all sizes. They happily engage in games and activities, remaining playful well into adulthood. Ragdolls are loyal companions and family members who will brighten up your life.
If you're looking for a healthy kitten with a great pedigree and a friendly disposition, these breeders in New York are just what you need. We've analyzed them and provided an overview of the best catteries in New York City. Keep reading!
Ragdoll Kittens for Sale in New York
Here are the most popular and reputable Ragdoll breeders NY.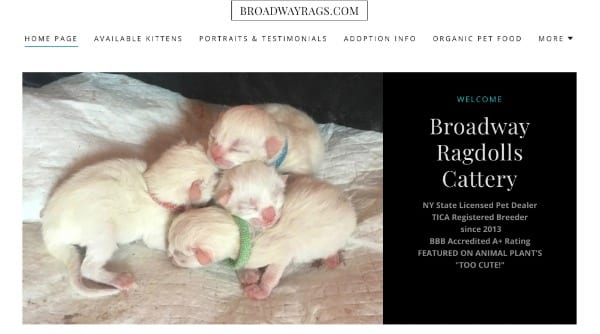 This family-owned cattery offers chocolate, lilac, cream, flame, seal, blue, red mink, and lynx Raggies. All kittens are raised in a family to guarantee they are very affectionate and well socialized. Due to the COVID-19 pandemic, all visits are held online for the safety of the family and kittens.
Adoption Process
Every offspring is physically and mentally healthy, all cats are HCM and PKD negative. Kittens go home when they are 16 weeks old; they come with age-appropriate vaccines, a vet certificate, a fecal test, and a TICA pedigree. Besides, all Ragdoll kittens are microchipped and spayed/neutered. To place a kitten on hold, a $350 deposit is required.
Testimonials
Claire, the owner of the cattery, is professional and friendly. She provides care recommendations and is always ready to help.
Kitten pickup is conducted safely. Kittens come freshly washed and groomed on the day of their pickup.
All Ragdoll babies are socialized and well-behaved.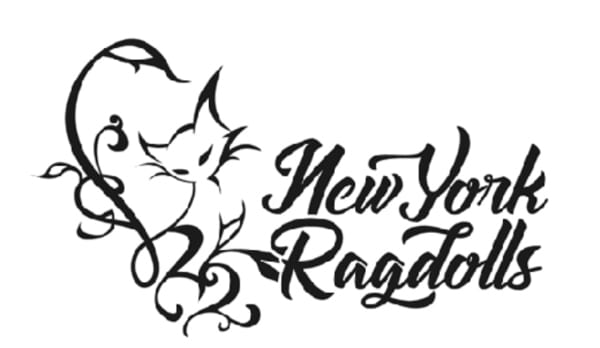 This small cattery is owned by Denise Wolff, a Ragdoll enthusiast. Kittens are raised in a clean, safe environment, they interact with Yorkies, and are treated as family members. Therefore, all Raggies are healthy, affectionate, and well socialized.
Adoption Process
All cats are TICA registered, they come negative against HCM, FeLV, FIV, PKD, and MPS. Before kittens leave their parent's home, they are dewormed (at least twice), spayed/neutered, with two FVRCP vaccines, a health record, a two-year health guarantee, and a five-year guarantee against HCM. Besides, every kitten gets a goodie bag with toys that helps it assimilate into a new place.
Testimonials
Denise is knowledgeable, responsive, and very helpful. She is very attentive to details.
Many buyers say that the owner is very loving and caring, therefore, all kittens are well-behaved and get along well with all family members.
Kittens are litter trained.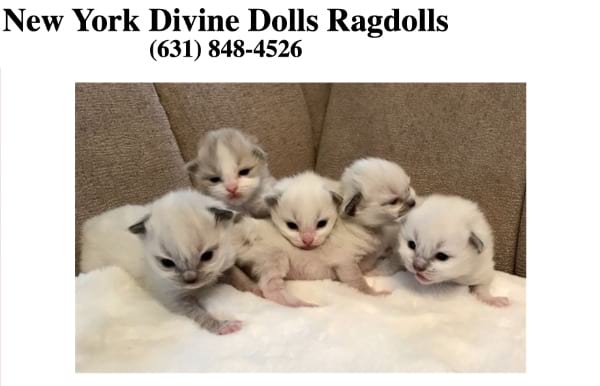 This cattery offers truly "divine" Ragdoll kittens for sale NYC because all of them are extremely beautiful, healthy, affectionate, and gentle. Christine, the owner of the cattery, does her best to offer the best representatives of this wonderful breed.
Adoption Process
When it comes to purchasing, the breeder demonstrates a responsible and straightforward approach. To reserve a kitten, you should leave a $500 non-refundable deposit. When the kitten is 8 weeks old, the price must be paid in full. Pet quality kittens cost $2500-$2800, perfectly marked babies will cost $2800 – $3500, and for rare felines, you should be ready to pay $3600 and over.
The kittens leave the cattery when they are 13-16 weeks of age with a so-called full package. All Raggie beauties have two FVRCP vaccinations, dewormed, with one application of Revolution, a health record, papers that prove the three-generation pedigree, a fecal exam result, a health guarantee, and TICA registration papers. On top of that, a goody bag with Life's Abundance food & treats is provided. When you get the kitten of your dreams, it will look its best because Christine makes sure the kitten receives a show bath and nail trim.
NOTE! If you need HCM and MPSVI testing, be ready to pay an extra $140. Besides, microchipping is also optional and costs $65.
Testimonials
Shipping is possible.
The owner is very responsible and helpful. If Christine isn't 100% sure that new pet parents can't provide a safe and loving environment, the deposit is returned.

This cattery is owned and operated by David Nudleman, a Ragdoll enthusiast. David breeds various lines of Ragdoll cats, including De La Mer Line, De La Mer Part De Celtic Line, and Angel Line. You are welcome to buy seal, cream, blue, lynx, and bicolor kittens. All kittens are raised underfoot, and they are well-educated in the ways of the litter box and scratching post etiquette. David loves Raggies and equipped the whole room filled with the cat toys and other items they need to be happy.
Adoption Process
To buy a kitten, you must leave a $250.00 non-refundable deposit. Kittens leave their place when they are 12-14 weeks of age. Before coming to their forever home, they get their first vaccine shots, deworming, a vet health certificate, a genetic health guarantee, and spayed/neutered. Besides, they are delivered with a kitten kit.
Testimonials
This TICA and CFA Cattery is responsive, responsible, and passionate about the Ragdoll breed.
All kittens are litter box trained and well-socialized.
FAQ
How much are Ragdoll kittens in NYC?
A Ragdoll Kitten in New York has an average tag price of $1600-$2800. Healthy kittens with a great lineage may cost up to $3500.
Editor's Note
How many cats can you own in New York?
There are no state regulations in force right now that force cat owners to have a specific number of cats in their homes. So in theory, you could have as many cats as you want without breaking the law.
Bottom Line
We can guarantee if you contact one of these catteries, you will get a healthy, sincere, and beautiful bundle of joy!