Many people dream about a cute pet at home. Most cat lovers prefer Ragdoll feline buddies. They are fluffy felines with a friendly character, big blue eyes, and a silk light coat. If you are searching for Ragdoll kittens for adoption, take a closer look at local breeders and catteries near you.
For Pennsylvania residents, there are many sellers to take into account. You can buy a Ragdoll cat at an affordable price or even adopt the attractive feline from the rescue center or a shelter locally for free.
Ragdoll Cat Breeders in Pennsylvania
Find Ragdoll kittens for sale in Pennsylvania with the list of PA breeders and catteries. You can contact any seller of your interest via email, social networks (Facebook, Instagram profile), or telephone. Visit websites to know more about available Ragdoll kittens for sale $200 and adult cats to adopt.
Some sellers offer blue-point and lilac Ragdoll kitten males and females. Other breeders and catteries are looking forward to providing bi-color felines of this breed with some exclusive features like cinnamon colorpoints and orange patterns.
There are many variants to choose from. The Ragdoll kitten price will depend on the breeder's reputation, pedigree, certifications, and other factors. Decide on the main criteria before starting your search.
MilkyWay Ragdolls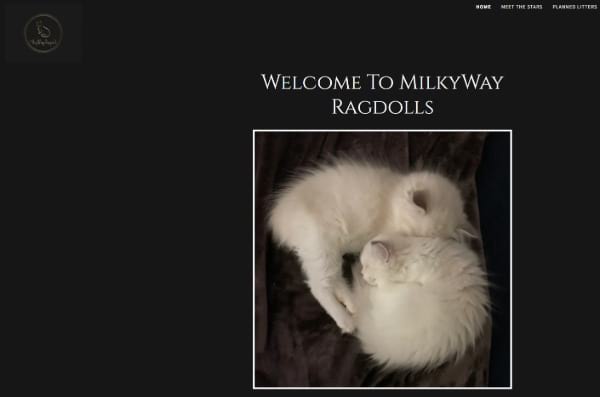 This is a closed cattery in Elkland, PA. Two show-quality Ragdoll parents Hans and Annie are the pride of the Milky Way Ragdolls. The planned litters in 2022 might contain blue lynx bi-color like the feline father. Or you can count on the chocolate show quality Ragdoll kittens for sale with tortie patterns as the bewhiskered mother has.
The breeder can provide the extra service of kitties' shipping throughout North Central Pennsylvania (Bloomberg, Hazleton, State College, etc.). All the feline babies are vaccinated and dewormed before adoption.
Shawnee Ragdolls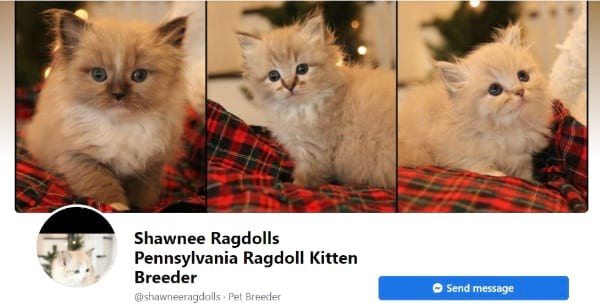 If you are searching for TICA registered Ragdoll fluffy kittens for sale, take a closer look at the Shawnee local cattery. The story of this breeder began 15 years ago. It is worth noting that this cattery also provides adult Ragdoll cats (young bewhiskered ladies and gentlemen with all the documents and sprayed/utd background).
The Shawnee Facebook account contains funny reels about feline parents and the adventures of the babies of the available litter. Explore all the Ragdoll kittens for sale PA with this local breeder.
Ahart for Rags

This breeder offers chocolate, blue, lilac, and seal-point Ragdoll kittens within driving distance of Delaware, Maryland, and other nearby areas. The average traveling fee is about $50 for those who would like local shipping services.
The seller offers 12-week kitties and guarantees all the required health policies. There are 5 she-cats and 7 he-cats who give birth to Ragdoll kittens for adoption in PA with the Ahart for Rags breeder.
Rolling Creek Ragdolls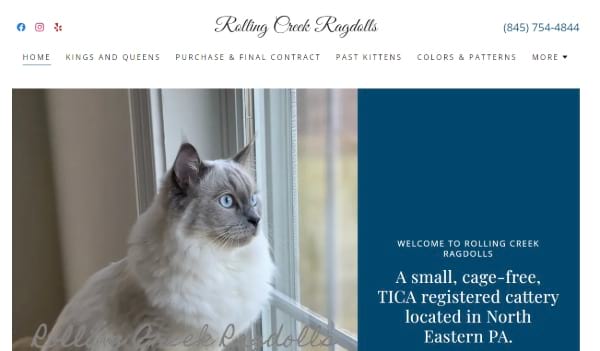 This cattery is located in Matamoras. All the kitties are raised cage-free and are well-socialized. This way families with other pets and kids can be sure that a feline will make a hitch of everyone at home. The gallery of the bewhiskered kings and queens contains 15 young cats of 9-10 months old.
This great selection of feline parents makes it real to raise litters with various color patterns and points including orange Ragdoll kittens and cinnamon cats. Contact the cattery to find out more about available kitties in 2022. Explore its Facebook and Instagram profiles for more stunning photos and videos.
Steel City Ragdolls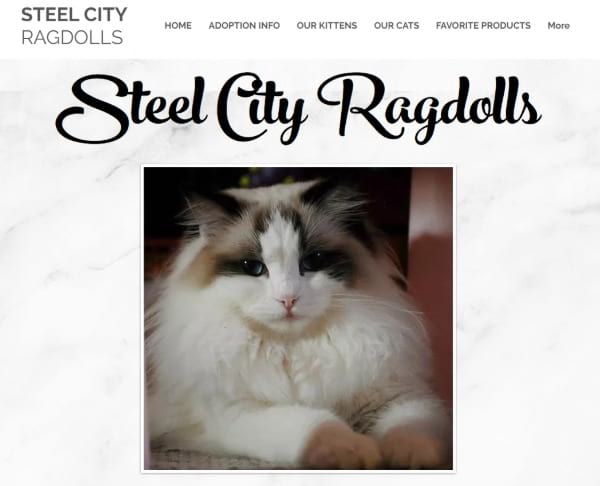 This breeder offers eye-catching Ragdoll kittens in Pittsburgh. All the feline buddies are TICA registered, vaccinated, DNA tested, and dewormed. There is a gallery with photos of past blue-point Ragdoll kittens and the portfolio of gorgeous bewhiskered parents.
Everyone is welcome to read the adoption information. There is an opportunity to apply for the kitty on the website through the online application form. Additionally, potential owners of the fluffy Ragdoll cats can visit the social media accounts of the seller.
Northern Lights Ragdolls

If you are searching for Ragdoll kittens for sale in Harrisburg (PA), this breeder is at your service. Three feline parents named Leo, Luna, and Lyra are of different color points that make chances to have an exclusive litter tripled. Ragdoll cat mothers and a father are of:
Mink lynx point (Leo);
Blue point (Luna);
Seal-pint mitted (Lyra).
It is worth noting that the breeder raises kitties cage-free and is fully responsible for feline parents' and babies' health. Now, there are three affordable Ragdoll kittens to buy. Adopt Merry, Comet, or Holly – contact the local seller to specify all the details.
M. Sorokas Angel Rescue
This is the Ragdoll cat rescue center (PA) located in Brownsville. The organization makes a specialty out of saving feline lives. Here, you can adopt the cat of any breed almost for free. There are many fluffy babies who require your care and love.
If you are searching for cheap kittens in Pennsylvania for sale and are ready to surround your pet with attention and a loving atmosphere, contact Sorokas Angel Rescue right now! Note that some extra costs for the kitty's treatment, vaccination, and deworming might be required.
Ragdoll Kittens for Sale Online
Where to buy a Ragdoll cat else? You can explore online platforms with craigslist offers from local individual breeders. There you can find Ragdoll kittens under $500 (Ragdoll kittens for sale $400 or $200). Two recommended websites are Adopt a Pet and GoKitty.
Adopt a Pet (PA)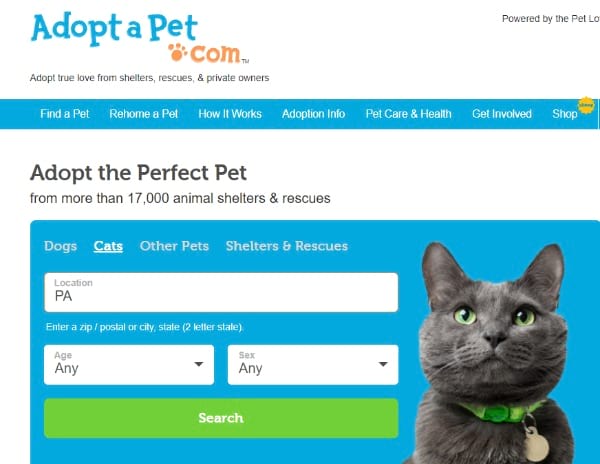 This is a US online platform with adoption opportunities throughout the United States. There are offers for residents of the Pennsylvania towns and cities. Specify in the search box your location, the age & sex of your ideal pet, and take a closer look at all the variants.
GoKitty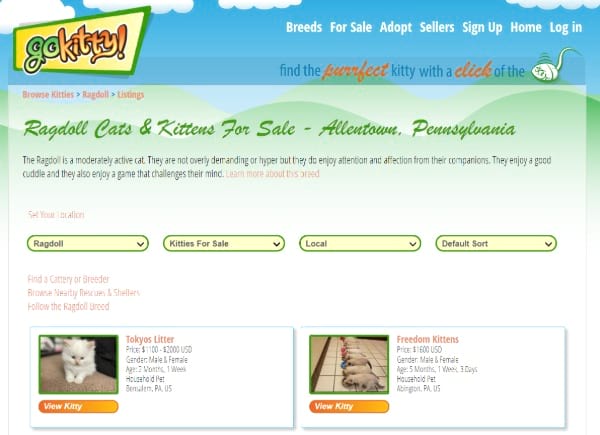 A huge selection of local craigslist ads on a single website. Specify the breed, location, sorting parameters (the youngest come first, the nearest offers come first, etc.), and other details like breeding, retired cats or kittens for sale or adoption. Then, you will see all the available felines locally with the prices and detailed information for each pet.
Here you can opt for Ragdoll kittens for sale even at $400 or $500. Most breeders are not certified and sell kitties in a private capacity. Free adoption of young and mature cats is also possible on the GoKitty website.
FAQ
What Is the Average Price of a Ragdoll?
The average price in the USA is $800-$1,500. This is the kitten with the TICA registration and the vaccination card. Some kitties can cost more than $2,500 if they are of show-quality characteristics and obtain exceptional pedigree background.
How Much Is a Ragdoll Kitten Price in Pennsylvania?
You can buy a Ragdoll kitten in Pennsylvania for $350 and up to $2,000. Everything depends on the breeder's reputation and the pedigree background.
The most show-quality felines with exclusive color patterns are the most expensive. Individual breeders and small catteries can offer Ragdolls at $400-$500. The rescue centers and shelters provide free adoption as well.
Is It Better to Have 1 or 2 Ragdolls?
Numerous studies show that having a cat mate will make a Ragdoll cat healthier, happier, and more active. Therefore,  most breeders advise purchasing two Ragdoll kittens together.
How Many Cats Can You Legally Own in Pennsylvania?
Pennsylvania residents are allowed to possess an unlimited number of pets, according to state law.
Final Word
Ragdolls are very popular among Americans. They are considered puppy-like pets while constantly contacting people and requiring their attention. You will never be alone with such a cat. Moreover, these felines are so beautiful!
Buy a Ragdoll kitten in Pennsylvania easily with the list of local breeders mentioned above. Visit rescue centers and shelters in PA to adopt a kitty for free.
You may also like:
Ragdoll Cat Size and Comparison to Other Cat Breeds
Are Ragdoll Cats Hypoallergenic?