Ragdoll felines are definite attention-grabbers. You can't resist their magnificent blue eyes, silky fur, and their sweet personality. If you've decided to become proud Ragdoll parents, then you know for sure that these charming felines are worth the investment!
From our side, we can make your choice easier. We've rounded a list of the best Ragdoll breeders in Iowa. They prioritize the health of Ragdolls and do their best to raise the most beautiful and affectionate Raggies.
Ragdoll Kittens for Sale in Iowa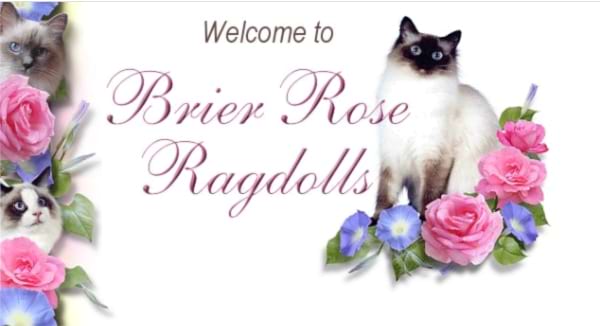 This small cattery focuses on raising high-quality kittens. Therefore, it provides only one or two litters at a time. Thus, every kitten gets enough care and attention. Ragdolls with the following coat colors and patterns are available: seal, blue, flame, cream, tortie, and lynx.
Adoption Process
This TICA, CFA, and ACFA registered cattery offers kittens and retired breeding adults for sale. To learn more about the conditions and prices, contact the breeder directly.
Testimonials
Buyers say that vets note a high level of socialization of Ragdolls offered at Brier Rose Ragdolls.
The breeder is friendly, and the house where the kittens live is clean.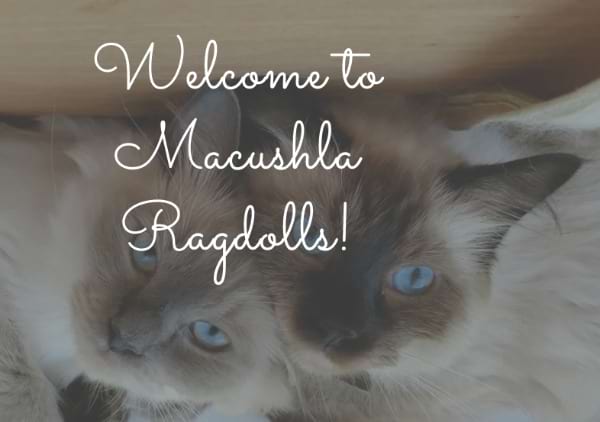 This cattery offers beautiful and well-rounded Ragdoll beauties as pets only. Beautiful male and female cats are available in the following colors and patterns: seal, blue, lilac, cream, flame, chocolate, cinnamon, colorpoint, mink, calico, tortie, and solid.
Adoption Process
This cattery demonstrates a responsible approach to choosing future Ragdoll parents. Therefore, potential adopters should complete a questionnaire, which should be approved by the cattery.
Kittens head home when they are 8-12 weeks old. They have all age-appropriate vaccines and an application of Advantage Multi. Besides, Raggies are microchipped. Together with a kitten, you will get a free 30-day Trupanion insurance, a folder with helpful information, a sample of Hill's Science Diet food, a copy of the kitten's medical records, and FIV/FeLV test results of kitten parents. Female kittens aren't spayed before leaving, so you must confirm spaying by the time when a kitten is six months old to the cattery. Male kittens can be neutered upon request for an additional fee of $150.
To reserve a kitten, a non-refundable deposit of $250 is a must. The price of the kitten depends on its coat color. Seal and blue minks and points cost $1250. Lilac, flame, chocolate, and cinnamon kittens will cost $200 more. Raggies in calico and tortie patterns are priced at $1650. On top of that, the Macushla Ragdolls cattery provides retired breeder cats for adoption. They come vet checked, microchipped, and spayed/neutered (*at no additional cost).
Testimonials
Amanda, the owner of the cattery, cares deeply about the well-being of all kittens. They get all the necessary love and care after birth, and she is always ready to help pet parents after adoption.
This cattery is a participant of the Whiskers of Love program. It means that once a year, it chooses a family with a special need for a loving companion and gives one kitten at no charge.
This cattery offers discounts to those who adopt two or more kittens and to previous adopters.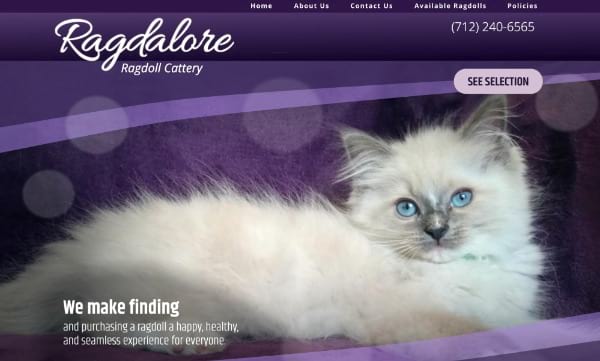 This cattery's highlights are devoted care, qualified expertise, and tender affection. In this cage-free cattery, you will find red, seal, cream, chocolate, blue, colorpoint, bicolor, lynx, mitted, and sepia Ragdoll felines that meet the Ragdoll breed standard and exceed customer expectations.
Adoption Process
Kittens' health and well-being are the staples of the breeding program. Queens and kings have been tested negative for over 50 various genetic disorders. Besides, all of them have been tested for dominant and recessive coat colors.
Kittens go home vaccinated, dewormed, vet-checked, and spayed/neutered (*unless breeding rights are purchased). To reserve a kitten, be ready to send a $200 non-refundable deposit. If you want to hold a breeder cat, then the deposit is $600. Note that breeding rights are offered at an additional fee. Its amount depends on the cat's color, quality, and rarity. Usually, the price range is $1000-$2000.
Testimonials
This cattery offers a seamless purchasing experience.
The cattery owners are very friendly, and responsive, and they send kitten updates weekly.

Lil Darling Ragdolls is the cattery that raises healthy and affectionate kittens that are loved infinitely. The cattery focus on quality, not quantity. Therefore, it doesn't support overbreeding. You can buy traditional, mink, and sepia Ragdolls in blue and seal colors and/or bicolor, mitted, lynx, and colorpoint patterns.
Adoption Process
As top-notch health is one of the top priorities of the cattery, all kittens leave it vaccinated, litter box trained, vet-checked, dewormed, brushed & bathed. Besides, this breeder offers a 72-hour major health guarantee, a one-year genetic health guarantee, and a bag with kitten food.
If you want to receive TICA registration papers, you must spay/alter the kitten before six months of age and provide a vet written proof. The kitten cost varies and depends on the quality, pattern, and breeding rights. The prices are as follows:
Pet quality kittens (a $300 non-refundable deposit must be sent)
Traditional $1000
Mink $1,200
Sepia $1,500
Show Rights – $200 extra
Breeding rights (they are given only to HCM, FIV/FeLV, PKD1, and TICA-registered catteries. A $600 non-refundable deposit must be sent)
Traditional $2,000
Mink $2,400
Sepia $3,000
Testimonials
Kittens are perfectly socialized because the breeder raises them in a stimulating environment so that they get adjusted to household sounds and the sounds of other pets.
The cattery offers lifetime support.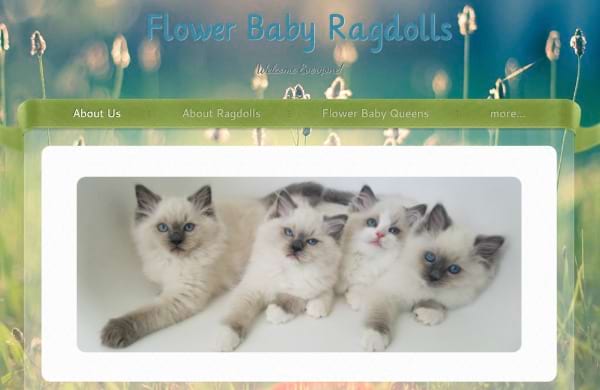 This cattery is a loving home to blue, seal, flame, lynx, bicolor, and tortie Ragdolls. All Ragdoll kittens are raised underfoot, they are given lots of attention and love. Therefore, they develop their sweet and loving temperament.
Adoption Process
All breeding lines are negative for PKD and HCM. Thus, you can be 100% sure of the absence of genetic diseases. Kittens leave their permanent home vaccinated (they get two sets of age-appropriate vaccines), dewormed, and desexed. Microchipping is available for an additional fee ($50). Besides, kittens also come with a 72-hour health guarantee and a two-year genetic health guarantee.
To join the waitlist, you must pay a $250 non-refundable deposit. When a kitten is born, another non-refundable deposit of $250 must be sent. This cattery offers Ragdoll kittens and TICA-registered retired adults.
Testimonials
This breeder adheres to a no-declaw policy.
Karli, the owner of the cattery, runs a TikTok account. You can check it out and see how kittens play and cuddle.
Bottom Line
If you want to find a Ragdoll kitten that will brighten up your life, then choose one of these catteries. They make sure all fur balls they offer are healthy, beautiful, and loving.