Every pet lover knows that these floppy cats are very sociable, easy-going, affectionate, gentle, and calm. They will snuggle easily and will cuddle with their pet parents with pleasure. Some people say that these cats are known as dogs in a cat costume, so they are perfect for people who love animals.
There are many reputable Ragdoll breeders in Maryland. We've carefully analyzed the catteries and come up with a list of the most reputable ones. Note that we haven't visited them in person, and all information is based on official data and buyers' feedback. We recommend that you study this list carefully and contact Maryland Ragdoll breeders directly if you have any questions.
Ragdoll Kittens for Sale in Maryland

This TICA-registered cattery raises Ragdoll cats with European, Canadian, and Russian championship lines. All Ragdoll babies are raised around children, so they have a lovely floppy Ragdoll personality. The cattery offers traditional blue-eyed, chocolate, colorpoint, solid, mink, and sepia Ragdolls.
Adoption Process
The breeder pays special attention to the cats' and kittens' health. Therefore, with the help of Davis and Optimal Selection, felines are tested for HCM, PKD, FeLV, and FIV. All cats have been tested negative for these diseases. For the sake of cats and their babies' health, home visits aren't allowed. To reserve a kitten, a purchaser must send a $200 non-refundable deposit.
Kittens are ready for adoption when they are 11-12 weeks old. They come vaccinated, dewormed, and spayed/neutered. This cattery also offers a veterinarian health certificate, TICA registration papers, a 2-year health guarantee, pet insurance for one month, and a bag with samples of food and toys. The price of the kitten depends on its coat color and lineage. Usually, it starts at $1500. Breeder Ragdoll kittens Maryland cost $3000 and up. All kittens have show rights (an extra fee isn't charged).
Testimonials
The breeder offers transportation services.
Declawing is not permitted.
Dazzling Ragdolls offers a $100 discount on the purchase of a second kitten.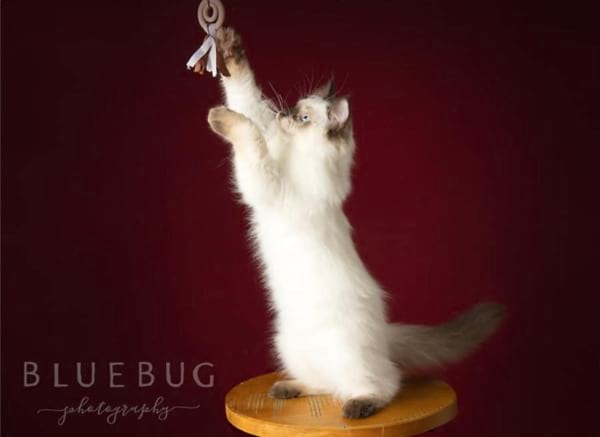 This TICA-registered cattery is owned and operated by a family that loves Ragdolls and does its best to raise the most beautiful and affectionate Ragdoll babies. Kittens of different colors and patterns are available: seal, blue, chocolate, lilac, cinnamon, tortie, lynx, bicolor, pointed, mitted, mink, and solid. Therefore, you have a wide variety of beauties to choose from!
Adoption Process
All parents are health and color tested, and they are negative for HCM, PKD1, FIV, and FeLV. Kittens leave the cattery dewormed, vaccinated (they are given two sets of vaccines), spayed/neutered, microchipped, litter trained, and TICA-registered. Besides, a goody bag for a cat is provided. To join the waitlist, a $200 non-refundable deposit is a must.
Testimonials
An exceptional characteristic of this cattery is that cats are raised together with kids and other pets (dogs and rabbits). They get along well with all family members.
The cattery offers handy tips on the choice of litter boxes, toys, and water bowls on the official website.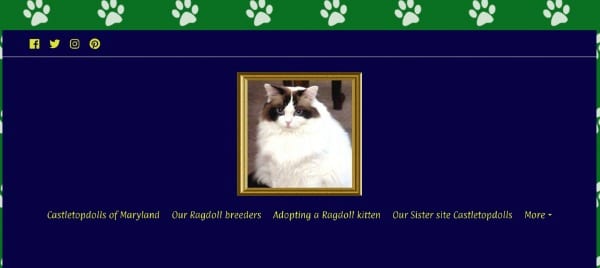 This pet-home hobby breeder offers gentle-tempered and playful Ragdoll cats for sale. Pets come in various colors & coat patterns: blue, flame, seal, cream, chocolate, lilac, tortie, mink, bicolor, colorpoint, and mitted. All Ragdoll beauties have magnificent blue or aqua eyes.
Adoption Process
Kittens leave their home when they are 11-12 weeks old. Regardless of their sex and color, they have their first shots of vaccine, and all of them are altered, dewormed, and have a three-year health guarantee, and three-day money-back guarantee. You can be sure that the kitten will be fully weaned and properly socialized. Besides, the breeder provides a kitten contract and food samples.
Potential Ragdoll parents can place a $150 deposit on a kitten or a pregnant mom. Retired cats cost $200-$350. For prices of other cats, please contact the cattery directly.
Testimonials
This cattery has a reputation for bringing healthy and beautiful cats with the best lineage.
All cats have free run of the house.
The breeder interviews future pet parents to make sure every cat fits its new family lifestyle and climate.
Castletopdolls follows a no-declawing policy.
Editor's Note
How many pets can you have in Maryland?
There are no pet ownership restrictions at the state level in Maryland. However, there may be restrictions at the municipal or county levels.
Bottom Line
Thus, choosing a new family member is a very responsible task, so we recommend that you carefully analyze all the breeders presented in the review and find the one that suits all your requirements. We wish you good luck in choosing a new family member!