Now is the time to adopt your very own Ragdoll kitten! Many people are unaware of the benefits of owning one of these affectionate, gentle felines. Ragdoll cats are incredibly loyal and love to cuddle. They make excellent family pets because they are also very patient with children and are well known for their gentle nature. These kittens are also very easygoing, making them a great choice for first-time cat owners. They'll quickly become an integral part of your family, and you'll never want to leave home without them. The following list of Ragdoll Kittens for sale in Massachusetts will help you and your family decide if a Ragdoll kitten is right for you.
Ragdoll Kittens for Sale in Massachusetts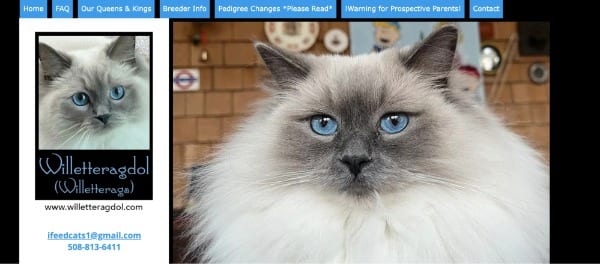 WilletteRagdol was founded by the Willette family in 2010. According to buyers, Bette, Rick, and Jake are the most professional, genuine, and loving breeders who treat fur babies as family members. The communication is seamless as they are always responsive and are available 24/7 both for potential pet parents and those who have already bought Raggies from their queens and kings. They send bi-weekly kitten updates from the perspective of the kitten, which creates a strong bond between a kitten and a parent-to-be. Besides, interviewing prospective parents is a must because the breeders want to make sure all kittens will be loved and cherished for the rest of their lives. All kittens have a wonderful temperament and loving personality because they are raised in a healthy and caring environment.
WilletteRagdol does its best to deliver the best representatives of the breed – healthy and cuddling lap cats who will brighten up your life. All Ragdolls are DNA tested for any genetic diseases, all kitties receive up-to-date vaccines (first two age shots), are treated for parasites, and are spayed/neutered by the time they leave their parents and go to their permanent homes. Microchipping is optional. Besides, on a pick-up day, parents also get TICA registration and a show-quality bath and nail trim. On top of that, happy parents get all the feeding information. The current prices aren't listed on the website, so you should contact the breeder for prices. Note that they do not give discounts and accept only cash.
Overall, WilletteRagdol kittens with a health guarantee for one year will fill your heart with happiness and joy!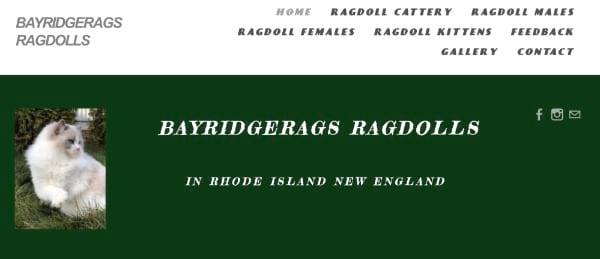 Bayridgerags is a reputable cattery that is registered with TICA (The International Cat Association) and RFCI (Ragdoll Fanciers Club International). All kittens have good bloodlines, they are DNA tested to ensure there are no hereditary issues, and always post a lineage on their website. Lily, the owner of the cattery, is responsible, helpful, and highly professional. She raises kittens in love and care. Therefore, all felines are highly affectionate, socialized, playful, friendly, and sweet. Lily always demonstrates a responsible approach when it comes to finding new homes for her precious babies. She always interviews parents-to-be to make sure the kitties will go to a safe and happy place. Obviously, she is a breeder who loves her kittens and has this extra step to ensure every kitten will go to a loving family.
The breeder provides documented lineage paperwork, two FVRCP (Feline Viral Rhinotracheitis, Calicivirus, and Panleukopenia) vaccines, TICA verification, a health record, and vet health checkup certificate, parents' pedigrees, and test results for HCM, FeLV, and FLV, kitten contact. Besides, all fur babies and spayed/neutered, microchipped, dewormed, and come with a two-year genetic health guarantee and feeding instructions.
Pet quality and show quality kittens of various colors and patterns (seal mitted, bicolor, blue mitted) cost between $2100 and $2500. To reserve a kitten, you should deposit $300. Payments are accepted via personal checks, cash, or PayPal.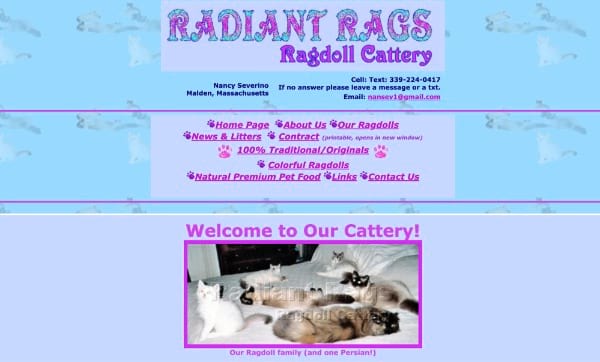 This small cattery offers pet-quality seal and blue Ragdoll kitties that come in a variety of patterns: mitted, colorpoint, lynx, and bicolor. Kittens are raised on natural cat food with a special vitamin system. Therefore, future pet owners can be sure that all fur babies are healthy. Besides, their health condition is guaranteed by negative HCM, FELV & FIV test results.
If you decide to buy a kitten from this TICA and CFA registered cattery, you will get a fluffy bundle of joy with TICA registration papers, a health record, and the necessary nutrition information.

This TICA and CFF cattery is known for offering the best representatives of the breed: perfect blue-eyed babies of various patterns (bi-color, mitted, pointed, solid, lynx, and mink). All Raggies have a cheerful disposition, and they are well-socialized because they live together with a family and two dogs. The breeding takes place twice a year, all kitties leave their parent's home with all current vaccinations, dewormed, and with negative HCM & NPSVI test results.
The breeders are very communicative and responsive. They are always ready to talk via email, phone, or video chat. Besides, they always post kitty updates on their Instagram and Facebook pages. If you want to buy a kitty, you should place a $250 deposit.
FAQs
What is a fair price for a Ragdoll kitten?
A show-quality Ragdoll kitten will likely cost between $1500 and $4000, while a breeder-quality Ragdoll kitty will be somewhere between $1800 and $3000. Sometimes the cost of a premium kitten reaches $5,000.
Are Ragdoll cats worth the money?
Our ultimate answer is yes! These kitties have strong health and amazing personalities. You will never meet such amiable and affectionate felines in other breeds. Typically, reputable breeders have a long waitlist, but these fluffy felines are worth waiting for.
How many cats can you legally own in Massachusetts?
There is no single answer to this question as it depends on local laws. Dennis prohibits people from owning more than six cats that are at least six months old. In Fairhaven, everyone who owns five or more cats must obtain permission and submit to inspections.
Conclusion
We hope that this list of Ragdoll kittens for sale in Massachusetts was helpful and that you've found the cattery where you will but your lifetime friend.