Ragdoll cats are a very sociable and friendly breed. They have a calm, balanced, and affectionate disposition. Besides, they have a high level of intelligence, and some cats are trainable.
If you want to parent these wonderful cats, then we recommend considering these Ragdoll cat breeders in Minnesota.
Ragdoll Kittens for Sale in Minnesota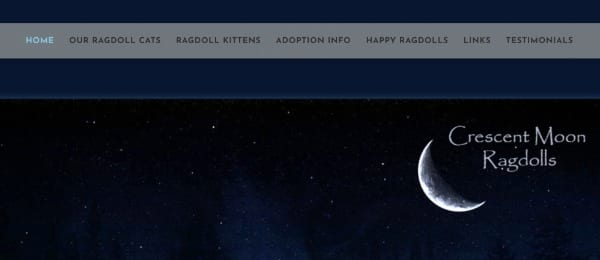 This ethical breeder of exceptional Ragdolls is committed to breeding healthy, happy, and loving cuddle companions for singles and families. The breeder follows TICA and CFA Ragdoll Breed Standards. Anne, the mother of beautiful breeding moms and dads, does everything to make sure Crescent Moon kittens find an exceptionally loving family and will be cherished for the rest of their lives. You can choose kitties of various colors (blue, seal, red, cream) and patterns (colorpoint, bicolor, mitted).
Adoption Process
This breeder prefers personal meetings to help future pet parents find a perfect match. After sending a deposit, the interview is conducted to help parents-to-be find a perfect fit for their lifestyle. After the first vaccinations have been done, a time is scheduled to visit the cattery and choose a kitten. Raggies leave their home when they are 12-16 weeks of age. Together with the kitten, you will get a contract, a three-year genetic guarantee, and a two-year FIP guarantee. The price of Ragdoll kittens is as follows:
Spayed/neutered pet kittens cost $1600.
Spayed/neutered show kittens cost $1800.
Testimonials
All kittens are Felv/FIV and HCM negative.
Anne is responsive, helpful, and always answers all questions regarding the kitten's health and care.
Many buyers say Crescent Moon kitties are gentle and sweet, and it's an absolute dream to have them in their homes.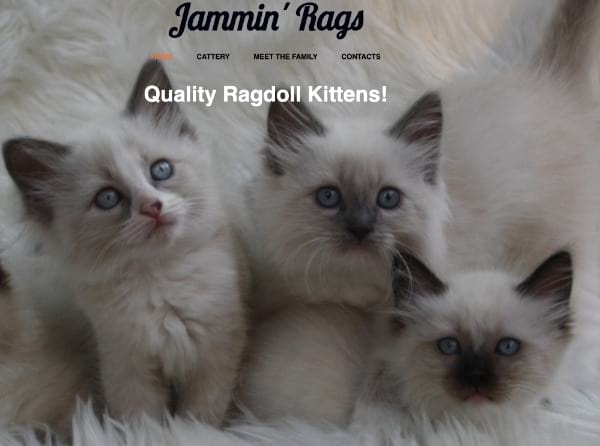 Ragdoll fur babies live in a large family (Lynn and Jerome, the owners of the cattery, have 8 children and grandchildren), so you can be sure that all kitties are well-socialized, and they are spoiled and loved. Breeding cats and kittens are free of any genetic mutations, including HCM and PKD. Besides, all kittens are TICA registered. You are welcome to choose Ragdoll beauties of any color (seal, cream, chocolate) and pattern (bicolor, colorpoint, mitted).
This breeder is very responsible when it comes to kittens' health and very sociable. This family regularly posts updates on their Facebook page. ALERT! You'll get cuteness overload!
Adoption Process
Kittens leave their home when they are 12-16 weeks of age. They are spayed/neutered before they are sold; they come with a health guarantee, vet check, first vaccine shots, and dewormed. The average price is $2000 – $2500.
Testimonials
All kitties are loving, playful, and cuddly. They have strong health and a stable psyche.
Lynn is a responsive and passionate breeder with an amazing experience.

This cattery has been in business for over 15 years. It offers pet-quality kittens of the following colors (seal, blue, chocolate, lilac, flame, cream, and chocolate) and patterns (bicolor, colorpoint, mitted, tortie, torbie, and lynx). All kittens are registered with TICA.
Adoption Process
This cattery requires a non-refundable deposit of $317. When Raggies reach 11-12 weeks of age, they are ready to move to a permanent home. Felines come spayed/neutered, with 2 sets of vaccines, and are highly socialized. The price is $1350. Note that HCM testing is paid separately and costs $85.
Testimonials
Sue, the owner of the cattery, is knowledgeable about the Ragdoll breed and sociable. She regularly sends kitten updates and gives information on the food, litter, and toys choice.
All kittens are sweet and get along well with other pets.

Doug Raynbow, the owner of the cattery, offers Raggies of the most popular colors and patterns for sale. This TICA-recognized breeder offers kittens plenty of hugs and kisses and regular veterinary care.
Adoption Process
Pet-only cats are ready to move to a new home when they are 10-12 weeks old. They come with a 1-year health guarantee and 4 in-1 vaccine. The price is $650. Note that the kittens aren't spayed/neutered, and they aren't tested for HCM.
Testimonials
Doug is helpful and sociable. She encourages visitors because believes that it is important to see the kind of environment the kittens are raised in.
Shipping is possible.

The owner of Rosehill Rags is a member and Vice President of Ragdoll Fanciers Club International. The main goal of breeding is to preserve original Ragdoll lines and breed healthy and affectionate blue-eyed fur babies. You may choose between blue, red, and seal with lynx, bicolor, colorpoint, and mitted patterns.
Adoption Process
This TICA, CFA, and ACFA registered breeder offers kittens that are negative for HCM. When Raggies reach 12-14 weeks of age, they are ready to go to their new parents. All kittens come with two sets of vaccinations, spayed/neutered, dewormed, with a genetic health guarantee, and contact. A deposit of $100 is required.
Testimonials
All kittens are of fantastic quality.
The breeder is very helpful and responsible.

The owner of the cattery is a certified veterinary technician with over 21 years of experience who is passionate about Ragdolls. This cattery is a registered member of the American Cat Fanciers Association, Ragdoll Fanciers Club International, and The Cat Fanciers' Association. Cream, seal, and bicolor kitties are available for purchase. Besides, you can buy retired adults at a reduced price.
Adoption Process
As the breeder doesn't specify an adoption process and kitten cost on their website, we recommend you contact Arctic Blues Ragdolls via phone or email.
Testimonials
The breeder is knowledgeable.
All Raggies have wonderful qualities and loving nature.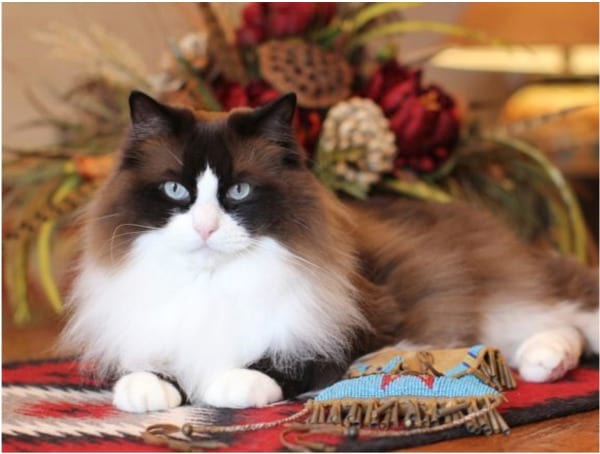 This TICA-registered cattery offers only pet-quality kittens. All Ragdoll babies are well socialized because they have exposure to other pets in the household and get along well with dogs. You can choose seal blue or mink kittens.
Adoption Process
All kittens are spayed/neutered, they come with the 3-way distemper vaccine and a 1-year genetic guarantee. If you wish to wait for a kitten, you should contact the breeder via email at gailvet144@gmail.com.
Testimonials
Love and care for the kittens are exceptional.
The breeder uses Natural Balance Ultra food.
On the breeder's website, there is a section with helpful information on vaccines, feeding, and cat care.
FAQs
What is a fair price for a Ragdoll kitten?
A Ragdoll Kitten in Minnesota has an average tag price of $1600-$2800. Some Breeders could even offer Ragdoll Kittens for $3500 or even higher. The price depends on various factors: the reputation of the breeder, the kitten's health, and lineage.
How many cats can you have in Minnesota?
If you possess four or more cats, you must obtain a multiple animal permit.
Bottom Line
Partner with one of these reputable breeders to get a perfect lap cat and a lifetime friend.