If you love the Ragdoll breed – big and majestic cats with a distinctive color, relaxed, nonchalant, and friendly companions, then you just need to become proud parents of these beautiful felines. Choosing a kitten is very responsible because you are selecting another family member. To help you with your choice, we have analyzed the best breeders in Virginia and provided all the information you need.
Ragdoll Kittens for Sale in Virginia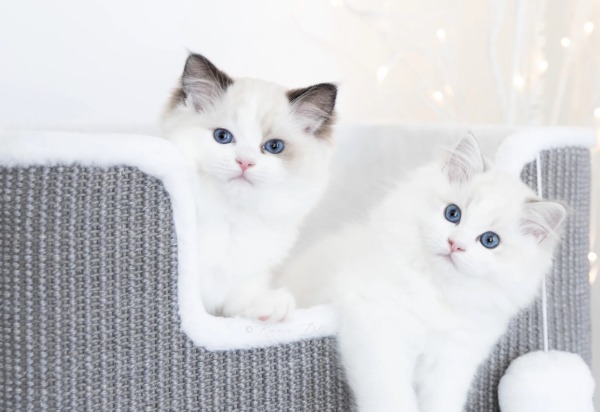 Kimura Ragdolls is owned and operated by a husband and wife who are in love with Ragdolls and do their best to raise Raggies responsibly and with integrity. This family duo is a TICA Registered & Award Winning Ragdoll Breeder who delivers well-raised kittens of various colors and patterns.
Adoption Process
All Ragdoll cats for sale are intended to be forever pets. They come vaccinated, spayed/neutered, and dewormed, with all vet records, 30-day pet insurance, a kitten care package, and a 2-year health guarantee. To get a kitten, be ready to place several deposits:
A $200 waitlist deposit;
A $300 reservation deposit;
A $500 non-refundable deposit for those people who don't join the waitlist.
A $500 deposit for breeder/

show quality Ragdoll kittens.
The price of kittens varies and depends on the kitten's quality. Pet quality babies will cost $2500+, show-alter quality kittens start at $3000 and up. The price of retired breeder cats starts at $250.
Testimonials
The breeder offers much helpful information on the official website.
All Ragdoll companions are friendly and well-socialized.

This family-owned cattery offers limited litters of kittens because it focuses on quality, not quantity. You are welcome to adopt kittens with solid, mink, bicolor, and sepia coats. All cats and kittens are TICA-registered.
Adoption Process
All kittens are healthy because they are tested negatively for hypertrophic cardiomyopathy and polycystic kidney disorder. When kitties are 12-14 weeks old, they are ready to be taken home. All kittens are vaccinated, dewormed, vet checked, with a one-year genetic guarantee, kitten contract, and spayed/neutered *unless you buy felines with breeding rights. Besides, you also get a food supply and favorite kitten's toys. To reserve a Ragdoll kitten, a $250 deposit is required.
Testimonials
Many payment options (personal checks, Venmo, Square, PayPal) are available.

This small cattery in Northern Virginia offers healthy and highly socialized cats. The whole family (parents and 5 kids) takes care of the kittens. The breeder is responsive, helpful, and regularly sends kitten updates via email.
Adoption Process
To hold a kitten, place a deposit of $250. Note that this deposit is non-refundable. For kittens with breeding rights, the deposit is $500. Kittens leave when they are 10-14 weeks old. All kittens are TICA-registered, vet examined, dewormed, vaccinated, spayed/neutered, have TICA papers, and a 1-year health guarantee. All cats and kittens are HCM-negative.
The kitten price depends on the color and breeding rights. The price list is as follows:
Blue & Seal Minks – $1,000 and up;
Traditional Colors (blue and seal)- $1,000 and up;
Traditional Colors with breeding rights – $1800 & up (depending on the pattern, color, and pedigree);
Minks with breeding rights – $2500 and up.
Testimonials
All kittens are of high quality, affectionate, and friendly.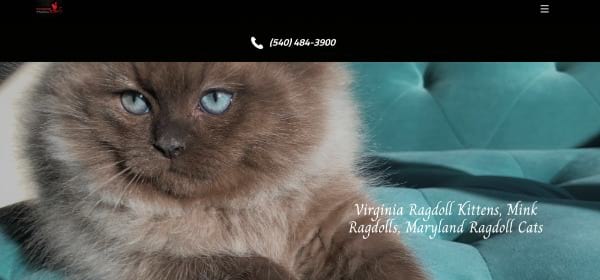 This TICA-registered cattery has extensive experience in breeding healthy and beautiful Ragdoll cats. Blue, cinnamon, fawn, chocolate, seal, sepia, and mink Ragdolls are available for sale. All kittens are HCM -/-.
Adoption Process
To hold a kitten mink or exotic sepia kitten, a deposit is required. You can contact the breeder for more information.
Testimonials
All Ragdolls are healthy and have a wonderful temperament.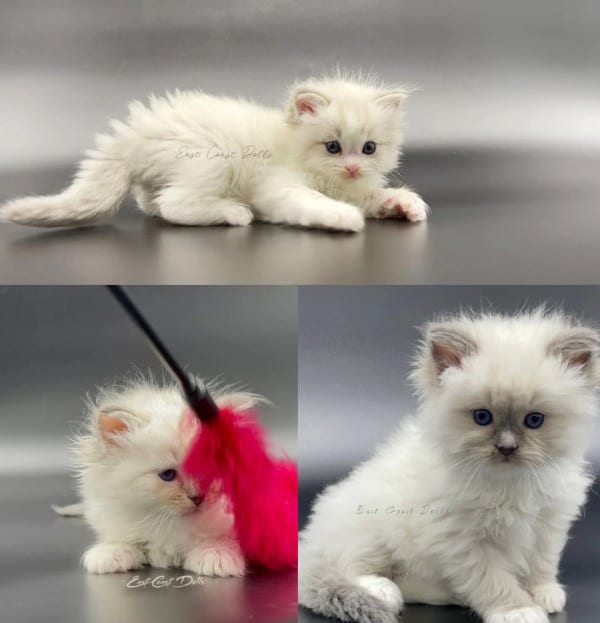 East Coast Ragdolls strives to strike a balance of quality and temperament. All kittens are perfectly trained, they are playful, beautiful, and healthy (kittens come from champion lines). You can choose among seal, lynx, and bicolor kitties.
Adoption Process
Kittens are ready to leave their parent's homes when they are 12-14 weeks old. All kittens are registered with TICA, HCM, PKD, FeLV, and FIV negative, have a 2-year health guarantee and are spayed/neutered before they leave. To reserve the kitten, you should join the waitlist and pay a reservation fee of $500. Pet-quality kittens cost $3000 and up, and the price of show-quality kittens starts at $3500.
Testimonials
The breeder is knowledgeable, and the purchase process is seamless.
The kittens are playful and well-trained.
The breeder is very responsible and interviews potential pet owners.
FAQ
How many cats can you legally have in Virginia?
Residents may have three dogs and six cats per home. If you want to have more pets, a kennel permit is required.
Bottom Line
All these breeders offer the most beautiful and healthiest Ragdoll kittens for sale in Virginia. Contact these breeders directly to learn more about their adoption process and the kittens available.