Mysterious Ragdoll kittens… On the outside, they are very big and fluffy cats that are strikingly beautiful, and inside, they are very patient, gentle, and calm creatures that love everyone around them: both people and other animals.
If you want to find a loyal, gentle, and affectionate family member, then Ragdoll kittens are just what you need. We have compiled information on the best Ragdoll breeders that offer Ragdoll kittens for sale NH. This information will help you make your choice.
Ragdoll Kittens for Sale in New Hampshire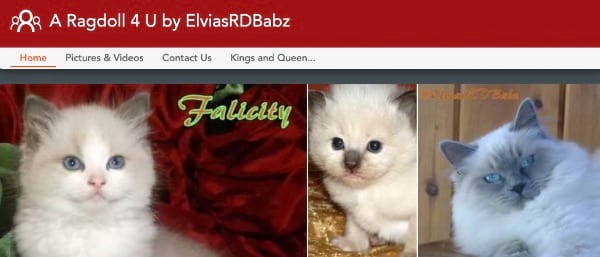 This small cattery offers TICA-registered Rags of various colors (blue, seal, chocolate) and patterns (lynx, mink, mitted, bicolor, sepia, and solid). This breed focuses on the kittens' health and temperament.
Adoption Process
To learn about what you get together with kittens and their price, contact this cattery directly.
Testimonials
All cats are of exceptional quality.
The breeder regularly posts kitten updates on the Facebook page.

Ocean Eyes Ragdolls is a small cattery that offers traditional and mink Raggies in a variety of colors (blue, seal, chocolate, lilac, cream, and red). All kittens come with TICA registration papers.
Adoption Process
All kittens leave the house when they are 13 weeks old. They are vaccinated (1st & 2nd Distemper vaccine), dewormed, spayed/neutered, and undergo flea and tick treatment (Advantage is used). Besides, the seller provides a two-year genetic health guarantee, an NH health certificate, and a legal contract.
To join the waitlist, you must fill out a questionnaire, and if approved, send a non-refundable deposit of $325 to reserve Traditional Ragdolls or mink Ragdolls. The price of the kittens is $1200.
Testimonials
Kitties are raised in a clean and healthy home where they can roam freely.
Elaine, the owner of the cattery, is responsive, adores her kittens, and stays in contact even after the kittens leave their home.
The breeder provides a ton of helpful information for Ragdoll parents.

This cattery raises pet-quality Ragdoll kittens underfoot and is registered with CFF, TICA, and CFA. All cats are easy-going, sociable, and perfect cuddly companions.
Adoption Process
All kittens have been tested negative for HCM. Before leaving, they are spayed/neutered, dewormed, litter-trained, vaccinated, and know how to use scratching posts.
All kittens are delivered with a kitten contract and registration papers. The price of the kitten depends on its quality. Thus, pet-quality and show-quality Raggies cost $1500, whereas breeder cats cost $2500.
Testimonials
The breeder adheres to the no-declawing policy.
All kittens are well-socialized because they interact with dogs regularly.
FAQ
How many cats can I own in New Hampshire?
There are no restrictions on how many cats are allowed in a single home in New Hampshire.
Bottom Line
We have provided a list of the most reliable Ragdoll cat breeders New Hampshire. If you still have questions or want to buy a kitten, you can contact one of these catteries directly.