Siamese cats are considered one of the oldest oriental breeds. People love to adopt this feline for its extremely beautiful appearance with its sleek body, shading-off silky coat, and big blue eyes. Additionally, Siamese kitties are very energetic and prefer interacting with people very much.
If you are one of the potential owners of such an active and friendly feline, explore local breeders and catteries to find the cutest pet for your family. Citizens of Texas can count on the range of trusted sellers in Houston, Dallas, Austin, and other TX cities and towns.
Pick sides with the best-matching Siamese breeder in Texas with the detailed information on the local organizations that help people buy purebred kittens with awesome bloodlines or adopt bewhiskered buddies almost for free from rescue centers and shelters in TX.
Siamese Cat Breeders in Texas
If you are interested in the purebred Siamese cat price and other details, choose one of the breeders, catteries, or rescue centers presented in the table below and contact the organization of your interest.
Note that the costs can vary from the highest to the lowest according to the bloodline portfolios, the reputation of the seller, age, and the coloration of the feline.
Some TX Siamese rescue centers can offer kittens for adoption for free. If you would like to have a lovely pet and do not mind the pedigree aspects and show-quality characteristics, explore local shelters to find the kitty you will fall in love with.
Let's take a closer look at each of the breeders and rescue centers to find out more about their offers for buyers.
Cupid's Pride Cattery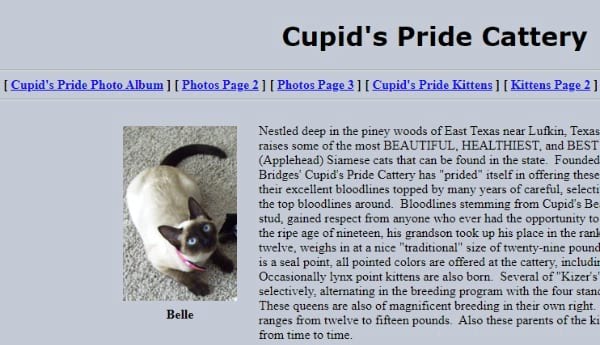 This is a small cattery located in Lufkin, TX. Patty and Carl are caring owners of the Siamese she-cat Bella who gives birth at least 1-2 litters every year. The feline mother is of a traditional coloration with a dark face, paws, and a tail. The cattery attracts other Siamese owners to arrange Bella's date with boyfriends (potential feline fathers).
As Patty and Carl are responsible only for the health of the bewhiskered mother only, the price for kitties is rather affordable. It is possible to purchase a seal or chocolate kitten for sale for about $300 only.
Even uncertified and unregistered breeders in Texas can offer higher costs for non-purebred cats. If the buyer wants more than one kitty from one litter, the cattery can provide a discount!
Adopt a Pet (Texas)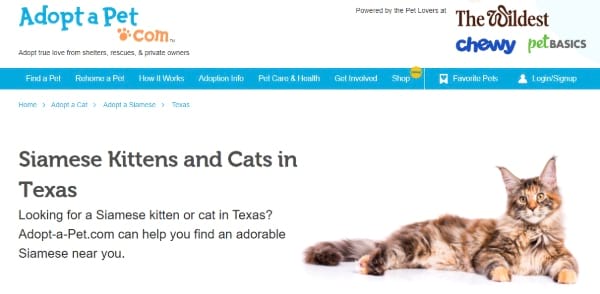 One of the most popular adoption platforms that help Americans find a pet locally in any US state. Speaking about TX regions, it is possible to sort all the advertising and sellers' profiles according to the distance, the feline's age, and other parameters.
It is a very convenient approach when it comes to Siamese kittens for sale craigslist exploration.
For example, among the latest ads from local sellers are:
Skittles and Tommy cats for sale, Houston;
Mario and Pangur kittens for sale, Lubbock;
Aspen snow-white he-cat for adoption, Wichita Falls.
You can contact Adopt a Pet managers via the telephone or online form available on the official website of the center. Additionally, there are cats (Balinese, Maine Coon, Oriental, etc.) of other breeds and dogs to adopt here.
SPCA of East Texas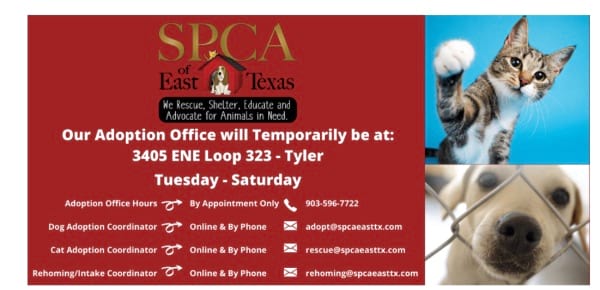 If you are searching for a Siamese cat in San Antonio, visit the website of SPCA in East Texas. This is the specialized adoption center with the responsible approach to each pet they provide to local buyers. Besides Siamese kittens, there are puppies and adult dogs of different breeds to adopt.
The SPCA managers inform all potential owners about the main requirements to the household conditions and other regulations to take into consideration. For example, while you adopt a feline, all your other pets should be sprayed or neutered. Additionally, adopters should be of legal age (at least 21 years old). More details you can find on the official website of SPCA in East Texas.
Austin Siamese Rescue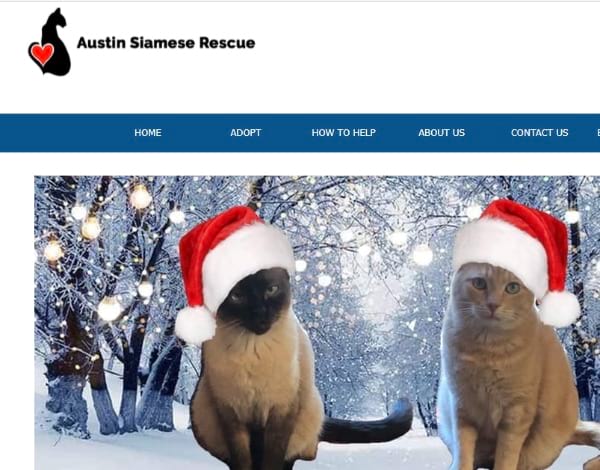 This is not the typical breeder or cattery in TX. Here you will hardly find purebred Siamese kittens for sale in Austin. But this rescue center is full of love to all the pets who would like to be adopted by loving and caring people.
The homepage of the website contains short stories from the first person (cats). Some of them were left by former owners or found in the streets. These stories are very heart-touching and force locals to adopt these feline fluffy buddies.
The Austin Siamese Rescue does not ask for a specified sum of money for each pet to adopt. But they ask everyone to donate some funds for the cat's food, toys, and medical services. It means that you can find the Siamese of your dream here for free and become a happy owner of the bewhiskered friend for nothing.
Ranchcats Cattery

This local breeder from Waco promotes love and absolute respect to the Applehead Siamese personality. The Facebook profile of the Ranchcats Cattery contains numerous photos and videos of the funny feline parents and their babies who play with toys and explore the world.
If you are searching for Applehead Siamese for sale somewhere in TX, contact the breeder to buy a fluffy kitten. It is worth noting that the cattery is in touch with the breeding organizations from Dallas and Fort Worth. Sometimes you can see the reposts from these breeders with the offers to buy lynx, flame-point Siamese kittens, and Balinese kitties.
Frequently Asked Questions (FAQ)
What Is the Average Price of a Siamese Kitten in Texas?
You can adopt the kitty for free from the Austin or Dallas Siamese rescue centers. Individual breeders and small catteries can offer kittens at $300-$500. The most reputable breeding organizations have higher costs like $1,200-$2,000. Trusted cat breeders from Houston, Dallas, and other TX cities and towns guarantee excellent health backgrounds and show-quality litters.
Where Can I Find a Siamese Kitten?
Siamese kittens for sale in Texas are available almost in any region. You can explore local rescue and adoption centers, breeders, and catteries. Use the information from the table below or find new sellers in Google maps, social media networks, etc. Ask your friends about recommendations of the breeding organizations in TX.
How Many Cats Are Allowed per Household in Texas?
The maximum number of dogs and/or cats allowed per single-family residence on less than half an acre is 6. The maximum number of dogs and/or cats allowed per single-family residence situated on more than half an acre is 8.
Final Word
Siamese cats adore kids, are loyal, active, and friendly with owners and other pets, often vocalize, and show their love to people. This is a great pet for any family. To find a kitten of this breed in Texas, use the breeders' descriptions and contact information presented above. Soon, you will be pleased with the perfect pet companion with an exclusive personality and eye-catching appearance!