Ragdoll cats are gentle and quiet creatures with an imperturbable character. They are very sociable and enjoy spending time with all their family members: adults, children, and other pets. If you want to find a beautiful friend, you need to look very carefully at all the breeders in Arizona. We decided to make your choice easier and created an overview of the most reliable Ragdoll breeders. If you require information, we recommend contacting them directly.
Ragdoll Kittens for Sale in Arizona

This small cattery focuses on breeding beautiful, healthy, and easy-going cats. This cattery offers a limited number of kittens for adoption because they prioritize the kittens' health and well-being rather than their quantity. You are welcome to buy blue mitted or blue bicolor Rag babies that are CFA/TICA registered.
Adoption Process
Kittens are ready for adoption when they are 12-16 weeks old. They come dewormed, vaccinated, and TICA-registered. Their parents are HCM-negative, so you can be sure that you'll get beautiful and healthy babies. Besides, this Ragdoll breeder provides a kitten contract, a two-year genetic health guarantee, and a kitten starter kit.
To hold a kitten, a non-refundable deposit of $200 is required. If you want to buy a breeder cat, be ready to send a $500 non-refundable deposit. Payments are accepted via PayPal or with a check.
Testimonials
All kittens are highly socialized because they are treated like family members.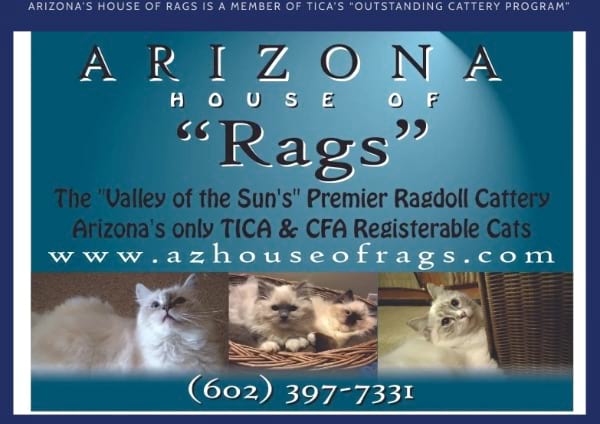 Blue, lilac, chocolate, cinnamon, fawn, cream, and red Rags in tortie and lynx variations are raised underfoot in this cattery. They regularly communicate with adults, kids, and energetic Bulldogs. Kittens' parents are negative for HCM, so you can be 100% sure that kittens don't carry any genetic mutations.
Adoption Process
Kittens come spayed/neutered, immunized, microchipped, and vet checked. Besides, TICA registration papers and a goody bag with toys and grooming tools are provided. A $300 deposit is obligatory to hold a kitten.
Testimonials
Kathleen, the owner of the cattery, is responsive and knowledgeable. Moreover, she is a true perfectionist when it comes to cat care. Her home is large and clean, and cats can roam freely.
The breeder sends weekly kitten updates (photos and videos) and regularly organizes play sessions with future pet parents to foster a strong bond and facilitate the kitten's transition when the time to leave comes.

This cattery offers cuddly and sociable Ragdoll kittens for sale in Arizona. This family-based boutique offers flame, chocolate, seal, bicolor, mitted, colorpoint, and torbie Raggies. Kittens are raised together with children and dogs.
Adoption Process
All queens and kings are HCM and PKD1-negative. Genetically healthy and adorable kittens can be picked up when they are 12 weeks old. All of them come with a two-year genetic guarantee. The average kitten price is $1300 – $1700. Breeding rights for a kitten are available for an additional $1100. The cattery also offers adults for sale. For updates, make sure to check their official website.
Testimonials
This breeder has extensive experience in breeding Ragdolls (over 13 years).
Shipping is possible.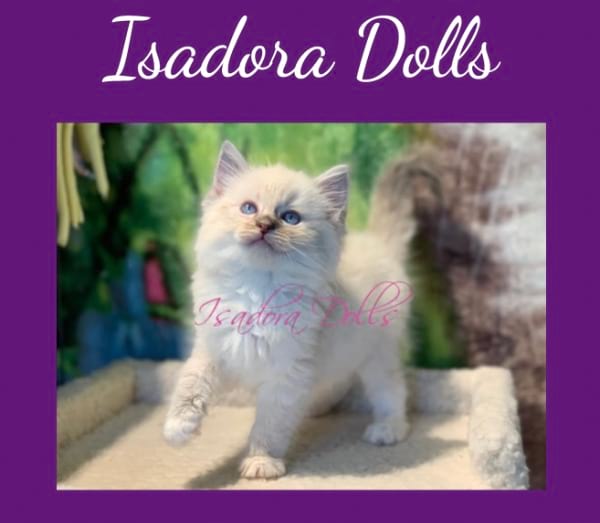 This cattery offers mink, sepia, traditional, and tortie Ragdoll cats for sale in blue, seal, lilac, chocolate, fawn, and cinnamon colors. All kitties are raised with love and extreme care and attention.
Adoption Process
All kittens are TICA-registered; they leave their home when they are 12 weeks old. They get all the necessary vaccines, spayed/neutered, dewormed, litter box trained, inspected by a licensed vet, and are HCM/PKD-negative. Besides, a health guarantee is included.
To hold a kitten, a non-refundable $500 deposit must be paid. The price of pet-quality kittens is $1500 (mink and traditional) and $2000 (solid and sepia colors). Breeding rights are given on a limited basis.
Testimonials
The breeder offers delivery services.
The cattery regularly posts kitten updates on the official Facebook page.
This breeder has a special Ragdoll room and cattio where fur babies can play.
Isadora Dolls follows a no-declawing policy.

This cattery is owned and operated by a certified emergency veterinary technician. Kittens are offered in various colors and patterns, and all of them have a gentle and affectionate disposition. The breeder focuses on preserving high-quality kittens and their health.
Adoption Process
All kittens come with a vet health check and a health certificate. Both young kittens and retired cats are offered. For prices and more info, please contact the breeder directly.
Testimonials
The breeder offers lots of information on cat care, vaccination, and dental care.
Shipping services are offered.
All kittens have a strong genetic background.

Razmataz Rags offers blue, seal, and chocolate kittens in point, mitted, bicolor, lynx, and tortie patterns. All kittens are healthy and well-socialized because they regularly interact with children.
Adoption Process
All Razmataz Ragdoll cats are registered with TICA, they are HCM/PKD-negative, dewormed, immunized, spayed, or neutered. Pet-quality kittens cost $2500 and up, and show-quality cats cost $3000 and up. To reserve a kitten, a $300 non-refundable deposit is required.
Testimonials
Alexandra, the owner of the cattery, is responsive and friendly.
All kittens are of exceptional quality.

This in-home Ragdoll cattery offers healthy and beautiful blue-eyed Rags. You can purchase blue, chocolate, and seal kitties in lynx, mitted, point, bicolor, and mink patterns.
Adoption Process
Kittens have been tested for HCM, PKD1, and feline leukemia. All results are negative. Kitties are spayed/neutered, microchipped, vaccinated, and potty-trained. They also come with a care package that includes food, toys, and treats.
A non-refundable deposit of $500 is required to hold a kitten. The price range is $2000-$3000. Breeding rights are available at an additional cost.
Testimonials
All kittens are comfortable being handled and snuggled.
The breeder is patient and responsible.
FAQs
What is the average price of a Ragdoll in Arizona?
How expensive are Ragdoll cats? $950 – $1000 is the average Ragdoll cat price range in Arizona.
How many cats can I legally own in Arizona?
The number of cats is not limited by the law as long as the homeowner can care for them.
Bottom Line
We hope you find your furry wonder at one of these breeders. We wish you success!