Are Ragdoll cats needy? Yes, these cats are quite needy because they require daily love, attention, and interaction with humans. Are Ragdoll cats worth the money? Yes, Ragdoll cats can be quite expensive, but they have an amiable personality and silky fur. They are playful, laid-back, and infinitely love their parents. So, if you hesitate, we can say for sure that this breed is worth the investment!
Well, now you know a little bit more about Ragdoll felines. However, the question of where to buy them is still open. We recommend you contact only reputable breeders that offer pedigree kittens without any genetic diseases and with a lovely disposition. We've rounded up a list of the best Ragdoll cat breeders in Arkansas you can consider.
Ragdoll Kittens for Sale in Arkansas
Editor's Note
How much do Ragdoll Cats cost in Arkansas?
In Arkansas, the price of Ragdoll cats is $600 – $1,500. Are Ragdolls worth the money? Ragdolls are slightly more expensive than other breeds due to their numerous exceptional features, but they are definitely worth it.

This small cattery is dedicated to raising beautiful Ragdoll kittens with the best personalities. Lora and JD Brashear, the owners of the cattery, are Ragdoll enthusiasts who are passionate about giving their fur babies much love, care, and attention. They raise Raggies of various colors: lilac, seal, blue, colorpoint, with or without a blaze.
Adoption Process
All cats are TICA-registered. Their parents are free of HCM, FIV, FELV, MPS, and PKD. Before leaving the cattery, kittens are desexed, vaccinated, dewormed, and have a two-year health guarantee. To hold a kitten, you must send a $400 deposit. For prices, please contact the breeder directly.
Testimonials
Many purchasers state that Lora is very helpful. She regularly sends updates about the kittens. She organizes in-cattery visits and FaceTime calls.
The breeders put much love and care into their breeding programs; all kittens are well-socialized.

Physical and mental health are the top priorities of this cattery. They strive to raise perfect representatives of the Ragdoll breed in a variety of colors and patterns: seal, blue, flame, colorpoint, tabby, mitted, mink, and bicolor.
Adoption Process
All kittens are registered with TICA. To reserve a kitten, you must send a $200 non-refundable deposit via PayPal, Zelle, or Venmo. The price of the kittens depends on sex, pedigree, and color. The price range is $850-$1800.
Testimonials
This cattery carefully chooses potential Ragdoll parents to ensure that Raggies will live in the best possible homes. Therefore, they require to fill out a questionnaire.
This cattery doesn't support overbreeding.
This breeder is always available by email or phone for questions Ragdoll parents may have.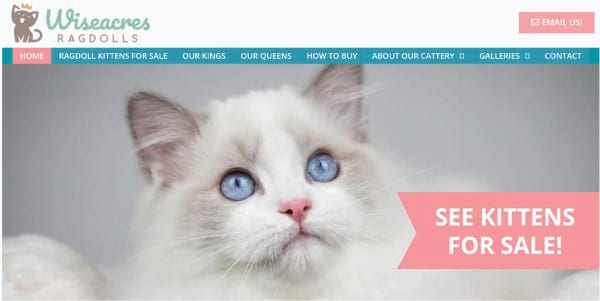 This TICA-registered cattery offers friendly, healthy, and outstandingly beautiful Ragdoll cats. Ragdoll Kings and Queens have Sweden bloodlines and are free of genetic diseases Ragdoll cats are predisposed to. Blue, seal, cream, mitted, bicolor, and colorpoint fur babies are available for adoption.
Adoption Process
Before leaving the cattery, kittens get the necessary shots of vaccine, TICA registration, three-month health insurance, and a health certificate from a licensed vet. Besides, the breeder provides a sales agreement, samples of food, and a bag of toys. To secure a kitten, a $300 non-refundable deposit is required. The price of Raggies is $1800.
Testimonials
This PKD and FELV negative cattery has over 20 years of experience.
The main highlights of the breeding program are regular sanitation, cleanliness, daily attention, and boundless love and care for Raggies.
Editor's Note
What is the cheapest price for a Ragdoll kitten?
The cheapest way to get a furry friend is to find Ragdoll cats for adoption. In this case, an adoption fee is $50 – $200.
Bottom Line
Hopefully, you will find a fantastic addition to your family at one of these catteries.