Have you decided to adopt a Ragdoll kitty or to buy a sweet cutie? Well, that's a brilliant idea! The Ragdoll breed is famous for its beautiful long-haired felines with an affectionate temperament and a laid-back nature. Thus, Ragdolls are perfect home pets, and they usually get along well with all family members, including kids.
Luckily, if you live in Florida or anywhere nearby, take a closer look at our list of the best Ragdoll breeders who often offer Ragdoll kittens for sale in Florida.
Ragdoll Kittens in Florida
Miami Ragdolls

As you can understand from the name, this cattery is situated in Miami, Florida. But despite this fact, Ragdoll cat fans from all over the country often visit the Miami Ragdoll cattery to buy or adopt a gorgeous kitty.
This grand cattery specializes in promoting Seal and Blue Mitted Ragdoll kittens, and if you look at its webpage, you can see the ads about kittens for sale or kittens for adoption. The breeder is likely to be focused on choosing the best home for their fluffy cuties, as well as the most caring pet parents.
Royal Ragdoll Kittens

Wondering where to buy Ragdoll kittens for sale if you live in South Florida? Maybe you should visit the Royal Ragdoll Kitten website, and this question will stop worrying you because you'll find a lovely Ragdoll kitten for a nice price.
Royal Ragdoll Kittens cattery is located in Tamarac, Florida, and is known as a place that raises a lot of cat champions. This breeder pays much attention to the cat's socialization, and Ragdolls at this cattery are never kept in cages. They usually live with other pets to be friendly and kind.
Elle Ragdolls

This is a famous Ragdoll cat brand that offers some of the best purebred Ragdolls kittens all over the USA. This cattery provides seven locations for its luxurious cats, and you can often see cheap Ragdoll kittens for sale at the Elle Ragdolls webpage.
Just look at the location of the cattery where you can purchase a Ragdoll kitty for sale because they have different addresses, for example, Elle Ragdolls Miami Beach, Palma Bay, Naples, Lakeland, Hialeah, Lighthouse Point, and Tampa.
Compass Ragdolls

This breeder takes care of raising affectionate and easy-going creatures that can make their master's life exciting and bright. This cattery isn't big, but if you come to its site, you can also be impressed by viewing the cool price for some kitties.
Be sure all the breeding done at Compass Ragdolls is with the breed standard and thought of raising good-natured pets. So if you live near Daytona Beach and don't want or can't pay much for such a sweet feline as a Ragdoll kitten, visit the Compass Ragdoll cattery or check out its website first and choose an appropriate cutie for you and your family.
Ragdoll Kingdom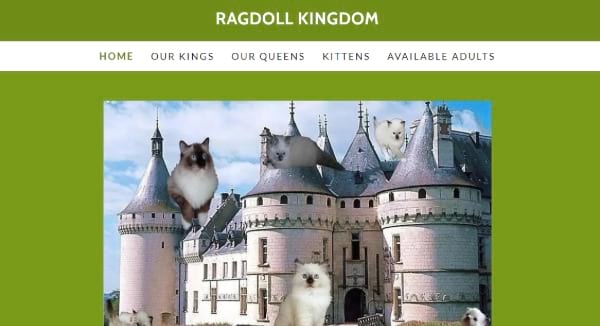 No one can argue that the Ragdolls at Ragdoll Kingdom cattery don't take a home-based pampered existence. This breeder registers all the felines with TICA certification and focuses on creating each generation in an attempt to keep Ragdoll's eye color, boost the chin structure, and build up the perfect body size.
Moreover, Ragdoll Kingdom is known for finding the most loving masters and families for its pets, that's why the breeder often offers its TICA Ragdoll kittens for sale.
Triniti Dolls Ragdolls Cattery

Being a relatively freshly-established cattery, Triniti Dolls Ragdoll has a good reputation and a lot of positive comments on its homepage.
This cattery is situated in Central Florida and provides a huge variety of Ragdoll cat coat colors and patterns. When you have a strong desire to buy Ragdoll kittens in Central Florida for sale, don't waste your time! Just come to the Triniti Dolls Ragdolls Cattery website and select the prettiest cutie.
Indian River Ragdolls
Having been operating since 1998, Indian River Ragdolls is known as a brilliant Ragdoll cat breeder of Brevard County. The breeders keep the Ragdolls cage-free, ensuring that they are convenient.
Besides, the breeders try to spend much time with each of their kitties in order to make them socialized and pettable. The breeders' primary aim is to raise a cute and affectionate four-legged companion of the Ragdoll breed. All the kittens in this cattery have a TICA registration.
Ragdoll Kittens Divine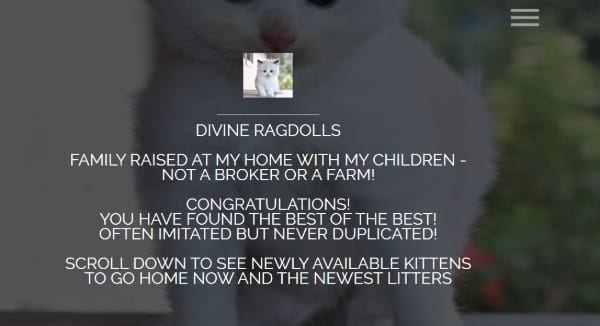 This is a wonderful spot where you can get a charming fluffy Ragdoll kitty for sale as well as for free. Ragdoll Kittens Divine has been working for more than 50 years and it specializes in the Ragdoll breed.
It often happens to observe various offers on the webpage concerning Ragdoll kittens for sale and for adoption. Maybe this cattery is what you're looking for.
Ragdoll Islands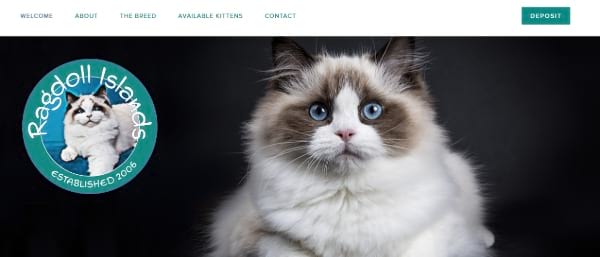 One of the most famous Ragdoll cat breeders in Cape Coral, Ragdoll Islands is a home for pretty Ragdoll kitties that all wait for loving and caring masters.
This cattery registers all the cats with a TICA certification, and you can be sure that if you buy a Ragdoll there, the kitten will meet all the standards of the Ragdoll breed. The kittens at Ragdoll Islands aren't caged, they often live freely and get along well with other pets.
Dream Catcher Ragdolls

This Ragdoll cattery is a Ragdoll cat paradise located in St. Augustine, Florida. It specializes in various types of Ragdoll cats like Lynx Ragdoll, Seal Lynx Bicolor Ragdoll, Blue Pointed Ragdoll, and Mitted options as well.
All their pets meet the standard set by CFA, and the main breeder's goal is to create the highest-quality Ragdolls. Don't ignore this cattery, visit its webpage, and observe the long-haired kittens for sale there.
FAQs
How many cats can I legally own in Florida?
Local laws let up to three cats be owned by one family.
Conclusion
Ragdoll cats are awesome fluffy creatures that hypnotize people with their cute appearance, expressive blue eyes, and gentle nature. These fur balls can be perfect four-legged companions who get along well with the whole family. But sometimes the Ragdoll cat price can shock.
Well, don't worry! There's a great solution to focus on Florida Ragdoll cat breeders and catteries who are ready to offer Ragdoll kittens for sale Florida or provide Ragdoll kittens for adoption free of charge.